Christmas is around the corner and you must be already working on the ever-growing To-Do list. If you are reading this page, it means you are one of those, whose first worry right now is – 'how to keep my cat out of the Christmas tree this time.'
I am sure you had some untoward experience last Christmas at your home or heard it happen somewhere or this is the kitty's first Christmas with you.
Christmas is a time for joy and recreation and you take pains to keep it so, as much as possible. Yet, unpredictable mishaps happen. But, there are some which you can prevent with proper knowledge and appropriate precautions.
Especially, say no to your cat's veterinarian bills this Christmas. How? Just follow some simple tips shared through tried and tested sources.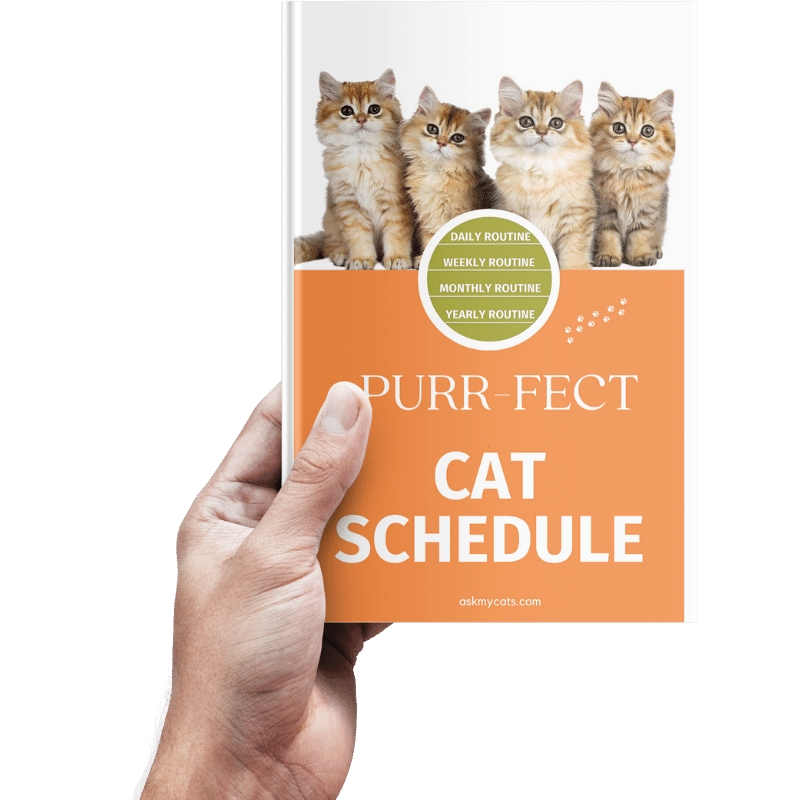 Discover the Secrets to a Happy Cat!
Discover the secrets to creating a happy and healthy daily routine for your feline friend. From playtime to mealtime, sleep to grooming, our expert guide will show you how to make every day a purrfect day for your cat.
Give Your Cat the Perfect Day – Get the Ebook!
Why Should Cats Stay Away From A Christmas Tree?
Though Christmas trees are not lethal, they can cause harm to your innocent kitty. Dr. Cunningham adds, "it's important to take measures to prevent chewing on tree parts or drinking tree stand water."
Why? Because the sap and needles of Christmas are toxic for cats and can cause poisoning if ingested too much.
Even if the water under the tree gets stagnant and breeds bacteria while the little furries lap at it, it will cost you uncalled-for medical bills from the veterinarian.
Moreover, there are, other things associated with the trees which are toxic for cats.
"Amaryllis, mistletoe, balsam, pine, cedar, and holly are among the common holiday plants that can be dangerous and even poisonous to pets who decide to eat them. Poinsettias can be troublesome as well."

The American Veterinary Medical Association (AVMA)
Apart from this, the excitement of our furry friend to play with the glittering tinsel strings, ribbons, colorful baubles, and lights, make them almost berserk. The kitty may try to jump on the tree and end up, toppling the whole set on itself.
Not only the mess has to be cleared and all your decorative work goes down the drain, but you may also have to handle the possible fractures and injuries of the kitty. Oh No! More Bills!
Interesting Read: Why Do Cats Like Christmas Trees?
How To Cat-Proof The Christmas tree?
Yes! There is no problem in this world, that cannot be prevented or resolved.
Did the above information dishearten your Christmas spirit? Don't be.
Pay heed to make essential changes in the arrangement and management of things around your Christmas tree. And, your cat as well as, the Christmas tree will be just fine.
1. Baby-Proof the Christmas Tree With A Gate
If you are wondering how to stop your cat from climbing the Christmas tree, the easiest way is to invest in a gate for the tree that is available in the market.
Try browsing online shopping sites for the Gate which may cost you around $89. The gate will help you keep the excited furry friend at a safe distance and prevent it from –
jumping over the tree to get injured
tugging at the colorful, glowing things around the tree to harm itself by getting entangled or hurt with broken shards or electrocuted through lights
also biting the branches or chewing toxic pine needles or licking the water under the Christmas tree.
2. Safe Deterrent Sprays
Prevent the cat from getting hurt by jumping and tumbling down with the tree. How? Get a sturdy and big lid-basket to keep the live Christmas tree.
Secure the base with heavy things around the base of the tree and keep the water under it covered.
It will prevent the tree from falling at the slightest tug or push and also, keep the kitty from licking at the unsafe water. Do not forget to change the water regularly to avoid further risk of stagnation.
Interesting Read: How To Enjoy Christmas Decorations With Cats?
3. Decorate With Cat-Friendly Ornaments And CleanThe Left-Overs
The good news is that many pet-friendly ornaments are available now in the market. This will not only prevent any accidents with your cat but also allow you to enjoy a stress-free family decoration event.
Though this may reduce the chances of the kitty getting sick or hurt, there are still other possibilities to take care of.
Many times, our negligence to immediately clean up the leftovers after our decorations like shiny tinsel strings, glittery carbuncles, or broken pieces of fallen ornaments, etc.
Unfortunately, this can be a grave mistake when you have a curious cat in your family.
The little pawed one will naively cat-walk to the veterinarian by ingesting the sparkling strings that entangle and get stuck in its GI tract or wound its mouth by chewing at the broken shards.
Live Christmas trees shed pine needles which are toxic for kittens. So be sure to clean up the fallen needles, leaves, holly berries, mistletoe, etc, depending on the live tree you have bought for Christmas.
Most of the time, unwrapped gifts become a cause of harm to the inquisitively hovering kitty around you.
Make sure to not leave any gift papers, untied ribbons of gifts, chocolates, chewing gum packets, fatty cookies, etc. which may be harmful to the cat's digestive system or trigger some allergies.
Must Read: Are Christmas Tree Toxic To Cats?
Other Christmas Hazards for Cats
Christmas festivities include get-togethers, lots of baking, cooking, drinks, and scraps of everything lying about. Apart from confectionary gifts lying about, heed from any sort of drinks lying around within the range of your mischievous fluffy.
Scraps of meat fat or other xylitol-based food on the kitchen table may be enough reasons for the frolic being interrupted by a visit to the veterinary.
A special mention is necessary about the hazards of ingesting ornaments made of salt dough. The high level of salt in it can upset the cat's tender metabolic system.
Must Read: What To Gift Your Cat For Christmas?
Frequently Asked Questions
Why do cats attack or react to Christmas trees?
Simply because they are curious babies and want to explore and play with the shiny, glowing things that hang from the tree.
Cats get so excited because they find the wiggly things look like elusive prey and so they seem to attack the tree in their excitement to tug out the unreachable things.
Which are the safe Spray deterrents easily available on shopping sites?
You can get the SSSCAT motion-sensor air canister which sends an unscented jet of air to help in training the cat to keep from a particular space.
How to keep cats from chewing Christmas lights?
The best way to prevent cats from chewing any live lights or other ornamental or decorative things is to make the area around the Christmas tree and the electrical wires, bulbs, fairy lights, etc, inaccessible to your kitty. You can easily do that by setting up a gate that is available in the market.
Also, make sure to arrange the Christmas tree in a room which can be closed so your Fluffy cat does not enter it without any supervision or when no one's around.
Wrapping Up The Christmas Safety Tips
Nothing in this world should stop you from enjoying a glorious Christmas with your family, especially with your pampered furry ball.
A few precautions in the arrangements of the Christmas tree and its decorations, some safety investments in essentials, and little attention to leftovers can do the trick.
Have a Merry and Catty Christmas!
Must Read: Which Christmas Trees Are Safe For Cats – Fake Or Natural?
References