Are you a new pet parent and is this your first Christmas with your new member of the family?
Then, this must be a mind-boggling question for you right now – 'What should I get my cat for this Christmas?'.
If you are not a new parent to your little feline, you must be still racking your brains to find something new for her/him.
Cats like to play and hunt for prey.  Don't get fooled by their lazy first glance, they are infused with a queer mixture of the lordly or princess syndrome and the exploratively frolic instincts of a baby.
So, anything that whets their inquisitive playfulness, hunting, or chasing instincts, and does not harm their purr-physique is wonderful for them.
Just decide your budget and capitalize on the available options of every type and range.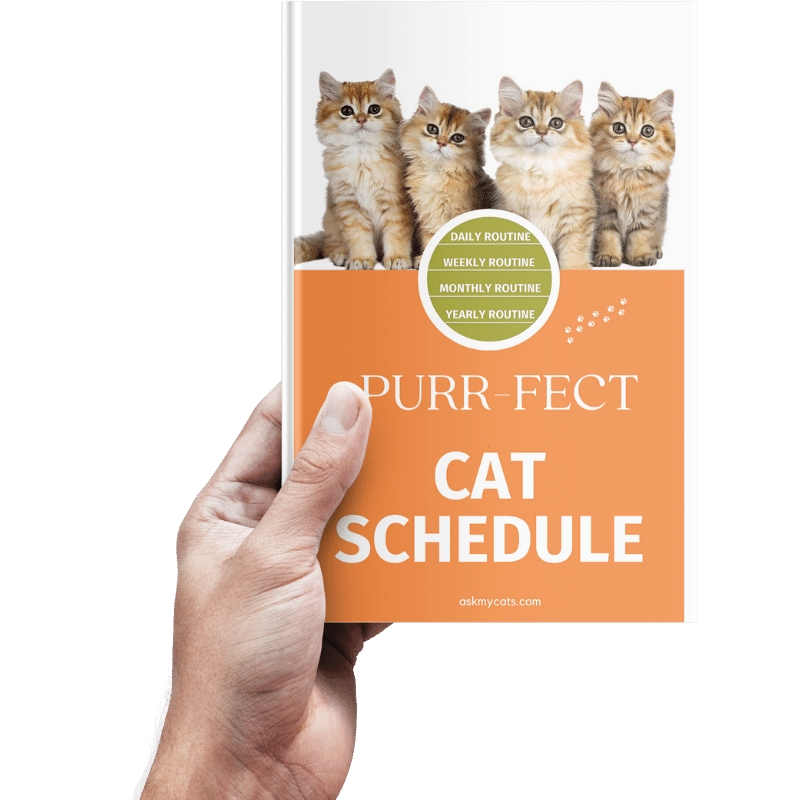 Discover the Secrets to a Happy Cat!
Discover the secrets to creating a happy and healthy daily routine for your feline friend. From playtime to mealtime, sleep to grooming, our expert guide will show you how to make every day a purrfect day for your cat.
Give Your Cat the Perfect Day – Get the Ebook!
Why Do Cats Need Toys For Christmas?
"Indoor cats thrive on activities that fulfill their natural drive to hunt and stimulate their brain. Hide treats in household items, such as cups or toilet paper rolls, to create enrichment games.

Search the Internet for other "cat enrichment" ideas that provide mental and physical benefits, and watch your cat have fun with its mind and paws."

The Delaware Office Of Animal Welfare, Executive Director Hetti Brown
The needs for cat toys are –
To prevent anxiety or loneliness or boredom while you are busy with the other Christmas preparations.
The basic intention of your choice must be to exercise your cat, keep the curious mind stimulated, and satisfy the instinctive cravings.
So obviously, you should whack yourself if you did not include lots of gifts for even your fur-pawed one in the Christmas shopping list.
It is judicious to pay attention to what your feline friend likes to play with. Some like clawing at things, some squeaky toys, and some kitties love mysteries or puzzle toys.
This observation helps a lot while selecting toys for your cat. With the range of options of toys available in the market of sizes, and types catering to different preference levels of cats, it is very easy to get carried away.
The three factors to be wary of while shopping for cat gifts are, probable –  toxicity, small swallowable, choking objects, and strangulation playthings. Any cat toy that poses risk in either of these three factors must be discarded from the list of options. 
Interesting Read: Why Do Cats Like Christmas Trees?
What Presents Do Cats Enjoy On Christmas?
"Imagine the pet pulls it apart, what's inside might be what's most interesting."

ASPCA's Katherine Miller, Ph.D., a certified applied animal behaviorist.
Toys that are interactive and not just self-play are much better options for cats. Cats love objects that allow them to hone their feral skills to hunt-chase-pounce. Eatables won after stalking are the cherries on a cake for them.
What are The Best Christmas Gift Ideas For Cats?
Cat Hammocks are perfect for those felines who like to snooze in higher spaces near the windows with a good view. It also frees some ground space for you to utilize in decor.
If your kitty's interest fades away after a few months, you can re-use the hammock to hang bottled plants.
If your cat loves outdoor camping or indoor tunnel-like spaces, a tiny camping-zippered tent with windows is simply too intriguing for your cat.
Make your pawed-one purr with relief and bliss with unique scratch posts like the Lovely Caves Sunflower Scratch Post available at Amazon.
A felt cat cave bed is the most practical gift you can present to a feline who spends almost 12 hours snoozing in a day. Moreover, it keeps the furry-tailed warm in winter as well as cool in summer apart from the perfect den to hide and peek.
Whisker City Sushi Cat Toys available at Amazon are filled with catnip and crinkly material which can entice your cats for hours together.
The handstitched toys with no fillers using natural products and catnip toys available at Pussum's Fancy Feline Elixir are also good options.
Must Read: How To Keep My Cat Out Of The Christmas Tree?
Interactive Maze Puzzle Cat Toys have a cardboard box with three sections and random holes to peek at. This can be a worthy toy to keep the kitty busy if you add some favorite treats to be sought from the holes.
Some other quirky options are a – 
cat furniture with a rough surface they can climb, scratch themselves, play, jump and sit. This will even save your foam sofa or other furniture from being clawed or ripped.
Feeding stations give enough exercise, control their gluttony, and keep them stimulated to keep trying.
A new Cat tree or an upgraded version of the previous one also will excite the purr-ones.
Interesting Read: Are Christmas Tree Toxic To Cats?
What Activities Can You Do With Your Cat At Christmas?
Christmas is a time for bonding and the best way to achieve that is by spending quality time with family.
As your cat is also an integral part of the family's joy, you must be seeking ways to spend this Christmas with your furry little feline. How?
"All animals, including pets, have natural behaviors and needs; to be healthy and happy, they must have opportunities to express those natural behaviors in appropriate ways."

Best Friends Animal Society
A great way to capitalize on the holiday season is by spending value-ridden time with your cat to keep it provide alleviate boredom and stimulate your cat.
If you keep racking your brains about 'What can I do with my cat at Christmas?', Here are a few simple activities to play with the fur-pawed ones but under strict supervision –
Rodent-shaped battery-powered toys that prance erratically can be a lot of fun to watch your cat's hunting skills come to the fore. Pay heed to not allow your feline to chew the mechanical toy.
Playing hide and seek with a safe material stuffed toy also gives good exercise to the lazy bones.
Make a homemade maze out of furniture and cushions placing cat food at random spots to be found by the curious cat. It provides the exercise of jumping on the furniture and then sniffing out or searching for food underneath the objects of the maze. 
Must Read: How To Enjoy Christmas Decorations With Cats?
Frequently Asked Questions
Which toys are safe for cats?
Stuffed toys that can be ripped apart or have external small dangling ornaments or movable parts or run-on batteries, etc are a definite NO for cats.
Interactive Toys made of strong fabric devoid of choke stuffings, felt balls with squeaky sounds or ants that are not too hard and do not have sharp edges or corners, are best for kittens. 
For adult cats Peek-And-Play toys or cat trees are perfect. But, unsupervised playtime is not advisable for any cat.
Where can we find safe cat toys for Christmas?
With the increasing number of cat lovers, the cat toy market has become part of the cutting-edge manufacturing industry.
Toys of all ranges and types are available in major shopping stores like –  Etsy, Target, Amazon, Chewy, Nordstrom, etc.
Wrap Up
The best thing about your purr-fect pets is that, not only do they detoxify your moods or are therapeutic to your frayed minds, but also do not judge your gifts based on their price tag like we humans do.
So, spoil your furry friends with lots of time to share in interactive play with the new safe Christmas toys. Happy a Catty Christmas!
Must Read: Which Christmas Trees Are Safe For Cats – Fake Or Natural?
References