No! Christmas trees are not toxic enough to kill your cat nor does curiosity. But, some things and factors can cause temporary damage and may necessitate a trip to the veterinarian because of curiosity and negligence.
That surely brought a helpless smile, right?
Christmas is a season of family gatherings of creating happy moments and memories, and of course gifts around the Christmas tree.
A Christmas tree is a symbol of the Christmas spirit of love, care, family bonds, charity, and sharing. Among the family excitements are some little bundles of the furry ball(s) too, your cat(s).
So, amidst all the preparations and decorations, do you worry if the festive spirit can turn into a visit to the Veterinarian? Can this symbolic Christmas tree turn toxic or harmful to your cat?
If you want to have a STRESS-FREE Christmas, pay attention to avoid certain things of toxicity and some simple signs of illness.
Also, do you want to gear up with the knowledge of possible causes and resultant types of accidents that can harm your cat? Just Keep Reading!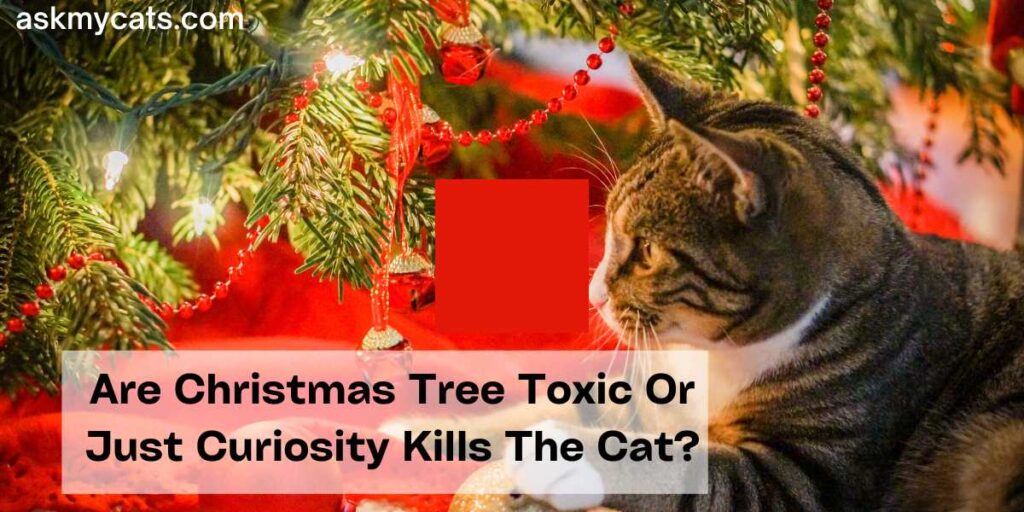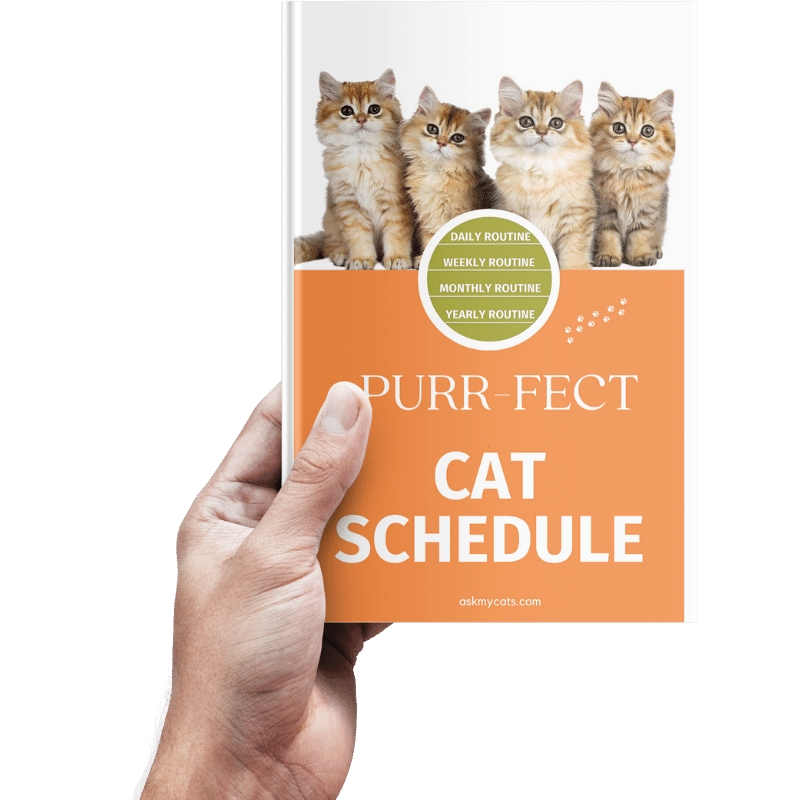 Discover the Secrets to a Happy Cat!
Discover the secrets to creating a happy and healthy daily routine for your feline friend. From playtime to mealtime, sleep to grooming, our expert guide will show you how to make every day a purrfect day for your cat.
Give Your Cat the Perfect Day – Get the Ebook!
Is It Natural How Cats React To A Christmas Tree?
Obviously! Well, we know that cats are instinctively curious creatures. So, cats can't stay away from a Christmas Tree because it is in their nature to be playful.
How can we expect little kittens to stay calm when they see all the shiny baubles, glittering strings, and tinsel on a Christmas tree, mocking them to explore?
Cats and Christmas decorations have always been a recipe for mayhem. But there's good news for cat lovers, the main victims I have come across in this festive frolic have been trees, not cats.

Dr. Leonie Richards, Head of General Practice at the University of Melbourne's U-Vet Veterinary Hospital
It is not the tree that lures a cat to get excited and jump on its branches to topple the whole tree and create an utter mess. The cat naturally thinks of the whole area around the tree along with the hanging decorations as a playpen with attractive new toys.
But, Christmas tree flocking can turn toxic to cats for other reasons.
How Toxic Or Harmful Is A Christmas Tree For A Cat?
On that reassuring note, let us know the different scenarios in which your cat's Christmas tree flocking is toxic or harmful.
1. When Cats Eat The Christmas Tree Needles And Sap
Live Christmas trees used in most homes are big cuts of Pine or Spruce or Fir trees. Christmas tree needles are toxic but not lethal.
Though the tree may not have any harmful effects if just chewed by an adult cat, the fallen Christmas tree needles or pines cones are mildly toxic and can turn severe if ingested in large quantities and continuously.
Even ingesting too many bits of branches or leaves can cause digestive issues. The sap in the branches has chemicals that smell like Christmas.
The chemicals are terpenes or pinene, which are toxic to cats but not lethal. Yet, can disrupt the festivities all the same.
Pines are chewable but also sharp for little kittens. Moreover, the oils in the Christmas tree needles cause irritation in the mouth and upset gastrointestinal areas.
In extreme cases and especially in little kitties, the pines act as needles and can rupture the inner linings of the digestive tracts or organs.
2. When Cats Lick Water Beneath the Christmas Tree
Live trees are placed in a water trough to keep them fresh. Unfortunately, the same water can turn toxic for your cat.
The sap of the branches as well as the shed Christmas tree needles that have fallen in the water release the above-mentioned chemicals and oils.
Often additives are added to the water to extend the life of the Christmas tree. Some of the common ones used are sugar substitutes like xylitol or fertilizers or even aspirin. We must know how hazardous or lethal this water with preservatives can be for little kittens.
Even if water is not changed every day it can allow bacteria to develop. Thus, If left un-monitored the feline will naturally lick or lap the bacteria or chemically ridden water and get severely ill.
Interesting Read: How To Enjoy Christmas Decorations With Cats?
3. When Insta-Snow Is Sprayed
Instant Snow sprays are used in places where natural snow is not available.
They are safe to use unless the residual powder or contaminated water is eaten or licked by your furry friend.
It definitely will harm your innocent pet. If the spray falls on the skin, it causes irritation and must be avoided around the eye at any cost.
4. Decorative Things
Glass ornaments hanging on Christmas trees look very beautiful but if it breaks when your feline tugs at it, the ornament or colorful carbuncle can prove hazardous.
Stepping on the broken pieces can wound the soft pads of the tiny paws.
The sharp shards can wound the mouth if the kitty tries to bite them or even choke on them. The minute parts if ingested will damage the GI tract too.
The strings in tinsel or garlands if swallowed will block the tract or the whole string get stuck running along from the esophagus to the intestines. In such cases, surgery is the only option.
5. Mistletoe and Holly
According to NAPCC the possible toxic chemicals in mistletoe that can harm cats are lectins and phoratoxins. Though severe toxicity is not common, yet ingestion in large quantities may cause low blood pressure and slowed heart rate or breathing problems.
Decorating the house also includes Holly leaves and berries.
Unfortunately, for your kitty, you cannot allow it to enjoy ingesting or playing with these sharp, shiny leaves because it mildly toxic chemicals called Saponins. Your kitten can end up with all symptoms of poisoning.
Must Read: Why Do Cats Like Christmas Trees?
What Are The Signs Of Christmas Tree Poisoning In Cats?
Poisoning due to any of the above-mentioned reasons cannot be always avoided.
Knowledge of the possible symptoms is the best way to prevent things to escalate.
Some of the signs of poisoning are –
Excessive drooling
Loss of appetite
Inactive and dull
Vomiting
Diarrhea
Lack of muscle coordination or staggering
Must Read: Which Christmas Trees Are Safe For Cats – Fake Or Natural?
What Should I Do When I Find Symptoms Of Poisoning In My Cat?
The best course of action if the symptoms are mild is to try home remedies like withholding feed for a few hours.
Keep your cat dehydrated with proper electrolytes, especially in cases of vomiting or diarrhea.
If the symptoms become frequent and persistent take your furry feline to a veterinarian immediately before things escalate to total collapse or seizures.
Yet, making the Christmas tree cat-proof will be the better option to prevent such poisonings and dampen the Christmas spirit.
Must Read: How To Keep My Cat Out Of The Christmas Tree?
Common Queries
Can we use Fake Snow?
According to the Veterinary Poisons Information Service most fake snow has a low percentage of toxicity but can harm the GI tract of your cat if ingested.
Is a fake Christmas tree safer than a live one?
These look-alikes of live Christmas trees may be comparatively safer in terms of toxins, but the furry-pawed ones jumping about the shiny decorations may playfully tug at the branches and bite a chunk of the plastic. This will again cause blockage and severe damage or poisoning in the GI parts.
Are cats allergic to Christmas trees? Or Are Christmas ferns toxic to cats?
As illustrated in the preceding content with confirmations from prominent veterinarians, we can safely say that some of the natural chemicals in these trees are toxic only if ingested and can upset the health of your cat.
But allergies are individual phenomena which only your keen observation and the help of a doctor can give the answer you seek. Christmas ferns of particular species for particular cats also may have the same solution.
Winding Up The Christmassy Tale
Wise people say that knowledge of a problem is half redressal of it. The above list of facts must have answered your question — 'Can a Christmas tree make a cat sick?'
Hence paying attention to all the above possibilities of poisoning and hazards along with their root causes can help you prevent them with some simple precautions.
So, go ahead and share the joyful festivities with your little furry bundles by avoiding any toxic concerns.
May yours and your cat's Christmas Tale have a Happy Non-Toxic Continuation!
Must Read: What To Gift Your Cat For Christmas?
References