If you're worried about your young kitten sleeping alone in a separate room, then you're not alone.
There's a lot of confusion among cat owners regarding whether their kittens should sleep in a separate room or with them in their own beds.
Even though a majority of cats prefer to sleep in the same room as their owner, it's absolutely normal for kittens to start sleeping separately. Sometimes, it's even necessary.
Preparing a different room for your kitten helps in building its confidence, establishing boundaries, preventing territorial attachments, and protecting you from fungal and bacterial infections.
In this article, we will discover the best sleeping arrangement for your kitten and how you can prepare a separate room for it, so that both you, as well as your cat, can enjoy some well-deserved peaceful nights of sleep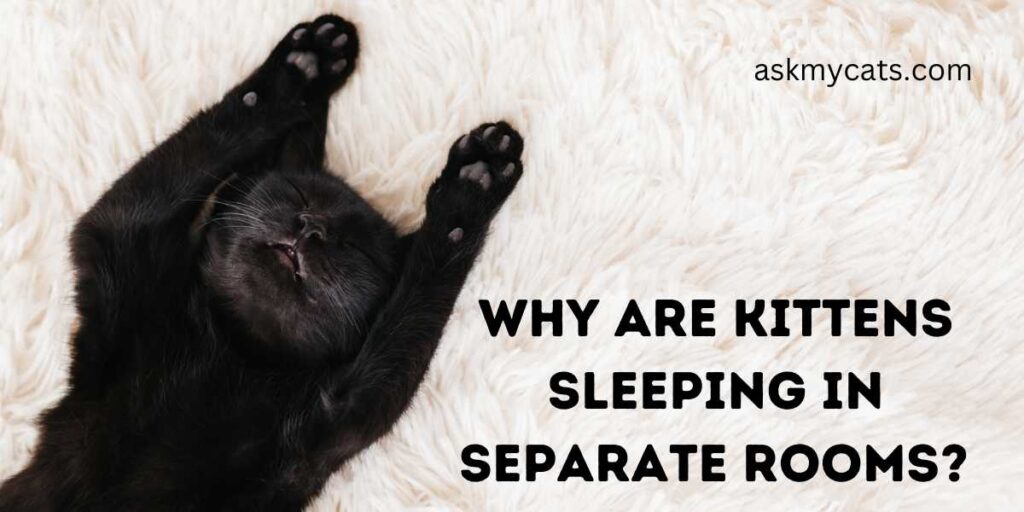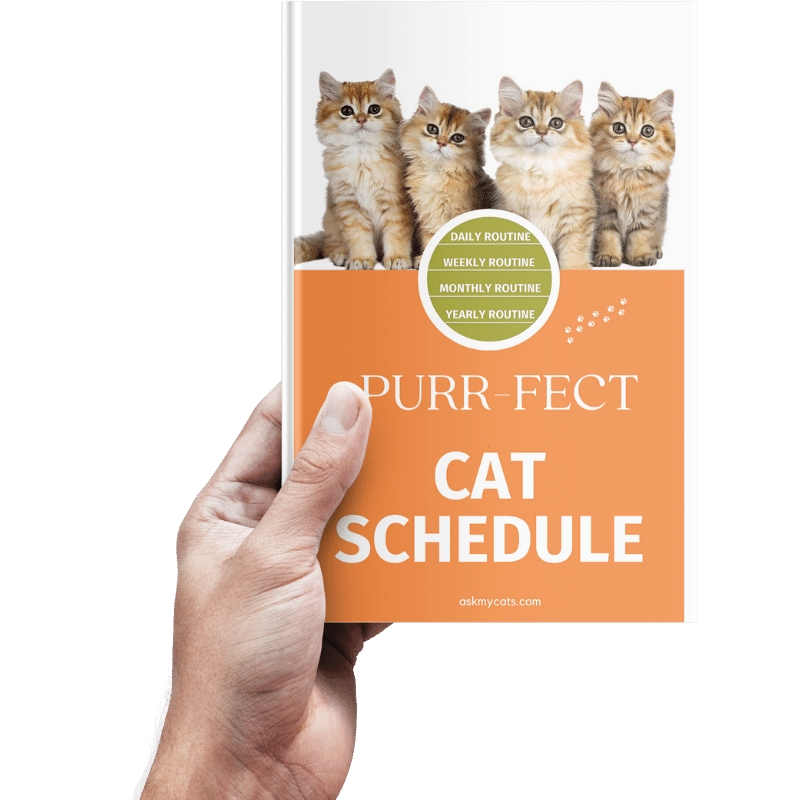 Discover the Secrets to a Happy Cat!
Discover the secrets to creating a happy and healthy daily routine for your feline friend. From playtime to mealtime, sleep to grooming, our expert guide will show you how to make every day a purrfect day for your cat.
Give Your Cat the Perfect Day – Get the Ebook!
Why Does My Kitten Sleep In A Separate Room?
Your kitten prefers sleeping in a separate room as being in the new and unfamiliar surroundings can make it feel anxious and perturbed as it has been separated from its family.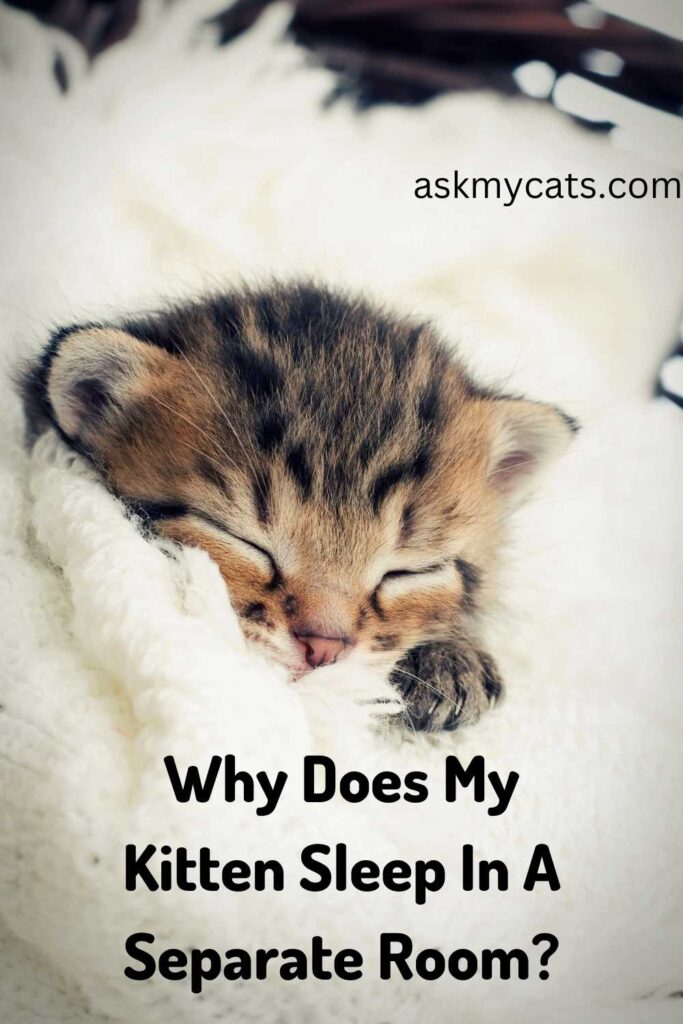 This is why you may notice your kitten shying away from your presence and not wanting to sleep in the same room or bed as you. Therefore, it is extremely important to let the kitten discover and acquaint itself with its new home at its own pace.
It is possible that your kitten bonds and forms an attachment with you quite quickly and shows no qualms about sleeping in the same room as you.
But if it is still too frightening and on edge, your kitten will likely sneak away to sleep in a separate room. Don't be anxious if this happens and just give the kitten some time to adjust to the new space.
In order to help your kitten settle down better, it is recommended that you bring some of its old bedding and toys so that it can find a sliver of comfort in the familiar scent.
Should A Kitten Sleep In A Separate Room?
Yes, your kitten can sleep separately to prevent a disruption to your sleep cycle and to safeguard you from contaminations.
Young kittens tend to be quite energetic and animated and scuttle all over the place. They are crepuscular creatures. At night, when you are ready to finally wind down after a toiling day, your kittens will most likely be ready to party and stay up till daylight.
Therefore, if your beauty sleep is dear to you, it is best to encourage your kittens to sleep in a separate room.
Sleeping alongside your kitten will also inevitably result in you contracting your kitten's fungal, and bacterial infections and even being exposed to its fecal matter.
This can have detrimental implications on your health if the room isn't regularly cleaned or sanitized.
Must Read: Confining A Cat To A Room At Night! Is It An Offence?
Should I Allow My Kitten To Sleep Alone In A Separate Room?
The general consensus on this matter agrees that it is preferable for a young kitten to start sleeping alone in a separate room. The chief reason behind this is to establish boundaries and set firm ground rules.
Cats are inherently territorial beings and once they start sleeping in the same bed as you, it will be quite challenging and arduous to get them to alter their sleeping patterns.
Kittens are known for hogging the bed covers and occupying ample space so it might be discomforting for you to share the bed with them.
Also, if you are a heavy sleeper and toss and turn around a lot in your sleep, you could possibly end up injuring your kitten.
Additionally, sleeping alone will help build up your kitten's confidence and self-esteem. Therefore, if your kitten is comfortable sleeping in a separate room, you should encourage it to do so.
Interesting Read: Is It Cruel To Keep Cat Out Of Bedroom?
Is It Recommended For Kittens To Sleep In Separate Rooms?
Yes, there are many circumstances where sleeping in a separate room becomes advisable and even necessary for a kitten.
Here we have provided a brief synopsis of some of them:
Cats With Aggressive Tendencies
If your cat has a combative streak and frequently pawns or belligerently scratches its surroundings, it would be best to settle it in a separate room for the night.
25,000 people catch 'cat-scratch fever'(a bacterial infection transmitted through cat scratches) every year. This disease can turn out to be fatal for those with weakened immunity.
Ill or Elderly Cats
Elderly cats prefer their own space and freedom. Absolute control over the environment helps in creating a sense of personal liberty and autonomy.
Cats With Separation Anxiety Disorder
Initially, this might seem to be counterproductive but in time, with painstaking planning and proper guidance, the cat will slowly benefit from the distance.
Young Kittens And New Cats
Kittens usually tend to sleep in separate rooms as it helps to familiarize them with the new surroundings and build a disciplined sleeping routine and pattern.
New cats feel uncomfortable in a strange, different environment and prefer to sleep separately rather than with their new owner.
Interesting Read: Where Should My Kitten Sleep At Night?
Should I Let My Kitten Sleep In The Same Room As Me?
If you want your kitten to sleep right next to you at night, you're not alone.
You can, too, let your kitten sleep in the same room or bed as you, as long as it consents and is comfortable with the sleeping arrangement.
Kittens are used to sleeping snugly and cuddling with their siblings. Sleeping alongside you in the same bed can make your kitten feel safe, secure, and protected.
You can also prepare a warm nest for it in the corner of your room by taking an appropriately sized cardboard box or a kitten bed and cloaking it with soft blankets or towels.
Placing small toys and water/food bowls near the bed will keep your kitten engaged. Sleeping in the room as your kitten will help you to keep an eye on it and ensure that the little furball doesn't inadvertently hurt itself.
Must Read: Should I Let My Kitten Sleep With Me?
How Should I Prepare A Separate Room/Bed For My Kitten?
Cats are private and enjoy being in their own company and having a separate space. If you're looking for ideas to create the perfect sanctuary for your kitten to curl up and snuggle, you've come to just the right place!
1. Remove the hazards
First and foremost, it is essential to kitten-proof the room. Ensure that there are no hazardous or spiky objects which could possibly harm or wound your kitten.
Remove any precious or costly items that are dear to you that the kitten could knock down and break.
Clear out the shelves and countertops. Also, choose a room that is closed off and secluded as cats prefer space and quiet.
2. Provide the Necessities
Place lots of blankets and downy towels to create a cozy cocoon for your kitten. Add a hot water bottle if you think it will be cold.
Provide a food bowl, water, and a litter box. Keep the litter box separate from the water/food bowls as cats are not too inclined to eat or drink near their waste.
You can turn on a night light so that the kitten can maneuver around easily.
Must Read: Should I Leave A Light On For My Cat?
3. Make it Stimulating
Ensure that you scatter lots of fluffy and soft toys around the room to keep your kitten occupied and entertained.
You can create climbing obstacles and puzzle toys that hide treats or toys and your kitten has to figure out how to get to them.
Switch the challenges often so it doesn't get boring. You should also place a scratching post as it prevents the kitten from clawing at household items.
Interesting Read: Should My Kitten Sleep In A Crate?
How Should I Get My Kitten Adjusted To Sleeping In A Separate Room?
You should gradually introduce your kitten to the idea and take the process imperceptibly slow.
Hastiness will end up doing more harm than good and can even provoke separation anxiety disorder.
If your kitten is used to sleeping in the same room as you, it can be quite inconveniencing and challenging to get it to change its sleeping arrangement to a separate room.
Therefore, you can start by playing with your kitten for a while in its designated room so that it feels comfortable in it.
Try tiring the kitten out and when it looks ready to take a nap, you can leave it there for a few hours. Check on your kitten sporadically to assure that it is still asleep and at ease.
In the beginning, you should avoid putting your kitten in a separate room for the entire night. Start with a few hours and slowly move on to full nights when you become absolutely sure that your kitten is ready for it.
Don't reward attention-seeking behavior. If you move to comfort your kitten as soon as you hear it meowing or scratching on the door, your kitten will likely repeat the same pattern every time you leave it alone.
Ignoring your kitten's sorrowful cries can be extremely upsetting and guilt-inducing, but cat activists strongly advise against attention-seeking tantrums.
Building a routine takes time and discipline so persevere and persist to get the desired results.
Interesting Read: How To Get A Kitten To Sleep At Night?
How Long Should A Kitten Be Kept In A Separate Room?
A kitten shouldn't be kept alone in a room for more than 4-5 days.
Leaving your kitten alone for the night or for short periods of time during the day is perfectly fine, safe, and even beneficial. However, keeping it solitary for long durations will be ill-advised.
Being left alone for extended periods of time can lead to adverse effects on a kitten's health such as Separation Anxiety Disorder and other social issues.
Frequently Asked Questions
Should I put my kitten in a cage at night?
Usually, a hale and hearty kitten does not need to be put in a crate or cage at night. However, if your kitten is facing trouble while using its litter box, putting it in a crate for the night will be a good idea. You can consider investing in an automatic litter box, for ease of training.
Do kittens sleep through the night?
No, young kittens don't generally sleep throughout the night. Kittens have a nocturnal sleeping cycle. They are big snoozers and nap for around 18-20 hours a day, not necessarily when you are asleep. They are active at both dusk and dawn. You can try exhausting your kitten's energy supply during the day with lots of playing and exercise so that it will fall asleep more easily during the night.
Conclusion
In a nutshell, choosing where to tuck your kitten away to sleep at night is a largely flexible and personal decision.
You can let your kitten explore the options by itself and see where it finds the most comfort and peace.
Through a process of trial and error, you can decide which sleeping arrangement is suitable for both you and your feline friend.
References