Do you feel guilty about locking away your kitten in a crate at night?
If your answer is an unequivocal yes, then allow me to dispel your fears.
It is perfectly normal for a cat parent to crate their kitten at night. However, you don't necessarily need to do so.
In this article, we will explore the various circumstances when you might need to crate your kitten and what are the pros and cons of doing so.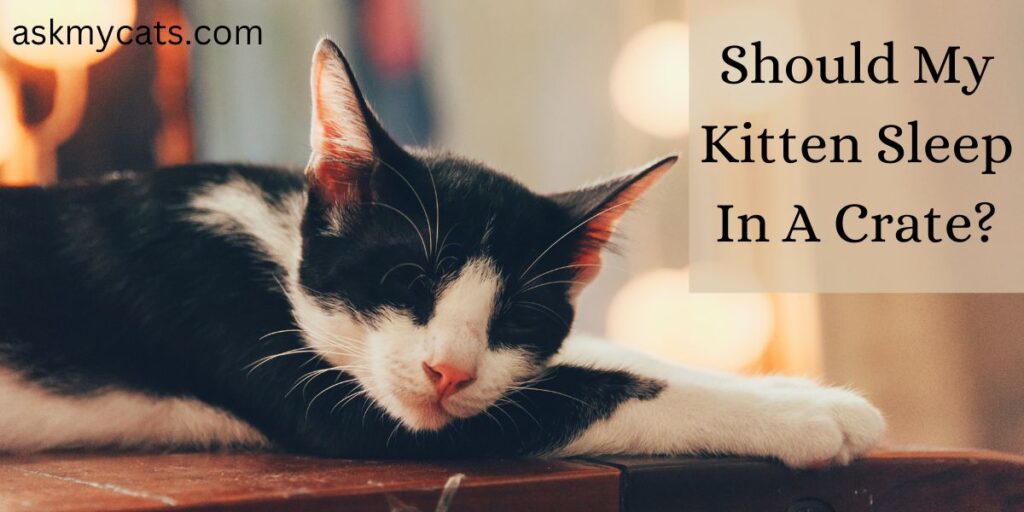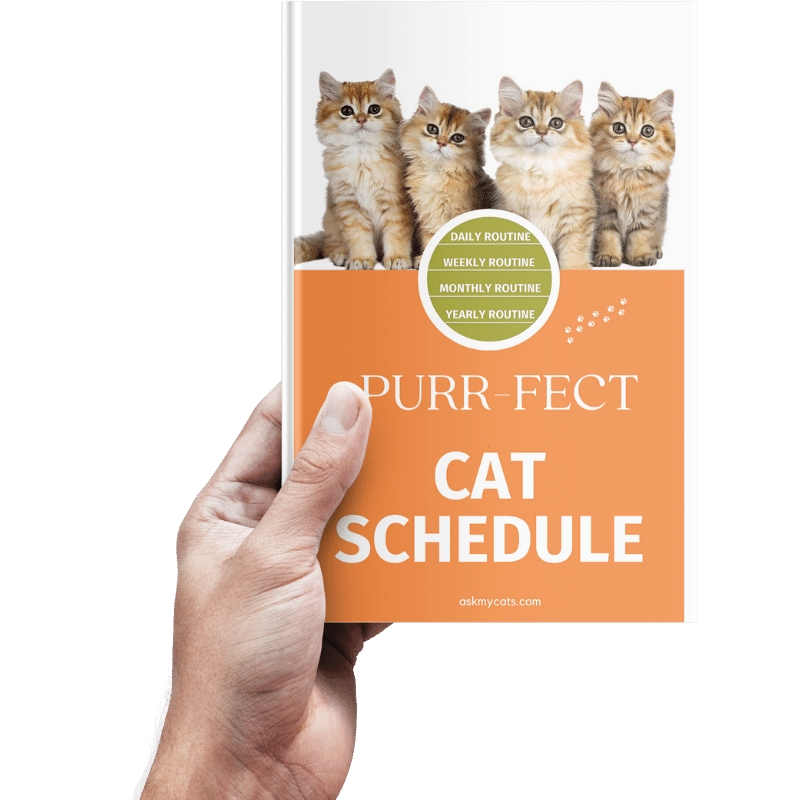 Discover the Secrets to a Happy Cat!
Discover the secrets to creating a happy and healthy daily routine for your feline friend. From playtime to mealtime, sleep to grooming, our expert guide will show you how to make every day a purrfect day for your cat.
Give Your Cat the Perfect Day – Get the Ebook!
Can My Cat Sleep In A Crate At Night?
It is vital that you are crating your kitten for the right reasons.
Usually, healthy and well-adjusted kittens with an even temperament don't need to be kept in a crate for the entire night.
A lot of cat owners put their kittens in a crate when they are relatively young to prevent them from roaming around the house and hurting themselves. Kittens that require litter-box training are also often kept in cages to assist with the process.
If you're wondering whether it's safe to put your kitten in a crate, then yes, it is safe provided that you have made the crate comfortable with blankets and food/water bowls.
Here are some of the reasons why you might be compelled to crate your kitten :
1. Safety:
New kittens that are unfamiliar with the surroundings can injure themselves with furniture or other objects around the house.
It can be helpful to crate your kitten at night to ensure that she remains safe and protected while you are not there to keep a watch on her at night.
2. Healing:
If your kitten is hurt, then you might want to constrain her movement by crating her at night. Otherwise, free movement can aggravate the injury.
3. Litter box training:
The limited area of the crate ensures that your kitten does not urinate elsewhere in the house. In the initial phase of litten box training, this can be a helpful practice to train your kitten to urinate in the designated box.
4. Uninterrupted Sleep:
Cats are crepuscular creatures and they feel no qualms about waking you up in the middle of the night with their nightly shenanigans.
Thus, some cat parents crate their fur balls so they can have some quiet and peaceful nights of sleep.
Must Read: Can I Keep My Cat In A Cage Overnight?
Points To Consider While Letting Your Kitten Sleep In A Crate
If you're considering crating your kitten at night, there are certain tips that you need to be mindful of:
1. Limit crate time during the day:
When you put your kitten in her crate for the night, ensure that she spends very little or no time in it during the day.
A crate offers very limited space so give your kitten plenty of open space and room to play in the daylight hours.
2. Introduce the crate slowly
This will make your kitten accept the crate more easily. Put her in it for a couple of minutes while she is feeding or for playtime.
The idea is to make your kitten comfortable with the crate, instead of fearful.
3. Make the crate cozy
Cover your kitten's crate with soft blankets, fuzzy towels, and furry cat toys. Ensure that a crate is a pleasant place for your kitten and not something that symbolizes a punishment.
Interesting Read: Is It Advisable To Confining A Cat To A Room At Night?
Advantages Of Letting Your Kitten Sleep In A Crate
1. Better sleep for the kitten
If your kitten is restless by nature and a light sleeper that wakes up with the slightest noise, then sleeping in a crate can help her sleep soundly without any disturbances.
Proper sleep is an essential part of a young kitten's routine as it is during sleep that the kitten's body will regulate its body temperature and build up energy.
2. Better sleep for you
Kittens are crepuscular by nature, which means that they are active at dusk and dawn. Your kitten's sleeping schedule may not align with yours and that can disrupt your own sleeping patterns.
Thus, if your kitten is sleeping in her crate, then she will not be able to wake you up in the middle of the night or the early hours of the morning.
3. Prevent injuries
Young kittens in their teething phase are prone to chewing on furniture and other pieces of value which can ruin the objects and also cause themselves harm.
Putting your kitten in a crate or cage will prevent her from getting into trouble at night.
4. Litter Box Training
In the early phase of litter box training, your kitten might be reluctant to use the litter box and will, therefore, spill elsewhere.
Using crates will limit the possibility of your cat accidentally urinating on an expensive rug or other furniture.
5. Privacy
New surroundings can appear strange and imposing to a young kitten and you might even find your furry friend hiding under a table or chair to find some privacy.
Thus, the cage offers the seclusion that your kitten needs.
6. Space from other pets
If you have other pets, then that can be a potential cause of concern for your kitten. A crate will be a safe space for your kitten where she will be protected from your other pets.
7. Convalescing from injury
When a cat has had surgery, it is crucial that they stay stationary and not move around a lot. Hence, it's best to let them sleep in a crate or cage to prevent the wounds from opening up.
Must Read: Should I Let My Kitten Sleep With Me?
Disadvantages Of Letting Your Kitten Sleep In A Crate
1. Behavior Problems
If your kitten grows to resent you for locking her in the crate, then this could cause behavior problems down the line.
She might start acting out purposefully and destroy your belongings. She will also get fearful of you and this will adversely affect your relationship with your kitten.
2. Constant Meowing
There is a chance that if your kitten does not like being confined at night, then she will spend the entire time meowing, which will be disruptive to your sleep.
3. Distance
On the off-chance that your kitten falls sick during the night, you will not know about it until the next day.
If kittens are permitted to roam freely, then they usually signal their owners that they are feeling unwell.
Interesting Read: How To Get A Kitten To Sleep At Night?
Why Should I Stop Crating My Kitten At Night?
It isn't necessary to crate your kitten if she is well-behaved, healthy, and well-adjusted.
Cat owners usually only crate their kittens due to the reasons aforementioned.
If you put your kitten in a crate every night even though she is a happy and even-tempered cat, then this will affect your bond with her.
She will see the crating as a punishment and grow fearful of you.
If you find that you must put your kitten in a crate due to any cause, then ensure that the crate is a comfortable and cozy place for your kitten to sleep.
Interesting Read: Can You Keep A Cat In A Cage During The Day?
Frequently Asked Questions
What is an ideal crate for your cat?
The crate that you choose for your kitten should be considerably spacious so that it can fit your kitten's food/water bowls, litter box, and toys. Make the crate warm by spreading blankets and hot water bottles so that the crate is a familiar, cozy nest for your kitten.
How long can cats stay caged/in a crate?
Cats are intrinsically wild in spirit and like their sense of freedom and liberation. They do not like being restricted for too long. If you're putting your kitten in a crate for the night, then only lock it as close to bedtime as possible and open it the moment you're out of bed.
Final Words
Kittens are Olympic sleepers, clocking in for about 16-20 hours every day. The task of choosing the most appropriate place for them to sleep can be a puzzling one at times. You must let your kitten have some leeway with regard to this decision.
If your kitten is not taking to sleeping in the crate, then think of alternatives. Don't force her to sleep somewhere that she is not liking.
Pick a place that suits both of your requirements so that you, and your kitten, can enjoy peaceful nights of sleep.
Interesting Read: Why Are Kittens Sleeping In Separate Rooms?
References