There is a deluge of circumstances that can lead you to put your kitten in a cage.
However, almost none of them warrant that you leave your kitten alone for more than a duration of 6 hours. Kittens are perceived as traditionally independent beings, but it is still emotionally compromising for them if they are left in a cage all day.
Thus, in this article, we will explore whether a kitten can be left in a cage during the day, when is it necessary and what alternatives can you use in its stead.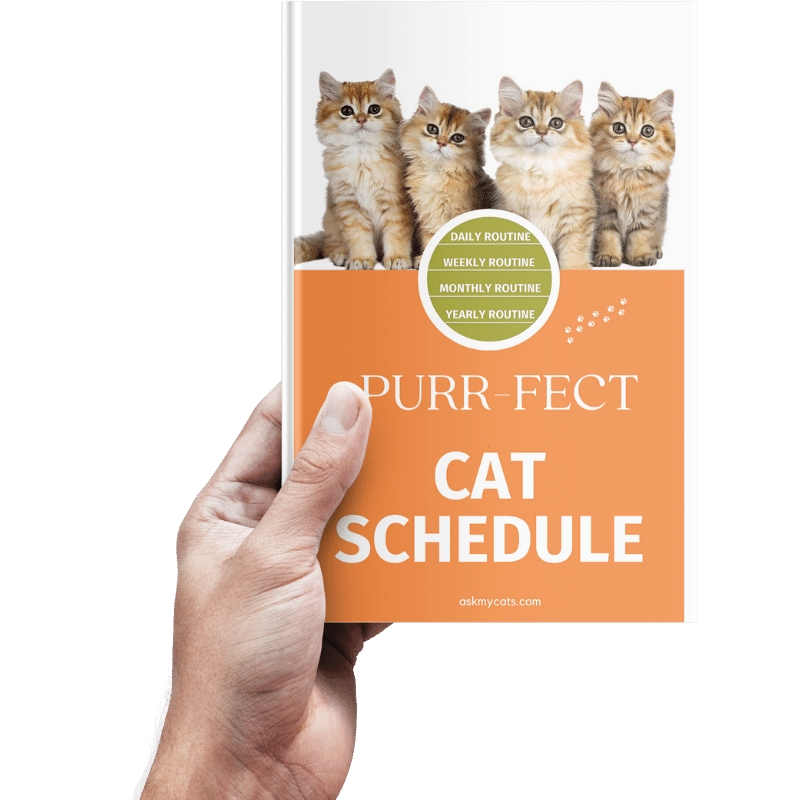 Discover the Secrets to a Happy Cat!
Discover the secrets to creating a happy and healthy daily routine for your feline friend. From playtime to mealtime, sleep to grooming, our expert guide will show you how to make every day a purrfect day for your cat.
Give Your Cat the Perfect Day – Get the Ebook!
Is It Okay To Leave Your Cat In A Cage During The Day?
No, you shouldn't leave your cat in a cage ALL day, unless it's a medical requirement. Cats are roaming creatures and should be free to maneuver and stroll around the house.
However, you can put your kitten in a cage for brief periods for training, medical or health purposes.
Here are some reasons why people put their kittens in a cage:
1. Feral Cats
Cats or kittens that have been abandoned by their families or strayed for long periods of their life can turn fearful of people due to the lack of affection.
If you ever bring a feral cat home, then you might need to put her in a cage for some time so that she doesn't run away from you and so you can be close to her.
This will allow her to trust you over time. However, you have to make sure that she doesn't see it as a punishment or a prison.
2. Litter box training
Litter box training usually comes easily to kittens, but for some, it can be a hurdle.
You don't want your kitten to pee all over your home, so you can consider keeping her in a cage with a litter box. This will leave her no other option but to use it for excreting.
3. Medical Purposes
Cats that have just undergone surgery or are recovering from a serious injury need to take rest and restrict their movement for a while.
Naturally, your cat will likely be reluctant to do anything of the sort, so you can curtail her movement by using the cage.
4. Other Pets
If you have multiple pets that turn against each other and have animosity between them, then you can keep them in separate cages to protect them from each other.
5. Inoculation
Most cats run away or try to hide while you are doling out medication, so cages can be a helpful tool to prevent them from doing so.
Warren Taylor, a cat parent says "The only times we put a cat in a cage are when medically necessary, such as when one of our kitties many years ago suffered a broken pelvis, and the vet prescribed months of cage rest.

He went on to recover and lived with us for many more years. We use cat carriers when we transport them outside of our home.

Other than that they either have the run of the house or if that is not possible they are confined to our master bedroom/bath, a total of about 550 square feet.

It is where they eat and sleep (their choice about the sleeping), and has lots of toys, a big cat tree, and a kitty tunnel."

Warren Taylor, Cat Parent shared his experiance
Therefore, if you face any of the aforementioned circumstances, then you can consider caging your cat, but even then, it is important to let her out from time to time.
Otherwise, you should not cage her throughout the day for no apparent reason.
Is It Animal Abuse To Lock Your Cat In A Cage All Day?
Caging your kitten throughout the day without letting her out can seem cruel. No animal likes being restrained and if you do that to your kitten, she may grow resentful and fearful of you.
If there is a genuine concern that compels you to cage your kitten, then that is completely fine and normal. A lot of cat owners do keep their kittens in a cage at times at night or during the day to help with sleep, behavior problems, surgery healing, or litter box training.
If you are thinking of caging your kitten for any of these reasons, ensure that the cage is a comfortable den and consists of all your kitten's necessities. It should include warm, soft blankets, food/water bowls, a litter box, as well as some cat toys.
Be mindful of how your furry friend is feeling. If she looks uncomfortable or scared inside the cage, then immediately let her out. Introduce the concept of a cage gradually. Do not just abruptly thrust her into it.
Interesting Read: Can I Put My Cat In A Cage At Night?
What Do Cats Feel When You Lock Them In A Cage All Day?
Being caged for long durations of time can be a debilitating and traumatic experience for any animal, especially cats, as they are independent creatures.
This is especially true for rescue kittens and kittens that have just been adopted to a new home. Restrainment in a new environment can cause extreme bouts of depression and anxiety in kittens.
Dogs and cats have different perceptions of being caged. Dogs are comfortable with staying in a cage for hours on end as their habitual instinct is to live in a den.
On the other hand, cats are the byproducts of hunters and so they need to be able to move around and explore their surroundings. They are not used to being trapped, and being confined in a cage can trigger emotional and psychological problems in them.
Thus, it is pivotal that before putting your kitten in a cage, you peruse all the physical and mental implications that this can have on them.
Must Read: Is It Advisable To Confining A Cat To A Room At Night?
Can I Leave My Kitten In A Cage While I'm At Work?
Work is an unavoidable commitment that is time-consuming and means you will have to leave your kitten at home alone. If you have a friend who is comfortable keeping your kitten while you are at work, then you can explore that option instead of keeping it in a crate.
If not, then you can also kitten-proof a room in your home, and keep her there after ensuring that her food/water bowls and the litter box are within reach.
You can also put her in a crate, however, the crate should be suitably big in size, comfortable, and must include all her necessities like toys and food bowls.
How Long Can You Keep A Kitten In A Cage?
The duration typically depends on the kitten's age, personality, temperament, and health.
It is recommended that you should not keep an adult cat in a cage or crate for more than 6 hours. Kittens under 4 months can be left alone for around 3-4 hours, while those of 5 months of age can be left for a maximum of 5 hours.
If you keep your kitten confined for a duration longer than what is stipulated, then it can lead to severe psychological, emotional, and social effects for her.
Tips For Keeping Your Kitten In A Cage
At times, keeping your kitten in a cage can be inevitable due to work or other constraints.
Thus, here are some tips that can make the confinement easier on your kitten:
1. Provide Stimulation
Sitting for long hours, trapped in a crate, will likely evoke boredom and lethargy in your kitten. Thus, it is your job to make the crate a fun place for her by providing plenty of toys and other cat puzzles to your kitten.
This will keep your cat entertained and stimulated. Be careful that all the toys are appropriate and safe. Some of them, like rubber yarns and strings, can cause intestinal obstruction and are fatal.
2. Leave the T.V On
A quiet place can accentuate the kitten's loneliness, so you can leave the t.v or radio on while your kitten is at home alone.
3. Provide Scratching Posts
Cats like scratching their nails on these posts and also scent marking. Ensure that the plants in your home are safe for your kitten, some common plants like lilies are fatal for cats.
4. Provide the necessities
You must keep separate food/water bowls and a litter box close to your kitten. Also, make the crate warm and cozy by covering it with blankets and soft towels. You can even keep a hot water bottle under the blankets for extra warmth.
5. Commercial Pheromones
Artificial pheromones can help replicate the effect produced by your kitten's natural pheromones
Rachel Geller, Certified Cat Behaviorist, says " Synthetic pheromones are especially helpful for those times when everything is completely new for your cat.

Examples are moving to a new home, buying new furniture, or putting in new carpet.

These products can be used on unfamiliar objects in the home to help a cat feel more safe and more secure with them"

Rachel Geller, Certified Cat Behaviorist
Thus, you can purchase artificial pheromone sprays or diffusers to create a sense of protection and tranquility in your kitten.
What Are The Alternatives To Cages?
Not all cats are comfortable with being kept in a cage, thus here are some alternatives you can work with instead:
1. Designating A Bedroom
If you have a spare room or even just a small corner of your home, you can use it as a makeshift kitty room.
Assure that the room is safe by removing all potentially dangerous objects or pieces of furniture. The room will provide enough space so that your kitten doesn't feel trapped or cooped up.
2. Training
At times, cats can have behavioral problems which compel their cat parents to cage them. If this is the issue you are facing, then instead of resorting to crating, you can try fixing it with training.
Must Read: Should My Kitten Sleep In A Crate?
Frequently Asked Questions
Do cats get lonely?
Even though cats have a reputation for being strong, independent creatures, research proves that cats are actually social beings and form deep bonds with their owners. Thus, if you leave your cat unattended for long periods, then yes, she will get lonely.
Do cats miss their owners?
Cats are territorial creatures and they share strong attachments with their owners. If you're separated from your kitten, then she will notice your absence and will display symptoms of anxiety like loss of appetite, depression, etc. 
If you notice any of these in your kitten, talk to the vet to determine the presence of a health condition. 
Final Words
The bottom line is that no, you shouldn't keep your kitten in a crate all day, every day. This is especially true if you are at home and don't have any suitable reason for keeping it caged.
A lot of cat parents do cage their kittens, but usually only if they are at work or for short periods of time during the day or night for medical/ behavioral purposes.
However, if you are impelled to crate your kitten for any particular reason, then ensure that she is comfortable and does not feel any undue stress because of it.
References