As a new kitten owner, there's a myriad of things you need to take care of to ensure your feline friend's well-being. One of the most important of them is your kitten's sleeping arrangement.
A quintessential cat spends about 66% of its lifetime dozing. So, doesn't it make sense to pick the coziest, snuggest little nook for your kitten to sleep?
In general, it is best to let your kitten decide by itself what its ideal sleeping place looks like. This could either be alone in a separate room or also just curling up next to you in bed
In this article, we will explore the various sleeping arrangements for your kitten and find the one that suits it the most.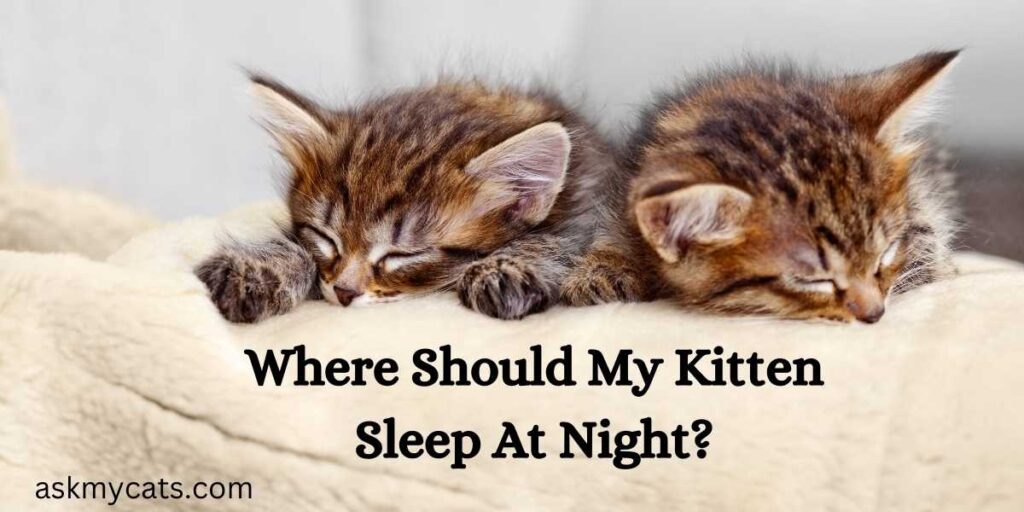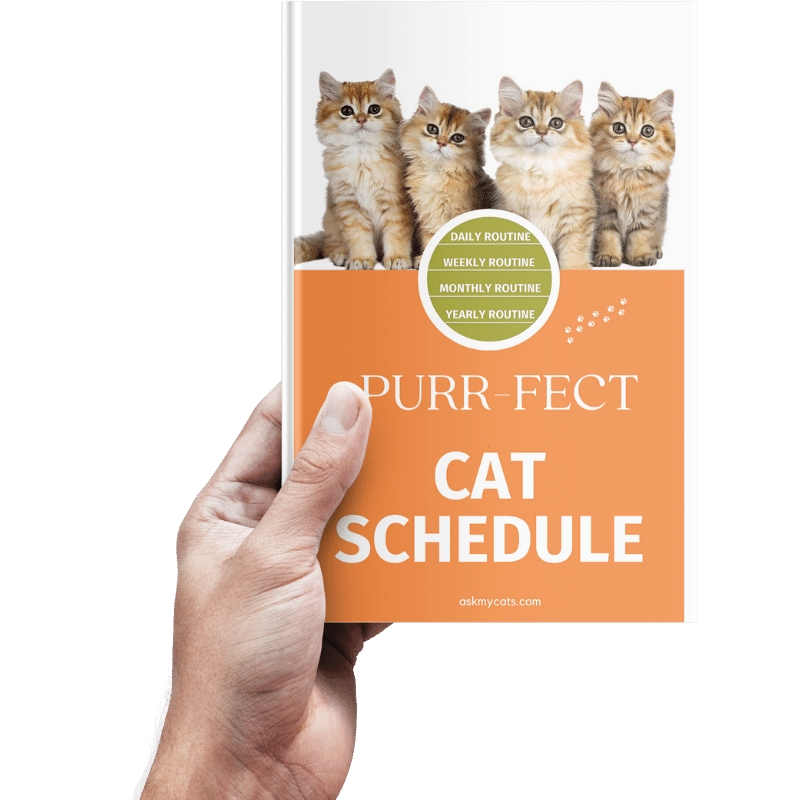 Discover the Secrets to a Happy Cat!
Discover the secrets to creating a happy and healthy daily routine for your feline friend. From playtime to mealtime, sleep to grooming, our expert guide will show you how to make every day a purrfect day for your cat.
Give Your Cat the Perfect Day – Get the Ebook!
The Best Place For Your Kitten To Sleep At Night
A warm, secure room covered with cozy blankets and soft, fuzzy toys is the epitome of an ideal sleeping arrangement for a kitten. This could be the living room, laundry room, or even the bathroom.
It's important to pick a room that is closeted as kittens enjoy their privacy and wouldn't want too many intruders barging in all the time.
Be mindful that there are no hazardous items or unhinged pieces of furniture that the kitten could knock down or hurt itself with.
You should also ensure to keep a food bowl, water bowl, and a litter box close to the kitten's bed. A scratching post would be the cherry on top!
Points To Consider While Selecting Sleeping Places For Your Kitten
There are many loose ends that you need to tie up before deciding on the perfect sleeping place for your beloved new kitten.
Let's brush through a few of them:
1. Safety
Before introducing your kitten to its room, you have to meticulously kitten-proof it to assure that the room is a safe and secure place. Take out all sharp objects and poisonous plants.
Close the windows and affix every piece of furniture firmly to the walls. Remove any small objects that your kitten could mistakenly swallow.
Avoid putting it in a room with small curtains and cover the electric wires and switchboards.
2. Comfort
Make your kitten's comfort a priority by cocooning the room in soft blankets and fluffy pillows. You can also keep your kitten's old sheets as the familiar scent will help in easing any lingering sense of discomfort.
Place a food bowl, water bowl, and litter box near your kitten's bed. If possible, choose a bed that has high sides as cats prefer heights. You can even place a hot water bottle under your kitten's blanket, for extra warmth.
3. Stimulation
Along with comfort, it's also equally important to keep your kitten entertained and make its room a fun place.
To mentally and physically stimulate your kitten, you can scatter lots of cat toys and puzzles around the room. You can add obstacle courses or reinforcements that will arouse your kitten's energy and excitement.
Interesting Read: Where Do Cats Sleep Outside At Night?
Is It Safe For My Kitten To Sleep Alone At Night?
Yes, it is perfectly safe and feasible for a kitten to sleep alone at night, provided the room is kitten-proof.
However, if your kitten is extremely young, you might need to check on it the first few nights.
Cat experts suggest that sleeping alone is advantageous for kittens as it helps in establishing their confidence and making them independent.
Sleeping alone enables your kitten to adapt to your sleep schedule quickly. Kittens have crepuscular rhythms and so they feel equally energized at both, dawn and dusk. Training your kitten to sleep alone at night will help in making it sleep faster and easier. It would also teach your kitten not to be too clingy or possessive of you.
Sleeping separately is the safer choice. If your kitten is too small, you could end up accidentally trampling it in your sleep. A small kitten could also wound itself by jumping or falling off the bed.
It would not wreak havoc on your sleep cycle. Young kittens can be ferocious and nothing is stopping them from scratching or pawning at you in the middle of the night. Therefore, sleeping alone would allow you to avoid sleep deprivation and enjoy some precious nights of sleep.
Interesting Read: Why Are Kittens Sleeping In Separate Rooms?
Cats also prefer to sleep on higher surfaces and if they are sleeping with you, this could mean the top of your head.
So, if you or someone in your family is susceptible to allergies, it would be best to keep their room inaccessible to kittens.
Can My Kitten Sleep In The Same Bed As Me?
Sharing a bed with your furry friend is a great way to enjoy some quality time with it. It's a bonding exercise that helps your kitten feel safe, secure, and cared for.
Sleeping in the same bed as your kitten not only promotes the kitten's health but also enhances your own well-being.
The comforting presence of your kitten at night helps in releasing a hormone called oxytocin which boosts your happiness level and makes you feel more calm and content.
Oxytocin also lowers the levels of cortisol i.e the stress hormone, thereby reducing blood pressure and heart rate.
Many pet owners also report that sleeping with their pets is beneficial for their sleep. This is why, perhaps, the Centers for Disease Control and Prevention evaluates that 50 percent of pet owners in the United States allow their pets to sleep in bed with them.
However, there are many risk factors that you need to consider before letting your kitten sleep in your bed.
Must Read: Should I Let My Kitten Sleep With Me?
Let us look into some of them :
1. Endangering To Young Children
Kittens shouldn't spend time alone with the little ones as they could jeopardize their lives by accidentally scratching or biting the babies in a fit of playfulness.
A cat could also mistakenly stifle or choke a baby.
2. Exposure To Germs
If you have an outdoor cat, then it is likely that the cat is harboring numerous parasites and other infectious diseases. Cuddling with your furball could expose you to such contagious infections and affect you adversely.
Therefore, it is vital to have regular checkups with your cat's veterinarian to keep up with the inoculations.
3. Risk Of Allergies
Millions of people in the United States are allergic to cats but still live with them, nevertheless.
The National Institue Of Environmental Health Sciences advises that you should "keep pets out of the bedroom where an allergic person sleeps".
You can also use a HEPA filter to purify the air and eliminate allergy pathogens.
Interesting Read: How To Get A Kitten To Sleep At Night?
How Long Should A Kitten Sleep At Night?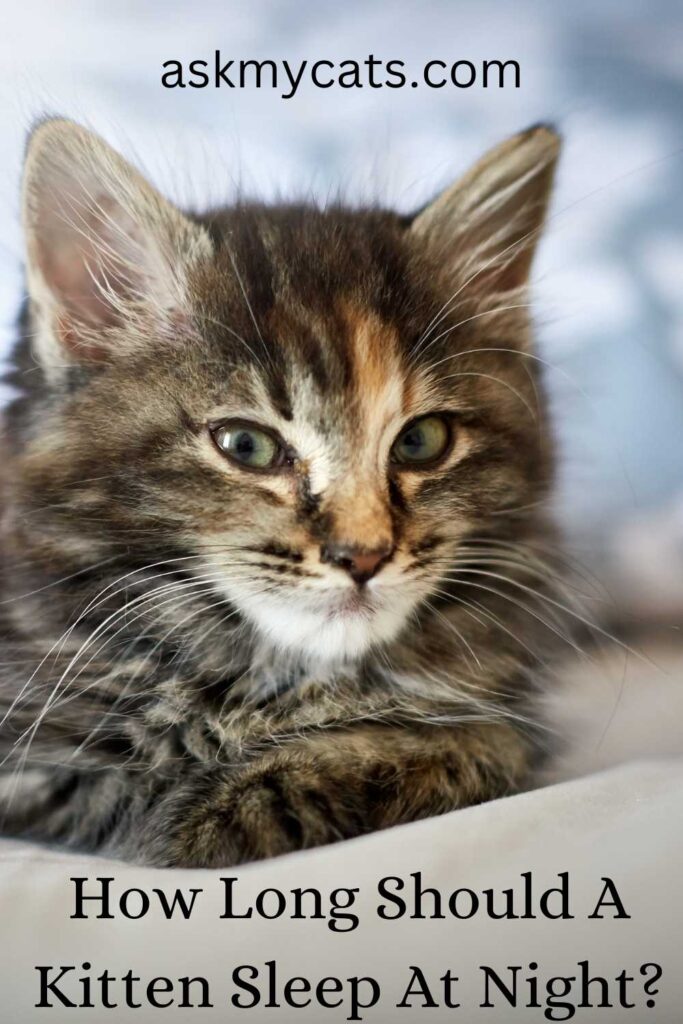 Kittens are Olympic sleepers, clocking in around 18-20 hours. However, a massive chunk of that shut-eye takes place during the daytime and not necessarily when you are asleep.
You can try exhausting your kitten before bed with lots of playtime and exercises. The more you tire out your kitten, the faster it will drift off to sleep at night.
You should also develop a consistent feeding routine for your kitten. If you are feeding it too early, your kitten will likely cry out for food in the middle of the night.
Shift your kitten's mealtime to later hours so that it will remain satiated for longer. Feeding a kitten late will help it sleep easier.
Frequently Asked Questions
Should I leave the light ON or OFF?
Cats have heightened eyesight, allowing them to see much better than us in low-light scenarios. Their whiskers help them maneuver in unfamiliar surroundings even when the lighting is pitch black. Thus, you don't have to leave the light on for your kitten, but you can still turn on a dimmed lamp to help your kitten adjust to the new environment. 
Should I Confine My Kitten At Night?
If you have kitten-proofed the room for your kitten, then you don't have to consider confining it at night. Cat owners usually put their kitten in a cage only if it is incorrigibly mischievous and has a penchant for knocking things down or hurting itself. Shutting your kitten down can make it feel captive or suffocated. Therefore, you should not confine your kitten at night.
Final Words
To summarize, your kitten should sleep wherever is the most comfortable for both you, as well as your kitten.
You can either prepare a separate kitten-proof room for it to sleep alone during the night or you could also let it snuggle up close to you in your bed.
References