One crucial aspect of kitten care is understanding their teething process and providing them with appropriate teething toys.
In this article, we will delve into why teething toys are essential for kittens, their advantages, what to look for when choosing the right toys, and important safety precautions to ensure your furry friend's well-being.
Key Takeaways

Teething toys are essential for kittens to alleviate discomfort and prevent them from chewing on inappropriate objects.
They stimulate gums, promote blood circulation, aid in tooth eruption, and encourage proper dental alignment and jaw development.
Factors to consider when choosing teething toys include safety, durability, kitten preferences, and intelligent designs.
Different types of teething toys include plush animals, chew wheels, wiggle worms, Kong toys, mouse toys, textured toys, and teething rings.
Supervision and safety precautions are necessary when giving teething toys to kittens.
Baby teething toys and puppy chew toys are not suitable for kittens; specialized teething toys for kittens are recommended.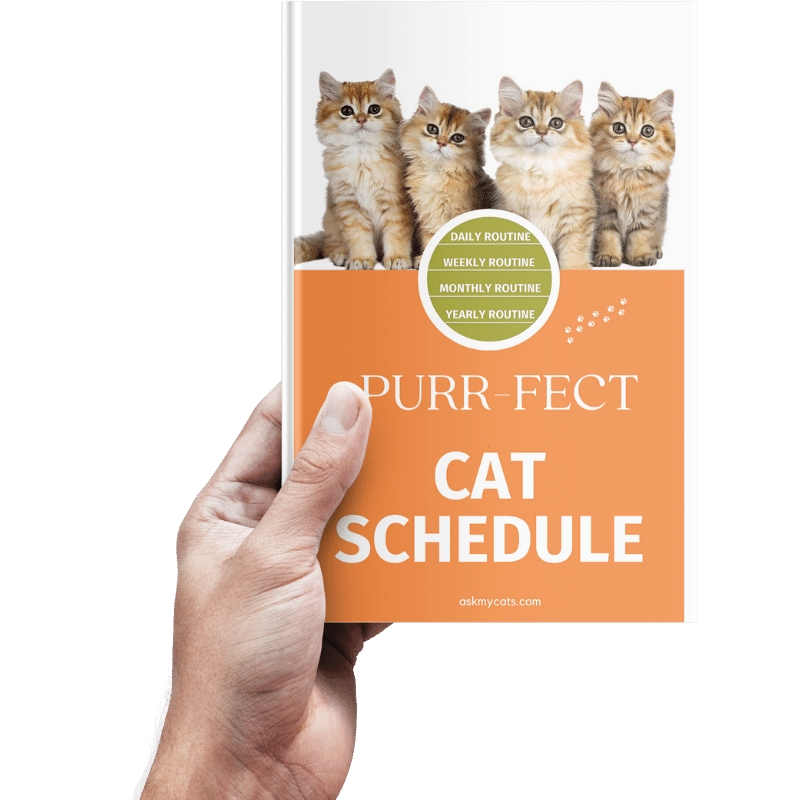 Discover the Secrets to a Happy Cat!
Discover the secrets to creating a happy and healthy daily routine for your feline friend. From playtime to mealtime, sleep to grooming, our expert guide will show you how to make every day a purrfect day for your cat.
Give Your Cat the Perfect Day – Get the Ebook!
Do Kittens Need Teething Toys?
The answer is a resounding yes! Kittens, much like human babies, experience discomfort and pain during the teething phase.
Providing them with teething toys not only alleviates their discomfort but also prevents them from chewing on inappropriate objects in your home, such as furniture or electrical cords.
Teething toys play a crucial role in providing relief for kittens. These specially designed toys are made from safe materials and textures that are gentle on their gums.
By giving your kitten teething toys, you redirect their chewing behavior to appropriate objects, saving your furniture and belongings from potential damage.
Moreover, teething toys serve as a distraction and entertainment for kittens. They provide a healthy outlet for their natural chewing instincts, keeping them engaged and occupied.
This can prevent boredom and unwanted behaviors that may arise from teething, such as excessive chewing or scratching.
Teething toys also have additional advantages for your kitten's oral health. The act of chewing on these toys helps stimulate their gums, which promotes better blood circulation and aids in the eruption of their permanent teeth.
It also encourages proper dental alignment and jaw development. Regular use of teething toys can even prevent issues like bad breath and gum disease in the future.
By investing in appropriate teething toys for your kitten, you not only provide them with comfort and relief during the teething phase but also promote healthy oral habits and protect your home from destructive chewing.
Interesting Read: Do Kittens Bite When Teething?
Advantages of Teething Toys for Kittens
Teething toys offer several advantages for kittens, benefiting both their immediate comfort and long-term oral health. Here are the key advantages of using teething toys for kittens:
Relief from discomfort: Teething can be an uncomfortable and sometimes painful experience for kittens. Their gums may feel tender and itchy as new teeth emerge. Teething toys provide a soothing effect on their gums, helping to alleviate the discomfort and pain associated with teething. The gentle pressure from chewing on these toys can provide much-needed relief for your kitten.
Preventing inappropriate chewing: Kittens have a natural instinct to chew and bite during the teething phase. Without appropriate teething toys, they may resort to chewing on objects around your home, such as furniture, electrical cords, or shoes. By providing them with teething toys, you give them a safe and appropriate outlet for their chewing instincts. This helps redirect their chewing behavior and prevents them from damaging your belongings.
Improving oral health: Teething toys promote better oral health for kittens in multiple ways. When kittens chew on these toys, they stimulate their gums, increasing blood circulation in the area. This stimulation aids in the eruption of their permanent teeth. It also helps strengthen the gums and jaw muscles, which is important for proper dental alignment and overall oral health.
Regular use of teething toys can have long-term benefits for your kitten's oral health. By encouraging chewing on these toys, you help keep their teeth clean and free from plaque buildup, reducing the risk of dental issues such as tartar, tooth decay, and gum disease.
Teething toys can also help maintain fresh breath by preventing the buildup of odor-causing bacteria in the mouth.
Interesting Read: Tips On How to Help a Teething Kitten
What to Look for in Kitten Teething Toys
When selecting teething toys for your kitten, it's crucial to consider the following factors:
Chew toy safety: Ensure that the teething toys you choose are specifically designed for kittens and do not pose a choking hazard. Opt for toys made from non-toxic materials and avoid small parts that could be easily swallowed.
Durability: Kittens have sharp teeth and strong jaws. Choose teething toys that are durable and able to withstand their chewing. This will prevent them from easily destroying the toy and potentially ingesting small fragments.
Kitten preferences: Each kitten has unique preferences. Consider teething toys that cater to your kitten's individual tastes, such as toys infused with catnip or featuring vibrant colors.
Intelligent designs: Some teething toys come with intelligent designs that provide an appropriate target for your kitten's chewing. These toys not only serve their purpose but also strengthen the bond between you and your feline companion.
Must Read: Cat Teething: Understanding the Age Timeline and Signs
Different Types of Kitten Chew Toys
There is a wide variety of teething toys available for kittens. Some popular options include:
Plush animals: Soft and cuddly toys designed to be chewed on.
Chew wheels: Colorful wheels with different textures that provide relief for teething kittens.
Wiggle worms: Vibrant and wiggly toys that capture a kitten's attention and cater to their chewing needs.
Kong toys: Durable and interactive toys that can be filled with treats to keep your kitten engaged.
Mouse toys: Small, mouse-shaped toys that are perfect for biting and chasing.
Textured toys: Toys with various textures that massage the gums and provide relief during teething.
Teething rings: Chewable rings designed specifically for kittens, often made from safe materials such as rubber.
What Are Some Appropriate Chew Toys For Teething Kittens?
Here are some appropriate chew toys for teething kittens that you can consider:
Remember, every kitten may have different preferences, so it's essential to observe what types of toys they enjoy most. Always choose toys made from safe materials and supervise your kitten during playtime to ensure their safety.
Check Out: DIY Homemade Kitten Teething Toys
Safety Precautions to Be Taken While Giving Teething Toys to Your Kitten
To ensure the well-being of your kitten while they enjoy their teething toys, keep these safety precautions in mind:
| Safety Tips | Description |
| --- | --- |
| Size and Material | Choose toys that are appropriately sized for kittens and made of safe, non-toxic materials. |
| Choking hazard prevention | Choose teething toys that are free from small parts or strings that can be easily swallowed. Discard any damaged or worn-out toys promptly to avoid the potential ingestion of small pieces. |
| Supervision | Always supervise playtime to ensure the kitten doesn't accidentally swallow or choke on small parts. |
| Regular Inspection | Regularly inspect toys for any signs of damage or wear and discard if they become unsafe. |
| Proper Cleaning | Clean toys regularly to maintain hygiene and prevent the buildup of bacteria or dirt. |
| Variety of Toys | Offer a variety of teething toys to keep the kitten engaged and prevent boredom. |
Can Kittens Use Baby Teething Toys or Puppy Chew Toys?
It is not advisable to give baby teething toys or puppy chew toys to kittens. These toys are designed with the specific needs and safety requirements of human babies and puppies in mind, which may differ from those of kittens.
Baby teething toys are tailored to the oral development and safety of human infants. They may have different shapes, sizes, and materials that are not suitable for kittens.
Similarly, puppy chew toys are designed for the chewing habits and dental needs of dogs, which may not align with the requirements of kittens.
Teething toys made specifically for kittens take into consideration their unique anatomy, chewing habits, and safety requirements. They are designed to be the appropriate size, texture, and material for kittens' delicate mouths.
These toys are typically made from safe, non-toxic materials and have features that are beneficial for the teething process and oral health of kittens.
Choosing teething toys that are specifically designed for kittens ensures their safety while providing effective relief and stimulation during the teething phase.
Frequently Asked Questions
What are some appropriate chew toys for teething kittens?
Examples of appropriate chew toys for teething kittens include Petstages Fresh Breath Mint Stick, Dorakitten Catnip Toys, and Leaps & Bounds Little Paws Teething Ring.
Why shouldn't I give baby teething toys or puppy chew toys to kittens?
Baby teething toys and puppy chew toys are designed for different species and may not be safe or appropriate for kittens. It's best to choose toys specifically made for kittens.
Final Words
Teething toys are an essential part of kitten care, offering numerous benefits for their well-being. By providing your kitten with safe and suitable teething toys, you can help alleviate their discomfort, prevent unwanted chewing, and promote healthy oral development.
Remember to choose toys designed specifically for kittens, consider their preferences, and prioritize their safety at all times. With the right teething toys, you can ensure your furry friend has a joyful and healthy teething experience.
References