Having a kitten in its teething phase is an adventure in itself. Not only are kittens by nature more active and curious, but their teething discomfort makes them little chewing monsters. They try to bite anything and everything in sight.
If you have a kitten that's in its teething phase, have patience and know that this biting is due to the pain and discomfort your kitten is feeling. And there are things you can do to alleviate this pain and bring this biting problem under control.
In this article, we look into DIY solutions for making teething toys for your kitten that help it with the teething discomfort and bring you relief by redirecting your kitten's biting behavior.
Key Takeaways

DIY teething toys can help alleviate the pain and redirect biting behavior.
Safe items to give kittens to chew on include cardboard, paper, and clean cloth.
Household items like washcloths, socks, old t-shirts, shoe laces, and cardboard rolls can be used to make homemade teething toys.
DIY ideas for teething toys include catnip sock balls, cardboard rollers, paper bags, frozen washcloths, and cardboard boxes.
Safety, durability, cleanliness, and supervision are important factors to consider when making homemade teething toys for kittens.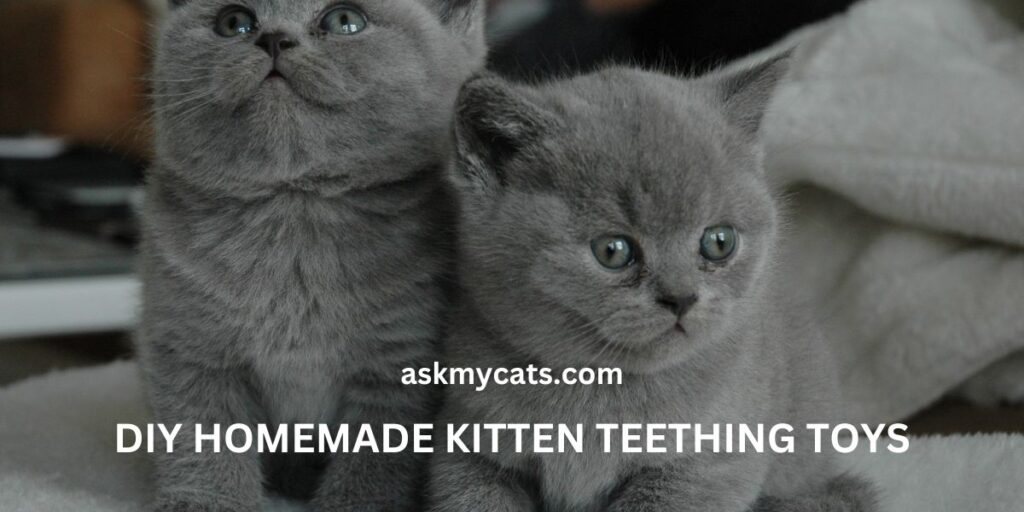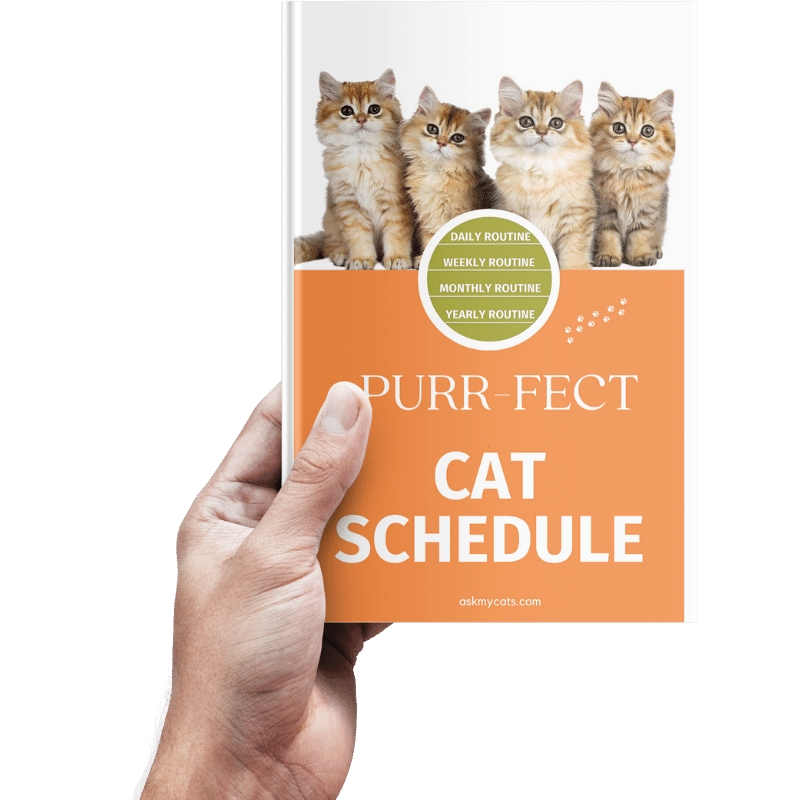 Discover the Secrets to a Happy Cat!
Discover the secrets to creating a happy and healthy daily routine for your feline friend. From playtime to mealtime, sleep to grooming, our expert guide will show you how to make every day a purrfect day for your cat.
Give Your Cat the Perfect Day – Get the Ebook!
What Can I Give My Kitten to Chew on for Teething?
Anything that goes in the mouth of your kitten must first be checked by you for safety. So, it is perfectly normal for you to wonder what kinds of things can you give your kitten to chew on during its teething phase.
As it turns out, there are a lot of things you can give to your teething kitten to chew on – and you can find them all in your house! It is perfectly safe to let your kitten chew on cardboard, paper, and clean pieces of cloth.
However, avoid giving your kitten materials like aluminum and objects whose paint can get chipped off.
Household Items for Homemade Kitten Teething Toys
If you are a proud member of the DIY team, we have innovative teething solutions for you as well!
There are a lot of household items that can be used to make teething toys for your kitten.
You will be surprised to know that in your house itself, there are a lot of objects and materials that are not only safe and non-toxic but also fun for your kitten to play with.
Here's a list of some household items that can be used:
Washcloths
Socks
Old tee shirts
Unused or washed shoe laces
Cardboard rolls of your kitchen tissues and toilet paper
Paper bags
This is not a complete list, because when it comes to homemade toys, you're really only limited by your imagination and creativity!
Must Read: The Importance of Teething Toys for Kittens
Some DIY Kitten Teething Toys And Steps On How To Make Them
Here are 5 different DIY ideas to make simple teething toys for your kitten:
1 – Catnip Sock Balls
One of the easiest ways to make a toy for your teething kitten is to make a Catnip sock ball.
Materials Needed:
Old or unused socks
Catnip
Steps:
Ensure that the sock being used is washed and dried.
Add some catnip to the sock, and tie a knot.
And, you're done! It is really that easy!
2 – Cardboard Rollers
Another very easy and fun way to keep your teething kitten engaged is to give it small cardboard rollers.
Materials Needed:
Cardboard rolls in your kitchen tissues or toilet paper
Scissors
Broad satin ribbons (optional)
Steps:
Take the cardboard roll after you've completely used up your kitchen tissues or toilet paper. Clean it a little with a dry washcloth.
Cut it into 2 or 3 medium-sized pieces. Ensure that you don't make them very small because otherwise your kitten might swallow and choke.
Optional: tie a thick satin ribbon around it to make it more stimulating.
These cardboard rollers will keep your kitten engaged and running around for a long time.
3 – Paper Bags
The cool thing about paper bags is that you don't need to do anything to make it into a teething toy.
Just cut off the handles to make sure your kitten doesn't get entangled in them, and then give the paper bag as it is to your kitten. You can place it on the floor horizontally so that it makes a mini-cave for your kitten to go inside and relax, or bite the edges of the bag to get some pain relief.
4 – Frozen Washcloth
This is another innovative DIY teething toy that you can make for your kitten with your household items.
Materials Needed:
Cleaned, washed, and dried washcloth
Water or chicken broth
Tray or glass
Steps:
Put your clean washcloth in water or chicken broth and allow it to freeze.
Give the frozen washcloth to your kitten for chewing.
This can get a little messy with the ice melting, so it is always better to put a waterproof mat on the floor before giving this toy to your teething kitten.
5 – Cardboard Boxes
This is another such household item that you don't need to customize to turn into a teething toy.
Chewing on cardboard is one of the preferred ways for kittens and cats to alleviate any discomfort they may feel in their mouths.
Additionally, cats and kittens are known to love cardboard boxes. So, simply having cardboard boxes around the house will make it entertaining and comforting for your teething kitten!
Interesting Read: Do Kittens Bite When Teething?
Points to Consider When Preparing Homemade Kitten Teething Toys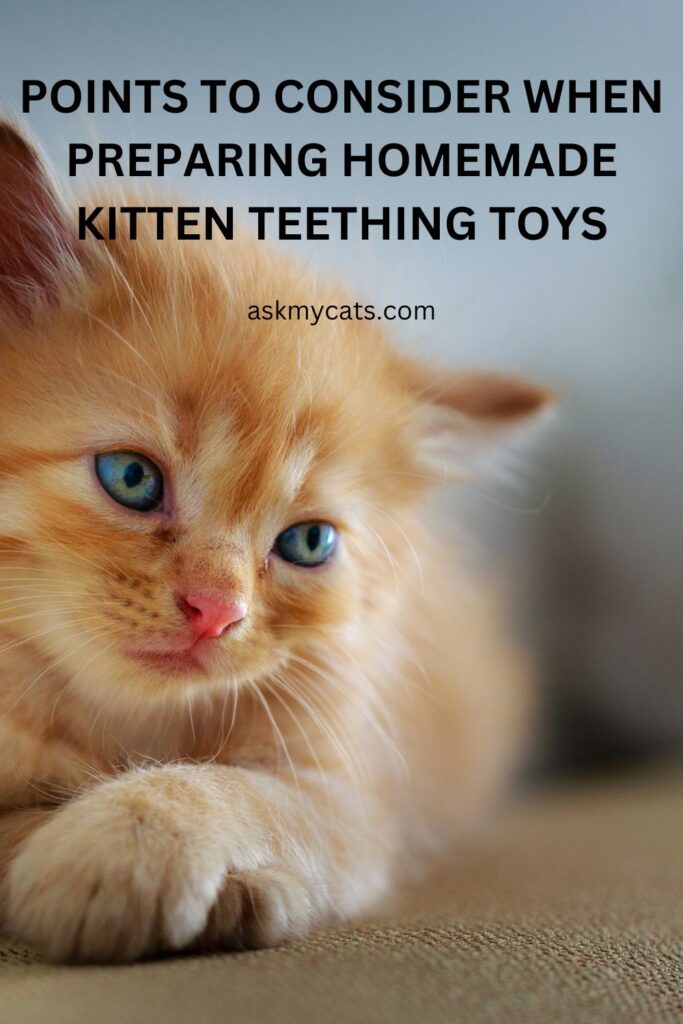 There are 4 important things you need to consider when you make homemade teething toys for your kitten:
1 – Safety
Safety should always be your number one priority when it comes to your kitten.
Safety in homemade teething toys can be about not having any sharp edges that may hurt your kitten, not having very small parts that your kitten may swallow and choke on, not having any toxic materials being used for making the toys, etc.
2 – Durability
The whole point of a teething toy is to be able to withstand the chewing of your teething kitten. So, ensure that you pick materials that are durable and can withstand the biting phase of your kitten.
3 – Cleanliness
Whatever material you use should be thoroughly cleaned before making the teething toy. This will ensure that your kitten gets a hygienic and safe toy to chew on.
4 – Supervision
Kittens are hyperactive, curious, and prone to accidents. So, always ensure that you supervise the playtime of your kittens. It is always better to err on the side of caution.
Interesting Read: Tips On How to Help a Teething Kitten
Frequently Asked Questions
Can I give my teething kitten aluminum foil to play with?
No, do not give aluminum foil to your kitten for play. It gets torn into small pieces easily and if swallowed, your kitten may be at risk of choking on it or experiencing intestinal issues.
Can I give my teething kitten keys to play with?
No, keys have sharp edges and can cause injury to your kitten's teeth when it tries to chew on them.
Can I allow my kittens to share the same teething toys?
It is advisable to have separate teething toys for kittens to avoid infections and fights. However, as long as general hygiene is maintained, sharing teething toys will not be harmful to the health of your kittens.
Final Words
Teething kittens are a handful, and it can get exhausting to manage their biting phase.
However, with a little patience and creativity, you can turn your daily household items into teething toys for your kitten and manage its biting behavior! Teething toys will also provide comfort to your kitten.
Remember to keep the playtime supervised and use safe, non-toxic materials to make DIY teething toys for your kitten. If you notice any allergic reactions or injuries in your kitten, dispose of the toy immediately and consult a vet.
Must Read: Cat Teething: Understanding the Age Timeline and Signs