Welcoming a new kitten into your home is an exciting time, but it's important to remember that they go through various developmental stages, including teething. Just like human babies, teething can be uncomfortable and even painful for kittens.
In this article, we'll explore the common questions about teething in kittens and provide practical tips on how to help your furry friend through this stage with ease.
Key Takeaways

Teething can be uncomfortable and painful for kittens, similar to human babies.
Kittens may show signs of irritability, restlessness, and increased chewing during teething.
Teething kittens may become more vocal, so offer comfort and engage in gentle play.
Teething occurs in two stages: baby teeth emergence (2-6 weeks) and adult teeth replacement (2-3 months).
Regular play sessions and dental care are important during teething.
Seek veterinary advice if your kitten experiences prolonged discomfort or pain.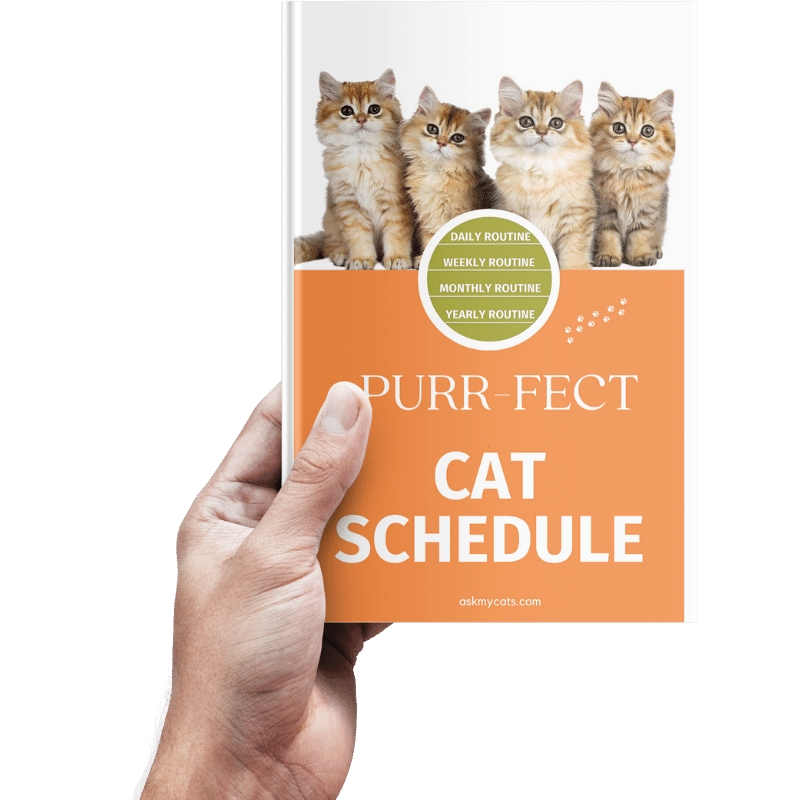 Discover the Secrets to a Happy Cat!
Discover the secrets to creating a happy and healthy daily routine for your feline friend. From playtime to mealtime, sleep to grooming, our expert guide will show you how to make every day a purrfect day for your cat.
Give Your Cat the Perfect Day – Get the Ebook!
Is Teething Painful for Kittens?
Teething can be a challenging time for kittens as their baby teeth are replaced by a set of sharp, permanent teeth. Just like human babies, the process of teething can be painful and uncomfortable for them.
As their new teeth emerge from their gums, the sensitive gum tissues can become sore and tender, leading to discomfort.
During the teething phase, kittens may show signs of irritability and restlessness. They might be more prone to mood swings and may seem more easily agitated than usual.
This discomfort can sometimes manifest in their behavior, as they may chew on objects or even nip at fingers and toes in an attempt to find relief. It's crucial to remember that they don't do this out of malice but rather to alleviate the discomfort they feel.
How Do Kittens Act When They Are Teething?
When kittens are teething, they may exhibit certain behaviors as a way to cope with the discomfort they experience. Understanding these behaviors can help you provide appropriate support and redirect their chewing instincts toward more suitable options.
One common behavior that teething kittens may display is biting and chewing on various objects, including human toes and fingers. This behavior serves as a way for them to alleviate the discomfort in their gums.
However, it's important to redirect their chewing behavior towards appropriate objects to prevent any accidental injuries.
Providing them with a variety of chew toys specifically designed for teething kittens can help satisfy their urge to chew and provide relief to their sore gums. Encourage them to chew on these toys by making them readily available and offering praise or treats when they use them.
Additionally, teething kittens may become more vocal than usual. They might meow or cry more frequently as they try to communicate their discomfort. It's important to be attentive and responsive to their vocalizations, offering them comfort and reassurance.
Engaging in gentle play or providing extra attention can help distract them from the discomfort and provide a sense of security.
Another behavior you may notice in teething kittens is their inclination to chew on soft items. This can include blankets, pillows, or even soft furniture. It's essential to discourage this behavior and redirect their attention to appropriate chew toys.
Soft items can pose a choking hazard or cause intestinal blockages if ingested, so it's crucial to create an environment that minimizes the risk of such incidents.
Must Read: Cat Teething: Understanding the Age Timeline and Signs
How Long Do Kittens Teething Last?
Teething in kittens occurs in two distinct stages. Understanding the duration of each stage can help you better prepare for and support your kitten during this transitional period.
The first stage of teething occurs when kittens' baby teeth, also referred to as deciduous teeth, start to emerge. This phase typically lasts between 2 to 6 weeks.
During this time, the 26 baby teeth begin to break through the gums. As the baby teeth erupt, they push out the milk teeth, leading to a mixture of both baby and adult teeth in their mouths.
It's essential to monitor this stage closely and provide appropriate care to ensure the proper development of their teeth.
The second stage of teething begins when the permanent adult teeth, numbering 30 in total, start to emerge. This stage generally lasts around 2 to 3 months. During this period, the baby teeth are gradually replaced by the permanent teeth.
As the adult teeth come in, the baby teeth loosen and fall out, making way for the permanent teeth to take their place. This stage completes the transition from kitten dentition to adult dentition.
It's important to note that the duration of teething can vary from one kitten to another. Some kittens may go through the teething process more quickly, while others may take a bit longer.
Keeping an eye on your kitten's progress and consulting with your veterinarian can help ensure that their teething is proceeding as expected.
During the teething stages, it's crucial to provide appropriate care and support to your kitten.
This includes offering suitable chew toys to help alleviate their discomfort, providing a balanced diet that accommodates their changing dental needs, and maintaining good oral hygiene by brushing their teeth regularly with cat-safe toothpaste.
Interesting Read: Do Kittens Bite When Teething?
What Should You Do to Help a Kitten While Teething?
Offer Soft Food:
Providing your teething kitten with soft food, such as canned wet food or kibble soaked in warm water, can make it easier for them to chew. This ensures they receive proper nutrition while reducing discomfort.
Provide Appropriate Chew Toys:
Offering your kitten suitable chew toys serves two purposes. Firstly, it allows them to channel their chewing instincts onto safe objects, sparing your fingers and toes. Secondly, chew toys help them work off excess energy and develop their balance and strength.
Substitute Your Fingers with Toys:
Instead of allowing your kitten to nibble on your fingers or toes, provide them with an alternative target, such as a toy or a stuffed animal. This helps redirect their chewing behavior and prevents accidental nips.
Engage in Play Sessions:
Regular playtime with your teething kitten is crucial. Two 10-to-15-minute sessions per day, using teaser toys or interactive play, not only provide a healthy outlet for their chewing instincts but also strengthen the bond between you and your furry companion.
Maintain Dental Care:
Good oral hygiene is essential for your kitten's overall health. Brush their teeth daily with cat-safe toothpaste to promote healthy gums and prevent dental issues. Additionally, schedule regular dental checkups with your veterinarian to monitor their oral health and address any concerns early on.
Seek Veterinary Advice:
If you notice your kitten experiencing prolonged discomfort or pain during teething, it's best to consult your veterinarian. They can offer advice on pain relief options and ensure your kitten's well-being.
Interesting Read: The Importance of Teething Toys for Kittens
Frequently Asked Questions
How long does teething last for kittens?
Teething in kittens occurs in two stages. The first stage lasts around 2 to 6 weeks when their baby teeth come in. The second stage lasts approximately 2 to 3 months as their permanent adult teeth erupt.
How many teeth do kittens have during teething?
Kittens have 26 baby teeth during their first teething stage and 30 permanent adult teeth that come in during the second teething stage.
How can I redirect my teething kitten's chewing behavior?
Provide appropriate chew toys for your teething kitten and encourage them to chew on those toys instead of inappropriate objects. Offer praise or treats when they use the toys correctly.
How often should I play with my teething kitten?
It is recommended to engage in at least two 10-to-15-minute play sessions per day with your teething kitten using teaser toys. This provides an appropriate target for their chewing instincts and strengthens the bond between you.
Final Words
Teething is a natural and sometimes uncomfortable process for kittens. By understanding their needs and providing appropriate support, you can help your teething kitten sail through this stage with ease.
From offering soft food and chew toys to engaging in playtime and maintaining dental care, your attentiveness will contribute to their overall well-being and ensure a happy and healthy feline companion.
Must Read: How to Brush a Cat's Teeth: Step-by-Step Guide
Check Out: DIY Homemade Kitten Teething Toys
References