Hey there, fellow cat owners! I don't know about you, but my furry feline can be a real handful at night.
It seems like just when I'm ready to hit the hay, she's just getting started with her nightly shenanigans.
And trust me, a hyperactive cat and a good night's sleep don't exactly go hand in hand.
But fear not, my feline-loving friends, because, after much trial and error, I've discovered some effective strategies to calm my cat down at night.
From creating a peaceful environment to providing enough exercise, I've got you covered.
And the best part? These strategies are all easy to implement and require minimal effort on your part.
So, if you're tired of being kept up all night by your kitty's antics, keep reading. I promise you won't regret it.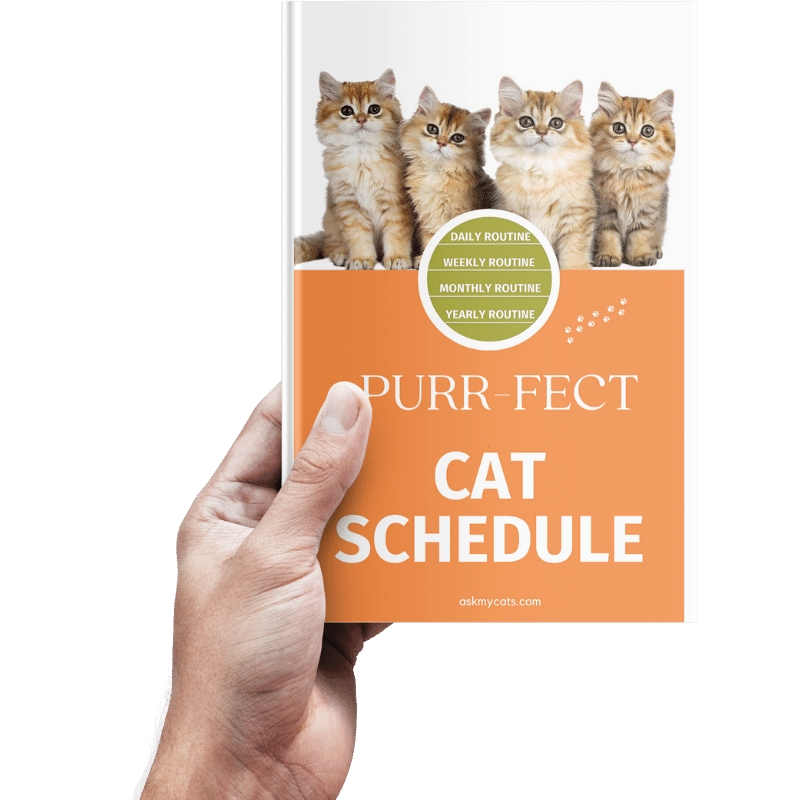 Discover the Secrets to a Happy Cat!
Discover the secrets to creating a happy and healthy daily routine for your feline friend. From playtime to mealtime, sleep to grooming, our expert guide will show you how to make every day a purrfect day for your cat.
Give Your Cat the Perfect Day – Get the Ebook!
1. Create a Calm Environment
When it's time for your cat to rest, it's important to create a calm and peaceful environment.
Here are some tips to help:
A. Darken the Room
To mimic the natural cycle of day and night, it's important to create a dark environment for your cat to sleep in.
According to Dr. Cathy Lund, a veterinarian and the owner of City Kitty Veterinary Care for Cats in Providence, Rhode Island, "Cats are crepuscular animals, which means they are naturally active during dawn and dusk. Creating a dark environment during the night can help them settle down and feel more comfortable."
B. Play Calming Music or White Noise
Playing calming music or white noise can also help your cat relax.
According to a study conducted by the University of Glasgow, cats who were exposed to music specifically composed for them showed signs of relaxation and reduced stress levels.
C. Use Aromatherapy
Aromatherapy can also be an effective way to calm your cat down. Essential oils such as lavender and chamomile are known for their calming properties.
However, it's important to use caution when using essential oils around cats, as some can be toxic.
2. Provide Adequate Exercise
When it comes to calming my cat down at night, providing adequate exercise is crucial.
Here are some tips to keep in mind:
A. Playtime during the day
make sure to set aside some time during the day to play with my cat.
According to Dr. Karen Becker, a veterinarian, "Playtime during the day can help burn off excess energy and reduce nighttime restlessness."
In fact, a study conducted by the American Association of Feline Practitioners found that playtime can also reduce stress and anxiety in cats.
B. Interactive toys
To keep my cat entertained and stimulated, I use interactive toys.
Dr. Valerie Fadok, a veterinary behaviorist, recommends "puzzle feeders and toys that encourage natural hunting behaviors" to help calm cats down at night.
Using interactive toys can also improve your cat's cognitive function and prevent boredom.
C. Encourage climbing and scratching
Cats love to climb and scratch, and providing them with appropriate outlets for these behaviors can help tire them out at night.
"Vertical spaces and scratching posts can help provide exercise and mental stimulation," says Dr. Jessica Vogelsang, a veterinarian and author.
In fact, a study published in the Journal of Veterinary Behavior found that cats who were provided with scratching posts exhibited less nighttime activity.
By incorporating these strategies into my daily routine, I've noticed a significant improvement in my cat's nighttime behavior.
Remember, it's important to be patient and consistent, as it may take some time for your cat to adjust to these changes. And don't forget to have fun!
3. Establish a Routine
A. Set a feeding schedule
One of the first things you can do is establish a feeding schedule for your cat.
This helps them to know when it's time to eat and can reduce the likelihood of them meowing for food at all hours of the night.
B. Create a bedtime routine
Just like humans, cats can benefit from having a bedtime routine. This can include a calming activity, such as grooming, followed by a small meal or treat.
Dr. Nelson recommends "incorporating a calming activity into your cat's bedtime routine, like grooming or cuddling, can signal to them that it's time to wind down for the night."
Must Read: Keeping Cat Out Of Bedroom At Night! Is It Cruel?
5. Use Behavioral Techniques
A. Creating a Positive Environment
The first step is to create a positive environment for your cat.
According to Dr. Jessica Vogelsang, a veterinarian and author, "Cats are sensitive to changes in their environment and can become anxious if they sense something is wrong."
So, it's important to create a calming atmosphere by playing soft music or white noise, turning off the lights, and using aromatherapy. These small changes can help signal to your cat that it's time to relax.
B. Positive Reinforcement
Positive reinforcement is a proven technique that can help train your cat to behave in a certain way.
This technique involves rewarding your cat when they display the desired behavior, such as using a scratching post instead of your furniture.
As Dr. Vogelsang says, "Positive reinforcement is a great way to reinforce good behavior and make your cat feel loved."
C. Training and Socialization
Training and socialization are important techniques to help your cat feel comfortable and relaxed at night.
This includes teaching your cat to walk on a leash or introducing them to other animals or people.
As Dr. Vogelsang notes, "Training and socialization can help your cat feel confident and reduce anxiety."
6. Pet CBD to Calm Cats Down
CBD, or cannabidiol, is a natural compound derived from the hemp plant. It has become a popular supplement because, among other things, it helps people feel less anxious, calm down, and sleep better.
However, CBD is also beneficial for pets, including cats. Pet CBD can help calm your cat down at night and reduce its anxiety and stress levels.
One form of pet CBD that can be particularly helpful for cats is apple THC gummies. THC is another compound found in the cannabis plant that can also have beneficial effects on pets.
However, it's important to note that THC can be harmful to cats in large amounts, so it's important to use products that are specifically formulated for pets and contain safe and appropriate levels of THC.
Apple THC gummies are a popular choice for pet owners because they have a delicious apple flavor that cats love. They can be given to your cat as a treat before bed to help them relax and calm down.
It's important to follow the dosing instructions carefully to ensure that you're giving your cat the right amount of CBD and THC.
Always consult with your veterinarian before giving your cat any new supplements or medications.
Interesting Read: Is It Ok To Crate Cats At Night?
7. Provide a Comfortable Bed
When it comes to getting a good night's sleep, having a comfortable bed is crucial for both humans and cats.
So, if you want to calm your feline friend down at night, it's important to provide them with a cozy and comfortable bed.
A. Choose a comfortable and cozy bed
Think about what your cat likes in terms of texture and size.
Do they prefer soft and plush materials, or do they like something a bit firmer? Is their bed big enough for them to stretch out in, or do they prefer something more enclosed?
Keep in mind that cats like to have different options, so you may want to provide a few different beds in different areas of your home.
B. Consider a heated bed or blanket
Cats love warmth, so providing them with a heated bed or blanket can be a great way to help them feel more comfortable and relaxed.
Just make sure that you choose a product that is safe for pets and has an automatic shut-off feature to prevent overheating.
Interesting Read: Where Should My Kitten Sleep At Night?
8. Limit Stimulation
When it comes to calming down your cat at night, it's important to limit any stimulation that may be contributing to their restlessness. Here are some strategies that I've found to be effective:
A. Reduce Visual Stimulation
When it's bedtime, try to reduce the amount of light in the room to create a more peaceful atmosphere. This can be achieved by using blackout curtains or shades, or by simply turning off any unnecessary lights.
Cats are sensitive to light and can easily be distracted by movement or activity around them, so it's important to create a calm and quiet environment for them to sleep in.
As Dr. Christine Calder, a veterinarian and cat behaviorist, explains,

"Cats are crepuscular animals, which means they are most active at dawn and dusk. So it's important to help them wind down and get ready for sleep by minimizing any light or movement that may be triggering their hunting instincts."
Must Read: Should I Leave A Light On For My Cat or Kitten At Night?
B. Avoid Late-Night Feeding
Feeding your cat late at night can stimulate their digestive system and make it harder for them to settle down.
Instead, try to feed them earlier in the evening, at least a couple of hours before bedtime. This will give their body enough time to digest their food and avoid any midnight hunger pangs.
9. Consider Companion Cats
As a cat owner, I know how important it is to have a furry friend around, especially at night. Sometimes, cats can become restless, and having a companion cat can help soothe their anxiety and reduce their stress levels.
According to Dr. Karen Becker, a proactive and integrative wellness veterinarian, "Having multiple cats can help reduce their stress levels and create a calming environment for them. However, it's important to introduce them slowly and carefully to ensure they get along well."
In fact, a survey conducted by the American Pet Products Association (APPA) found that 70% of cat owners have more than one cat in their household, emphasizing the importance of companion cats.
But introducing a new cat into your home requires patience and a lot of time. You need to make sure both cats are comfortable with each other and have their separate sleeping areas. Sometimes, it can take weeks or even months for cats to adjust to each other.
Now, I know you may be thinking, "What if my cat doesn't like the new cat?" or "What if they fight and harm each other?" These are valid concerns, and it's crucial to monitor their behavior and interaction closely.
However, having companion cats can create a more stimulating and playful environment for your cats, reducing their anxiety and restlessness at night. Plus, watching them play and snuggle together can bring joy and comfort to us as pet owners.
Interesting Read: Confining A Cat To A Room At Night? Is It An Offence?
10. Consider a Thundershirt
Thundershirts are a type of clothing designed to provide gentle pressure to a cat's body, which can help reduce anxiety and promote relaxation.
Thundershirts are often used for cats that experience anxiety during thunderstorms or fireworks, but they can also be helpful for cats that become anxious or restless at night.
Frequently Asked Questions
Can cats become nocturnal?
Yes, cats are naturally crepuscular, meaning they are most active at dawn and dusk. However, some cats may become more active at night due to various reasons, such as boredom, hunger, or anxiety.
Is it safe to give my cat medication to calm them down at night?
It is important to consult with a veterinarian before giving your cat any medication, as some medications can have adverse effects on cats. Additionally, it is important to consider non-medical options first, such as creating a calm environment or providing adequate exercise.
Will providing a companion cat always calm my cat down at night?
Not necessarily. While some cats may benefit from having a companion cat, others may become more agitated or territorial. It is important to introduce the cats slowly and monitor their behavior to ensure they are getting along.
Final Words
In conclusion, calming a cat down at night can be a challenging task, but with patience and consistency, it is achievable.
By creating a calm environment, providing adequate exercise, establishing a routine, using behavioral techniques, considering medical options, providing a comfortable bed, limiting stimulation, and considering companion cats, you can help your feline friend get a good night's sleep.
Remember to consult with your veterinarian if you have concerns about your cat's behavior at night. With these strategies, you and your cat can both enjoy a peaceful night's rest.
References