Kissing cats on the nose may seem like a loving gesture, but it's essential to consider the potential health risks associated with this act of affection.
While it's undeniable that showing love and strengthening the human-pet bond is important, it's equally vital to prioritize the well-being of our feline companions.
In this article, we will explore the potential risks and benefits of kissing cats on the nose, providing you with a well-informed answer to the question of whether or not it is safe to engage in this particular form of affection.
Key Takeaways

Kissing cats on the nose can pose health risks and it's important to prioritize their well-being.
Potential health risks include cat scratch fever, Pasteurella multocida infection, feline herpesvirus type-1, and rabies.
Individuals with compromised immune systems and vulnerable groups may be at higher risk.
Alternatives to kissing include gentle petting, verbal affection, playful interactions, quiet quality time, treats, and creating a safe environment.
Practicing good hygiene, such as handwashing and avoiding touching the face, is crucial when interacting with cats.
Regular litter box cleaning, veterinary care, flea and tick control, safe handling techniques, and maintaining a clean living environment are important preventive measures.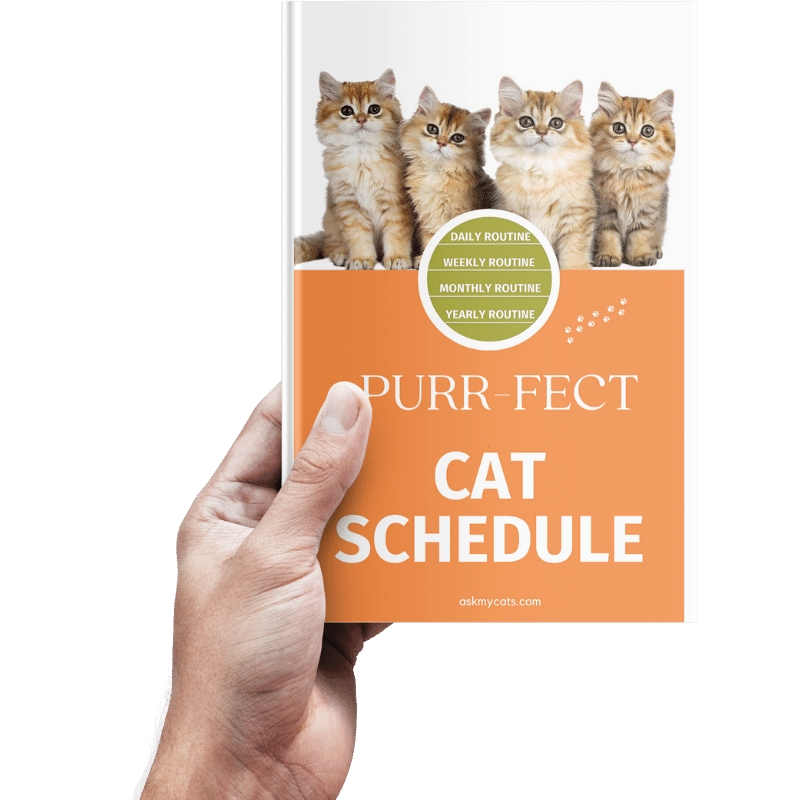 Discover the Secrets to a Happy Cat!
Discover the secrets to creating a happy and healthy daily routine for your feline friend. From playtime to mealtime, sleep to grooming, our expert guide will show you how to make every day a purrfect day for your cat.
Give Your Cat the Perfect Day – Get the Ebook!
The Health Risks Of Kissing Your Cat On The Nose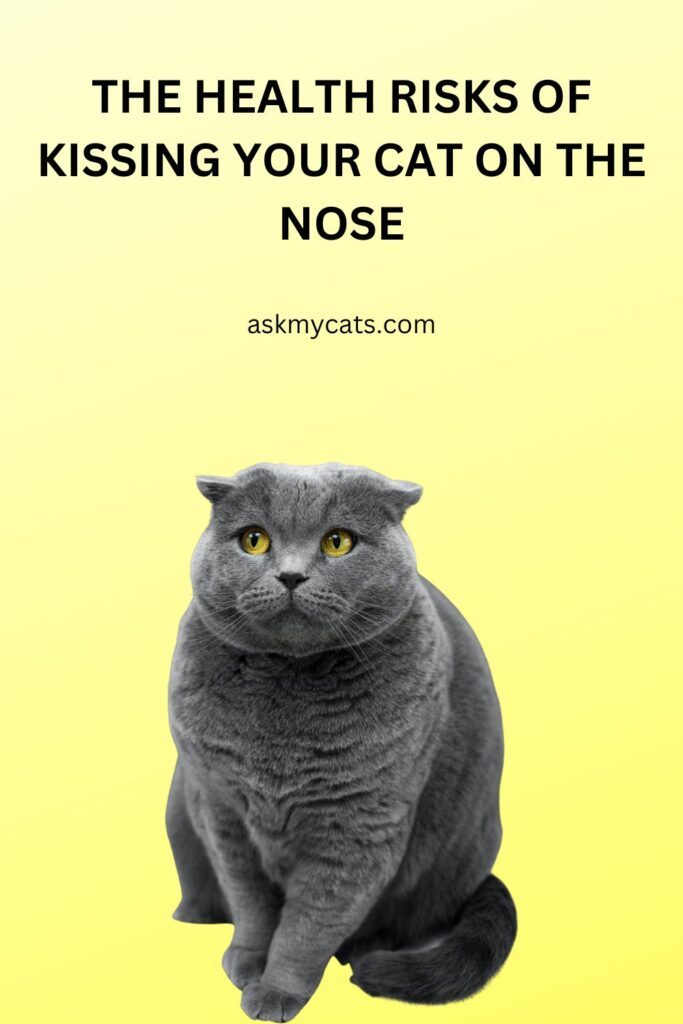 Extensive research has revealed that there are several illnesses and diseases that can potentially be transmitted from cats to humans through close contact, including kissing on the nose.
While the transmission risk is generally low, it is crucial to understand the potential health risks involved.
1. Cat Scratch Fever
One of the bacterial infections that can be transmitted through close contact with cats is cat scratch fever, also known as cat scratch disease.
This infection is caused by the bacteria Bartonella henselae, which can be found in the saliva and claws of infected cats.
If a cat with bacteria licks their paws or scratches you, the bacteria can enter your body through broken skin, leading to symptoms such as fever, swollen lymph nodes, and fatigue.
2. Pasteurella Multocida Infection In Cats
Another bacterial infection of concern is Pasteurella multocida infection. This bacterium is commonly found in the mouths and respiratory tracts of cats.
Bites, scratches, or close contact with an infected cat's saliva can introduce the bacteria into the human body.
While most Pasteurella multocida infections result in localized skin or soft tissue infections, severe cases can lead to more serious complications such as cellulitis or joint infections.
3. Feline Herpesvirus Type-1
In addition to bacterial infections, certain viral infections can also be transmitted from cats to humans. The herpes simplex virus is one such example.
Cats can carry a strain of herpesvirus known as feline herpesvirus type 1 (FHV-1), which primarily affects cats but can occasionally infect humans.
Direct contact with infected secretions, such as saliva or ocular discharge, can lead to symptoms similar to a cold sore or conjunctivitis in humans.
4. Rabies
Rabies is another viral infection that poses a significant risk to both cats and humans. Although rare, if a cat is infected with the rabies virus and bites or scratches a human, the virus can be transmitted.
Rabies is a deadly viral disease that affects the central nervous system, and prompt medical attention is crucial if exposure occurs.
5. Overall Health Risks To Cats And Humans
While the chances of contracting these illnesses through kissing a cat on the nose are relatively low, individuals with compromised immune systems, such as those with HIV/AIDS or undergoing chemotherapy, are more susceptible.
Additionally, young children and the elderly may also be at higher risk due to their developing or weakened immune systems.
To safeguard both your own health and the well-being of your cat, it is strongly recommended to avoid kissing cats on the nose or any other part of their face.
By doing so, you can prevent the potential spread of bacteria and viruses, ensuring the safety of both you and your feline companion.
It is important to note that these health risks should not deter you from enjoying the company of your cat or forming a deep bond with them. There are plenty of safe and loving alternatives to kissing that can be equally rewarding for both you and your furry friend. B
y exploring these alternatives, you can still express your affection while prioritizing the health and safety of everyone involved.
Must Read: Do Cats Understand Kisses?
Safe and Loving Alternatives to Kissing Your Cat
While kissing cats on the nose may pose potential health risks, there are numerous alternative ways to shower your feline friend with affection.
These alternatives not only keep your cat safe but also provide opportunities for bonding and strengthening your relationship.
Here are some delightful alternatives to kissing your cat:
1. Gentle Petting and Massaging:
Cats often enjoy gentle petting and soothing massages. Use slow and gentle strokes along your cat's back, chin, and cheeks, observing their body language for signs of relaxation and pleasure.
Many cats have specific spots they love to be petted, such as the base of their tail or behind their ears. Pay attention to your cat's preferences and adapt your petting technique accordingly.
3. Verbal Affection and Soft Whispers:
Cats are highly attuned to the sound of their human's voice. Engage in soft, soothing conversations with your cat, using a calm and reassuring tone. Speak words of affection and reassurance, letting them know they are loved and cherished.
Cats often respond positively to the sound of their human's voice, making this a wonderful way to bond without physical contact.
3. Playful Interactions:
Engaging in interactive play with your cat is not only fun but also an excellent way to build a strong bond. Use toys like feather wands, balls, or laser pointers to stimulate your cat's natural hunting instincts.
Encourage them to chase, pounce, and jump, providing both mental and physical stimulation. This playtime creates positive associations and strengthens the connection between you and your feline companion.
4. Quiet Quality Time:
Spend quiet and uninterrupted quality time with your cat to deepen your bond. Sit near them, allowing them to approach you on their terms. This approach respects their personal space while still providing an opportunity for closeness.
Read a book, listen to calming music, or engage in a quiet activity, allowing your cat to observe or join in as they wish. This quiet togetherness can be incredibly comforting for both you and your cat.
5. Treats and Food Rewards:
Rewarding your cat with treats and special food can be an effective way to show affection. Use healthy and cat-friendly treats as a positive reinforcement tool during training sessions or simply as a surprise to express your love.
Remember to offer treats in moderation, considering your cat's overall diet and health.
6. Creating a Safe and Enriching Environment:
One of the most loving gestures you can make for your cat is providing them with a safe and enriching environment. Set up scratching posts, climbing trees, and cozy resting areas where they can relax and explore.
Offer a variety of toys and rotate them to keep your cat stimulated and engaged. A well-structured environment that caters to their natural instincts contributes to their overall happiness and well-being.
Remember, every cat is unique, and their preferences for affection may vary. Observe your cat's behavior and body language to determine what they enjoy most.
Interesting Read: Why Is My Cat Obsessed With My Face?
Practicing Hygiene and Preventive Measures Around Your Cats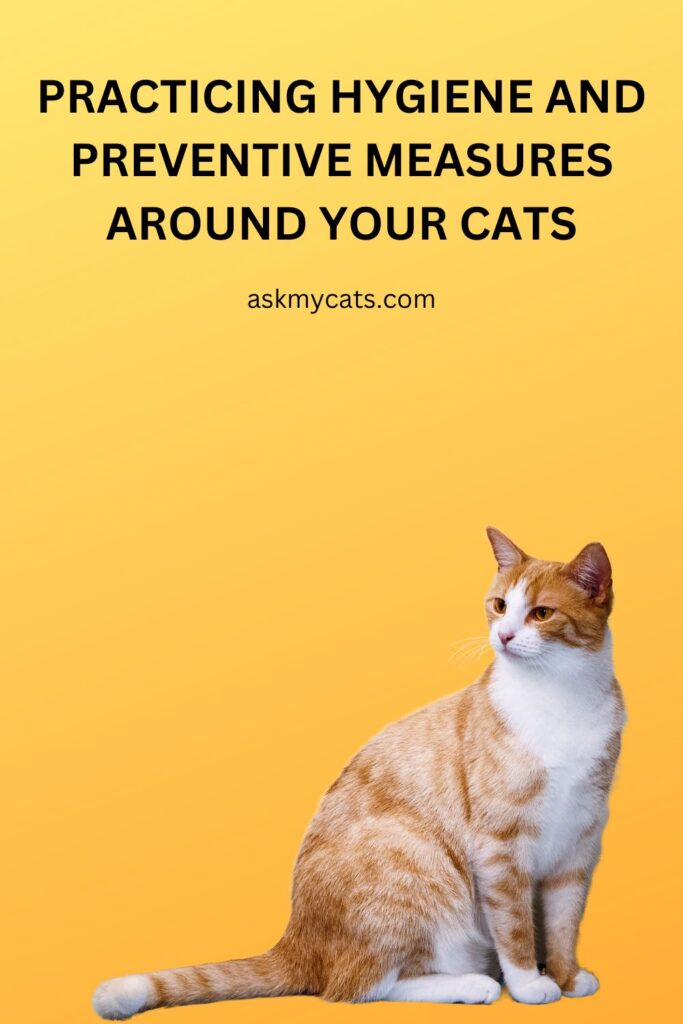 Apart from avoiding direct contacts like kissing, implementing good hygiene practices when interacting with your cat is essential in maintaining a healthy and safe environment for both you and your furry companion.
By following proper hygiene protocols, you can minimize the risk of potential infections and diseases.
Here are some important preventive measures to consider:
Hand Hygiene: Washing your hands thoroughly with soap and water after handling your cat is crucial. This helps remove any potential bacteria or viruses that may have been transferred from your cat's fur, saliva, or litter. Pay special attention to cleaning under your nails and between your fingers. If soap and water are not readily available, use an alcohol-based hand sanitizer as an alternative.
Avoid Touching Your Face: After interacting with your cat, refrain from touching your face, especially your eyes, nose, and mouth. These areas serve as entry points for pathogens, and touching them with unwashed hands can increase the risk of infection.
Regular Litter Box Cleaning: Clean your cat's litter box regularly to prevent the accumulation of feces and urine, which can harbor bacteria and parasites. Wear disposable gloves while cleaning, and wash your hands thoroughly afterward. Avoid cleaning the litter box in areas where food is prepared or consumed.
Veterinary Care and Vaccinations: Ensure that your cat receives routine veterinary care, including vaccinations, as recommended by your veterinarian. Regular check-ups and vaccinations help protect your cat from infectious diseases and prevent the spread of potential pathogens. Follow your veterinarian's advice regarding deworming and flea/tick prevention to maintain your cat's overall health.
Flea and Tick Control: Implementing appropriate flea and tick control measures for your cat is crucial. These parasites can transmit diseases to both cats and humans. Consult your veterinarian to determine the most suitable preventive treatments for your cat and regularly inspect their fur for any signs of infestation.
Safe Handling Techniques: Handle your cat with care and gentleness to avoid scratches or bites that can introduce bacteria into your system. Learn proper handling techniques, such as supporting their body and avoiding sudden movements that may startle or stress your cat.
Clean Living Environment: Maintain a clean and hygienic living environment for your cat. Regularly clean their bedding, toys, and other items they come into contact with. Use pet-friendly disinfectants or cleaning products recommended by your veterinarian to ensure the removal of any potential pathogens.
By implementing these hygiene and preventive measures, you create a safer environment for both you and your cat.
Must Read: Can I Get Worms From My Cat Sleeping In My Bed?
Frequently Asked Questions
Can I kiss my cat on the nose?
It is generally recommended to avoid kissing your cat on the nose to prevent the potential transmission of bacteria or viruses.
What health risks are associated with kissing cats on the nose?
Kissing cats on the nose can pose a risk of transmitting bacterial infections such as cat scratch fever and Pasteurella multocida infection, as well as viral infections like herpes simplex virus and rabies.
Are all cats carriers of harmful bacteria or viruses?
Not all cats carry harmful bacteria or viruses, but it's important to remember that even healthy cats can potentially transmit certain infections. Precautions should be taken regardless of a cat's health status.
Are there safe ways to show affection to my cat?
Yes, there are numerous safe ways to show affection to your cat. These include gentle petting, engaging in playtime, providing a stimulating environment, and offering treats or special foods in moderation.
How can I maintain good hygiene when interacting with my cat?
Maintain good hygiene by washing your hands thoroughly after handling your cat, avoiding touching your face, regularly cleaning the litter box, ensuring your cat receives routine veterinary care and vaccinations, and maintaining a clean living environment for your cat.
Final Words
When it comes to kissing cats on the nose, it's important to balance the desire for affection with the potential health risks involved.
While the transmission of illnesses from cats to humans through nose kisses is relatively low, it's crucial to consider the well-being of both yourself and your feline friend.
Instead, opt for safe alternatives such as grooming, interactive play, creating a comfortable living space, and offering treats in moderation to express your love.
By practicing good hygiene and being mindful of potential risks, you can enjoy a strong and healthy bond with your cat while keeping both of you safe.
Remember, a happy and healthy cat is a cherished companion for years to come.
Interesting Read: Why Does My Cat Nose Bump Me?
Must Read: Cat Nose Prints: A Journey into the Feline Identity
References