Today the internet is crawling with videos of people acting out of character after being on anesthetics during surgeries. These videos of animals have also surfaced around. These videos are funny enough to make up your day but what happens after the drugs wear off?
Surgeries are meant to be painful the drugs just numb the pain for a while and leave effects after a few hours commonly. Animals also experience similar issues and cats are no exception.
After spaying surgeries or any other surgeries if any drug is induced inside the cat's body they act totally out of character and sometimes funnily.
But what about the after-effects of surgery how does it affect the cat and its behavior? Let's know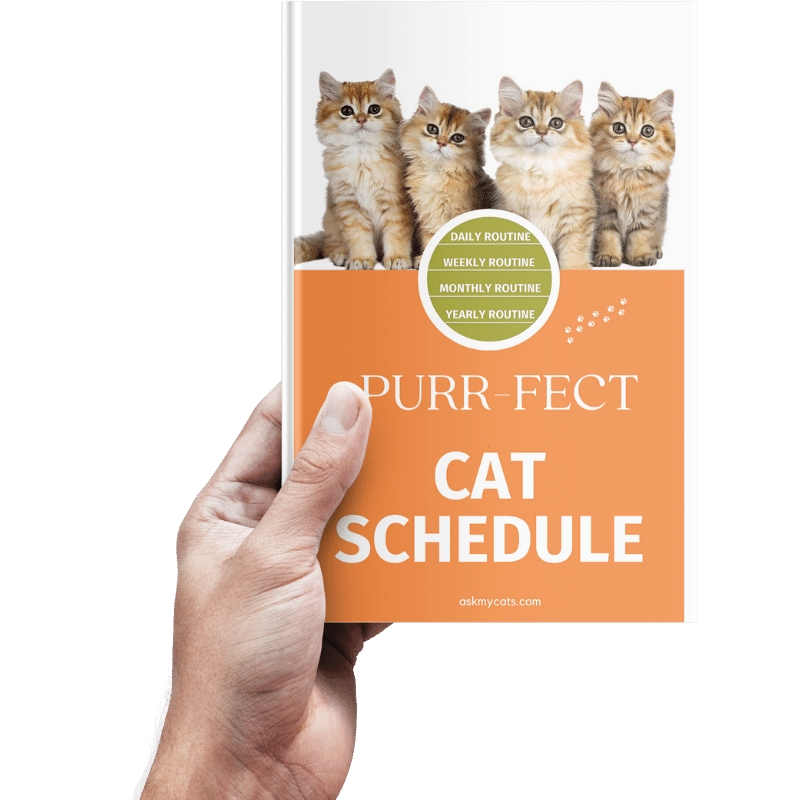 Discover the Secrets to a Happy Cat!
Discover the secrets to creating a happy and healthy daily routine for your feline friend. From playtime to mealtime, sleep to grooming, our expert guide will show you how to make every day a purrfect day for your cat.
Give Your Cat the Perfect Day – Get the Ebook!
Do Cats Lose Energy After Being Spayed?
It is normal for the cats to be tired and require rest after undergoing spaying surgery. But these effects are not permanent and would probably wear off after a few hours.
During the surgery, cats are administered drugs that result in them being either hyperactive or very lethargic but none of these traits stay after the drugs are out of the cat's system.
People tend to believe that their cat's personality changes after getting them spayed so they avoid getting the surgery on their cats but that's a myth.
Before spaying cats experience periods of heat that make them more affectionate and they even demand more attention.
This could go away after they get spayed and they stop showing as much affection, so this could be a possibility that your cat may not seem as upbeat as it was before the surgery but they still have the same energy they just don't spend it trying to grab attention.
If your cat is tired after the surgery that is normal but even after a few days after the surgery you should consult your vet because cats recover in a week or two after getting spayed.
So if they are tired even after the surgery it would be concerning and could have other reasons for the same.
Interesting Read: Why Is My Spayed Female Cat Yowling?
Do Cats Get Depressed After Being Spayed?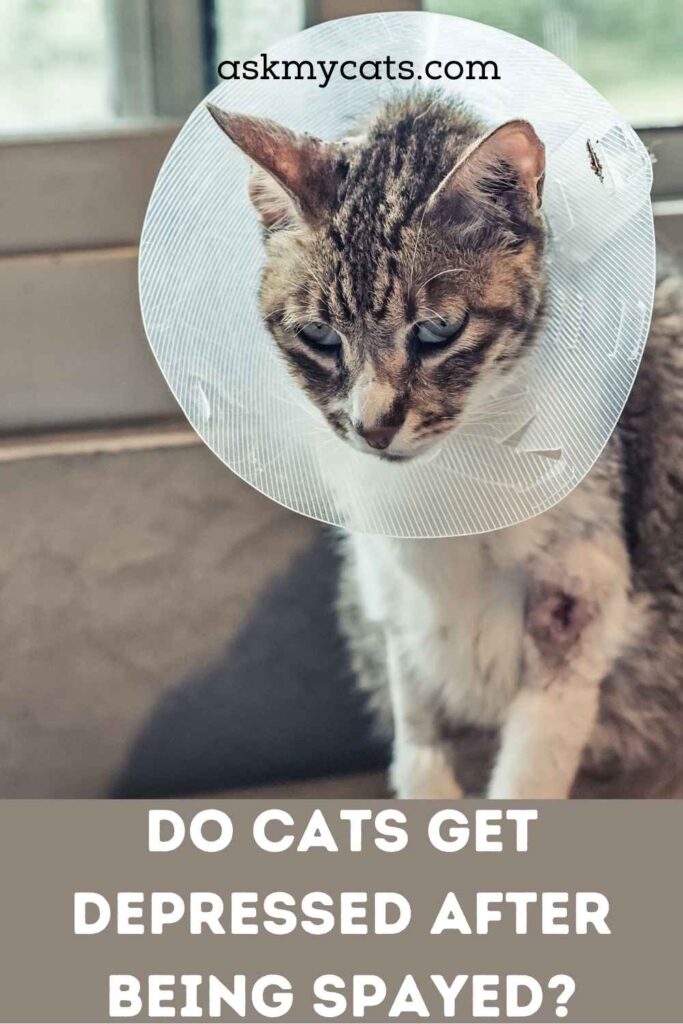 No cats do not show any signs of mental issues or symptoms of depression after getting the surgery. They may stop being as affectionate as they were before as being affectionate is a common sign of them being in heat which is remedied permanently after the spaying surgery.
Your cat would seem very distant and depressed after the surgery in general not because the cat is actually depressed but now it does not need much attention, it feels like they have gone back into its shell like a snail does after sensing danger.
But the lack of demanding attention does not mean they are depressed its just that they stop requiring that attention.
Cats seem very cold and distant but cannot be blamed because it's the hormones or lack of it that make them behave this way.
But after the spaying surgery, this is a rumored change of behavior in cats but before getting the surgery the doctors clearly state what could be the outcomes of it, even after knowing the possibilities you choose for your cat to have the surgery you have to deal with the consequences.
Surgery does make your cat depressed or stressed it just makes them distant and a little hostile but it's because of the removal of organs that produce hormones responsible for physical reciprocation or demand of affection.
Find out the reasons for Cat Very Active After Neutering
Is It Normal For Cats To Be lethargic After Spay?
Immediately after the surgery and even for a few days after the surgery it is normal for cats to be lethargic.
After coming out of the surgery the cat may not feel a lot of pain due to the drugs in its system, but after the drugs wear off, it might start to feel the pain and soreness from its incision. Sometimes this incision is at risk of getting infected so it should be checked periodically and your cat gets enough rest should also be ensured.
Immediately after the surgery, the cat may seem enthusiastic at times but that could be because of all the anesthetics pumped into their systems during the surgery.
They feel numb to the pain until the drugs wear off so for that time they may seem enthusiastic and as the medicines wear off they will start to feel the soreness of the incision and will take its time to heal from it.
Interesting Read: Why Is My Cat Hiding After Being Spayed?
Cat Lethargic 3 Days After Spay: Is It Normal?
Yes, if your cat feels lethargic 3 days after the spaying surgery it is entirely normal as it takes time for them to recover from the surgery.
It is not a matter to fess over as the drugs may keep the cat energetic for a few hours at times days but after they wear off they are more likely to feel lethargic. So if your cat is lethargic after spaying its completely normal
It should be concerning if your cat still seems lethargic long after it should have recovered you should probably go to your vet for advice so they can detect any underlying issues if they exist.
The recovery period for cats generally is around 14 days so if in that period your cat is showing signs of lethargy, it means it is resting and saving energy to recover from the surgery so it is plain recovery-related lethargy for the cat.
Must Read: Why Is My Cat Sleeping A Lot After Being Spayed?
How Long Will My Cat Be Lethargic For After The Surgery?
As a common standard, it takes the cat nearly 10 to 14 days to recover from the spaying surgery but the period could be more or less for your cat.
This is the average time it takes for a cat to recover from the surgery but the recovery rate could be slower or faster for your cat. During this 2 week period, the cat likely seems to be resting and gaining its energy back after the surgery.
For some cats, immediately after the surgery, they may seem energetic for a brief period initially but then lethargic, this could be due to the drugs so even that is common and nothing to worry about too.
But if your cat still seems lethargic after recovery you should provide the necessary medical attention for it as it could be a concerning issue that was undetected.
Interesting Read: When Can I Bathe My Cat After Neutering?
How Long Does It Take A Female Cat To Recover After Spay?
After spaying, it usually takes 10 to 15 days for a cat to recover. The drugs generally wear off after a few hours but it could be 5 to 7 days until they are completely devoid of any traces of those drugs.
After these drugs wear off they actually feel the pain of the incision made on them during the surgery, the recovery starts but the lethargy creeps up after the drugs wear off and for the cat to heal from the surgery it takes about 5 to 10 days more.
You should your cat gets complete rest and its meals are taken care of.
They need all the nutrition they can get. You should also make sure that they drink enough water and take a rich diet so that they regain their energy.
Frequently Asked Questions.
Why is my cat so energetic after the spaying surgery?
The energy must be a result of the painkillers that are administered during the surgery. They numb the pain for the cats for some time and they are quite energetic after the surgery, these would wear off fast the pain and tiredness would catch up soon enough
Do cats change after spaying?
No, it is a common myth that cats change after the spaying surgery but nothing of the sort happens. They may seem distant because the hormones that make them responsive to physical touch are produced by the reproductive organs which are removed during the spaying surgery.
Summary
Neutering or spaying a cat is a very common practice and pet parents have generally undergone the process of removal of their pet's reproductive organs. This removal of reproductive organs is done through surgery.
Undergoing surgery is physically a painful task and cats need time to recover from it. They may seem tired and sleepy all the time after the surgery. This is because they are trying to conserve their energy and divert it toward recovery.
After the surgery, the cats stop experiencing cycles of heat and there is no urge to mate, so this may even make them a little hesitant toward physical attention. It may seem to dislike your touch and this is due to the lack of hormones produced by the reproductive organs.
It takes nearly 2 weeks for the cat to recover from the surgery. During this time they should be fed properly and all the nutrients and macros should be ensured so that they have a steady and healthy recovery.
If you were a pet parent whose cat had undergone what would you do: keep an eye on the cat to track recovery or would you be a little laid back?
References