A cat's whiskers form an essential part of the sensory mechanism that allows the cat to perceive the world around it. These whiskers act as a channel of input for the cat's follicles, which, in turn, are loaded with nerve endings that send signals to the brain.
This is how the entire set of whiskers and follicles on a cat's muzzle form its sensory mechanism.
Whisker fatigue, also known as whisker stress, is the condition in which a cat's whiskers get overstimulated. This consequently causes the nerve endings at the follicles to get overstimulated too. And the result of all this is fatigued, stressed out, and overwhelmed kitty.
Read along as we navigate through whisker fatigue, its causes, and ways to prevent and cure it.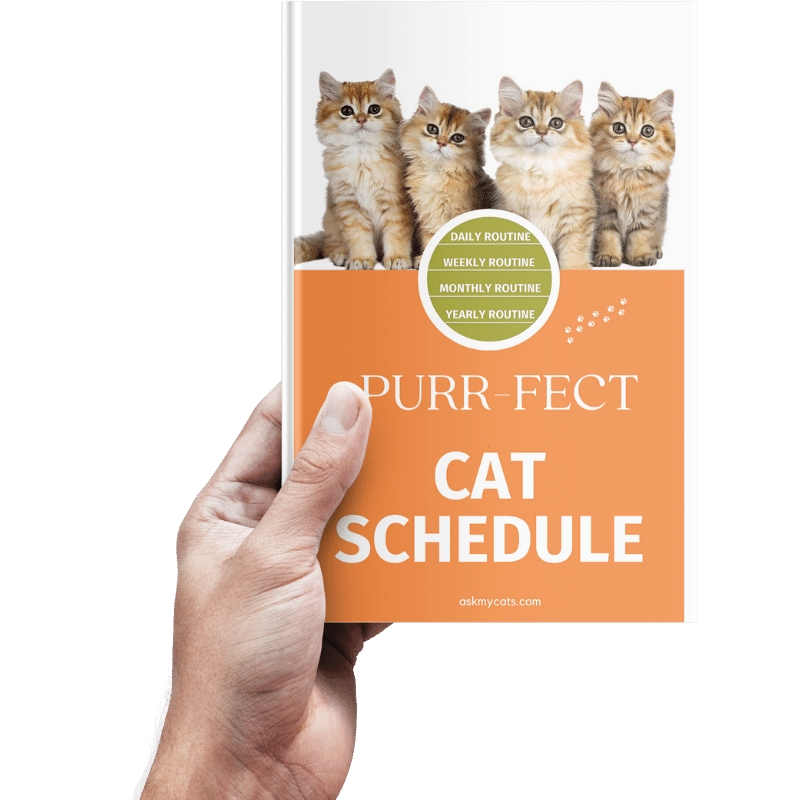 Discover the Secrets to a Happy Cat!
Discover the secrets to creating a happy and healthy daily routine for your feline friend. From playtime to mealtime, sleep to grooming, our expert guide will show you how to make every day a purrfect day for your cat.
Give Your Cat the Perfect Day – Get the Ebook!
What Is Cat Whisker Fatigue/Stress?
Whisker fatigue or whisker stress is, as the name suggests, a condition in which the whiskers of a cat get fatigued due to too much stimulation.
While it may be strange to think of tired whiskers, especially because they are essentially strands of hair, it is actually a pretty common phenomenon.
Here's how this phenomenon occurs:
The whiskers of a cat emerge from a part called the follicles – these are small dot-like features on the muzzle or cheek of a cat. These follicles have a lot of nerve endings.
So, when the whiskers emerging from these follicles gather input from the physical world, it goes straight to the nerve endings.
When there is an overload of stimuli, the nerve endings get overwhelmed. Since nerve endings send the signal straight to the brain for processing and making sense of the world, when the nerve endings get overwhelmed, so does the processing.
And all of this, in turn, makes the cat feel overwhelmed and overstimulated.
Also, find out Do Cat Whiskers Have Nerves?
It is kind of like when you open a lot of tabs on your browser and a lot of apps on your phone, and your device starts to lag and sometimes even shuts down due to an overwhelmed processor.
Interesting Read: Why Do My Cat's Whiskers Keep Breaking Off?
Is Cat Whisker Fatigue Real?
Yes, cat whisker fatigue is very real. It causes a lot of behavioral problems in cats.
The most common problem associated with whisker fatigue is when the cat starts to lose its appetite because of the overwhelm and overstimulation.
This loss of appetite can translate into weakness and health issues. That is why not only is it important to acknowledge the occurrence of whisker fatigue in cats, but it is also important to know what causes it and how can it be prevented and cured.
What Causes Whisker Fatigue?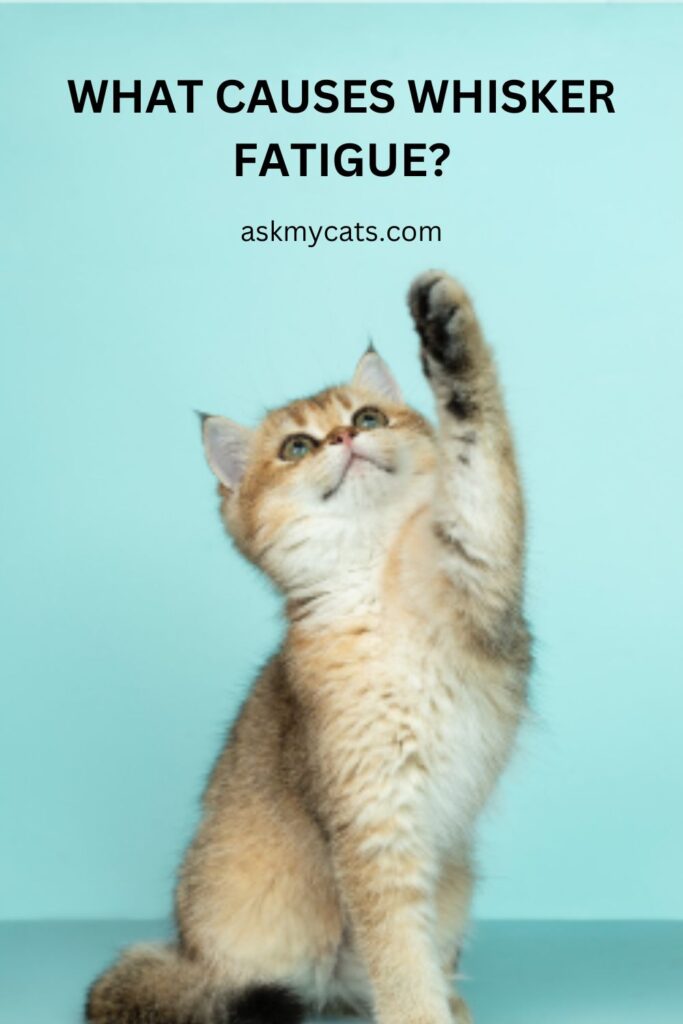 The leading cause of whisker fatigue in pet cats is the shape of their food and water bowls. The deep bowls cause the whiskers of a cat to brush against the walls of the container quite frequently and constantly.
This may sometimes lead to overstimulation in some cats.
While there is an ongoing debate in the veterinary community about the validity of whisker fatigue, a lot of pet owners have experienced this with their cats.
There have been complaints among cat parents about unexplainable agitation expressed by their cats, especially during meals. Sometimes, such agitation has no pathological reason either.
In such a case, wherein all pathological and behavioral reasons have been ruled out, it may help to look at your cat's agitation from the perspective of whisker fatigue and take appropriate steps to reverse the stress.
Interesting Read: Do Cats Like It When You Touch Their Whiskers?
Do All Cats Get Whisker Fatigue?
No, all cats do not get cat fatigue. In fact, if you have two pet cats, for instance, one of your cats may experience a bad case of whisker fatigue but the other may be able to comfortably eat and drink from the same bowl.
Some cats experience severe whisker fatigue, some may experience mild symptoms, and there are a lot of cats who do not experience any symptoms of whisker fatigue.
This is partly the reason behind a lack of consensus on the issue of whisker fatigue among vets.
Is Whisker Fatigue Painful?
For some cats, the symptoms of whisker fatigue may be very intense. Even then, it is not as much of a sensation of pain, as it is a sensation of soreness and overwhelms near the muzzle.
Whisker fatigue can get stressful because of how overstimulated a cat may start to feel – but it is not the same as the sensation of physical pain.
It is more of a feeling of too much information, which may, sometimes, lead to something akin to a headache for your kitty.
Interesting Read: Why Is My Cat Losing Its Whiskers?
How Do I Know If My Cat Has Whisker Fatigue?
There are some signs that could indicate possible whisker fatigue in your cat:
refusing to consume anything from their normal dishes
meowing and pacing in front of the food bowl as though something was wrong
acting more aggressively around food or treats when they are given to them out of the dish
pawing at food and water to attempt and rip it from the bowl
How To Prevent Whisker Fatigue?
Fortunately, whisker fatigue caused by tension at mealtime can be avoided or stopped by simply changing your cat's food and water bowls.
To prevent your cat's whiskers from touching the bowl's sides when it eats, give it a flat surface or a large enough bowl.
In an emergency, a paper plate can be used as a dish for meals.
For drinking, most cats choose a large, freely-flowing source of water without lips.
An automatic, fresh water source, such as a cat water fountain, is ideal for cat owners to provide since cats prefer it "to an ugly, stale dish of water that might as well be from an old tire."
Never trim your cat's whiskers. It will not reduce whisker fatigue – it will just cause a whole bunch of other problems such as making your cat disoriented and more prone to accidental injuries. Whiskers help a cat perceive its surroundings and navigate. They should never be trimmed or cut.
Must Read: What Happens If You Cut/Trim A Cat's Whiskers?
Frequently Asked Questions
Does whisker fatigue go away?
Most of the time, any signs of whisker fatigue your cat has experienced can be eliminated with a few easy changes to how you feed your cat and the dish you use to do so.
Why is my cat's whisker area swollen?
A cat bite abscess, dental illness, an insect bite, an allergy, etc. are only a few of the numerous possible reasons for swelling. To figure out what's going on and provide the right medicine, a vet check would be required.
Final Words
Whisker fatigue may be a controversial topic among many, but if your cat seems to experience any kind of overwhelming or stressful situation, the best way is to make changes and remove the stressors.
You don't need to go to a vet for whisker fatigue remedies. Simple changes like using a wider mouth dish will help subside any signs of whisker fatigue.
Interesting Read: Can A Cat Live Without Whiskers?
References