A cat's whiskers are the sensory mechanism that helps it make sense of the world around it. It is a well-known fact that a cat is able to perceive its surroundings and make calculations that help it navigate with the help of its whiskers.
So, it is only natural to wonder if the whiskers of a cat have nerves.
The short answer is no. A cat's whiskers themselves do not contain any nerves – much like the hair we have on our heads.
Then how do the whiskers form a sensory mechanism? And does it hurt when the whiskers are touched or cut?
If you have been wondering about these things, then you are in the right place.
In this article, we will find answers to questions like do cat whiskers contain nerves, how sensitive a cat's whiskers really are, and more!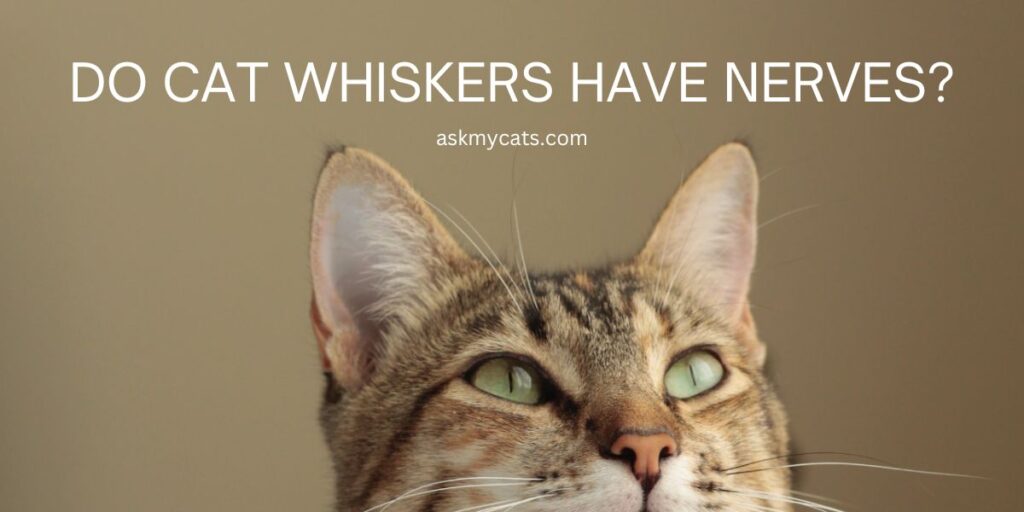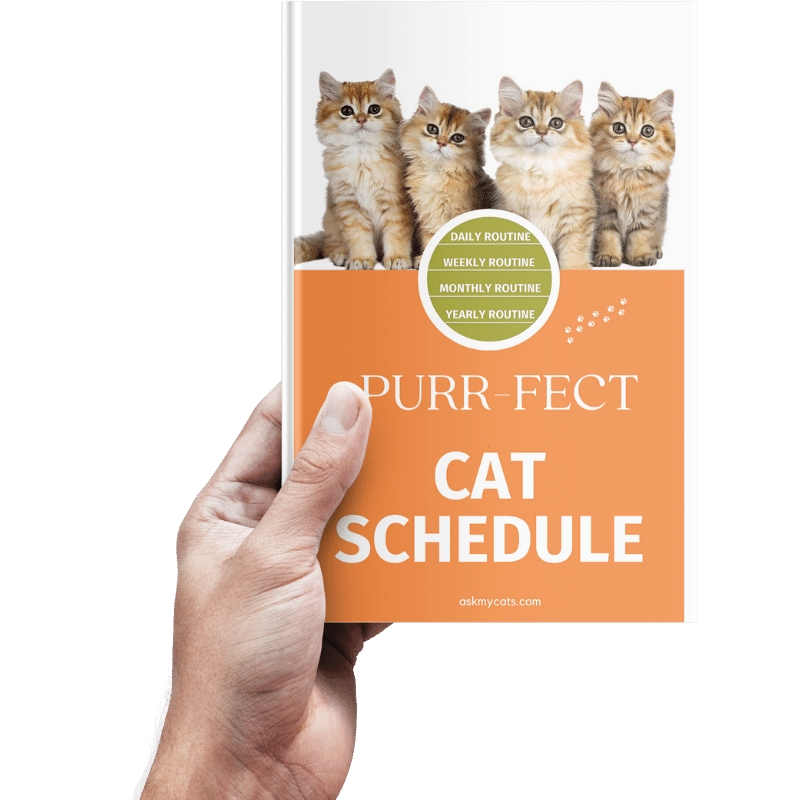 Discover the Secrets to a Happy Cat!
Discover the secrets to creating a happy and healthy daily routine for your feline friend. From playtime to mealtime, sleep to grooming, our expert guide will show you how to make every day a purrfect day for your cat.
Give Your Cat the Perfect Day – Get the Ebook!
Do Cat Whiskers Contain Nerves?
No, the whiskers of a cat do not contain nerves, nerve endings, or neurons. The whiskers of a cat, much like the hair of a human being, are made of a protein called keratin. These strands do not contain any nerve endings and therefore cannot feel anything as such.
A lot of the confusion about whether whiskers have nerves arises from the fact that the whiskers are known to carry sensory information.
But, truly, the whiskers of a cat only act as a channel for that sensory information – the follicles are the real sensory unit of the cat. The follicles have around 200 to 300 neurons, which makes it a very sensitive area.
And when a whisker strand is plucked or pulled, the pain is felt at the follicles – which is very intense because of the large number of neurons and nerve endings present there.
How Sensitive Are A Cat's Whiskers?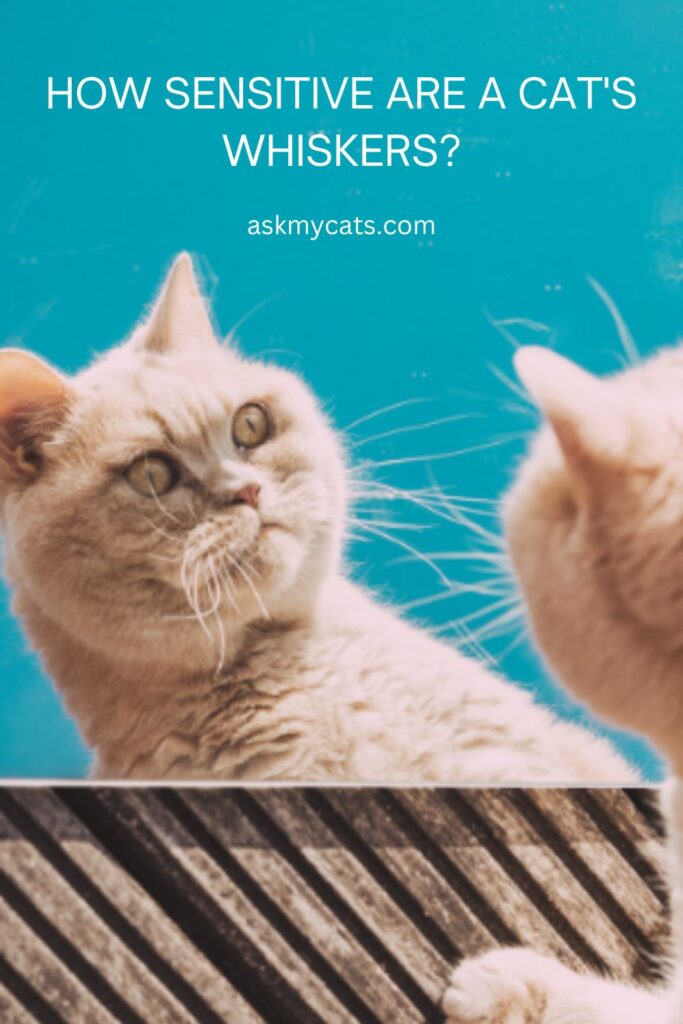 Due to the dense concentration of blood vessels and nerves in their follicles, whiskers are more sensitive than normal hair.
In actuality, a cat's whiskers are just as delicate as a person's fingertips. As a result, whereas a person feels the world with their fingers, cats feel it with their faces.
So, while the fur and skin of a cat do perform the basic function of tactility and touch, the whiskers of a cat tend to be better at perception through tactile means than normal hair or fur.
All in all, even though a cat's whiskers do not have nerves or nerve endings in them, the very fact that they originate from the follicles of a cat's face, which are jam-packed with neurons, makes whisker strands pretty sensitive.
Interesting Read: Why Do My Cat's Whiskers Keep Breaking Off?
Can Cats Feel When You Touch Their Whiskers?
As aforementioned, the whiskers of a cat do not have any nerves or nerve endings. That is why, if you simply touch the whiskers off your cat lightly, chances are that your cat will not feel anything and may just respond because it sensed your hand coming closer to its face.
Moreover, simply touching the whiskers does not make the cat uncomfortable.
As a matter of fact, cats themselves rub their muzzles and cheek everywhere in the house to mark their territory using their pheromones.
In this process of rubbing pheromones and marking territory, the whiskers get rubbed too – but it does not make the cat uncomfortable in any way.
So, touching or lightly rubbing over the whiskers of your cat will not cause any pain to your cat. In fact, your cat may not even feel anything much.
Interesting Read: Can A Cat Live Without Whiskers?
Do Cats Feel Pain In Their Whiskers?
If you talk about the whisker strands, then because of the absence of nerves and nerve endings, a cat does not feel anything in its whiskers – neither pain, tickle, nor a simple touch.
The whiskers of a cat are much like the hair on the head of a human being – made out of a protein called keratin and lacking any nerve endings.
So, while the follicles and the muzzle of the cat's face are very sensitive, the whiskers themselves do not have any tactile sense.
Hence, a cat will not feel any pain in its whiskers, as long as the follicles remain untouched.
Interesting Read: Cat's Eyebrow Whiskers: What Are Those Hairs Above Your Cat's Eyes?
Do Cats' Whiskers Hurt If You Cut Them?
If the follicles of a cat's whiskers remain untouched and undisturbed, the cat will feel no physical pain as such even if you cut the whisker strands off its face. But it is still a bad idea to do so.
Even though the whisker strands of a cat do not have any tactile sense, they do act as channels for a lot of sensory information which is processed by the nerve endings of the follicles and helps make sense of the surroundings of the cat.
If you cut the whiskers of a cat, even though it will not feel any physical pain, it will:
Become disoriented and find it difficult to navigate.
Become more prone to accidents and injuries.
Become more prone to getting stuck into places due to misjudgment of proportions.
And all of this will eventually make the cat more prone to physical pain via injuries.
Must Read: What Happens If You Cut/Trim A Cat's Whiskers?
Frequently Asked Questions
Can a cat feel if you cut its whiskers?
Dogs and cats don't have nerves in their whiskers, so they won't feel pain if you cut them, but they might experience discomfort if they run into anything in the middle of the night. To gauge distances and detect the presence of prey or predators, their whiskers aid them in navigating past objects, walls, and other roadblocks.
What are cat whiskers made of?
Cat whiskers are extremely sensitive hairs made of keratin, a protein that is also present in their claw sheaths while having the appearance of antennae and performing a radar-like function.
Final Words
A protein called keratin is used to make a cat's whiskers, much like it is in human hair. Since these strands lack any nerve endings, they are unable to experience sensations in the traditional sense.
The fact that whiskers are known to carry sensory information contributes greatly to the uncertainty around the existence of nerves in them.
However, a cat's whiskers really merely serve as a conduit for that sensory data; the follicles are the animal's primary sensory organ. The 200–300 neurons found in the follicles make it a very sensitive region.
Interesting Read: Why Are My Cat's Whiskers Curling?
References