It is normal for an elderly cat's appetite to fluctuate slightly as they age. They may become pickier about what food they eat, preferring wet cat food in most cases.
Furthermore, they may alter their feeding habits to consume several smaller portions throughout the day.
However, if your senior cat suddenly stops eating as much as usual, this can be a major source of concern for cat owners. When an old feline friend suddenly loses its appetite, owners may become extremely concerned that something is wrong!
So, what is the reason behind your old cat not eating but drinking?
The reason behind your old cat not eating but drinking could be that senior cats are more prone to illness, and major behavioral changes, such as a complete loss of appetite, can be one of the first signs that something is wrong. Hyperthyroidism, diabetes, and kidney disease are some of the most common explanations.
Keep reading the article, to know all the reasons behind your senior cat not eating and how you can feed them effectively.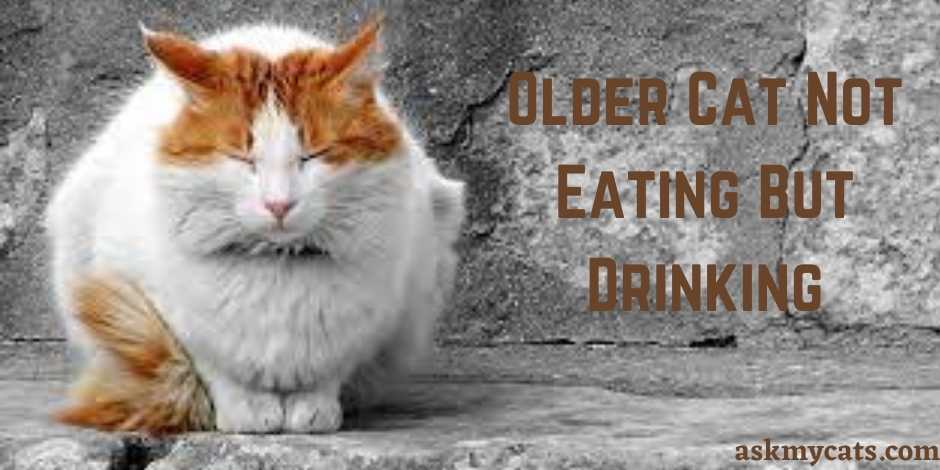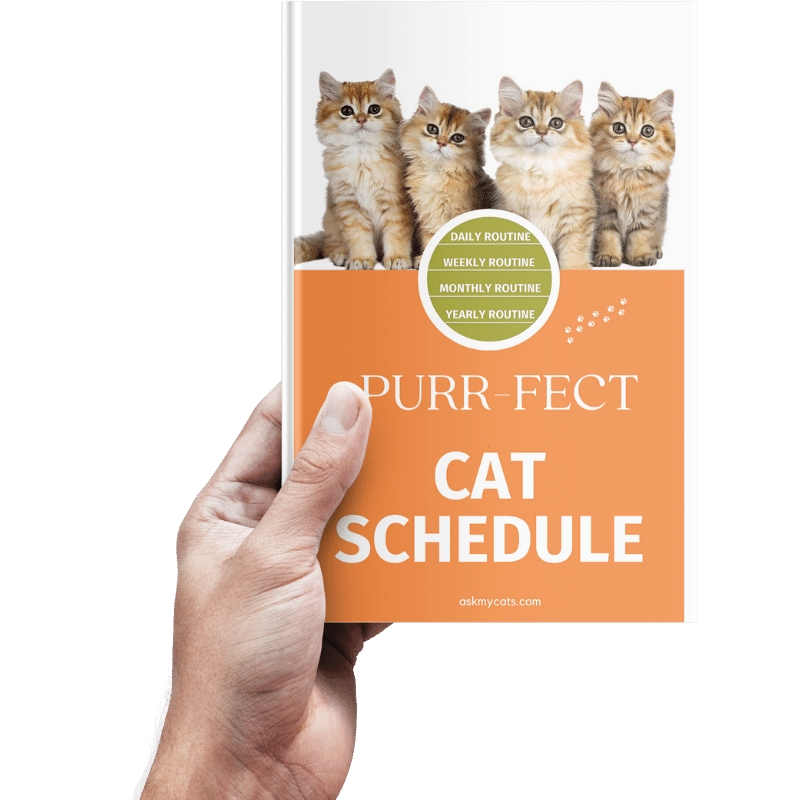 Discover the Secrets to a Happy Cat!
Discover the secrets to creating a happy and healthy daily routine for your feline friend. From playtime to mealtime, sleep to grooming, our expert guide will show you how to make every day a purrfect day for your cat.
Give Your Cat the Perfect Day – Get the Ebook!
What To Feed A Senior Cat That Won't Eat?
You should feed a senior cat that won't eat high-quality protein and high-calorie cat food.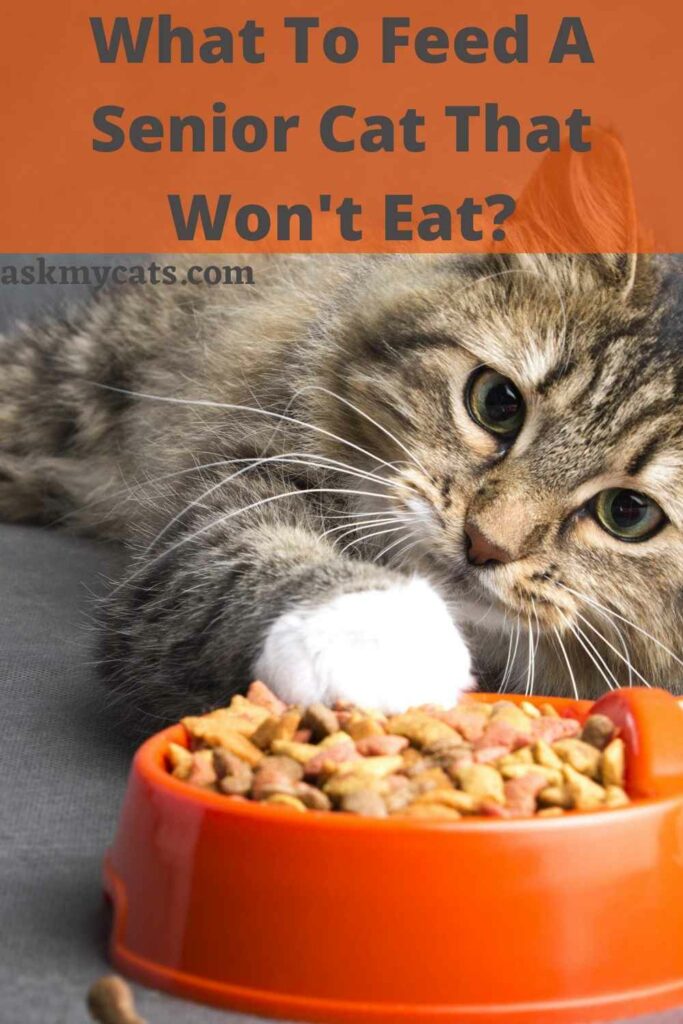 A senior cat's diet is critical for keeping your cat happy and healthy.
Your cat requires high-quality protein, specific levels of fat and amino acids, as well as essential minerals and vitamins.
Food designed to meet the nutritional needs of senior cats contains all of the nutrients they require, as well as ingredients that support their joints and immune system and are easier to digest.
As cats age, their senses of smell and taste begin to deteriorate. This means they may be hesitant to eat and their appetite may not be as strong as it once was.
Senior cat food made from high-quality ingredients should still smell and taste delicious – and you can mash it up with a little water to make it easier for them to chew.
Once you've determined why your senior cat is losing weight, you can attack the underlying cause while also launching a program to get her to eat at mealtimes again.
Begin by locating a high-calorie, nutrient-dense food. Most cat foods will not claim to help cats gain weight because cats are often overweight, and cat food producers frequently market foods to those on a cat weight loss program.
Look for high-protein foods, which are also higher in calories, but consult your veterinarian first if your cat has kidney disease, as more protein can worsen the disease.
Loading your cat up on carbs, unlike humans, will not help with weight gain because cats do not digest carbohydrates well.
One canned food to try is Instinct by Nature's Variety Original Grain-Free Real Chicken Recipe. Purina Pro Plan Classic Adult True Nature Natural Turkey & Chicken is another option.
Another possibility is to feed your kitten food. These rapidly growing felines require higher calorie food, which may also help your older cat lose weight.
There are also high-calorie supplements available that can quickly increase your cat's daily calorie intake. Many are available in gel form and are designed to be tasty while also containing a high concentration of minerals, vitamins, and protein.
If your cat is hesitant to try it, put a bit on her nose or inside her mouth to get her going. Tomlyn Nutri-Cal High-Calorie Dietary Cat Supplement and GNC Pets Ultra Mega High-Calorie Booster are two brands.
You might also like to read about possible reasons behind cat licks food but doesn't eat
How Do You Get An Older Cat To Eat?
You can get an older cat to eat by: –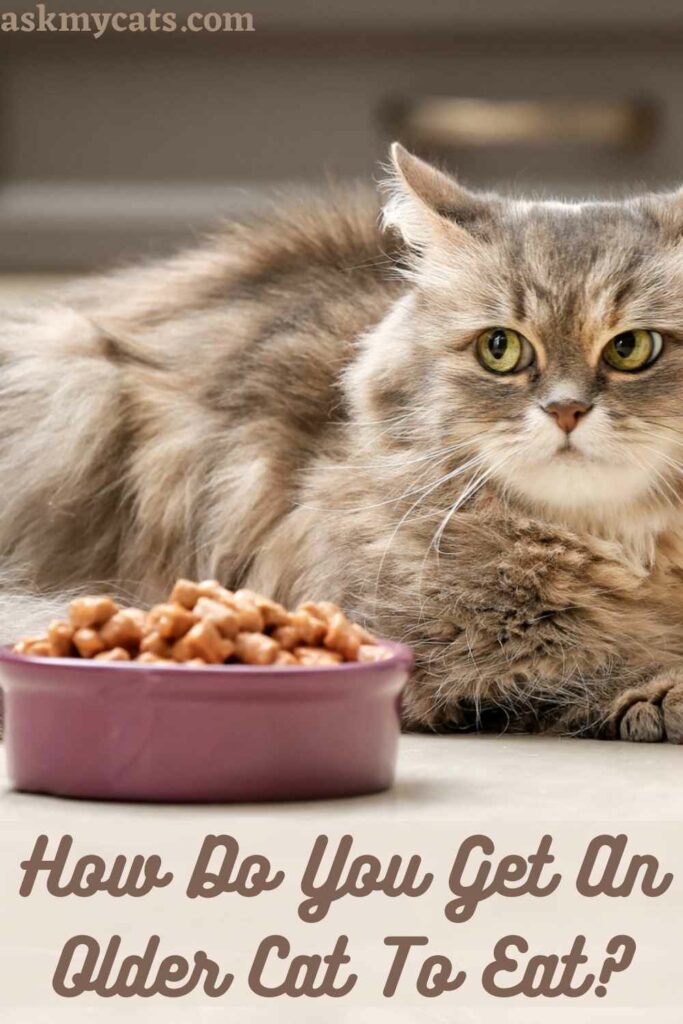 1. Small And Frequent Meals
The stomach of a cat is about the same size as a ping-pong ball. So it's natural for your cat to not consume everything at once.
Feed one tablespoon of food every few hours, whether your cat prefers wet food, dry food, or both.
Small, regular meals are more easily tolerated than large meals, and they can lower the risk of vomiting afterward.
2. Warming Up Wet Cat Food
The smell of their food encourages cats to eat. Warming wet food helps to make it more scented and appealing to your senior cat.
Put your cat's food in a microwave-safe bowl and heat it for a few seconds to warm it up.
Most cats prefer to be at or near their body temperature, which is 38.5°C (101.5°F).
3. Feeding Snacks
Healthy snacks in between meals might help your cat gain weight.
Between meals, try luring your cat with a few high-protein, easy bits of freeze-dried chicken, such as PureBites chicken breast freeze-dried raw cat treats.
4. Decrease Your Cat's Anxiety
A calm cat is a happy cat, and happy cats are more inclined to eat well. Solitary hunters and solitary eaters, cats are. That is why they prefer not to be bothered while eating their meals.
When your cat is sick, it's natural to want to keep an eye on them. However, if you allow your cat some room, he or she will most likely eat better.
5. Medicine
Your veterinarian can prescribe a few medications to assist stimulate your cat's appetite.
Your cat will feel the urge to eat an hour or so after taking the drug. You can even ask your veterinarian if the drug can be obtained in a transdermal version (a patch or gel applied to the skin or gums) so that you don't have to deliver a tablet.
Also, know the possible reasons behind cat asking for food but not eating
What Do You Do When Your Senior Cat Stops Eating?
Things to do when your senior cat stops eating are: –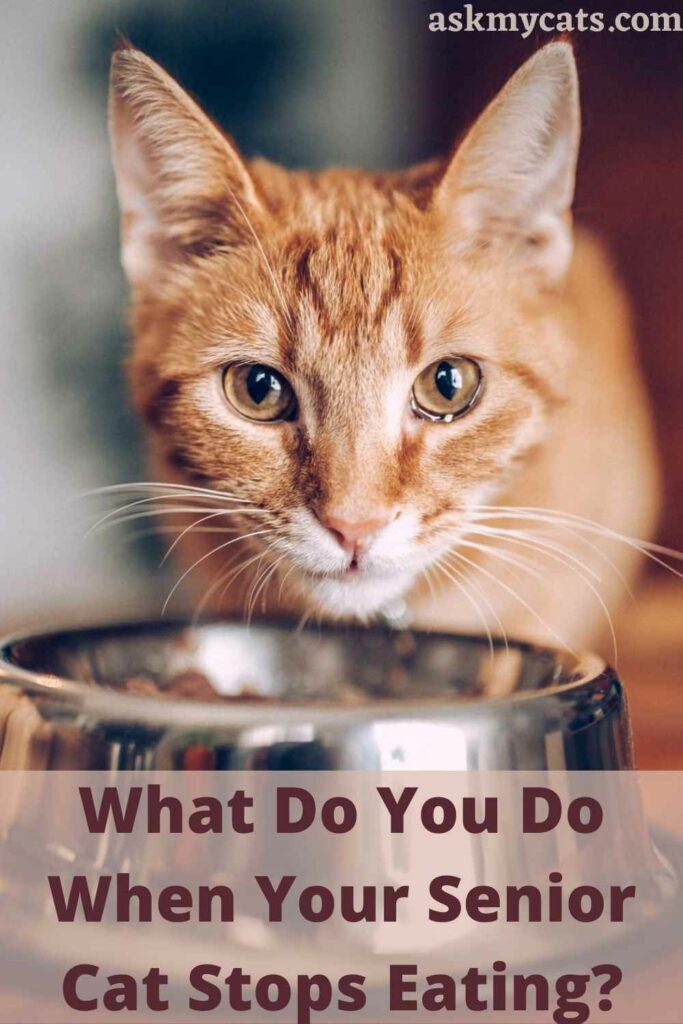 1. Create A Plan Of Action
After you and your veterinarian have worked out a treatment strategy for the underlying condition, you may focus on the difficult task of weight gain.
Based on your cat's age and medical conditions, your veterinarian will most likely provide particular recommendations.
The best outcome is likely to come from a diet that is tailored to your cat's individual medical condition.
Your veterinarian will also determine your cat's optimal weight and perform regular weigh-ins to ensure that your plan is working and that your cat is not exceeding his or her ideal weight.
Returning to a healthy weight for unwell cats is much more than simply calories.
Diets for various diseases are tailored to include the correct macronutrients and micronutrients to promote weight growth while also addressing the disease's specific issues.
2. Determining What To Feed Your Senior Cat
If your cat's medical problem is under control—parasites have been treated or painful teeth have been extracted—correcting the calorie deficit may be all that is required.
The first and most crucial step is to pick a meal that your cat enjoys while also not causing tummy trouble. You want a food that meets their dietary needs while also being highly tasty so that they would consume it.
It's not uncommon for a cat to have a strong preference for a certain flavor, type of food (canned/dry), or even texture. A cat that is repelled by one or more of these elements is in the same boat.
The first and most crucial step in getting your cat to eat well is figuring out what he or she likes to eat.
Cats are carnivores by nature. This means that cats must obtain critical nutrients from animal products in order to maintain their health.
On a dry matter basis, cats' natural prey, such as tiny rodents, are believed to comprise roughly 55 percent protein, 45 percent fat, and 1–2 percent carbohydrate.
Although carbs make up only 1-2 percent of prey's macronutrient breakdown, most cats may use up to 40% of their diet as a source of energy in the form of carbohydrates.
Dry food has a higher carbohydrate content than wet food.
3. Calculate How Much to Feed Your Cat
It's time to figure out the correct amount sizes once you've discovered a food that meets your cat's needs while also getting them enthusiastic about mealtime.
Here, math is our ally. In general, it's ideal to calculate your cat's resting metabolic demands and then give this quantity of calories plus 20% more for progressive and healthy weight gain.
Your veterinarian can assist you in converting this into the proper amount of food to feed.
Why Is My Cat Sleeping All Day And Not Eating?
The reason behind your cat sleeping all day and not eating could be: –
1. Kidney Disease
Your elderly cat could possibly be suffering from kidney problems. As cats grow older, their renal function begins to deteriorate, increasing the risk of kidney disease. As a result, this is a very possible explanation for why your elderly cat isn't eating.
The kidneys are responsible for eliminating waste and poisons from the body. When the kidneys aren't functioning properly, waste isn't effectively cleared from the bloodstream, resulting in a variety of health problems.
Your cat can normally enjoy a decent quality of life if diagnosed early. Chronic kidney illness, on the other hand, is incurable and there is little you can do to alleviate the pain.
You should take your cat to the vet if you detect any of these symptoms in combination.
Because early detection is crucial in cats with renal illness, the earlier the condition is detected, the better. Your veterinarian will be able to do blood and urine tests to determine if your cat has kidney disease.
2. Tooth Decay
Another reason your cat isn't eating could be tooth decay or other dental problems. Teeth decay occurs as cats age, therefore this is very likely in older cats.
Plaque can accumulate over time, causing the surface of the teeth to deteriorate. This wears down the teeth and exposes the roots, which are uncomfortable to touch.
As a result, when cats with dental decay attempt to feed, they will feel pain and discomfort. As a result, they decide not to eat at all.
Another common symptom is if your cat has stopped eating dry food but continues to eat treats. The hard kibble will damage their tongue, whereas the occasional treat will be easier to handle.
You might also like to know reason behind cat not eating food but eats treats
Your cat's excessive slumber may be due to old age. Cats' metabolisms naturally decrease as they age, and many choose to sleep for longer periods of time.
However, if your cat isn't eating at all, it's a serious problem that requires immediate medical attention. Weight loss in cats, or a cat that refuses to eat, can be a sign of underlying health problems.
If your senior cat is losing weight yet eating normally, this could indicate a problem, and you should take them to the doctor for a check-up.
Frequently Asked Questions
Is my senior cat not eating because of a food allergy?
It's possible that your senior cat isn't eating due to a food allergy. Allergies can appear at any moment during a cat's life, so don't rule it out just yet! This could be the cause of your cat's decreased appetite even if you haven't changed their nutrition.
When to feed senior cats?
Feeding little amounts of food frequently throughout the day is ideal for senior cats. Offering wet food at mealtimes and then letting them graze on their dry food allocation by distributing it in various locations about the house is a good approach to feeding elderly cats.
What is the best type of food for a senior cat who is not eating?
You'll probably need to switch to wet cat food. Cats love wet food in general, so this could provide the motivation your cat requires. Wet food is also more appealing to cats with dental problems since it causes less discomfort. If you want to stick with kibble, soft dry cat food is a good compromise.
Final Words
There are a number of reasons why your elderly cat is drinking rather than eating. They could be dealing with hormone concerns like hyperthyroidism or diabetes, kidney failure, or food allergies, or tooth rot making eating difficult and uncomfortable.
All of these problems necessitate medical attention, so get your senior cat to the vet as soon as possible. Senior cats' health is more vulnerable, and early detection and treatment can help them live out their lives to the fullest! With the right treatment, most ailments can be cured or managed.
If you have any unanswered questions, feel free to ask us in the comments section.
References