A loss of appetite in cats is actually quite indicative in nature and could be symbolizing the occurrence of a number of medical illnesses. The most common reason behind not eating cats is owing to illness.
There are many reasons for a cat to develop partial or complete anorexia. Medical problems such as kidney disease, pancreatitis, ingestion of non-food material, cancer, dental disease, urinary tract disease, and arthritis can all deter a cat from eating.
In addition to all these medical factors, environmental changes like stress, anxiety, depression or general psychological well-being could also influence a cat's appetite.
With that being said, let's explore all the reasons behind your cat's appetite loss in detail and find out how you can encourage her to eat more.
Key Takeaways

Loss of appetite in cats is a symptom of many medical illnesses, such as kidney disease, pancreatitis, ingestion of non-food material, cancer, dental disease, urinary tract disease, and arthritis.
Environmental changes like stress, anxiety, depression, or general psychological well-being could also influence a cat's appetite.
On average, cats can go up to 2 weeks without eating food, provided that they have enough water.
Symptoms of starvation in cats include significant loss of body weight, decreased energy levels, throwing up food, bile, or other substances, loose, watery stools or bowel movements, dry mouth, sunken eyes, yellowing of the skin, eyes, or gums, irritability, aggression, or changes in grooming habits.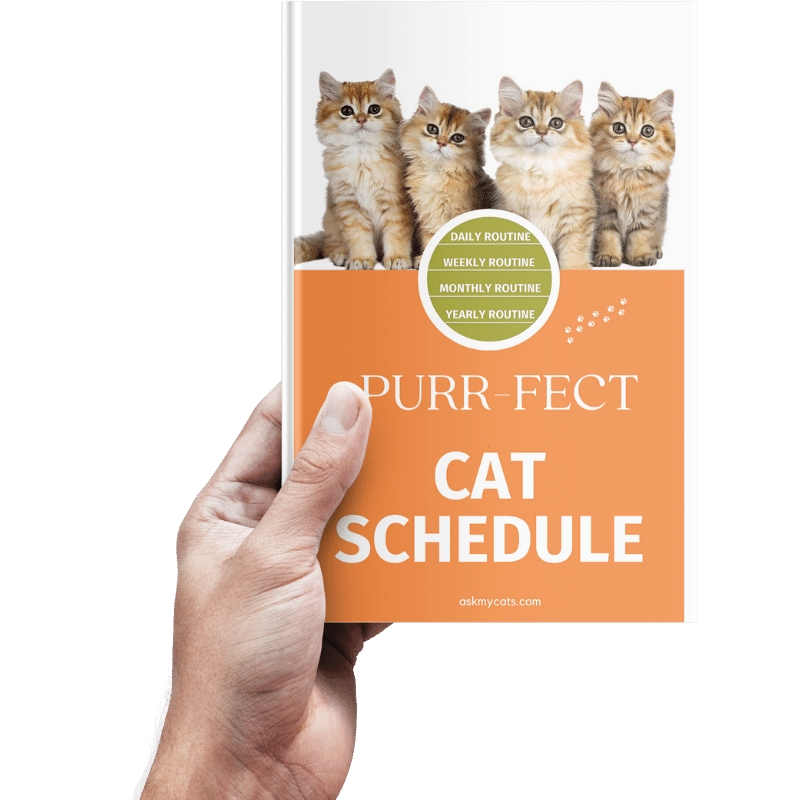 Discover the Secrets to a Happy Cat!
Discover the secrets to creating a happy and healthy daily routine for your feline friend. From playtime to mealtime, sleep to grooming, our expert guide will show you how to make every day a purrfect day for your cat.
Give Your Cat the Perfect Day – Get the Ebook!
How Long Can A Cat Go Without Eating?
On average, cats can go up to 2 weeks without eating food, provided that they have enough water.
The dietary requirements of each cat are different depending on her age, body weight, energy requirement, health status, and activity level.
According to Rover.com, "The nutritional needs of a cat vary greatly depending on life stage, activity level, reproductive status, and any underlying medical conditions, with small kittens being most vulnerable to severe reactions to changes in eating habits.
It goes without saying that food is the very foundation of sustenance and survival. A healthy, balanced diet consumed at regular intervals is necessary for all of us, including cats, to lead a long and fulfilled life.
Even though cats can live without food for approximately 2 weeks, you should ensure that your feline friend has regular meals that are rich in the required nutrients.
If a cat refuses to eat, it can trigger a condition called hepatic lipidosis, a liver infection that can very quickly prove to be fatal if not treated promptly.
"If your cat does not eat for three days, their body will use the excessive fat and break it down into energy for their body to use," Dr. Ochoa, DVM, veterinary consultant at Dog Lab, explains. "This can cause a build-up of fat in your cat's liver."
This build-up of fat is essentially hepatic lipidosis or 'fatty liver'. Overweight cats have greater quantities of stored fat, and thus, they have an increased risk of developing a fatty liver.
"Unlike dogs and humans, a cat's liver cannot support their bodies, so the process can start soon," Dr. Sievert warns. "If starvation continues, its organs will begin to shut down."
Must Read: How Long Does It Take For A Cat To Die If It Stops Eating?
Signs That A Cat Is Not Eating Enough
If your cat hasn't eaten a morsel of food in 24 hours, then that means trouble is brewing up.
Although 24 hours without food won't cause any permanent damage to an otherwise healthy cat, it is important that a vet is consulted right away.
As iterated before, loss of appetite and restrained eating leads to the development of a condition known as hepatic lipidosis.
In particular, obese cats that don't take in the required amount of calories will mobilize stored fat for energy, leading to the interpolation of fatty acids to the liver.
The resultant liver failure is extremely dangerous and can even be fatal if not treated.
While hepatic lipidosis takes weeks to manifest, the most immediate response to not eating in cats is a weakened immune system and dehydration.
Even if the cat is drinking enough water, the occurrence of vomiting or diarrhea can lead to dehydration, which will further aggravate the situation. Immediate veterinary care or hospitalization might be the only solution.
The most glaringly obvious sign that your cat is not eating enough is weight loss. It can be identified easily enough if the cat feels lighter when picked up or if her spine or bones are jutting out and feel prominent to touch.
The recognition of any of these symptoms must be dealt with proactively and warrant a prompt visit to the vet.
Interesting Read: How Long Can A Newborn Kitten Go Without Eating?
Signs of Starvation in Cats
| Sign | Description |
| --- | --- |
| Weight Loss | Significant loss of body weight, even over a short period of time |
| Lethargy | Decreased energy levels, reduced activity, or sleeping more than usual |
| Vomiting | Throwing up food, bile, or other substances |
| Diarrhea | Loose, watery stools or bowel movements |
| Dehydration | Dry mouth, sunken eyes, or decreased skin elasticity |
| Jaundice | Yellowing of the skin, eyes, or gums |
| Behavioral Changes | Irritability, aggression, or changes in grooming habits |
Interesting Read: Why My Cat Seems Hungry But Won't Eat?
Causes of Appetite Loss In Cats
Cats are notoriously fussy eaters and infamous for nit-picking their way through food. As you will see, the list of reasons why a cat is not eating her food is long.
However, the most common cause behind this loss of appetite is owing to illness.
Once you realize that your cat is not eating her food, don't dilly-dally for long, and take her to the vet at the earliest possible opportunity.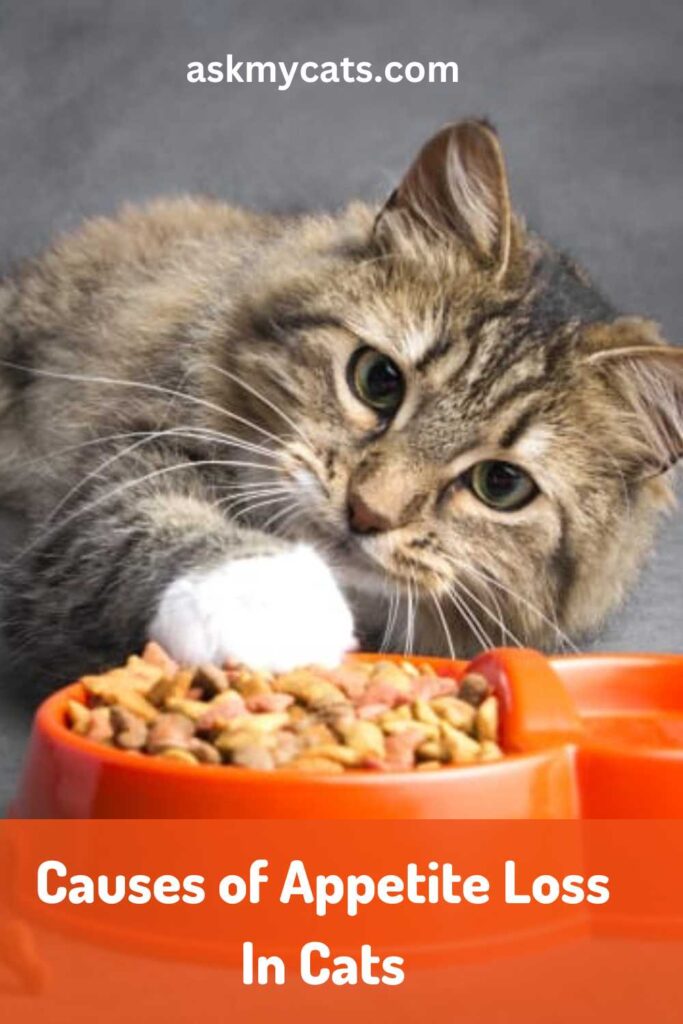 1. Dental Diseases
If your cat's appetite loss is coupled with excessive drooling, blips, sour breath, or any dental discomfort (teething or an excess of chewing behavior) then you might have to take her to a feline dentist.
Dental aches or infections, marked by inflamed gums, abscesses, or broken teeth, make chewing very painful and could also be a possible reason behind restrained eating behavior.
As per Rover.com, "Common dental issues in cats can include gingivitis, toothaches, and fractured teeth."
2. Foreign Objects
The accidental insertion of foreign objects like hairballs, strings, or small toys can obstruct a cat's digestive tract. This is an extremely painful occurrence and should be handled by the vet promptly.
3. Food Allergies
Unusual symptoms like an upset tummy, skin inflammations or itches, and appetite loss occurring within days or weeks of a diet change can be reflective of a food allergy.
Food allergies can difficult to recognize without the help of a vet or if you aren't being keenly observant. Track your cat's behavior meticulously and notice if she is not responding well to a new diet.
Must Read: How Long Can A Cat Go Without Water?
4. Respiratory Problems
Respiratory infections are actually quite common in cats and are caused by various bacterial, fungal, and protozoan germs. One of the symptoms of respiratory maladies is appetite loss, along with a stuffy nose, coughing, sneezing, lethargy, and troubled breathing.
5. Pickiness
As has been iterated before, cats are picky eaters.
"Anything from the taste, texture, or smell of food could cause your feline to skip a meal. If an assortment of your cat's favorite foods isn't encouraging a typical appetite within 24 hours, it's time to consult the vet.", advises Rover.com
6. Digestive issues
"If a cat is experiencing any type of gastrointestinal distress like nausea, vomiting, diarrhea, or abdominal discomfort, they may be reluctant to eat or drink," says Dr. Carmella, DVM, Director of Veterinary Scientific Affairs at Blue Buffalo.
Avoiding food and water actually causes the condition to worsen, so the vet should be contacted immediately in order to carry out the correct treatment procedure.
7. Anxiety & Depression
Sudden changes in daily routine or even trivial environmental factors can trigger the blues in your cat. Like us, depression and anxiety do not make a very hungry cat.
If your cat is uncharacteristically lethargic r refusing to eat even her favorite treats and munches, then she could be possibly depressed.
Interesting Read: Why My Cat Not Eating Food But Only Eats Treats?
Approximate Limits of Starvation in Cats
| Time Period | Description |
| --- | --- |
| 2-3 days | Cats may start to feel hungry, but can still function normally |
| 4-5 days | Dehydration becomes a risk, and cats may start to show signs of weakness or lethargy |
| 6-7 days | Liver failure and other organ damage can occur, and cats may become disoriented or lose consciousness |
| 8-9 days | Severe dehydration and malnutrition can lead to shock or coma |
| 10+ days | Death becomes a significant risk |
Interesting Read: Do Cats Need Food And Water At Night?
What To Do If A Cat Stops Eating?
Not eating is a very vicious cycle and your cat can even inadvertently starve herself if she doesn't like her food and stops eating.
The resulting weakness and fatigue can lead to a drastic reduction in immunity and trigger off more severe medical diseases which might even prove to be fatal to your cat's health.
The first 24 hours are crucial and you can encourage your cat to eat within this time period by doing the following:
1. Replace the Food Bowl
Cats are immaculately clean creatures and dirty food and water bowls can really put them off their food. It could also lead to whisker fatigue.
Dr. Laura Robinson, DVM, consulting vet for Canidae Pet Food recommends merely switching from a metal to a ceramic bowl could do the trick.
2. Move the Food Bowl
Thus, moving the food bowl to a quiet, low-lying space could be a possible solution.
3. Changing the Food Type
The next step that you can take is to entice your cat using different types and combinations of food. To restate, cats are picky eaters and it is possible that your cat's current diet is not suiting her well or catering to her tastes.
"Try offering a bland diet of boiled chicken, white rice with yogurt, or meat-flavored baby food," Dr. Burch, a vet at Paramount Pet Health said. "Changing the food may be enough to encourage your cat to start eating again."
Cats also aren't huge fans of cold food, so Dr. Sievert recommends trying to warm it up to see if she'll eat it that way.
Must Read: My Cat Is Not Eating! How To Force Feed A Cat?
4. Make it extra smelly
Cats are very sensitive to smells and different aromas. They fastidiously scent their food before actually eating it.
For picky eaters or sick cats, you can add extra toppings or heat up the food before serving it to enhance its aroma.
5. Add a topper
Try adding different combinations of toppers to test which one appeals to your furry friend the most.
Now, if all these at-home remedies are not doing the trick, it may be a more serious underlying medical condition that is troubling your cat and ruining her appetite. After 24 hours, if your cat still refuses to eat, take her to a trusted vet immediately to identify the problem.
For milder cases, the vet will most likely prescribe some appetite stimulant or anti-nausea medications.
However, "For more severe cases, your vet will give your cat IV fluids and, when necessary, a feeding tube to help provide your cat nutrition. Many cats with aggressive treatment will improve," Dr. Ochoa, DVM, veterinary consultant at Dog Lab, says.
Interesting Read: Do Cats Know When To Stop Eating?
Frequently Asked Questions
How long should you wait before consulting the vet?
This decision is influenced by the inherent nature of each individual cat. Some cats are extremely finicky eaters and it is common for them to skip a meal or two. In such cases, their human parents will know not to worry and take their fur baby's loss of appetite as a normal occurrence. However, other cats are less picky about their food and are happily eating whatever is put in front of them For them this loss of appetite is very uncharacteristic and might be reflective of a serious medical condition. In such a scenario, you shouldn't wait more than 24 hours before approaching the vet.
Final Thoughts
Changes in a cat's eating habits are not something to be ignored or taken lightly. More often than not, a cat's diet directly correlates to her health.
Unusual loss of appetite, lethargy and extremely fussy eating behavior could be reflective of a number of diseases and infections like dental aches, respiratory problems, allergies, or even psychological maladies like stress, anxiety, and depression.
Don't let your cat go without eating for more than 24 hours. Consult a vet immediately if you suspect anything suspicious.
It can be hard to pinpoint the exact reason for bedding your cat's loss of appetite, a vet will be able to guide you through better.
You would also like to read: How Long Can a Cat Survive Locked in a Shed?
Some of the Interesting Reads:
References