Emotional support animals considerably facilitate the day-to-day life of those who are tormented with psychical or emotional maladies. These four-legged companions give positive emotions and help get rid of loneliness.
Having a pet in the house creates a pleasant and favorable atmosphere. However, if you have an ESA letter from a specialist, you may also have some legal capabilities.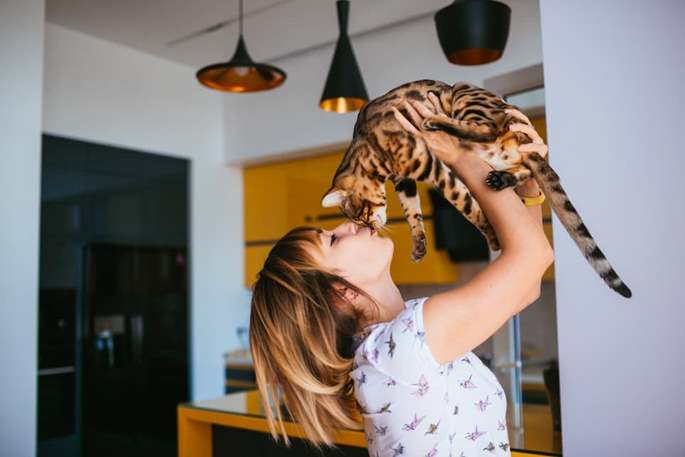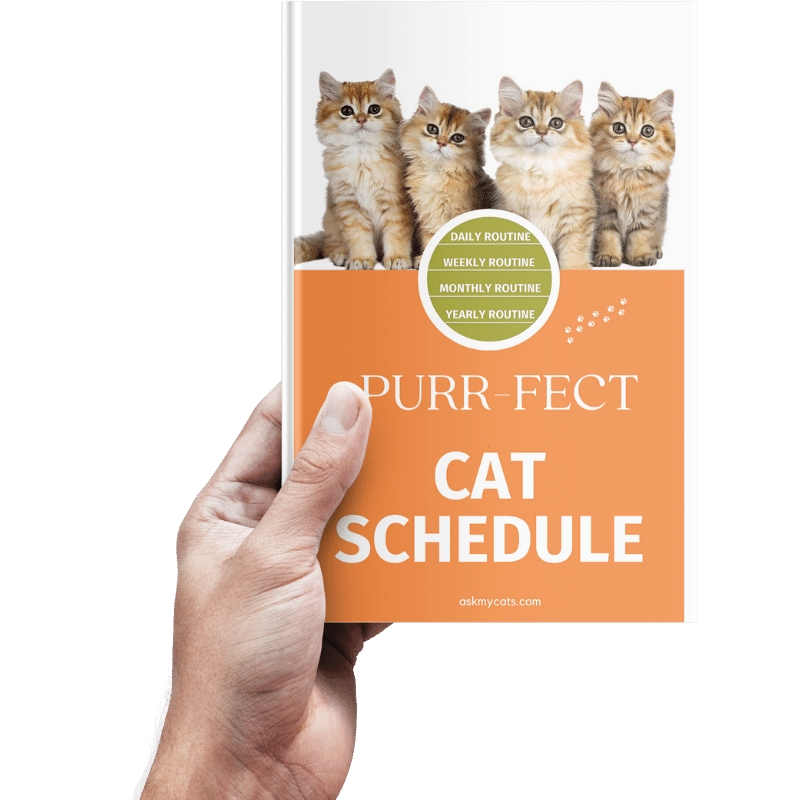 Discover the Secrets to a Happy Cat!
Discover the secrets to creating a happy and healthy daily routine for your feline friend. From playtime to mealtime, sleep to grooming, our expert guide will show you how to make every day a purrfect day for your cat.
Give Your Cat the Perfect Day – Get the Ebook!
Can Cats Be Emotional Support Animals?
When we think about the emotional support animal, we think about a service dog. But in fact, these are absolutely different concepts. While service animals give mainly physical assistance, an emotional support animal is foremost a friend to its owner. ESA is needed for humans who have mental health issues.
ESAs are not limited by emotion-based support dogs. Typically all pets in your household will act as companion pets. And you may be surprised at what animal species are making a good ESA. While the most prevailing ESAs are dogs, rabbits, miniature horses, and cats are equally good at becoming an ESA.
The cat is definitely a good support animal for a variety of reasons. Although these animals can sometimes have their own minds, they are very sensitive to the feelings of their owners. A cat as an emotional support animal is as a good companion as a dog, and in some cases even better.
Breeds Of Cats That Qualify For ESA Status
Cats are not allowed to meet any breed restriction to qualify as an ESA. The choice of cat breeds depends on your preferences. It is also necessary to take into account the specific characteristics of each breed. Some of them are more active and easier to train, others are more wayward.
Despite the fact that cats are considered to be quite independent animals, they also need proper care and solicitude. Therefore, choosing a cat breed that will be your emotional support animal also depends on how much time and attention you are willing to give to the animal.
What Benefits Do Emotional Support Cats Owners Receive?
If you feel like having mental health complications, the presence of emotional support animals may help you to surmount depression, panic attacks, post-traumatic stress disorder, and other mental dysfunctions that significantly affect the quality of human life.
Although the results may vary between individuals, it's been proven that cats are incredibly beneficial for men who feel lonely and get along poorly with others.
These silent animals will not annoy you with their presence, they do not need regular exercise, such as the emotional support dogs need. Cats are close to their owners when they are needed, but feel good alone.
How Can I Get an ESA Cat Letter?
There are two legal ways to get an ESA letter. You can either see a licensed mental health professional or fill out the online form to receive the document.
In both cases, a medical professional decides whether an emotional support animal will be helpful for your psychological state or mental disability.
In order for a licensed mental health professional to understand how much you need emotional support cat, you need to clearly and in detail describe your condition and all the symptoms that accompany it.
It may take some time to study your case, but if you have enough evidence, the mental health provider will eventually give you a letter.
How Do I Qualify For Emotional Support Cats?
Eligibility for the emotional support animal is simple. If you suffer from anxiety or depression, you can qualify for an ESA to support your life. Depending on how much the problem affects you daily you may be eligible to receive an emotional support pet.
Firstly you should discuss your concerns with the doctor to find out if an animal can help you with emotional support. Because ESAs require emotional difficulties, you must consult a professional.
How Can I Get an Emotional Support Cat Registration?
When persons have mental or emotional disabilities, such as depression, anxiety, or panic attacks, they can easily qualify for emotional support animals. If you've already consulted a medical professional and gotten a legitimate ESA letter, you may want to register your animal.
The registration process is not required for the ESAs as it is for service animals. However, having your ESA registered makes life much easier, especially when it comes to the legal field.
There are many services where you can register your cat as an ESA. Nevertheless, you have to be very careful when choosing a service to register your emotional support cat.
There are many cases where fraudsters create fake sites to register ESA to get money from people.
You can learn more about how to properly register an ESA at the link How to register Cat as an emotional support animal.
How Can I Make My Cat an Emotional Support Animal?
If you already have a cat, you may consider having them serve as ESA cats. Your pet needs no special training to become an emotional support cat.
The only requirement for the animal to become an ESA is to be a good companion and bring joy and positive emotions to the handler.
Because emotional aid animals do not require specific training to become an ESA, your cat can serve as an ESA since they belong to your family already.
Legal Protections For Emotional Support Cats
Service animals receive specialized preparation and are a vital necessity for humans with inabilities, so it is clear that they have more rights than the ESA. Yet, there are federal laws that protect the freedoms of ESAs.
The legal possibilities for an emotional support cat may seem somewhat limited. However, in addition to federal laws, there are also local ones that can provide ESAs and their owners with more opportunities and freedoms.
Housing Registration For Your Pet
An ESA letter for housing is issued for people who needed to take care of their pets as part of a care program to reduce the risk of psychic maladies. It is related to the federal Housing Act. The FHA aims to prevent any kind of discrimination by housing providers against their tenants.
Agents must ensure that they provide reasonable accommodation. An emotional support animal letter helps for specific dwelling arrangements which would otherwise prohibit dogs, cats, or other animals, particularly for apartments and university dormitories.
Flying with Your Cat
The Air Carrier Access Act (ACAA) allows service animals to fly freely with their owners without paying any taxes.
Until recently, ESAs could also enjoy these privileges. However, recent changes in the law have banned the transportation of emotional support animals in the cabin.
Despite the change in law, ESAs can be treated as normal pets while on a plane. There may also be a necessity for an additional fee for pet owners that is usually determined by the air carrier. Since a cat cannot become a service animal, it is unfortunate that they must always pay fees for flying.
There are two options for transporting an emotional support cat. You can either convey the animal in the luggage compartment or use the services of a pet-friendly airline. Usually, information about the transportation of animals is easy to find on the official website of the carrier.