The whiskers of a cat allow it to make sense of the world and perceive its surroundings. A cat uses its whiskers to navigate and figure out whether or not will it fit through a certain hole, and whether or not should it take a jump from a certain height.
Naturally, the absence of whiskers in a cat may make it difficult for a cat to navigate. The cat may become more prone to accidents and injuries.
How, then, does a hairless cat navigate? Does a hairless cat have whiskers? If not, then how does it prevent accidents while navigating?
If you have been looking for answers to such questions, then read along!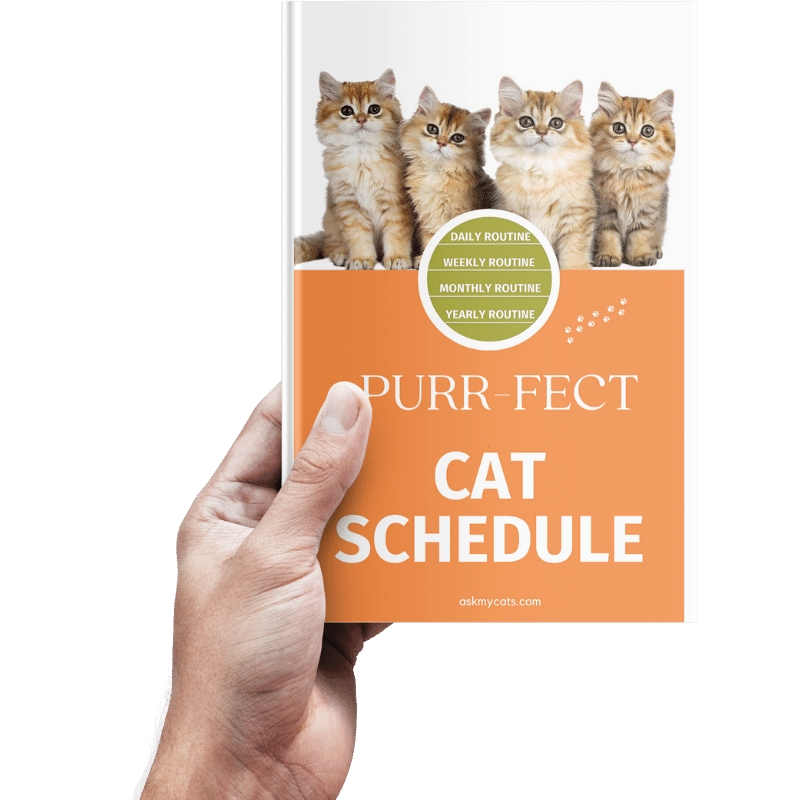 Discover the Secrets to a Happy Cat!
Discover the secrets to creating a happy and healthy daily routine for your feline friend. From playtime to mealtime, sleep to grooming, our expert guide will show you how to make every day a purrfect day for your cat.
Give Your Cat the Perfect Day – Get the Ebook!
Are Hairless Cats Completely Hairless?
One of the most popular breeds of hairless cats is the Sphynx. When you look at a hairless cat of any breed, you may notice that the cat seems to not have whiskers.
But, if you have been reading up on cats, you will know that the whiskers of a cat are not just a means for aesthetic appeal – but the whiskers of a cat actually serve an important function as part of the sensory mechanism of the cat.
Before we start answering questions about how a hairless cat might be navigating without getting into accidents, it may be worthwhile to figure out exactly how hairless is a hairless cat.
At first glance, every hairless cat may look completely bald. But when you take a closer look, you will realize that while some hairless cats are completely bald, some others actually have a fine layer of very small and almost invisible hair. So, not all hairless cats are completely hairless.
However, the reason why even cats with a fine layer of smaller fur are classified in the category of hairless cats is that for all practical means and purposes, that fine layer of hair or fur of the cats does not exactly function in the manner in which the fur of a regular breed of cat should.
Fur is supposed to provide cats with insulation – and these hairless cats with the fine layer of small hair do not get any such benefit of insulation from their hair. So, they are as good as hairless for all practical purposes.
Do Hairless Cats Have Any Whiskers?
Again, before we start looking at how a hairless cat navigates, we may have to pause and ask – do hairless cats really have absolutely no whiskers?
The simple answer is that it depends. Just like their fur, even the whiskers of some hairless cats are not completely absent.
When you take a closer look at their muzzle, you may end up finding some really fine and short hair strands that stand out from their cheeks and muzzle – these hair strands are in fact the whiskers of the hairless cat.
However, just like the fine layer of short fur, even this set of short strands of whiskers is virtually of no significance.
These strands of whiskers are too short to be functional. The whiskers of a cat must be equal to the width of the cat in order to help it navigate and make calculations about jumping and going through holes.
A hairless cat with whiskers may have strands of hair on its muzzle, but those strands of whiskers are so short that they are of no significance. They do not function in the manner in which the whiskers of a cat should function.
Why Do Sphynx Cats Have No Hair?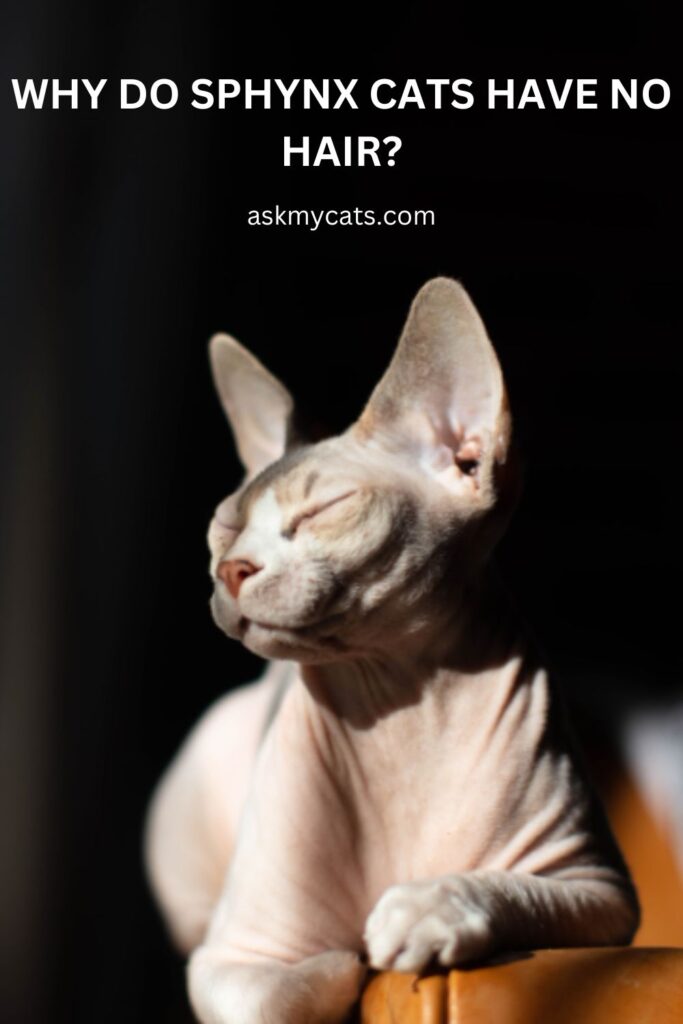 As aforementioned, the most popular breed of hairless cats is the Sphynx breed. Now, why is the sphynx breed hairless? Or why, in general, are some breeds of cats hairless?
The answer lies in the genetic makeup of certain breeds of cats.
The hairlessness of the Sphynx cat, and of all other hairless breeds, is due to the genetic mutation that happens in the gene responsible for providing keratin protein to the hair strands as they emerge from the follicle.
The hair that is produced in these follicles is weaker and gets very easily damaged and dislodged, leading to either complete hairlessness or a fine layer of very short hair that cannot grow any longer.
The recessive mutation specifically affects the keratin 71 gene (KRT71), which is crucial for hair development.
It belongs to a family of type II keratins that are found in all mammalian epithelial cells, which line the body's surfaces and serve as a protective barrier. A protein that is expressed in the inner root sheath of the hair follicle is encoded by KRT71.
This recessive mutation is responsible for the hairlessness of the Sphynx and all other hairless breeds of cats.
Interesting Read: Cat's Eyebrow Whiskers: What Are Those Hairs Above Your Cat's Eyes?
What Happens If A Cat Has No Whiskers?
Cats lacking whiskers have difficulty estimating the size of holes and are more likely to become stuck, according to research.
Moreover, since a cat's equilibrium depends on its whiskers, cats without them have trouble running and walking straight. They frequently stumble and become bewildered.
So, if you have had a regular breed of cat who used to have a normal set of whiskers but has lost them for some reason – you will notice that your cat is unable to navigate as smoothly as before and has become more prone to accidents and injuries.
In such a case, it may help to keep your cat indoors until it regrows its complete set of whiskers.
If a cat has never had whiskers, that is, if it is hairless and naturally lacks whiskers, then it may not be that big of a deal. It would have adapted to navigating and perceiving its surroundings without whiskers since it was a kitten.
However, you should still keep such hairless breeds of cats indoors only. A hairless cat will not be able to survive outside.
Navigating in the outdoors requires taking into consideration a lot of variables such as moving vehicles, birds and animals, and pedestrians and humans.
A hairless cat, without functional whiskers, will not be able to make all these calculations swiftly. It will also have slower reflexes. So, it is best to keep a hairless cat indoors at all times.
Must Read: Can A Cat Live Without Whiskers?
What Does The Absence Of Whiskers Mean For Hairless Cats?
If a cat is hairless and lacks whiskers, it might not be a huge concern, but if your cat generally has whiskers and suddenly doesn't, it might be more confused than usual.
Sphynx cats make up for their lack of whiskers in other ways. As with haired cats, hairless cats may balance themselves by using their tails, which is one function of their whiskers.
Sphynx cats might not be the best at squeezing into small spaces, but it might not be the worst thing ever. Even if your hairless cat has no whiskers, you might still wish to keep them inside. They might not be as tactile outside as other cats.
How Do Sphynx Cats Balance Without Whiskers?
Sphynx cats do not balance using their whiskers. Instead, they balance themselves with their tails.
Although cats have many additional sensory organs to help them move around, their whiskers only serve to help them evaluate whether they can fit in a location without becoming stuck.
Sphynx cats typically lack any hair at all, including their whiskers. While it may appear a little odd, this is very normal for this breed, and they are still able to move around without any problems.
Cats' whiskers can give them a variety of sensory information, but it doesn't imply they are totally reliant on them for it.
Sphynx cats may be slightly more likely to become trapped in small spaces, but this is typically not a big issue.
Many sphynx cats will improve with time at determining the size of various areas. As a result, a baby sphynx may become trapped more frequently than an older sphynx, who may have no trouble gauging their size and understanding where they can and cannot fit.
Frequently Asked Questions
What do Sphynx cats do without whiskers?
Sphynxes and other bald cats rely on using other senses to perceive their environment. They may therefore balance without vibrissae and continue to operate properly. The functions of whiskers that cannot be detected by other sensory organs are nevertheless lost to hairless cats.
Are Sphynx cats clumsy?
Sphynx cats are really cute and are well-recognized for acting foolish to get their owners' attention. When they want to be the focus of attention, they can occasionally act awkwardly. If you are the owner of this gorgeous feline, you will constantly want to be close by because they are vivacious and naughty.
Final Words
Some hairless cats do have some whiskers, just like they do with their fur. The whiskers of the hairless cat may be seen when you look closely at their muzzle because they are extremely fine and have short hair strands that stick out from their cheekbones and nose.
The whiskers of sphynx cats are not used for balance. Instead, they rely on their tails to maintain their balance. Cats have a variety of extrasensory organs to aid in their movement, thus their whiskers are only useful for assessing whether they can fit in a space without becoming caught.
The majority of sphynx cats are completely hairless, including their whiskers. They are still able to move around without any issues, despite the fact that it could seem a little strange. This is extremely usual for this breed.
References