A cat's whiskers play an essential role as a sensory mechanism – they allow it to make sense of the world and make important calculations such as whether or not to make a jump or try to go through a hole.
But cats can often be clumsy and accident-prone.
This means that cats are prone to not only having their whiskers broken due to accidental injury but also, may accidentally end up burning their whiskers.
As unfortunate as that may be, a cat burning its whiskers accidentally – either partially or completely – is more common than you'd think.
Then, as a cat owner, it is only natural to be concerned about your pet cat and wonder if in case your pet accidentally burns its whiskers, will they grow back.
Read along as we answer this question and many more in this article.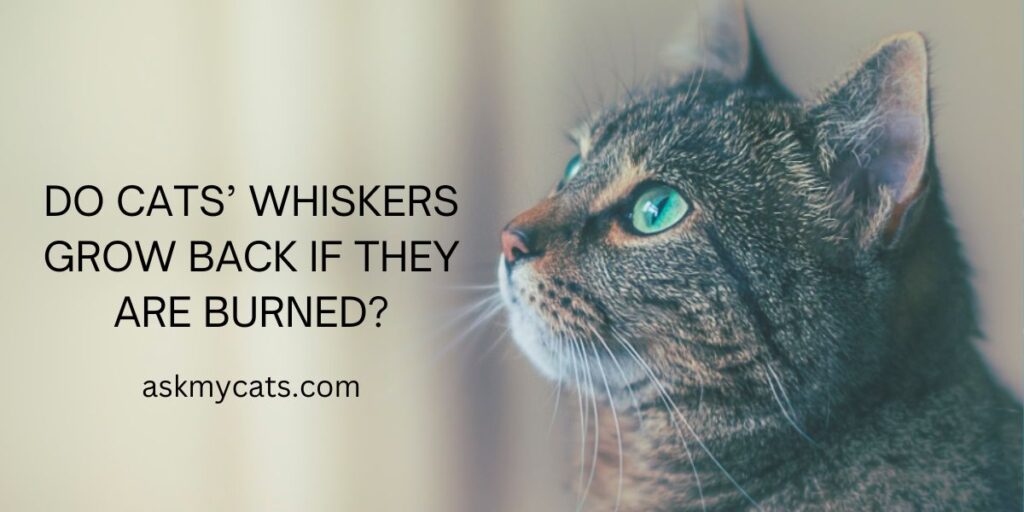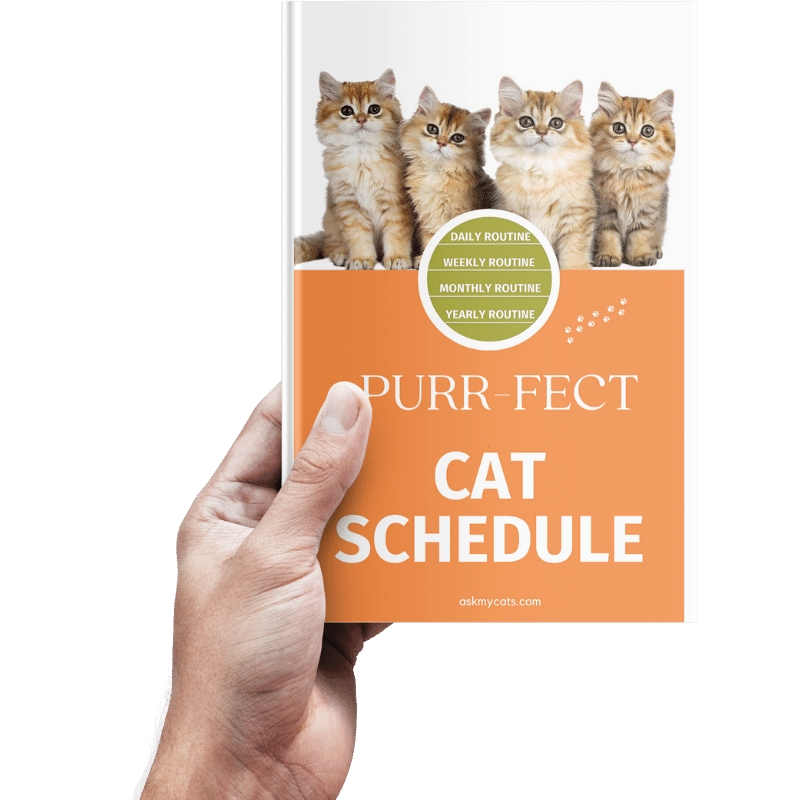 Discover the Secrets to a Happy Cat!
Discover the secrets to creating a happy and healthy daily routine for your feline friend. From playtime to mealtime, sleep to grooming, our expert guide will show you how to make every day a purrfect day for your cat.
Give Your Cat the Perfect Day – Get the Ebook!
Do Burnt Whiskers Grow Back?
The short answer, to every cat owner's relief, is that yes a cat will grow its whiskers back even if they are burnt.
When the whiskers are only partially burnt, in that case you will have to wait until that whisker undergoes its natural shedding cycle and falls off from the root naturally.
After that, the whisker that will grow back at that place will be a normal and healthy one.
Partial burning of the previous whisker will not have any impact on the new whisker that grows back after shedding.
If your cat accidentally burns its whiskers from the follicles, the first thing that you need to do is to take your cat to the vet.
The follicles of a cat's whiskers are very sensitive as they have a lot of nerve endings – that is precisely what makes a cat's whiskers its essential sensory mechanism that helps it perceive the world around it.
Must Read: Do Cat Whiskers Have Nerves?
So, if your cat has burnt its whiskers from the follicles, chances are very high that your cat is in a lot of pain.
Take your cat to the vet and get the right treatment and course of medication that will reduce your cat's pain and help it heal faster.
Once the burnt area has healed completely, the whiskers in that patch will grow back normally.
Must Read: Can A Cat Live Without Whiskers?
How Long Does It Take For Burnt Whiskers To Grow Back?
It takes around 6 weeks to 12 weeks, that is, around two and a half to three months for a cat's whiskers to grow back to a normal and functional length.
This period of growth remains the same for injured, broken, and burnt whiskers.
However, if your cat has burnt its whiskers right from the follicles, then the whiskers will need around 3 months plus whatever time it needs for the burnt follicle area to heal – so, that can take around 3 to 6 months depending on the severity of burns and the course of medication taken.
What To Do If Your Cat Has Burnt Its Whiskers?
The first thing that you should do if your cat has burnt whiskers, is to notice if the whiskers are only partially burnt or if they are burnt right from the follicle area.
When the whiskers are only partially burnt, there is nothing much you can do other than wait until the partially burnt whiskers fall off in their respective shedding cycles and new, healthy whiskers grow back in their place in due time.
Adhere to that prescription religiously to ensure the speedy recovery of your pet cat and faster growth of its healthy whiskers.
Interesting Read: Why Do My Cat's Whiskers Keep Breaking Off?
What Happens If A Cat Burns Its Whiskers?
A cat's whiskers are a sensory mechanism that takes in inputs from the surroundings and sends messages to the brain to take proper required actions such as jumping, moving, or stopping.
So, if your cat even gets too close to a fireplace or an excessively hot surface, it will in itself become a sensory overload for the whiskers of your cat. That is why your cat will quickly move farther away from that spot.
If somehow, your cat manages to touch its whiskers to heat or fire and gets partially burnt whiskers – it will cause some discomfort to your cat for a while. But your cat will be fine on its own in some time.
On the other hand, if your cat somehow burns the whiskers from the follicles, it will be a cause of great pain for your poor little kitty.
You should take your pet cat to the vet immediately in such a case and give it some painkillers and start its medical treatment right away. This medical treatment will include medicines and ointments.
Does It Hurt If A Cat Burns Their Whiskers?
Yes, if your cat burns its whiskers, it will hurt.
The degree of the burn determines how painful it is. Similar to when a person burns their hair, the agony increases as the burned hair gets nearer to the face and scalp.
In the same way, in a cat, the pain of burns increases as the burned whisker gets nearer to the follicles and the face.
How To Stop Your Cat From Burning Its Whiskers?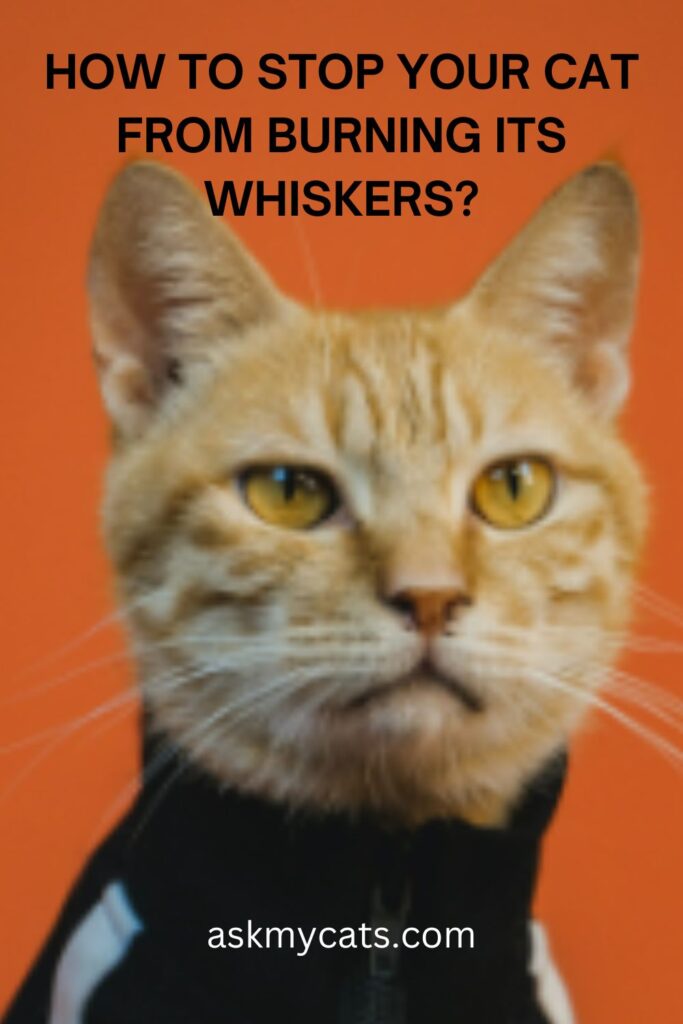 In order to stop your cat from burning its whiskers, you need to ensure two things:
1 – Do not let open fires or sources of heat lie in areas accessible to your cat.
For instance, do not leave your plugged-in curling iron lying carelessly on your couch. Your cat may jump on the couch and either burn its paws or its whiskers. Similarly, do not keep other heat sources in the open.
2 – Do not let your cat have access to places with fire or heat.
For instance, do not let your cat sit on stovetops or near open fireplaces. Make such places inaccessible by employing either scent-based repellents for cats or via training your cat to not be near certain places.
Must Read: What Happens If You Cut/Trim A Cat's Whiskers?
Frequently Asked Questions
What first aid should I give to my cat if it burns its whiskers?
Put a damp towel on the sore area and squirt cold water on it sporadically, or immerse the burned area in cold water.
Final Words
The sensory system in a cat's whiskers collects information from its environment and communicates with the brain to cause the cat to respond appropriately, such as leaping, moving, or halting.
Your cat's whiskers will experience sensory overload if it even comes close to a fireplace or any surface that is extremely hot. Because of this, your cat will leave that area soon.
If your cat's whiskers are only partially burnt, you need to only wait until the next shedding cycle for the partially burnt whiskers to fall off and for new, healthy whiskers to grow back in their place.
If, on the other hand, the burns are close to the follicles, take your pet cat to the vet and start medical treatment right away. As soon as the area of burns heals, the whiskers will grow back.
Interesting Read: Why Is My Cat Losing Its Whiskers?
References