Owning a pet is like having a baby since you have to take care of it and cater to its every need. Getting a pet should not be rushed; individuals need to be mentally and physically ready for the tasks.
Pets require checkups often, and having a good vet for your pet is essential. Individuals must make a good decision when selecting a vet because they want to be sure their pets are well taken care of.
The number of vets available nowadays is significant, and individuals must ensure they select a genuine one.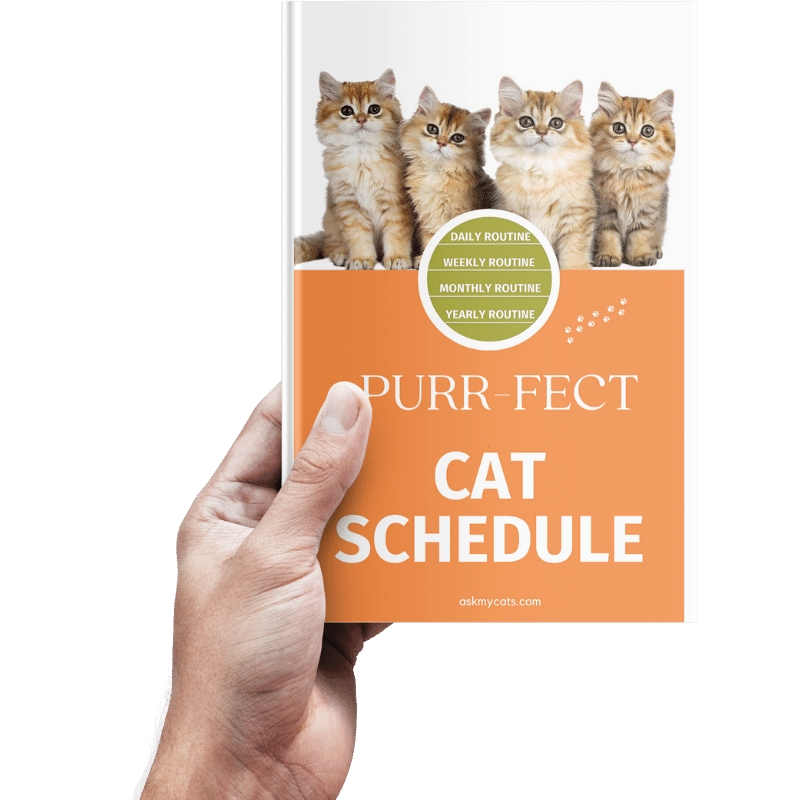 Discover the Secrets to a Happy Cat!
Discover the secrets to creating a happy and healthy daily routine for your feline friend. From playtime to mealtime, sleep to grooming, our expert guide will show you how to make every day a purrfect day for your cat.
Give Your Cat the Perfect Day – Get the Ebook!
What Is A Mobile Vet Clinic?
With a mobile clinic, the veterinarian can move around. They don't have a specific location and mainly offer in-house services.
The animals get better care when treated at home; it is a good way of bonding with the animal and getting to know it better. Vets study the animals, which helps them come up with a comprehensive treatment.
Some vets have invested in mobile vehicles designed to look like regular clinics. The vehicles are fully equipped so that the animals can get treatment there.
Mobile clinics work like traditional vet clinics, and the vets offer all services, including intense surgeries. Mobile vet clinics also offer food and medicine delivery to clients, saving them the time to go to the clinic.
Driving your pet to the vet clinic can be stressful; most people also don't like their pets getting exposed to strange things while in the clinic. And having a mobile vet come to your house saves the day.
The mobile vet clinics also have flexible working hours, which is convenient for animal owners.
Visiting the animals at home is a great way to bond and have a long-lasting relationship with the family.
Mobile vets travel to homes to care for animals in every shape and size. Most vets have turned to mobile clinics because of the freedom it offers, and mobile clinics are also cheaper to operate.
A mobile vet clinic is a win-win for the client and the veterinary.
Do Vets Come to Your Home?
Nowadays, home visit vets are common, and individuals are encouraged to use them more when they find a good one. People should research and find a reliable vet who can do a home visit whenever they need them.
Visiting the vet clinic can be time-consuming, so individuals are turning to mobile vets. Mobile vets are flexible, and having one that can come to your house when you need them is excellent.
The vets are usually available to come to your house at odd hours during an emergency.
Pet owners should have an open mind when requesting home visits. They may be asked to go to the clinic for specific reasons, but on regular days the vets will be more than willing to come.
Mobile vets don't have specific office locations, and the vets usually make in-house visits when called by clients. Mobile vets are recommended for very ill pets that cannot move around much.
People are encouraged to do a quick online search on mobile vets in my area, as it will be a great way of finding a genuine and reliable vet.
Below are some of the qualities of a mobile vet.
1. Reputation
A mobile vet must have a good reputation, and individuals are advised to avoid vets who are not registered. One way of knowing how reputable the vet is is by determining how long the company has been in operation.
Individuals can tell their dedication based on the type of services they have been providing over the years. Individuals can ask other pet owners for advice on the best vets based on their experiences.
Online reviews are also great when looking for an excellent mobile vet and individuals can go through genuine reviews from customers and select a vet based on the one with the highest ranking.
2. License And Registration
Individuals are encouraged to get a licensed vet, and you must ensure that your pet is in good hands.
A quick search can help you know if the proper body has registered the mobile vet. Working with a genuine and trustworthy vet will give you peace of mind, and you won't get worried about leaving your pet with them.
You must check that the equipment used is clean and high quality to prevent unnecessary infections. Individuals are encouraged to prioritize quality over cost, and with the proper techniques, they should find a vet who offers quality services at an affordable rate.
3. Good Relationship
Conducting a one-on-one interview is the best way to know the vet. You can ask them all the questions you need to know and gauge their response.
Communication is essential when looking for a vet; individuals need to ensure that they understand each other and that the vet is willing to deliver.
Pet owners are advised to get vets who live nearby to avoid delays and disappointment, especially when they need them late at night. Pets tend to be more relaxed when dealing with vets at home rather than in the clinic.
Interesting Read: Choosing the Right Euthanasia Option: At-Home Vs. Vet Clinic
Do Vets Make House Calls To Euthanize?
There has been an increase in in-house euthanasia, and many pet owners prefer their pets to pass at home in a familiar environment.
Only licensed vets are required to euthanize animals at home. The drug enforcement administration should approve the vets and have a consent form and agree on the total cost of the procedure.
At-home euthanasia is advantageous because individuals can bury their pets immediately after the procedure. At-home euthanasia also allows pet owners to say their final goodbyes.
Are Mobile Vets More Expensive?
The question in most people's minds is the cost of mobile vet clinics compared to traditional clinics. Individuals need to think about the benefits they get from using mobile vets.
The benefits are many and worth it. Mobile vets have fewer expenses because they don't have to pay specific monthly bills such as rent, water, or taxes.
Mobile vets also don't have as many staff, so they keep most of their profits. The mobile vet services are quality, and the fees are affordable for all clients.
How Much Do Mobile Vets Cost?
Mobile vets are not as costly as some people would think. They only add transport costs to the standard prices.
Most mobile vets charge between thirty to fifty dollars for each appointment and the cost varies depending on the animal's problem.
Animal owners with more than one animal benefit are usually charged one fixed price for all pets; this is a great money-saving technique.
House visits can be challenging, especially if the animal is seriously ill, and the cost might increase to a hundred dollars in such situations.
Individuals are encouraged to compare the cost of visiting a traditional vet and calling an in-house vet. This will help them know the better option depending on their budget.
Farm visits differ from home visits, and it is essential to keep this in mind when considering a mobile vet. Routine pet checkups are not expensive, and individuals shouldn't worry about that.
Asking the vet for a quotation is essential. You need to know what you're getting into and that there are no hidden costs that might come up.
FAQS
When is the best time to call a mobile vet?
Mobile vets are flexible, so you can contact them anytime your pet has a need.
Why are mobile vets better than traditional vets?
Working with mobile vets is fantastic because they are convenient. Individuals don't have to take a stressful ride to the clinic because the vets will come to their homes.
Conclusion
Mobile vets are the best mainly because you get to carry out your daily activities as the pet is checked instead of sitting for long hours at a traditional clinic waiting for the vet to be done.
Every animal deserves that special treatment, which is why hiring a mobile vet will guarantee that.
Finding the right mobile vets in my area can be tricky, but it is possible with the above information. Mobile vets are reliable and can be trusted to deliver.
References