You may be seeking strategies to keep a cat out of your garden if it is causing you problems. Neighboring cats loitering in your garden might be bothering you for a variety of reasons.
Perhaps they're uprooting your prized plants, frightening your fluffy companion, or making nasty "deposits" in your rose garden.
Cat repellents are frequently made from common household spices. But does pepper, out of all the spices, discourage cats? After all, it is the most widely used spice.
When dealing with unwelcome visitors, the most essential thing is to find a safe, cruelty-free approach that won't damage the cats or other furry visitors.
We'll look at why we use cayenne pepper to deter cats, whether it is toxic for our feline friend, and we'll even look at several alternatives in this piece.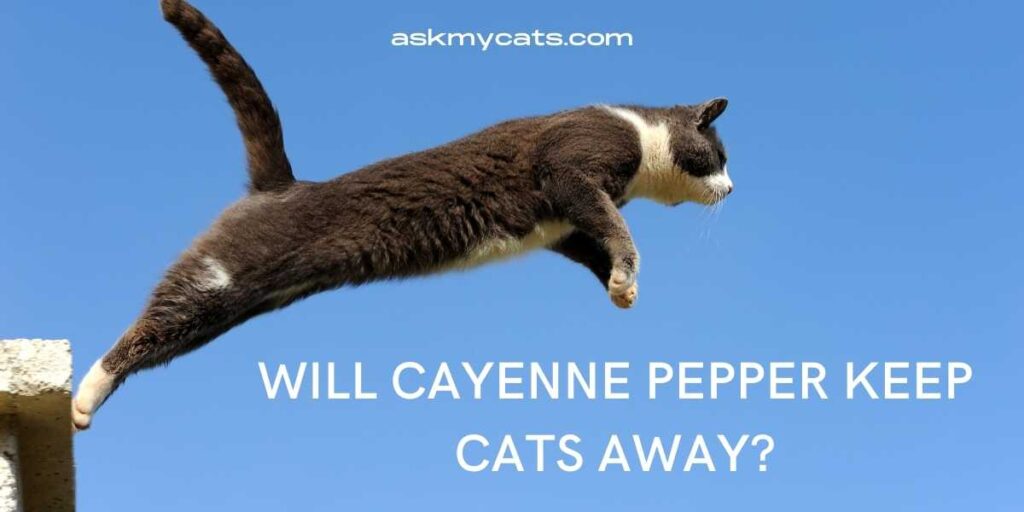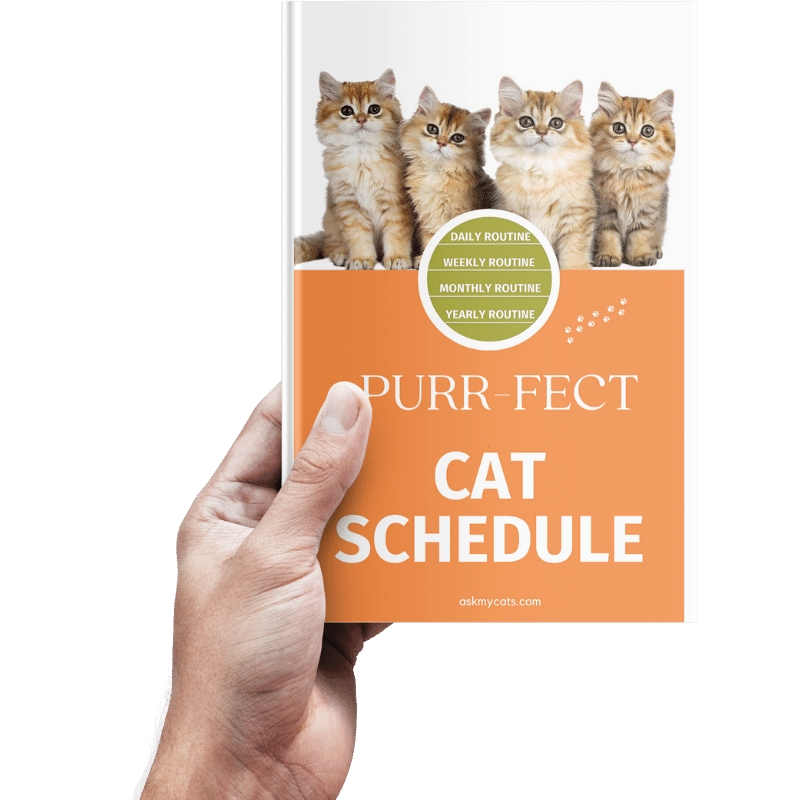 Discover the Secrets to a Happy Cat!
Discover the secrets to creating a happy and healthy daily routine for your feline friend. From playtime to mealtime, sleep to grooming, our expert guide will show you how to make every day a purrfect day for your cat.
Give Your Cat the Perfect Day – Get the Ebook!
How Do You Use Cayenne Pepper To Get Rid Of Cats?

Capsaicin, a substance found in cayenne pepper, keeps cats away from the region.
According to the Humane Society of Huron Valley, several commercially marketed pet repellant sprays contain cayenne pepper as a key component, along with other oils cats dislike, such as mustard oil.
Make your spray by combining water with a cayenne-based spicy sauce or crushed flakes.
To keep cats away from their plants, some people sprinkle cayenne pepper around them. However, there are a few drawbacks to this approach.
The first is that it does not always operate as well as it should. Even though cayenne pepper and other spices are natural deterrents, some cats will just ignore them and go about their business as normal.
It must also be reapplied frequently, especially if it rains. The most serious issue is that it may be quite painful and uncomfortable for cats.
In and of itself, cayenne pepper is not hazardous to cats. However, if a cat digs or walks in an area where cayenne pepper has been sprinkled, the pepper may stick to the cat's paws and fur.
A short recipe for your mixture:
A dry solution for sprinkling over sections of the yard or garden as a cat repellant may be made by mixing 1 part dried cayenne pepper with 1.5 parts dry mustard and 2.5 parts flour. This mixture can also be strewn into the dirt where cats dig and investigate. After the rain, reapply.
You should also check Can Cats Eat Pepper? Are Cats Allergic To Pepper?
Can Cats Smell Cayenne Pepper?
Capsaicin is the compound in cayenne pepper that makes pepper spicy for animals such as cats and humans. While some cats may be deterred by cayenne pepper after stepping on or tasting something covered with it, it may not help deter other felines.

Yes, you read it correctly: cayenne pepper can aid in the warding off of cats. One benefit you have is that cats despise the scent of cayenne pepper. As a result, you may simply plant it in your garden.
You may either sprinkle or spray the hot chili around your plants. It's entirely up to you which approach you use. You'll still manage to keep cats at bay in a humane manner. The fact that cayenne pepper isn't harsh on most plants is an added bonus.
The cayenne peppers' foul odor, taste, and stinging properties should deter neighboring cats from entering or returning to your garden.
Does Cayenne Pepper Stop Cats From Pooping In Your Yard?

If your garden is being dug up by cats, liberally sprinkle the area with ground black pepper. Cats dislike the smell of cayenne pepper.
Yes, cayenne pepper works as a natural cat deterrent and therefore actually might prohibit the feline to poop in your yard/ ground.
Also, check out how to stop cats from pooping in my potted plants
Is Cayenne Pepper Good To Keep Cats Away?

Black pepper may be used as a repellent to keep cats out of your garden. Everyone has black pepper in their kitchens, and it has a role other than being a popular condiment.
Black pepper has a powerful odor for people, so imagine how intense it is for a cat.
Cats are sensitive to strong odors and dislike them. The aroma of whole black pepper can be released by crushing it. After that, scatter the crushed black pepper in your garden and let the smell travel with the breeze.
Any surrounding cat will pick up on the fragrance and avoid your area as a result.
Even if a cat comes into your garden, the black pepper will hurt its claws and nose, making it leave.
However, black pepper is readily washed away by rain, so you'll need to reapply it. It's also necessary to crush the peppercorns to unleash the intense scent; intact peppercorns are less likely to function.
Check out more details about Does Black Pepper Keep Cats Away?
Cayenne Pepper Cat Repellant Recipe
Capsaicin is the active ingredient in cayenne pepper that keeps cats away. This peppery chemical is used with natural oils like eucalyptus in many commercial repellents.
You may either buy a branded product or build your simple spray. Simply combine water with a cayenne pepper base, such as spice flakes or spicy sauce.
We'll show you how to acquire the correct mix of materials for spraying on plants.
Combine 16 parts water and 1 part cayenne pepper sauce in a mixing bowl. The pungent aroma should deter cats from entering your yard or garden.
Applying the Pepper
Cayenne pepper flakes can be ground into a fine powder and sprinkled on leaves. Another approach is to sprinkle the spice around the bases of your plants. When using pepper in any form, exercise extreme caution.
You don't want to get the mixture in your eyes or face by mistake. When working with cayenne pepper, always wear gloves.
Protect your hands so you don't unintentionally contact your face with your hot fingertips. Apply the cayenne pepper once a week or as needed to keep the cats away.
Plant Advantages
Cayenne pepper is effective at repelling cats as well as other creatures such as dogs, deer, squirrels, and rabbits.
According to the National Pesticide Information Center, it also functions as a natural pesticide against some types of hazardous pests, such as spider mites and lace bugs, which may devastate your plants.
Cayenne pepper is harmless and shouldn't harm most plants, but test it on a few leaves before spraying a whole plant. Wash edible plants well before eating them; otherwise, the pepper will linger on them, causing an unpleasant peppery surprise.
Also, check out Does Vinegar Keep Cats Away?
Is Cayenne Pepper Toxic To Cats?
Cayenne pepper is not extremely toxic/harmful for cats, although it can make them unwell. Just because something isn't harmful doesn't imply it's completely safe to eat.
It implies that while cayenne pepper will not kill your cat, it will also not be completely safe for it.
If your cat accidentally consumes Cayenne Pepper, it will be extremely painful for the cat's internal organs.
Cayenne Pepper is incredibly spicy, even hotter than typical chili powder, and it tends to burn your cat's tongue, throat, and mouth.
It also causes extreme stomach discomfort and burning, as well as diarrhea and vomiting.
Also, check out Does Ammonia Keep Cats Away?
What Should You Do If Your Cat Consumes Cayenne Pepper?
If your cat just ate a tiny bit, they should be all right. Keep an eye on their behavior over the next 24-48 hours to ensure there is no allergic response.
Keep an eye out for any of the following indicators of food intolerance:
Wheezing, coughing, and sneezing
Vomiting
Diarrhea
Ear infections that reoccur
Skin issues
If you see any of the aforementioned signs and symptoms, or if you are just concerned about your cat, contact your veterinarian right once.
You may also give your cat some milk to help dissolve the capsaicin. When they consume anything too hot, they drink milk.
I'm not sure if it helps cats, but it can't harm to give it a shot. Regardless, always speak with your veterinarian to verify that your cat is receiving the correct care.
Pepper And Kittens
The fragrance of cayenne pepper will not bother some cats, and it will not discourage them from entering the garden. When they stroll around your garden, though, it can get all over their paws and fur.
These unhappy cats would rub the spicy material in their eyes or on their nose when brushing, giving them pain, redness, and discomfort.
As a result, you may wish to adopt alternative, less possibly unpleasant tactics to keep neighboring cats or your furry friend from destroying your plants.
Also, check out Does Bleach Keep Cats Away?
Alternatives To Cayenne Pepper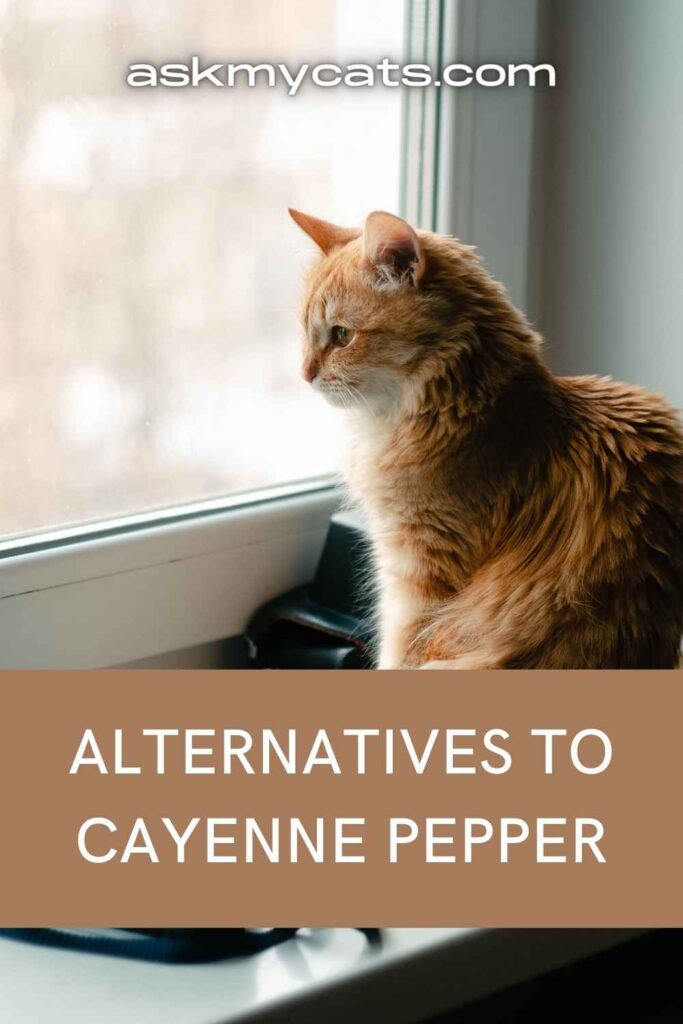 Cruelty-Free Methods for Keeping Cats Away
Even if you're not a huge cat person, remember that the feline guest in your yard is still someone's treasured pet.
When selecting a deterrent, we should always choose a non-hazardous, cruelty-free choice. Let's look at some safer alternatives to cayenne pepper in the spirit of "better safe than sorry."
1. Purchase a Commercial Repellent Spray.
Because commercial repellents are designed with safety in mind, it may be preferable to use a trustworthy store-bought repellent spray rather than cayenne pepper.
Some sprays contain all-natural, plant-based compounds such as rosemary and astragalus.
2. Plant More Trees
There are some plants that cats enjoy nibbling on and others that they avoid. Lavender, rue, pennyroyal, lemongrass, citronella, and rosemary are among the plants that repel cats.
You may try sprinkling them throughout your garden, especially near plants that your neighbors' cats are known to prey on.
3. Make Use of a Water Sprinkler
When it detects movement, a motion-activated water sprinkler sprays water. These are another non-hazardous method for keeping cats out of your garden—the worst-case scenario is a slightly moist, angry cat!
Try placing a couple of these near trouble areas, such as the plants that visiting cats appear to like or the place where they regularly defecate.
4. Foil
Aluminum foil can be put around plants or locations where cats should not be allowed. They dislike the feeling of stepping on it. Other options include mesh netting and stones, which are less comfortable to walk on and dig in.
5. Make Use of a Water Sprinkler
When it detects movement, a motion-activated water sprinkler sprays water. These are another non-hazardous method for keeping cats out of your garden—the worst-case scenario is a slightly moist, angry cat!
Try placing a couple of these near trouble areas, such as the plants that visiting cats appear to like or the place where they regularly defecate.
6. Make use of an Ultrasonic Cat Repellent
Ultrasonic cat repellant devices function similarly to motion-activated water sprinklers. The main difference is that instead of spraying water, they generate a high-frequency noise. Humans can tolerate the noise, but cats find it repulsive.
You may need to place several around your garden to cover all areas unless the feline vandal is just interested in one area.
However, if you have a cat, we don't advocate using them because the noise would bother them as well.
Check out more details about Do Moth Balls Keep Cats Away?
Frequently Asked Questions
What is a good homemade cat repellent?
Lemon juice, orange juice, cranberry juice, and rosemary extract combined with water can form a liquid herb supplement. This is a fantastic cat deterrent. Another liquid fusion may be formed by combining green orange juice and strong coffee. This has shown to be an effective cat repellent.
What smell do cats hate?
Cats are sensitive to odors in general, but there are a few aromas that they despise that could surprise you. Citrus irritates them, and although you may enjoy the scent of fresh herbs, cats despise rosemary and thyme.
Final Words
Spices do more than just add flavor to the meals we prepare. If you are an avid gardener and cats are invading your territory, you may use pepper to keep them away.
Fortunately, pepper comes in a variety of flavors, and cats dislike them all. The most frequent type of pepper that we have in our kitchens is black pepper. If black pepper is not available, white pepper might be used to discourage cats.
You may either sprinkle the pepper or prepare a garden spray with it. Cayenne pepper is a well-known deterrent for cats. This pepper contains capsaicin, an element that cats despise.
Cayenne pepper has the added benefit of acting as a pesticide, keeping hazardous insects at bay.
Furthermore, pepper is not toxic to cats and will simply annoy them. To be safe, you should still use pepper in moderation.
We looked at utilizing and producing cruelty-free cat repellant sprays, natural fragrances, and motion sensors in this post. All of these solutions are safe and compassionate ways to protect your plants from unwanted visitors.
We hope you found this information helpful, and remember to maintain your cool and your garden cruelty-free. Thank you for your time!
Interesting Read: Do Coffee Grounds Keep Cats Away?
Also, check out: Does Irish Spring Soap Keep Cats Away?
Must Read: 5 Natural & Safe DIY Home Remedies to Keep Cats Away
References