Did you suddenly notice a change in your cat's belly while she was pregnant? No wait, don't be surprised. Your pregnant furbaby just belly-dropped.
Honestly, even though I am a parent of 3 felines when my first furbaby's belly dropped, I was concerned too.
When you have never gone through something, you will have many questions.
To help you understand what a pregnant cat requires and what aspects are crucial to take into account, we have gathered all the information you require here.
In this article, we'll talk about what is known as a "belly drop", whether or not it is a reason to stress, and how to look after your pregnant cat when she does it.
Let's dive into it.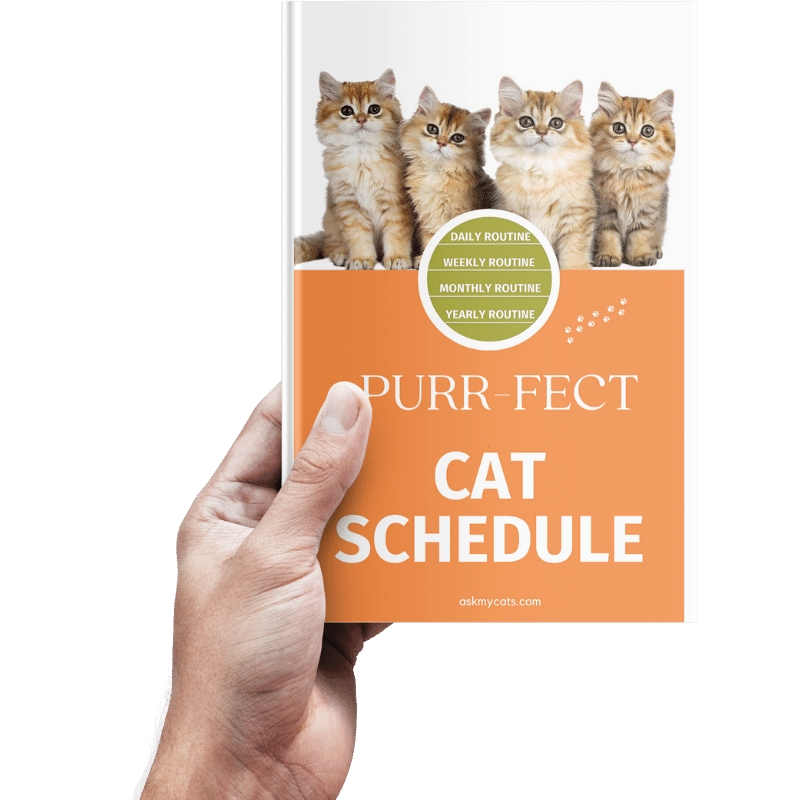 Discover the Secrets to a Happy Cat!
Discover the secrets to creating a happy and healthy daily routine for your feline friend. From playtime to mealtime, sleep to grooming, our expert guide will show you how to make every day a purrfect day for your cat.
Give Your Cat the Perfect Day – Get the Ebook!
Do Pregnant Cats' Bellies Drop?
No, the stomachs of pregnant cats don't actually "drop." The reason a heavily pregnant cat doesn't appear as large when the owner has made sure the kittens have not yet been born is typical because the babies have shifted around inside.
Sometimes a cat will appear very large on one side, but the next day, once the kittens have shifted around a bit, the other side will appear particularly large.
You probably won't need to do anything other than support your pregnant queen if it appears that she is about to give birth to kittens.
You might even wake up one morning to find your cat feeding her babies in comfort after giving birth throughout the night.
Although nature has a way of taking care of itself, you should be aware of any potential issues that can arise while your cat is giving birth and what you can do to assist.
Watch out for the signs of labor:
Your cat will look for a peaceful, secure location to give birth to her kittens a day or two before labor. She can select the place you prepare for her or try to conceal herself in the recesses of a closet or beneath a bed.
Your cat may start to pace restlessly, pant, groom herself excessively, especially around her genitalia, and vocalize loudly. She'll stop eating as well.
Your cat can vomit if her rectal body temperature falls below 99 degrees Fahrenheit. A few days prior to labor, the cat's abdomen may "drop," and its nipples may enlarge, darken, or change color.
Your cat may yowl in discomfort during contractions, which are uterine movements that move the kitten along the birth canal. Additionally, you can notice blood or other fluid leakages.
What Does It Mean When A Pregnant Cat's Belly Drops?
If your pregnant cat's belly drops, it means she is ready to give birth to her babies and her labor might start anytime soon.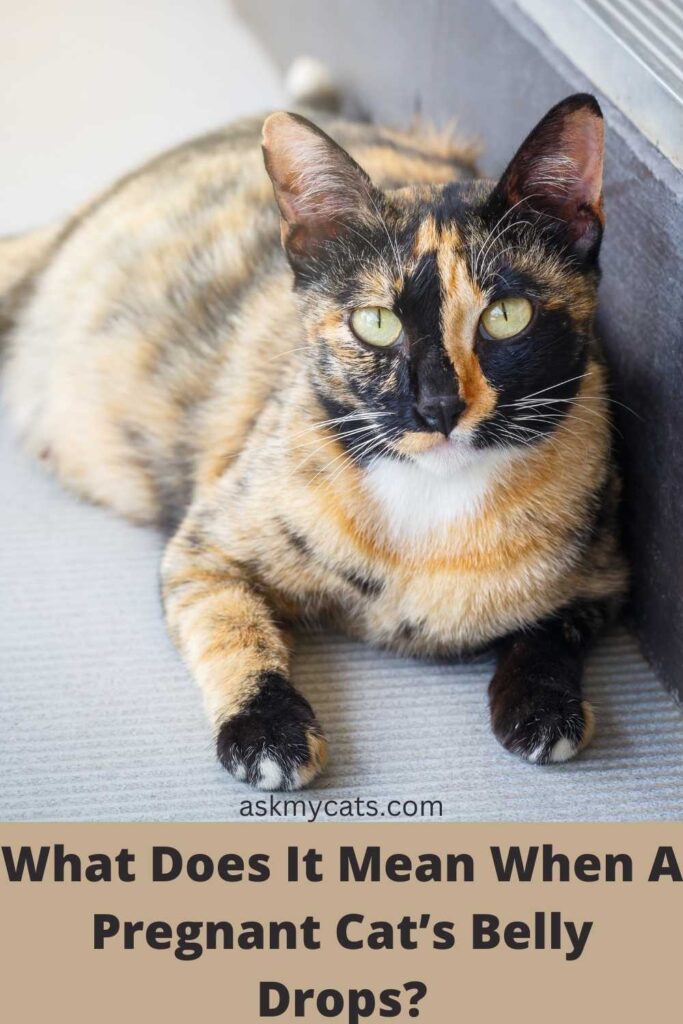 The behavior of the cat changes fairly little during pregnancy, some cats become more affectionate and some turn hostile. The queen may look for a suitable kittening bed or nest during the last week.
The pregnant cat needs to be kept inside at this time. It's critical that you keep a careful eye on your cat to spot any issues.
If you see your cat having problems in the process of birthing (which is an abnormal phenomenon generally), it might be because of "Dystocia".
In this case, immediate veterinary attention is advised.
Some other problems which can arise during the birth-giving process are:
Twenty minutes of hard work does not result in a birth of a kitten.
A kitten that is visible at the queen's vulva will not be expelled after 10 minutes of difficult labor.
The queen feels pain when there's a gentle pull on a stuck fetus.
The queen exhibits signs of depression, lethargy, fever, or a rectal temperature higher than 103°F (39.4°C).
For about 10 minutes, the queen loses fresh blood from her vulva.
Interesting Read: Do Kittens Move A Lot Before Birth?
When Will My Pregnant Cat's Belly Drop?
Generally, a cat's gestation period is 63 days. Her belly drops a few days (i.e., around 10-15) before she gives birth. This means that your furbaby can give birth to her kittens anywhere between the 45th day and the 60th (or 63rd) day.
How Do I Tell If My Pregnant Cat's Stomach Has Dropped?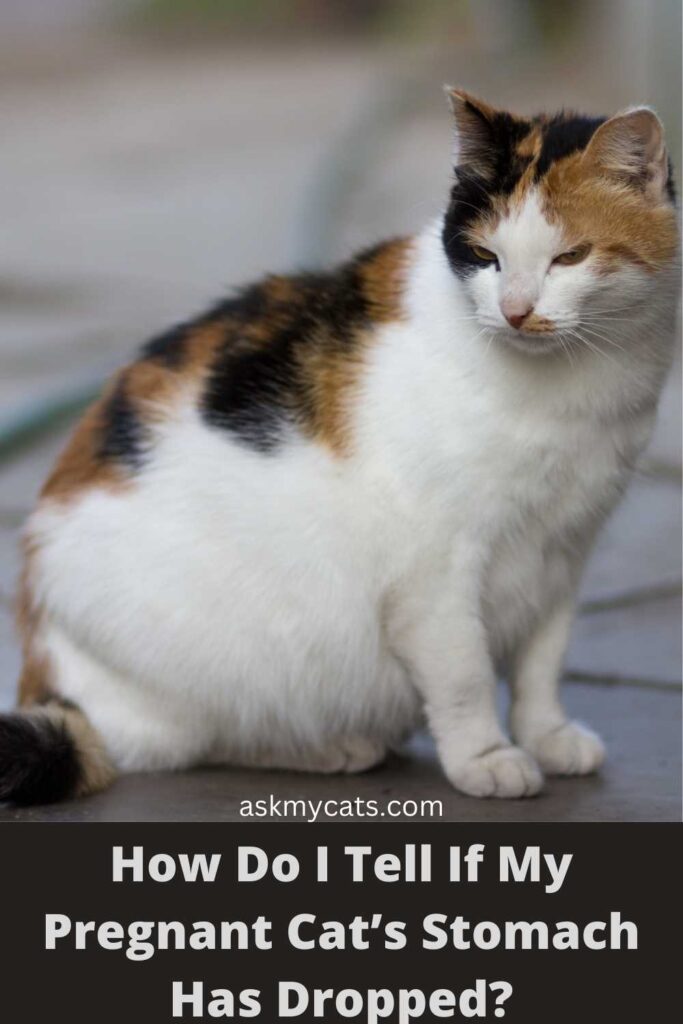 You can guess how far along your cat is during her pregnancy through these behavioral and physical changes in her:
Mammary Glands
The size of your cat's mammary glands will rise in the last week of pregnancy. Her external body wall, which rises from the genital area to the bottom of her chest, is lined with two parallel rows of mammary glands.
Your cat will begin to produce milk about 2 days prior to giving birth.
You might see some thick, cream-colored fluids emerging from her nipples.
Your cat may lick it off or she may just let it dry out, in which case you may see small whitish scabs on her nipples. It's a popular misconception that kittens constantly latch themselves to the same nipple because each one has a distinct scent all its own.
Nesting
Like humans, your cat might begin to nest. To assist your cat at this time, place the kittening or nesting box in a calm, warm location that is free from draughts.
Because kittens cannot regulate their body temperature, it is crucial that the space be draft-free.
Make sure that both children and any additional pets you may have been prohibited from entering the area where the box is located. As soon as you see any nesting activity, encourage your cat to sleep in this box.
Temperature
Your cat's usual body temperature is between 100 and 102.5 oF; one to two days prior to giving birth, it will dip to 99 degrees.
Temperament
You'll notice a difference in your cat's behavior. Your cat may become reclusive in the final week of pregnancy and try to stay hidden in a quiet area of the house, or she may become very friendly (which tends to happen more if she has a tight bond with one particular caregiver).
More affectionate cats will demand to be held close by their caregiver. They could be too attached yet also restless.
Appetite
Since most pregnant cats exhibit an enhanced appetite during the latter weeks of pregnancy, your cat may experience a dramatic decline in appetite.
The kittens' weight pressing against their mother's tummy may be the cause of the decrease in appetite, or it may just be a sign of anxiety in general.
Grooming
There is a discharge from the cat's vulva a few hours before birth begins, so you might notice your cat often licking her genitalia. The water will also break in your kitty.
This is the moment for your cat to start pacing, fidgeting, screaming, meowing, or chirping.
Does A Pregnant Cat's Belly Drop Before Labor?
No, a pregnant cat's belly doesn't drop just before her labor starts, but instead her belly drop is an indication that the arrival of kittens could be anytime soon.
Things you need to keep handy once your cat's belly drops are:
Absorbent pads
Clean towels or paper towels
Nesting box which is big enough for the litter to fit in
Heating pad
Dustbins
Interesting Read: How Long Does It Take For A Cat To Give Birth After Her Water Breaks?
How Long After A Cat's Belly Drops Till Labor?
A cat can have her kittens at any time in the next 12-15 days after her belly drops.
They shouldn't be able to leave and get cold, but the mother should be free to leave whenever she wants.
Put the mama's necessities, including food, water, and a litter box, in a convenient spot close to the birthing space.
Frequently Asked Questions
How long does it take for a cat to after her water breaks to give birth?
A discharge from the cat's vulva happens a few hours before birth, and you may notice your cat often licking her private parts.
The amniotic fluid is straw-colored and clear. Your cat's water will be tasteless and colorless if it has broken. Sometimes it's hard to tell the difference between urine and amniotic fluid. The water may first have a faint bloodstain.
When your cat's water breaks, the fluid is often clear or light yellow in color and has no odor. Amniotic fluid is colorless or faintly sweet-smelling, exceedingly thin and watery in consistency, and pale yellow in color.
When the membrane sac ruptures, which happens when your cat's water breaks either before or during birth, it flows out.
Final Words
That's all you had to know about pregnant cats and their belly drops.
Let us know in the comments section about your experience with dealing with your pregnant queen. How did you take care of that situation, being a first-time cat parent?
References