Cats have always mystified us with their unique behaviors and mannerisms. One such behavior that often piques our curiosity is why cats yawn when their noses are rubbed.
In this article, we delve into the intriguing world of feline behavior to uncover the possible reasons behind this phenomenon.
By exploring scientific research and instinctual instincts, we aim to shed light on the connection between nose rubbing and yawning in cats.
Key Takeaways

Rubbing a cat's nose stimulates the nasopalatine nerve, which regulates emotions.
The stimulation induces relaxation and comfort, leading to subsequent yawns.
Yawning also helps increase oxygen levels in the blood and brain, promoting relaxation.
Cats' instinctual nature and exploration may contribute to the connection between nose rubbing and yawning.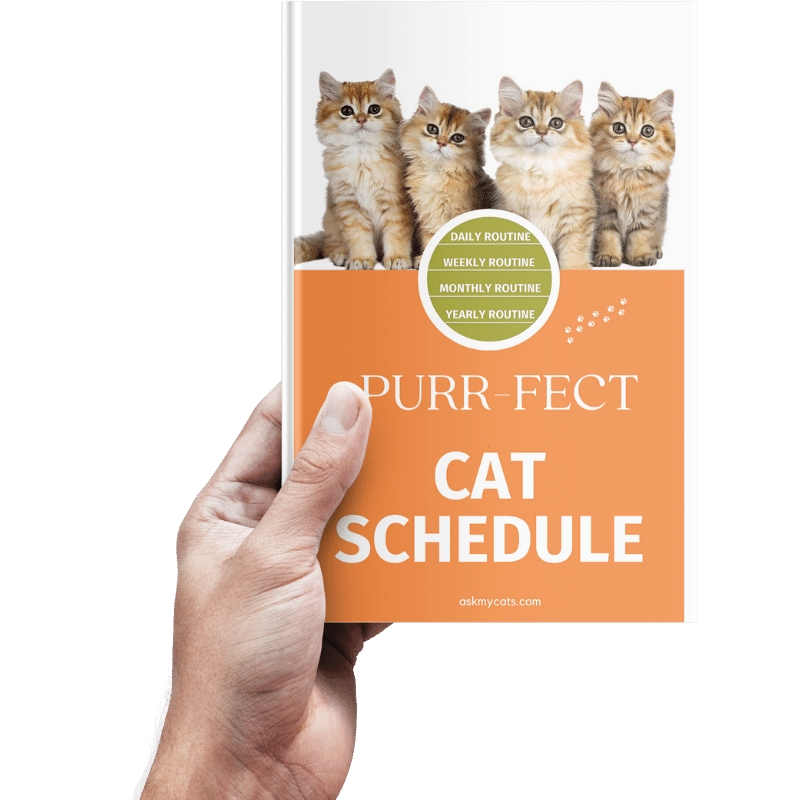 Discover the Secrets to a Happy Cat!
Discover the secrets to creating a happy and healthy daily routine for your feline friend. From playtime to mealtime, sleep to grooming, our expert guide will show you how to make every day a purrfect day for your cat.
Give Your Cat the Perfect Day – Get the Ebook!
The Link Between Nose Rubbing and Yawning in Cats
Have you ever noticed your feline companion yawning just moments after giving their nose a gentle rub?
It turns out that this intriguing behavior is not a mere coincidence but rather a fascinating connection between the two.
Research suggests that when a cat's nose is rubbed, it triggers the stimulation of the nasopalatine nerve, which plays a crucial role in regulating emotions.
This stimulation can induce a sense of relaxation and comfort in cats, leading to subsequent yawns.
The Nasopalatine Nerve and Emotional Regulation
The nasopalatine nerve, located in the nasal cavity, is responsible for transmitting sensory information to the brain.
When a cat's nose is rubbed, it activates this nerve, triggering a cascade of signals to the emotional regulation center in the brain.
As a result, the cat may experience a sense of tranquility and contentment, which is often accompanied by a yawn.
This physiological response provides cats with a way to gather more information about their environment and aids in their exploration of the world around them.
Interesting Read: Why Does My Cat Like Her Nose Touched/Rubbed?
Yawning for Relaxation and Increased Oxygen Levels
Yawning, in cats, serves a dual purpose. Apart from its association with emotional regulation, yawning also helps increase oxygen levels in the blood and brain.
By taking in a deep breath during a yawn, cats can replenish oxygen and remove excess carbon dioxide.
This influx of oxygen has a calming effect on their nervous system, contributing to a state of relaxation.
Therefore, yawning after a nose rub may be a way for cats to enhance their overall well-being and create a soothing atmosphere.
The Instinctual Nature of Cats And Its Connection To Yawning
Cats are known for their innate curiosity and desire to understand their surroundings. Through exploration, they gain valuable information about their environment and learn to adapt to various stimuli.
The connection between nose rubbing and yawning could be rooted in these instinctual behaviors. By actively engaging with their surroundings, cats gather information and yawn as a response to process and comprehend the stimuli they encounter.
However, this particular connection between environment exploration and yawning is based on speculation and does not have solid evidence to back it up.
Potential Explanations for Cats Yawning When Their Noses Are Rubbed
| Explanation | Description |
| --- | --- |
| Sensory Overload | Overstimulation of sensory receptors in the nose |
| Reflexive Response | Yawning as an involuntary reflex to stimulation |
| Association | Cats may have learned to associate nose rubbing with yawning |
| Relaxation | Nose rubbing triggers a relaxation response |
| Discomfort | Cats may yawn to relieve discomfort from nose rubbing |
Interesting Read: Why Does My Cat Yawn At Me?
Frequently Asked Questions
Why do cats enjoy having their noses rubbed?
Cats have scent glands on their faces, and rubbing their noses against objects or humans allows them to mark their territory and leave their scent.
Is it safe to rub a cat's nose?
Nose rubbing can be enjoyable for some cats, but it's essential to gauge their comfort level. Always approach gently and observe their response. If they seem distressed or pull away, it's best to refrain from nose rubbing.
Do all cats yawn after their noses are rubbed?
Yawning as a response to nose rubbing may vary from cat to cat. Some cats may exhibit this behavior consistently, while others may not. It depends on their individual temperament and the overall context of the interaction.
Final Words
While the science behind yawning in cats when their noses are rubbed is still not fully understood, there are compelling connections to their natural instincts and emotional regulation.
The stimulation of the nasopalatine nerve during nose rubbing triggers a chain reaction that leads to feelings of relaxation and subsequent yawning. Moreover, yawning aids in oxygenation and creates a calm environment for our feline friends.
As we continue to unravel the complexities of feline behavior, this captivating connection between nose rubbing and yawning serves as another reminder of the mysterious world of cats.
References