If you've ever caught your feline companion taking a keen interest in toothpaste, you might wonder what makes this seemingly harmless product so appealing to cats.
In this article, we will explore the reasons behind a cat's fascination with toothpaste while shedding light on the potential dangers it poses to their health.
Key Takeaways

Cats are often fascinated by toothpaste due to curiosity and appealing flavors.
Toothpaste can be dangerous for cats due to high fluoride content and the presence of xylitol.
Ingesting toothpaste can lead to digestive disturbances, toxicity symptoms, allergic reactions, and dental concerns in cats.
The amount of toothpaste considered toxic varies, and even small amounts can be harmful to cats.
Immediate action is necessary if a cat eats toothpaste, including contacting a veterinarian.
Preventive measures should be taken to ensure cats cannot access toothpaste or other harmful substances.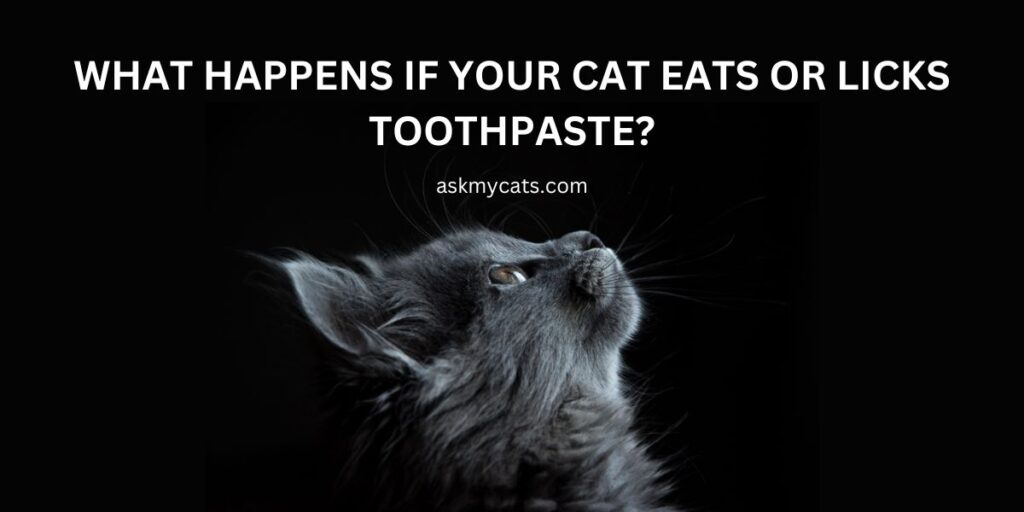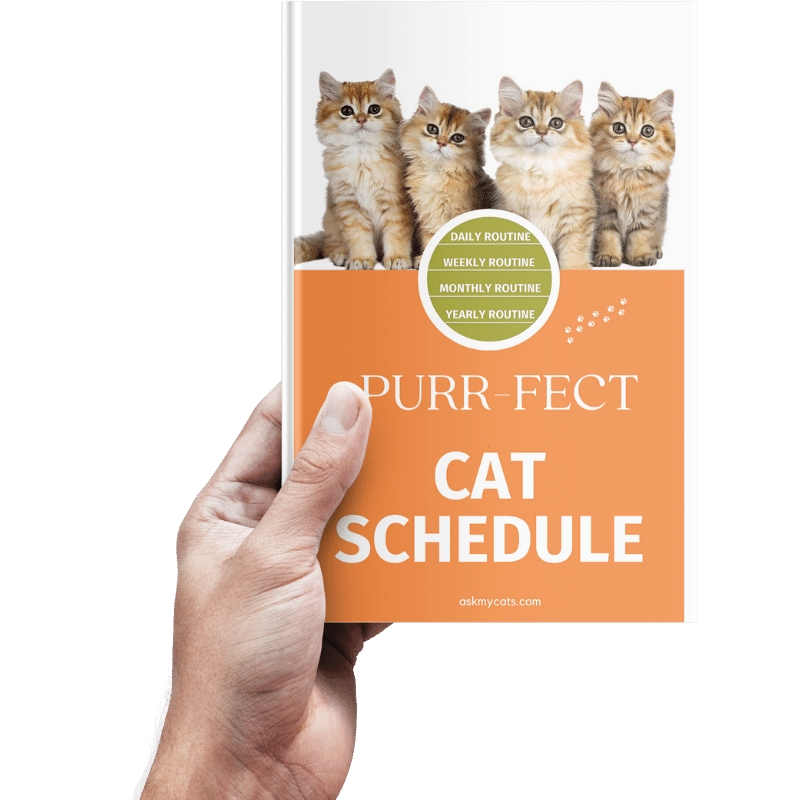 Discover the Secrets to a Happy Cat!
Discover the secrets to creating a happy and healthy daily routine for your feline friend. From playtime to mealtime, sleep to grooming, our expert guide will show you how to make every day a purrfect day for your cat.
Give Your Cat the Perfect Day – Get the Ebook!
Why Does My Cat Like Toothpaste?
Cats are known for their inquisitive nature, and their interest in toothpaste can stem from various reasons.
Let's explore some possible explanations for why your cat may have a fondness for this oral care product:
1. Curiosity Piques Interest:
Cats are naturally curious creatures, and when they encounter something new and intriguing, like toothpaste, they feel compelled to investigate.
The taste, smell, and even sight of toothpaste can captivate their attention, leading them to explore it further by licking it off surfaces or even attempting to ingest it straight from the tube.
2. Irresistible Flavors:
Many cats find the taste of toothpaste quite appealing, particularly if it carries a minty flavor. Mint flavors can evoke sensations that cats may find enticing.
Additionally, some specialized cat toothpaste brands offer toothpaste with catnip flavors, which can be particularly enticing to feline palates.
3. Textural Allure:
The unique texture of toothpaste can also contribute to a cat's attraction. The sensation of the bristles on a toothbrush or the creamy consistency of the toothpaste itself may provide a novel tactile experience for your cat.
The different feel in their mouth can be intriguing and satisfying for them.
Must Read: Can I Brush My Cat's Teeth With Human Toothpaste?
Why Is Toothpaste Dangerous For Cats?
Toothpaste poses significant dangers to cats for various reasons, making it crucial to be aware of the potential risks.
Here are some key factors that make toothpaste hazardous to feline well-being:
High Fluoride Content: Toothpaste, including those labeled as natural, typically contains fluoride, which can be highly toxic to cats when consumed in substantial amounts. Fluoride toxicity in cats can result in a range of distressing symptoms, including vomiting, diarrhea, seizures, and in extreme cases, even fatality.
Perilous Xylitol Presence: Certain toothpaste varieties, as well as sugar-free gums and mints, may contain xylitol, an artificial sweetener that proves toxic to both cats and dogs. Xylitol consumption can trigger a rapid release of insulin, leading to severe hypoglycemia (low blood sugar), seizures, and potentially life-threatening liver failure.
Texture Troubles: Ingesting toothpaste in large quantities can pose a hazard to cats due to its texture. Consumption of excessive amounts can result in digestive issues such as vomiting and diarrhea, causing discomfort and potential dehydration.
To prevent accidental ingestion, it is crucial to take preventive measures and ensure toothpaste tubes and toothbrushes are kept out of reach of cats. Implementing proper storage practices helps minimize the risk of exposure and ingestion.
If you suspect that your cat has ingested toothpaste, swift action is paramount. Contacting a veterinarian immediately is essential for professional guidance and prompt treatment.
When it comes to maintaining your cat's oral hygiene, it is advisable to utilize toothpaste specifically formulated for cats, free from fluoride and xylitol.
Must Read: The Ultimate Guide to Homemade Cat Toothpaste
How Much Toothpaste Is Considered Toxic For A Cat?
Toothpaste is highly toxic to cats, and even small amounts can pose significant risks to their health.
It's crucial to be aware of the potential dangers associated with toothpaste ingredients, including fluoride and xylitol. However, these are not the only hazardous substances present in toothpaste.
The amount of toothpaste considered toxic to cats can vary based on factors such as the type and quantity ingested, the cat's size, and overall health. Even small amounts of toothpaste can be risky due to the presence of various toxic ingredients.
Can Toothpaste Ingestion Kill My Cat?
Toothpaste is an extremely toxic substance for cats, and any ingestion can lead to severe health complications, even resulting in death.
The lethal dosage of toothpaste for cats varies based on factors such as the type, quantity, and the individual cat's size and overall health.
It's crucial to be aware that many toothpaste brands, including those claiming to be natural, contain a highly dangerous ingredient: fluoride.
What Happens If A Cat Eats Toothpaste?
If your cat eats toothpaste, it can lead to various health issues and discomfort. The specific consequences will depend on factors such as the type and amount of toothpaste ingested, as well as your cat's size and overall health.
Here are some possible outcomes:
1. Digestive Disturbances:
Ingesting toothpaste can cause gastrointestinal problems in cats. The ingredients in toothpaste, such as fluoride and other chemicals, can irritate the stomach lining, leading to symptoms like vomiting and diarrhea.
These digestive disturbances can be mild to severe, depending on the quantity and type of toothpaste consumed.
2. Toxicity Symptoms:
Toothpaste contains substances that are toxic to cats, such as fluoride and xylitol. If your cat ingests a significant amount of toothpaste, it may experience symptoms of toxicity.
These can include drooling, increased thirst, restlessness, tremors, seizures, and, in severe cases, organ failure or even death. Immediate veterinary attention is crucial if you suspect your cat has ingested a toxic amount of toothpaste.
3. Allergic Reactions:
Some cats may have allergic reactions to certain ingredients in toothpaste. This can manifest as skin rashes, itching, swelling, or respiratory issues. If your cat shows any signs of an allergic reaction after consuming toothpaste, it's important to seek veterinary advice.
4. Dental Concerns:
While ironic, eating toothpaste does not provide the same benefits as using it for its intended purpose.
In fact, excessive consumption of toothpaste can be detrimental to your cat's oral health. The sugars and additives in toothpaste can contribute to dental problems, such as tooth decay and gum disease.
Must Read: How to Brush a Cat's Teeth: Step-by-Step Guide
What To Do If Your Cat Eats Toothpaste?
If you discover that your cat has eaten toothpaste, it's important to take immediate action to ensure their safety and well-being. Follow these steps:
Stay Calm: While it can be alarming to find out that your cat has ingested toothpaste, try to remain calm. Panicking can make it harder to think clearly and take the necessary steps.
Assess the Situation: Determine the amount of toothpaste your cat has consumed and take note of the ingredients. This information will be helpful when speaking to a veterinarian.
Contact Your Veterinarian: Call your veterinarian or a local emergency veterinary clinic right away. Describe the situation and provide details about the toothpaste, including its brand, ingredients, and the estimated amount ingested. Follow their instructions carefully.
Observe Your Cat: Monitor your cat closely for any signs of distress or unusual behavior. Symptoms may include vomiting, diarrhea, drooling, restlessness, tremors, seizures, or difficulty breathing. Note any changes and relay this information to the veterinarian.
Do Not Induce Vomiting: Avoid attempting to induce vomiting in your cat without professional guidance. Certain substances, like fluoride, can be even more harmful if brought back up.
Follow Veterinary Guidance: Follow the veterinarian's advice regarding further actions, such as bringing your cat in for an examination or providing supportive care at home.
Prevent Future Incidents: Take preventive measures to ensure your cat cannot access toothpaste or other harmful substances. Store oral care products securely, out of your cat's reach.
Remember, it's always better to err on the side of caution when it comes to your cat's health. By seeking immediate veterinary attention, you can ensure proper care and treatment for your cat after ingesting toothpaste.
Interesting Read: How to Keep Your Cat's Teeth Clean Without Brushing?
Frequently Asked Questions
What are the symptoms if a cat eats toothpaste?
Symptoms may include vomiting, diarrhea, restlessness, tremors, seizures, and in severe cases, organ failure.
Can toothpaste kill cats?
Yes, depending on the type and amount ingested, toothpaste can be lethal to cats.
How much toothpaste is toxic to a cat?
The toxic amount varies, but even small amounts can be dangerous. Contact your veterinarian for specific guidance.
Can I induce vomiting if my cat eats toothpaste?
It's best to seek veterinary advice before attempting to induce vomiting in your cat.
How can I prevent my cat from eating toothpaste?
Store toothpaste and other oral care products securely, out of your cat's reach.
Final Words
Cats should never be allowed to eat or lick toothpaste due to its toxic ingredients, such as fluoride and xylitol. Even small amounts can lead to digestive issues, toxicity symptoms, and potentially fatal outcomes.
It's crucial to prioritize your cat's safety by using toothpaste specifically designed for cats, as well as practicing preventive measures to keep toothpaste out of their reach.
If your cat accidentally consumes toothpaste, contact your veterinarian immediately for guidance and assistance.
Must Read: Do My Cats Need Different Toothbrushes?
Interesting Read: Home Remedies for Cat Tartar Removal
References