Hey there, fellow cat lovers! 🐱 Ever found yourself scratching your head (pun totally intended) over how to keep your indoor kitty entertained? I mean, there's only so many times they can chase their tail before even they get bored, right?
Well, buckle up, because you're in for a treat. From DIY toys to kitty TV marathons, we've got the purr-fect solutions to banish that feline boredom.
And here's a teaser: ever thought about a cat's version of Netflix or a feline treasure hunt? Oh, trust me, it's a thing!
Ready to dive into a world of whiskers and wonder? Let's pounce right in! 🎉 But first, ever wondered what really goes on in your cat's mind during playtime? Stick around, and you might just find out! 😉🐾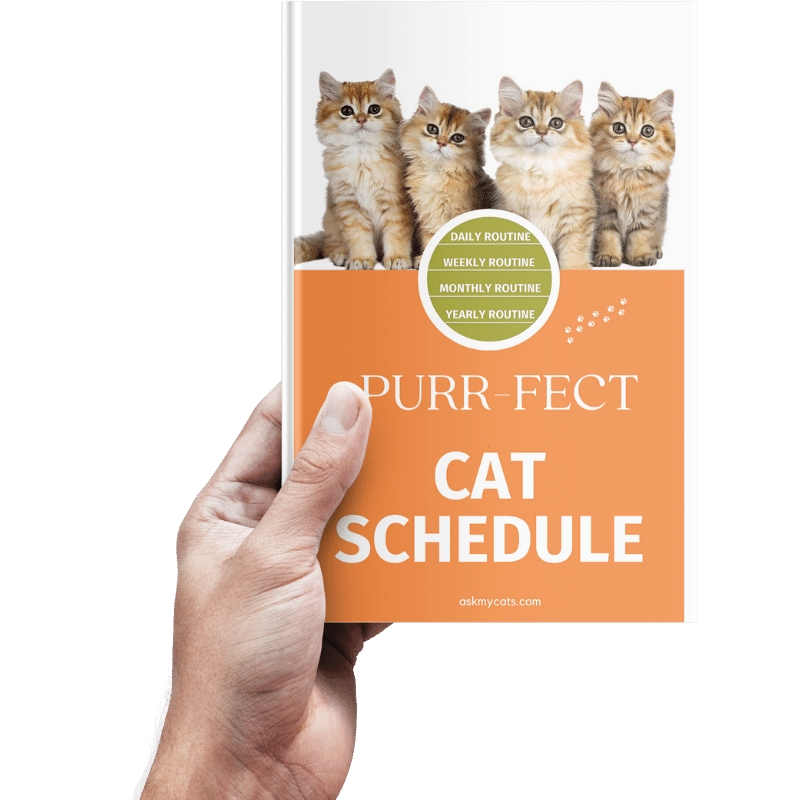 Discover the Secrets to a Happy Cat!
Discover the secrets to creating a happy and healthy daily routine for your feline friend. From playtime to mealtime, sleep to grooming, our expert guide will show you how to make every day a purrfect day for your cat.
Give Your Cat the Perfect Day – Get the Ebook!
1. Place Cat Food in Different Places
Hey, guess what? Cats love a good treasure hunt. Remember the last time you hid a treat and your furball went nuts trying to find it? Well, it's the same with their food.
By placing their food in various spots around the house, you're not just feeding them; you're giving them a mini-adventure.
Studies show that animals, including our domesticated pals, enjoy "working" for their food. It's mentally stimulating and mimics their natural hunting instincts.
So, next time, instead of the usual spot, why not surprise Mr. Whiskers with a dining spot on the windowsill or under the coffee table? It's like a feline version of hide and seek!
2. Use a Cat Food Dispenser Game, Ball, or Mouse
Alright, let's level up from the last point. Food dispensers? Oh, they're game-changers! Literally.
These nifty gadgets release food as your cat plays with them. It's a win-win: they get both physical exercise and a tasty reward.
And, hey, did you know that according to a study, cats that "work" for their food tend to be more active and less likely to become overweight?
So, not only is it fun, but it's also a health booster. Go on, toss that food-filled ball and watch the feline frenzy unfold!
3. Put on the Radio or Cat Music
"Wait, cat music?" you might be thinking. Yep, it's a thing! There's actual music composed just for cats. It's based on the sounds and frequencies cats naturally respond to.
And guess what? Many cats seem to dig it! But if you're not ready to jump onto the cat-music bandwagon just yet, even regular radio can do the trick.
A bit of background noise, maybe some soft jazz or classical tunes, can be super soothing for our indoor kitties.
It breaks the monotony of a quiet home, especially if you're out for the day. So, next time you head out, leave a little serenade for your feline friend.
4. Use Cat TV
Okay, this one's a hoot! Have you ever noticed your cat getting super engrossed watching birds or squirrels outside? It's like their version of Netflix.
But what if you don't have a window with a view? Enter: Cat TV. There are channels and videos designed especially for cats, featuring everything from birds to fish to fluttering butterflies. It's visual catnip!
And, fun fact: A survey found that nearly 50% of cats showed interest in the TV, especially when it featured prey-like critters.
So, next rainy day, why not have a movie marathon for your kitty?
5. Ensure They Have a Window With a View
Speaking of visuals, nothing beats the ol' window perch. It's like live theater for cats. Birds, cars, people, leaves… the world is bustling, and your cat gets a front-row seat.
Plus, that warm sun patch? Purr-fect for a cozy nap.
If you can, set up a comfy spot by the window. Maybe even add a bird feeder outside for added entertainment. It's simple, but oh-so-effective.
And trust me, your cat will thank you with the loudest, most content purrs.
6. Add Birds or Fish for Viewing
Oh boy, here's a fun fact: Did you know that according to a study, cats spend nearly 30% of their waking hours watching birds? It's like their version of reality TV. So, why not give them a live show?
Setting up a bird feeder outside a window can provide hours of entertainment. And if birds aren't your thing, how about a fish tank?
Just watching those little fishies swim around can be mesmerizing for your kitty.
But remember, always ensure the tank is secure; we don't want any surprise fishing expeditions!
7. Add Scratch Posts and Cat Trees
"Hey, have you seen my new scratching post?" said no cat ever. But trust me, they're thinking it!
Scratch posts and cat trees are like the ultimate cat gym. They get to stretch, scratch (saving your furniture), and climb. Plus, it's a great way for them to mark their territory.
And here's a nifty stat: nearly 60% of cat owners claim that having multiple scratch posts reduced furniture damage.
So, it's not just fun for them, it's a win for you too!
8. Put Out Cardboard Boxes and Scrunched Up Paper
Ah, the simple joys in life! Give a cat a fancy toy, and they'll play with the box. It's a universal cat truth.
Cardboard boxes are like cat magnets. They love to hide in them, pounce on them, and just lounge. And scrunched-up paper? It's like a DIY toy. The crinkly sound, the way it moves when they bat it – pure joy!
So, next time you get a package, think twice before tossing that box.
9. Provide Spaces for Hiding and Climbing
Ever played hide and seek with your cat? It's their jam! Cats are natural explorers and love to find cozy nooks and crannies.
Whether it's a shelf, a closet, or under the bed, these little hidey-holes offer them a sense of security.
And climbing? Oh, they're all about that vertical space. It gives them a vantage point to survey their kingdom.
So, shelves, cat trees, or even wall-mounted platforms can be a game-changer.
10. Create a 'Catio' or Cat-Proof Fence
Alright, this one's for those who want to go the extra mile.
A 'catio' – yep, it's a patio for cats – is a safe outdoor space where your kitty can enjoy fresh air without the risks of the great outdoors. They can watch birds, feel the breeze, and bask in the sun.
And if a full-blown catio isn't feasible, even a cat-proof fence can do wonders. It's all about giving them a taste of the outside, safely.
11. Install a Perch Indoors Near a Sunny Window
Sunbathing isn't just for us humans, you know. Cats are absolute suckers for a good sun patch. Ever noticed how they magically find that one sunny spot on the floor? It's like they have built-in solar detectors.
Setting up a perch near a sunny window is like giving them their personal sunbathing deck.
And here's a fun tidbit: sunlight helps cats synthesize vitamin D, just like us!
So, not only are they soaking up the warmth, but they're also getting a health boost. Win-win, right?
12. Play with Various Toys Daily
"Playtime? Count me in!" That's probably what your cat would say if they could. Toys aren't just for fun; they're essential for their mental and physical well-being. From feather wands to laser pointers, the options are endless.
And get this: a study showed that cats who played for at least 15 minutes a day had fewer behavioral issues.
So, not only are you bonding with your furball, but you're also keeping them happy and well-adjusted. Let the games begin!
13. Plant Cat Grass Indoors
Ever caught your kitty munching on your houseplants? Yikes! But here's the thing: cats have a natural instinct to chew on grass. It aids digestion and helps them cough up hairballs.
So, instead of risking your precious plants, why not grow some cat grass indoors? It's easy to maintain, and your cat will love it.
Plus, it's a safe alternative to some houseplants that can be toxic to cats. Green thumb, here we come!
14. Maintain a Clean Litter Box
Ah, the litter box – a necessary evil. But here's the scoop (pun intended): keeping it clean is super important.
Cats are clean creatures, and a dirty litter box can lead to them doing their business elsewhere. Yikes! Regular cleaning not only keeps odors at bay but also ensures your kitty is comfortable.
A survey even found that 1 in 5 cat owners believed a clean litter box reduced behavioral issues. So, grab that scoop and make it a daily ritual.
15. Ensure Your Cat Has Identification
This one's a no-brainer, but you'd be surprised how many folks overlook it. Whether it's a collar with an ID tag or a microchip, ensuring your indoor cat can be identified is crucial.
Accidents happen; doors get left open, or they might sneak out. Having proper identification increases the chances of a happy reunion.
And here's a stat to drive it home: microchipped cats are 20 times more likely to be returned to their owners. So, it's a small step with a big payoff.
16. Use Toy Mice
Ah, the classic toy mouse! It's like the bread and butter of cat toys. Why? Because it taps into their primal hunting instincts. Swiping, pouncing, carrying it around – it's all part of the game.
And here's a quirky fact: a survey found that toy mice topped the list of favorite toys for over 65% of cats.
So, if you're ever in doubt about what toy to get, you can't go wrong with a good ol' toy mouse. It's like the cat version of comfort food.
17. Set Up Bird Viewing Stations Inside
Bird-watching isn't just a hobby for retired folks; cats are all about it.
Setting up a bird viewing station inside is like giving them their personal TV channel. And the best part? It's interactive! They can watch, chirp, and even "hunt" from the safety of their home.
Did you know that cats can spend hours just watching birds? It's mentally stimulating and keeps them engaged.
So, grab a bird feeder, set it up near a window, and let the show begin!
18. Hide Treats Around the House
Who doesn't love a good treasure hunt? And guess what? Cats are no exception.
Hiding treats around the house is like setting up a feline scavenger hunt. It gets them moving, exploring, and using their keen sense of smell. Plus, the reward at the end? Delish!
Studies even suggest that "working" for food can be more satisfying for pets.
So, next time you want to treat your kitty, make 'em work for it a little. It's all in good fun!
19. Consider a Feline Companion
Ever thought about getting a buddy for your furball? Having a feline companion can be a game-changer. They can play, groom, and even nap together. It's like having a built-in bestie.
And here's something to chew on: research indicates that cats in multi-cat households tend to be more active and social.
But, of course, introductions should be done slowly and carefully. After all, we want them to be BFFs, not frenemies.
20. Use Catnip for Stimulation
Oh, catnip! It's like the feline version of coffee. Well, sorta.
Catnip can give your kitty a burst of energy, followed by a relaxed phase. It's all thanks to a compound called nepetalactone.
And get this: about 70% of cats are affected by catnip.
So, whether it's a catnip toy or some fresh leaves, it can be a delightful treat for your kitty. Just remember, moderation is key. We don't want them getting too wild, do we?
Final Words: Wrapping It Up With a Purr!
Well, there you have it, fellow cat enthusiasts! A treasure trove of tips and tricks to keep our feline friends purring with delight.
From the simple joys of a cardboard box to the thrill of a bird-watching session, it's clear that our kitties are full of surprises and always up for some fun. But hey, we're all ears (and whiskers) here! 🐱
Got a quirky cat tip of your own? Or maybe a hilarious cat-astrophe story when trying out one of these suggestions? Drop it in the comments below.
Let's make this a meow-tastic community where we share, laugh, and celebrate the whimsical world of our furry companions. After all, life's always better with a little purr-spective, right?
So, go on, give some of these tips a whirl, snap a pic, and share your kitty's reactions. We're all paws on deck, eagerly waiting! 🐾🎉