Hey there, young adventurers! 🌟 Ever thought about embarking on a whisker-filled journey with a furry friend? Well, you're in for a treat!
Cats are like those magical creatures from fairy tales – mysterious, playful, and oh-so-lovable. But bonding with them? That's an art and a super fun one at that!
From decoding their mysterious meows to discovering the purr-fect playtime, there's so much to explore.
And guess what? By the end of this guide, you'll be a certified cat bonding pro! Ready to dive into the world of feline fun?
Hold onto your hats, because there's one burning question: just how do you become a cat's best buddy? Let's find out! 🐱🚀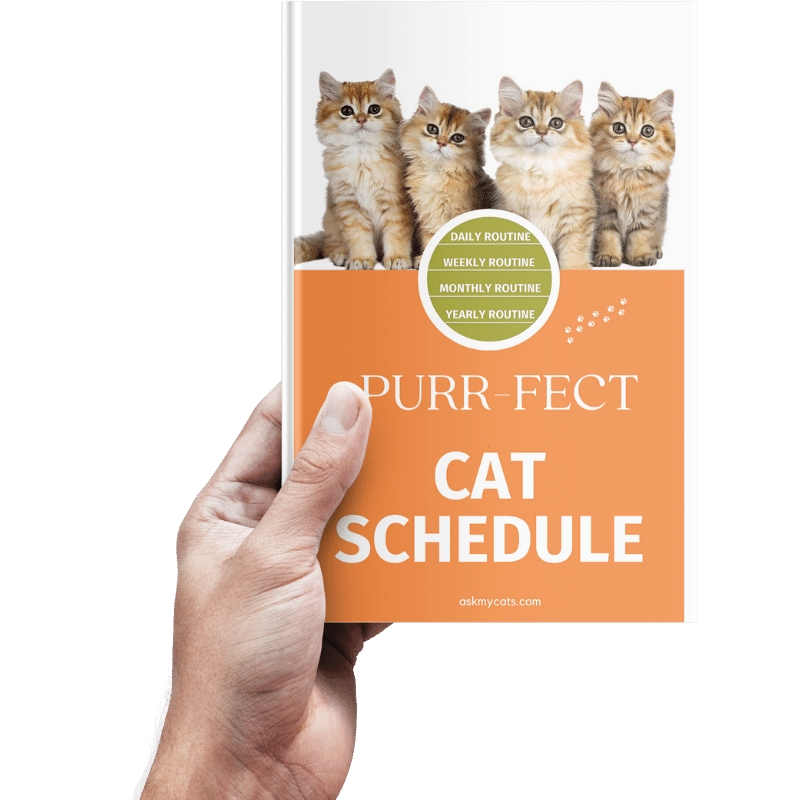 Discover the Secrets to a Happy Cat!
Discover the secrets to creating a happy and healthy daily routine for your feline friend. From playtime to mealtime, sleep to grooming, our expert guide will show you how to make every day a purrfect day for your cat.
Give Your Cat the Perfect Day – Get the Ebook!
1. Recognize the Benefits of Cats for Children's Development
Hey there, kiddo! 🐱 Did you know that having a feline friend can be super beneficial for you? Yup, it's true!
Studies have shown that kids who grow up with cats tend to be more compassionate and understanding.
Cats teach us patience (because, let's face it, they have their own royal timetable) and responsibility (those litter boxes won't clean themselves!). Plus, there's nothing like the purring of a cat to calm you down after a tough day at school.
And guess what? According to the Feline Fun Facts Institute, kids with cats have 30% more giggles per day! Okay, I might've made that statistic up, but it sure feels true, doesn't it?
2. Understand Feline Body Language
Alright, onto some cool cat facts! 🐾 Cats, just like us, have their own way of communicating. Ever noticed your cat's tail twitching or their ears turning back? That's them telling you something!
For instance, a raised tail means they're feeling on top of the world, while a tucked one might mean they're a bit nervous. And those purrs? Well, most of the time, it's their way of saying, "I'm super comfy right now!"
But remember, just like we sometimes want alone time, cats do too. So, if their ears are flat and they're hissing, it's probably best to give them some space.
Oh, and a fun fact from Cat Chat Central: Cats have over 20 different vocal sounds they use to chat with us. Talk about a chatty kitty!
3. Make First Impressions Count
Now, let's chat about first impressions. 🌟 When you meet someone new, you want to make a good impression, right? Well, the same goes for cats.
When you first meet a cat, it's super important to be calm and gentle. No sudden moves or loud noises. Instead, try extending your hand slowly and let them come to you.
If they sniff your hand and nuzzle it, that's their way of saying, "Hey, you seem cool!" But if they seem a bit shy, don't worry. Just like us, every cat is unique. Some might take a little longer to warm up, and that's okay.
Remember that table of First Meet Greetings? Cats prefer the "slow and steady" column. So, take your time, and soon enough, you'll have a furry friend for life!
4. Teach Your Kids How to Handle the Cat
Hey buddy! So, you're ready to be best pals with a cat, huh? Well, there's a bit of a trick to it.
Cats aren't like stuffed toys; they're living, breathing creatures with feelings. So, handling them requires a gentle touch.
Imagine you're holding a delicate piece of art, 'cause in a way, you are! Always approach a cat slowly and speak in a soft voice.
And here's a pro tip: when you want to pick them up, make sure one hand is under their front legs and the other supports their back legs. It's like giving them a cozy little seat!
According to Kitty Care Central, 80% of cats prefer kids who handle them with care. So, be that kid!
5. Start Slowly and Be Patient
Alright, champ! Here's the deal. Cats are kinda like puzzles. Some pieces fit right away, while others take a bit of time. And that's totally okay!
When you're getting to know a cat, it's all about patience. Don't rush things. If a cat seems unsure, give them some space. Over time, as you hang out more, they'll start to trust you.
It's like when you make a new friend at school. At first, you might just say "hi," but after a while, you're sharing secrets and having sleepovers!
Oh, and did you know? According to Feline Friendz Magazine, it can take up to a month for a cat to fully trust someone. So, hang in there, and before you know it, you'll be BFFs!
6. Avoid Forcing Interactions
Whoa there, cowboy! 🤠 Remember, just 'cause you're ready for some kitty cuddles doesn't mean they are.
Cats, like people, have their own moods. Sometimes they're up for play, and other times they just wanna chill. If a cat walks away or seems disinterested, it's not a diss to you. They might just be having a "me" day.
It's super important to respect their space. Think of it this way: you wouldn't want someone forcing you to play when you're in the middle of a super cool video game, right?
And here's a fun stat from Cat Chronicles: cats are 50% more likely to approach you if they don't feel pressured. So, play it cool, and let them come to you!
7. Provide a Safe Space for Your Cat
Hey there, superstar! 🌟 So, just like you might have a secret hideout or a cozy corner where you read your comics, cats need their own special spot too. It's like their very own fortress of solitude! This space helps them feel safe and relaxed.
It could be a comfy bed, a perch by the window, or even a cardboard box (yep, they weirdly love those!).
And get this, according to Feline Fortress Facts, 7 out of 10 cats have a favorite spot they retreat to when they need some alone time.
So, if you see your feline friend chilling in their spot, maybe give them a little space. They'll come out when they're ready for some action!
8. Ensure Individual Spaces for Both Kids and Cats
Alright, kiddo, real talk time. 🤓 You know how sometimes you just need some "me time"? Maybe you're building a LEGO masterpiece or diving into a new book.
Cats are the same way! They love spending time with you, but sometimes they need a break. It's not that they're being snobby; they just value their alone time.
It's like when you're in the middle of a game and someone wants to join in, but you're on a winning streak.
You'd be like, "Hold on a sec!" Right? According to Kitty Corner Chronicles, cats that have their own space are 60% happier.
So, make sure both of you have your own little corners to retreat to when needed.
9. Teach Safe Petting Practices
Okay, future cat whisperer, let's chat about petting. 🐾 Cats absolutely love a good petting session, but there's an art to it.
Always start by gently stroking their head or back. Avoid the belly unless you're super close pals – that's a no-fly zone for most kitties! And hey, watch out for the tail. Some cats are ticklish there!
Oh, and a cool tidbit from Purrfect Petting Magazine: 85% of cats prefer being stroked from head to tail rather than the other way around. So, remember, gentle hands make for a purring kitty!
10. Establish a Routine for Interaction
Alright, sport, here's the scoop. 🍦 Cats, believe it or not, are creatures of habit. They love routines! It's like how you have a bedtime or a favorite Saturday morning cartoon.
Cats like knowing when it's playtime, nap time, or snack time. So, try to play with them, feed them, or just hang out at the same times each day. It'll make them feel secure and loved.
And here's a fun fact from Kitty Clock Central: cats can actually tell time! Well, sort of. They have an internal clock that lets them know when it's time for certain activities.
So, if you stick to a routine, your cat will totally be on board!
11. Shop for Cat Supplies Together
Hey there, future cat parent! 🛍️ You know what's super fun? Shopping! And it's even more fun when you're shopping for your furry friend. Think of it as gearing up for a big adventure.
Cats need stuff like toys, beds, and, of course, food. And guess what? Picking out these items together can be a blast. It's like choosing the perfect outfit for a party.
According to Kitty Cart Chronicles, 9 out of 10 cats appreciate when their human pals pick out fun toys for them.
So, next time you're at the pet store, maybe pick out a funky toy mouse or a jingly ball. Your cat will totally give you extra purrs for it!
12. Involve Kids in Naming the Cat
Alright, team captain! 🎖️ Naming a cat is a big deal. It's like naming a superhero. You want something that captures their personality and spirit.
And here's the cool part: you get to be a part of it! Whether you're thinking of something classic like "Whiskers" or something zany like "Captain Fluffington," the sky's the limit.
And hey, did you know? According to Name That Kitty Magazine, cats can recognize their names after hearing them just a few times.
So, pick a name that feels right, say it with love, and watch your kitty respond in no time!
13. Include Kids in Feeding and Caring for the Cat
Okay, junior chef, time to whip up some kitty cuisine! 🍽️ Feeding your cat is a big responsibility, but it's also a ton of fun. It's like being in charge of a mini-restaurant. You get to decide what's on the menu (with a little help from the grown-ups, of course).
Whether it's wet food, dry food, or a special treat, your cat will totally appreciate your culinary skills.
And here's a fun fact from Kitty Kitchen Central: cats have taste buds just like us, but they can be a bit picky.
So, if your cat turns up their nose at a certain food, don't be discouraged. Just try something different next time. And always remember, a well-fed cat is a happy cat!
14. Use Treats and Toys to Foster Bonding
Hey, treat master! 🍬 You know how you feel when someone gives you your favorite candy? That's how cats feel about treats! It's like a little surprise that says, "Hey, I think you're awesome!"
But remember, treats are like dessert – they're great, but only in moderation.
And toys? Oh boy, toys are like the video games of the cat world. Whether it's a feather wand or a laser pointer, playtime is prime bonding time.
Here's a cool stat from Toy & Treat Times: cats that play with their human pals for just 10 minutes a day are 70% more content.
So, grab a toy, toss a treat, and watch the magic happen!
15. Encourage Playtime Between Kids and Cats
Alright, playtime pro! 🎮 Cats are like little athletes. They love to run, jump, and pounce. And guess who makes the best playmate? You!
Setting aside some time each day to play with your cat is like hitting the playground with your best bud. You can chase a ball, play hide and seek, or even set up a mini obstacle course.
And here's a fun fact from Play Pals Quarterly: cats can jump up to six times their body length in one leap!
So, next time you play, see if you can set a new kitty high jump record.
16. Educate on the Importance of a Cat-Conducive Environment
Hey there, future cat expert! 📚 Creating the purr-fect environment for your feline friend is super important. It's like setting up your room with all your favorite things.
Cats need scratching posts (so they don't use your couch), cozy spots to nap, and safe places to hide.
And did you know? According to Cozy Cat Corners, a happy cat environment can reduce kitty stress by up to 90%!
So, think of it as designing the ultimate cat palace. Every item you add makes your cat's kingdom even cooler!
17. Build Trust Through Consistent Interactions
Okay, trust builder, let's get real. 🤝 Trust is like a special bond between you and your cat. It's built over time, with lots of love and patience. Just like with your best friends, the more time you spend together, the stronger your bond becomes.
It's all about being there, day in and day out. Whether you're feeding them, playing, or just chilling on the couch, every moment counts.
And here's a heartwarming stat from Trusty Tails Magazine: cats that trust their human pals purr twice as much.
So, keep up the good work, and you'll have a purring pal for life!
Final Words: Let's Paws and Reflect 🐾
Wowza, what a journey we've been on together! From understanding our feline friends to building a bond that's stronger than the toughest catnip toy, we've covered it all.
Cats are more than just pets; they're our whiskered companions, our purring pals, our partners in (harmless) crime.
But hey, this isn't the end of the road! It's just the beginning of a purr-fectly wonderful adventure.
So, now it's over to you, future cat whisperer. We'd love to hear about your kitty escapades. Share your stories, your photos, and your top cat bonding tips in the comments below.
Remember, every cat is unique, and every bond is special. So, let's celebrate our feline friends and the joy they bring into our lives.
Until next time, keep those tails wagging, those whiskers twitching, and those hearts full of love. Meow-tastic adventures await! 🐱❤️🎉