Hey there, fellow cat lovers! Ever caught your feline friend giving you that dreamy, slow blink and wondered, "What's going on in that furry little head of yours?" Well, you're not alone!
Cats, with their mysterious ways, have this uncanny ability to communicate without uttering a single meow. Oh, the intrigue!
From those gentle head nudges to the rhythmic kneading sessions on your lap, there's a whole world of kitty love language waiting to be decoded.
And guess what? I've got the inside scoop. Ready for a deep dive into the secret ways our cats say, "I love you"?
Trust me; by the end of this, you'll be looking at your feline friend in a whole new light. Curious? Let's unravel the mystery together! 🐱❤️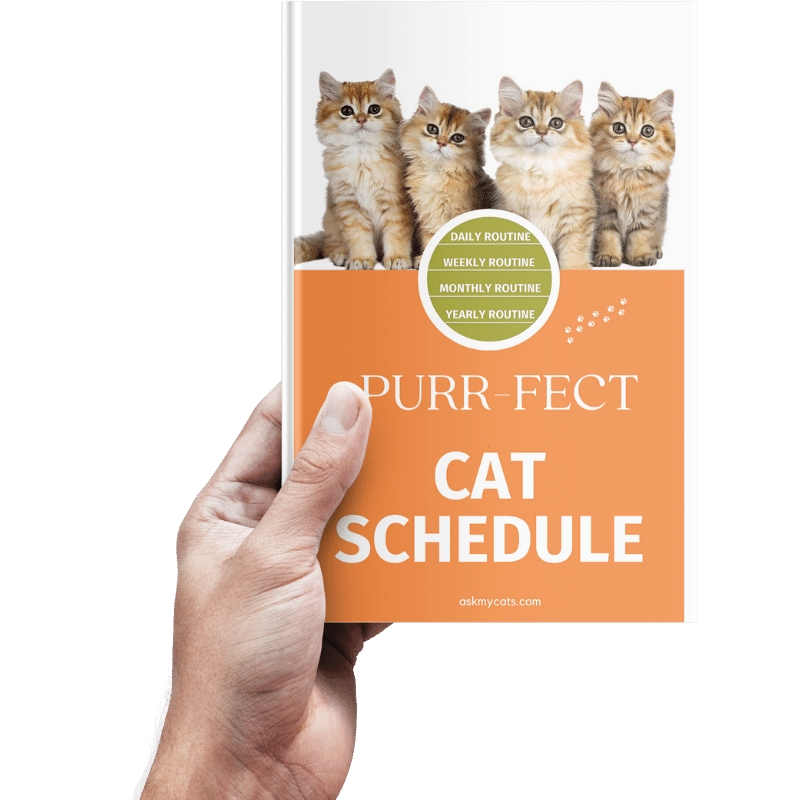 Discover the Secrets to a Happy Cat!
Discover the secrets to creating a happy and healthy daily routine for your feline friend. From playtime to mealtime, sleep to grooming, our expert guide will show you how to make every day a purrfect day for your cat.
Give Your Cat the Perfect Day – Get the Ebook!
1. Head Bumps, Leg Rubs, and Cheek Rubs
Oh, the joys of a cat's head bump! You know, when I first got my cat, I was a bit perplexed by this behavior. I'd be lounging on the couch, and out of nowhere, she'd come over and give me a gentle bump with her head.
At first, I thought she was just being playful or maybe even a bit clumsy. But then I learned it's one of the sweetest gestures in the feline world.
When cats give you these little nudges, they're not just seeking attention. They're marking you with their scent, essentially saying, "You're part of my family."
And those cheek rubs? They're all about trust and communication. It's like they're whispering, "Hey, you're safe with me."
So, the next time your feline friend gives you a little bump or rub, know that it's their special way of saying, "I love you."
2. Grooming and Licking
Ah, the cat's version of a spa day! If you've ever been on the receiving end of a cat's grooming session, consider yourself lucky. It's like getting VIP access to their exclusive kitty salon.
When my cat starts grooming or licking me, I can't help but feel special. It's her way of spreading her scent and marking her territory, which in this case, is me!
It's a sign of deep affection and bonding. It's as if she's saying, "You're one of us now."
And let's be honest, there's something incredibly heartwarming about a cat taking the time to groom you. It's their way of taking care of you, just as you take care of them.
3. Slow Blinks
Ever caught your cat giving you that dreamy, slow blink from across the room? It's like they're sending you a secret message, and guess what? They are!
In the cat world, slow blinking is a sign of ultimate trust and contentment. When my cat does this, I feel like we're sharing a special moment, a silent conversation filled with warmth and love. It's as if she's saying, "I'm comfortable around you, and I trust you completely."
And the best part? You can return the gesture. Try slow blinking back at your cat and watch as they respond in kind. It's a beautiful, unspoken bond that deepens the connection between you two.
4. Exposing the Belly
Picture this: I'm sitting on the floor, and my cat saunters over, flopping down and rolling over to expose that fluffy belly. It's an invitation, a vulnerable moment, and a huge compliment.
When cats show their belly, it's like they're saying, "Look, I trust you with my most delicate area." It's a cat's way of being open and honest, a gesture of trust and comfort.
But here's the kicker – not every cat wants belly rubs. Some just want to show you their belly as a sign of trust.
So, the next time your kitty gives you a glimpse of that soft underbelly, take a moment to appreciate the trust they're placing in you. And maybe, just maybe, if they're in the mood, give them a gentle rub.
5. Following You Around (Kitty Underfoot)
So, I've noticed something. Every time I move from one room to another, there's a little shadow following me. Yep, my cat!
At first, I thought she was just being nosy, but then I realized it's her way of saying, "Hey, where you go, I go." It's like having a tiny, furry bodyguard.
When cats follow us around, they're not just being curious; they're expressing their attachment and affection. It's their way of staying connected, of being part of whatever we're doing.
So, if you ever feel like you've got a little feline stalker, remember, it's just their way of saying, "I want to be where you are."
6. Tail Position
I've become a bit of a tail-watcher. Not in a weird way, but because my cat's tail is like a mood ring.
When she's happy and feeling affectionate, her tail stands tall, sometimes with a cute little curve at the tip. It's her way of waving a flag that says, "All is well in my world."
The position of a cat's tail can tell you so much about how they're feeling. A raised tail is a sign of confidence, happiness, and familiarity. It's like a feline thumbs-up.
So, the next time you see your cat strutting around with their tail held high, know that they're feeling good and they're happy to be around you.
7. Purring
Ah, the sweet sound of a cat's purr. It's like music to my ears. Every time my cat curls up next to me and starts purring, I feel like I've won the kitty lottery.
While cats do purr for various reasons, when they're snuggled up close and purring away, it's a clear sign of contentment. It's their way of saying, "I'm happy, relaxed, and I love being here with you."
And let's be real, there's nothing quite as soothing as the gentle rumble of a purring cat. It's like a mini massage for the soul.
So, the next time your feline friend starts their engine, take it as a compliment. You're doing something right!
8. Love Bites
Now, this one took me by surprise. I was just minding my own business, giving my cat some pets, when out of nowhere – chomp! A little love bite.
At first, I was like, "Hey, what was that for?" But then I learned it's just another quirky way cats show affection.
These playful nibbles are a sign that your cat is comfortable and trusts you. It's like they're saying, "I'm having fun, and I know you won't hurt me."
But remember, there's a fine line between a love bite and a real bite. Always pay attention to your cat's body language to ensure you're both on the same page.
9. Bringing You Gifts
So, there I was, minding my own business, when my cat strutted in with a "gift" for me. At first, I was a bit taken aback (especially when the gift was a little less… alive than I'd prefer). But then I realized, in her own unique way, she was sharing her prized catch with me.
It's like when a friend brings you a souvenir from their vacation, except, you know, a bit more primal. When cats bring us these "gifts," they're not trying to gross us out.
Nope, they're showing trust and affection. It's their way of saying, "Look what I got for you! Aren't you proud?"
So, even if the gift isn't quite your style, remember it's the thought that counts.
10. Spending Time with You
One of the things I cherish the most is when my cat chooses to simply hang out with me.
Whether I'm working, watching TV, or just lounging around, having her nearby feels special. It's not about playtime or feeding; it's just about being together.
When cats choose to spend time in the same room or space as us, it's their way of saying, "I enjoy your company." It's like when a friend drops by for a coffee chat, no agenda, just quality time.
So, if your cat often settles down beside you or even just in the same room, take it as a sign. They're silently saying, "I love being near you."
11. Vocalization
I've got to admit, I have full-blown conversations with my cat. And the best part? She talks back!
Cats have this fascinating range of vocalizations, from meows to chirps and trills. And while they don't typically "chat" with other cats, they sure do with us humans.
When my cat chirps or trills at me, it feels like she's sharing a secret or telling me about her day. It's her way of communicating affection and building a bond.
So, the next time your cat strikes up a conversation, lean in, listen, and maybe even chat back. It's all part of the beautiful dialogue of love.
12. Kneading
There's this adorable thing my cat does when she's super relaxed and feeling all the love vibes. She'll climb onto my lap, find a soft spot, and then start this rhythmic kneading with her paws. It's like she's making biscuits on my lap!
At first, I was curious about why she did this. Was she trying to get comfy? Was it a kitty massage? But then I learned that kneading is a throwback to their kitten days. When they were tiny furballs, they'd knead their mother's belly to stimulate milk flow.
So, when adult cats knead, it's a sign of comfort, contentment, and affection. It's like they're saying, "I feel safe and loved with you."
Every time my cat starts her kneading ritual, I can't help but feel a warm fuzzy feeling inside. It's a beautiful reminder of the deep bond we share and the comfort she finds in my presence.
So, if your cat ever gives you a kneading session, cherish it. It's one of the purest expressions of feline love.
Final Words: Share Your Feline Love Story!
And there we have it, folks! The secret language of cats decoded. From the gentle head bumps to the rhythmic kneading, our feline friends have their own unique ways of saying, "Hey, I love you!"
It's these little gestures, these silent conversations, that make our bond with them so magical. Every purr, every slow blink, is a testament to the deep connection we share with these mysterious creatures.
But hey, this isn't just about my cat tales. I bet every cat parent out there has their own heartwarming stories of feline affection. So, why keep them to yourself? Share your stories, your moments, and let's celebrate the love that our cats bring into our lives.
Drop a comment below, share a photo, or even a video. Let's create a space filled with purrs, meows, and all things cat!
After all, in the world of cats, love isn't just a feeling; it's an experience. And every experience is worth sharing. So, what's your feline love story? 🐾❤️