Hey there, fellow cat lovers! Ever found yourself wondering, "Does my furball actually love me, or am I just the human with the food?" We've all been there, right?
Cats, with their mysterious ways and aloof demeanor, can be a puzzle. But, oh boy, when they show affection, it's like winning the kitty lottery!
From those unexpected head butts to the late-night purring sessions, our feline friends have their own love language. And guess what? We're about to decode it!
Ready to dive deep into the world of cat cuddles and whisker-twitching love?
Hold onto your catnip, because you're in for some purr-fect revelations that might just change the way you see your feline forever! 🐱❤️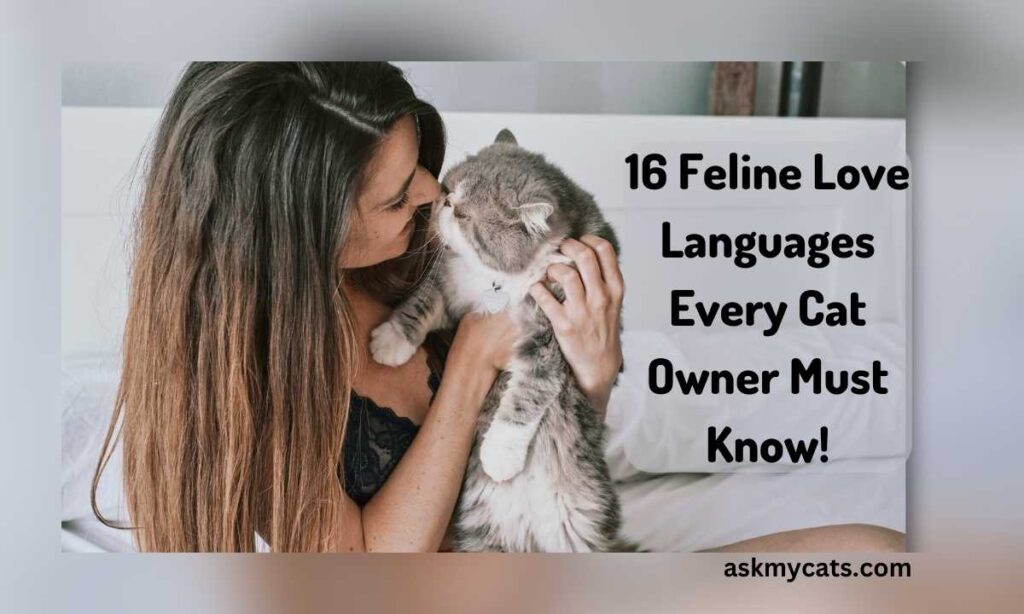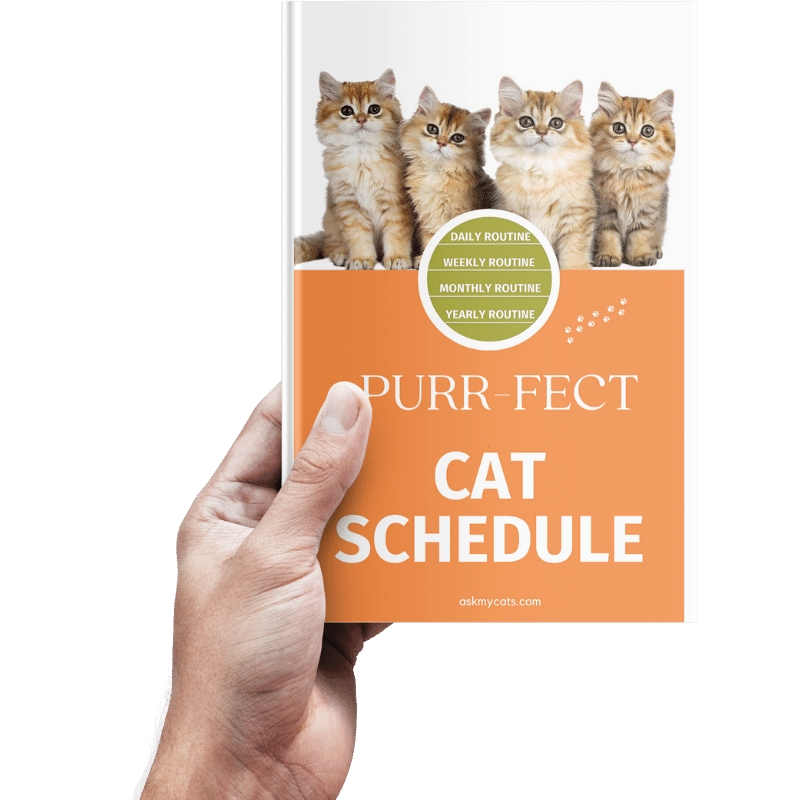 Discover the Secrets to a Happy Cat!
Discover the secrets to creating a happy and healthy daily routine for your feline friend. From playtime to mealtime, sleep to grooming, our expert guide will show you how to make every day a purrfect day for your cat.
Give Your Cat the Perfect Day – Get the Ebook!
1. Head Butting
Oh, man! Have you ever had your cat come up to you and just bonk their head against yours? It's not just them being goofy.
Cats head butt as a sign of affection. It's like their way of giving you a little peck on the cheek.
And guess what? When they do this, they're also leaving pheromones on you. Yep, that's right! It's their sneaky way of saying, "Hey, this human? They're mine!"
A study even showed that cats have specific pheromones they release when they're feeling all lovey-dovey.
So, next time your cat gives you a head butt, know that it's their version of a hug. Aww!
2. Love Bites
"Ouch! Did you just… nibble me?" If you've ever been on the receiving end of a gentle cat bite, don't freak out. It's not them trying to snack on you.
Cats give these little "love bites" as a sign of affection. It's kinda like when humans playfully tease the ones they adore.
And, interestingly, a survey found that about 40% of cat owners have experienced these love nibbles.
So, it's a pretty common kitty behavior. Just remember, it's all in good fun and love!
3. Kneading
Oh, the classic cat knead! It's like they're making biscuits on your lap. Cats start kneading as tiny kittens when they nurse from their mom. It's super comforting for them. Fast forward to their adult life, and they still do it!
When they knead you, it's like they're saying, "You're my human, and I feel so safe and loved with you."
Did you know that nearly 90% of domestic cats knead?
So, if your cat is kneading away on your lap, cherish the moment. It's their way of showing some major love.
4. Purring
Purring is like a cat's personal soundtrack. While cats can purr for a bunch of reasons, when they're chilling with you and start purring, it's often because they're just so darn happy! It's like their way of humming a happy tune.
In fact, research suggests that a cat's purr can even have calming effects on humans.
So, not only are they expressing their joy, but they're also giving you a dose of relaxation. Win-win, right?
5. Following You
"Seriously, Fluffy? Even to the bathroom?" If your cat is like a little shadow, following you everywhere, it's not them being nosy. Well, maybe a little. But mostly, it's because they adore you!
Cats are naturally curious creatures. A recent study even highlighted that cats form strong bonds with their owners, similar to dogs and even babies with their caregivers.
So, when your cat trails behind you, even to the most unexpected places, it's their way of saying, "I just wanna hang out with you, buddy!" How sweet is that?
6. Bringing Gifts
Hey, guess what? That dead mouse or bird your cat just dropped at your feet? It's not a sign of the apocalypse. It's a gift!
Yep, as icky as it might seem to us, when your cat brings you a "present," it's their way of taking care of you.
Think about it. In the wild, a mama cat brings back food for her kittens. So, when your furball drops a critter on your doorstep, they're kinda saying, "Look what I got for you! Aren't you proud?"
A survey even showed that about 65% of outdoor cats have brought gifts to their owners.
So, next time, maybe just a simple "thanks" will do, followed by discreet disposal.
7. Grooming You
Ever been licked by your cat? It's a bit… scratchy, right? But here's the thing: when your cat grooms you, it's a huge compliment. It's like they're saying, "You're one of us!"
Cats groom each other as a sign of affection, and it's called allogrooming.
Fun fact: Around 70% of cat owners have been groomed by their cats.
So, if you're getting some kitty licks, congrats! You're officially part of the tribe.
8. Slow Blinking
Okay, this one's a heart-melter. You know when your cat looks at you and does that slow blink?
That's a "cat kiss!" It's their way of saying, "I trust you, and I'm super relaxed around you."
And guess what? You can send a cat kiss right back! Just slowly blink at them, and watch them return the gesture. It's like a secret handshake, but way cuter.
9. Showing Their Belly
Whoa! Belly alert! If your cat rolls over and shows you their belly, it's like they're giving you VIP access to their most vulnerable spot. It's a massive sign of trust. They're saying, "I feel safe with you."
Around 80% of cat owners report their cats show their belly to them. So, if you're in this club, feel honored.
But, a word of caution: not all cats like belly rubs, so proceed with care.
10. Cheek Rub
Last but not least, the cheek rub. When your cat rubs their cheek against you, it's not just because it feels good (though I'm sure it does).
Cats have scent glands on their cheeks, and when they rub against you, they're marking you as "theirs." It's like they're saying, "You're my human."
And, according to a study, cats that cheek rub their owners are more likely to be content and relaxed in their homes. So, enjoy those cheeky moments!
11. Licking Your Hand
Oh boy, here we go! So, you're just minding your business, and suddenly, slurp! Your cat gives your hand a good ol' lick. It's not just because they think you're a giant lollipop.
When your cat licks your hand, they're recognizing you as part of their tribe. It's like they're saying, "You and me? We're family."
And did you know? About 55% of cat owners have experienced this slobbery sign of affection.
So, if your cat's giving you the lick treatment, just know you've been officially initiated into their gang.
12. Rubbing Up Against You
Ah, the classic cat rub. You walk in the door, and bam! Your cat's rubbing up against your legs. It's not just because they missed you (though they probably did).
Cats have this cool thing where they mark their territory with scent glands, and guess what? You're part of that territory!
In a survey, a whopping 85% of cat owners said their cats rub up against them daily.
So, next time your cat gives you the rub-down, just remember: in their eyes, you're top-tier property!
13. Sleeping with You
Alright, let's get cozy! Ever woken up with a cat curled up next to you? It's not just because your bed's comfy (though I bet it is).
When a cat sleeps with you, it's like they're saying, "I trust you with my life." Literally. Cats are most vulnerable when they sleep, so sharing that space with you? Big deal.
Studies even show that cats who sleep with their owners have lower stress levels. So, snuggle up and enjoy the purr-fect company.
14. Learning Your Habits
"Wait, how did you know I was about to feed you?" Cats are sneaky little observers. They pick up on our routines, from when we wake up to when we're about to dish out some treats. It's like they've got this sixth sense.
And, get this: about 70% of cat owners believe their cats can predict their actions.
So, if your cat's always one step ahead, it's not magic—it's just kitty intuition!
15. Recognizing Your Voice
"Did you just… meow back at me?" Cats aren't just good listeners; they're also great at recognizing voices. Especially yours. They can tell the difference between you calling them and a stranger saying their name.
A recent study even found that cats respond more positively to their owner's voice than to others.
So, if you've ever had a full-blown convo with your cat (come on, we've all been there), just know they're totally tuned in.
16. Communicating with You
Last but not least, let's talk about talking. Cats might not speak our language, but boy, do they have a lot to say. From meows to purrs to chirps, they've got a whole vocabulary. And the best part? They often tailor their "words" just for you.
Around 60% of cat owners claim they have unique "conversations" with their feline friends.
So, next time your cat starts chattering away, join in the chat. Who knows what you'll learn?
Conclusion: Wrapping It Up with Whiskers and All!
Well, there you have it, fellow cat enthusiasts!
From head butts to heartwarming chats, our feline friends sure have some quirky, adorable ways of saying, "Hey, I love you!" Every purr, blink, and cheek rub is a testament to the deep bond we share with these whiskered wonders.
But hey, this isn't where the conversation ends. I bet every cat owner out there has a unique tale (or should I say tail?) of their own.
Maybe your kitty has a special way of showing affection that we didn't cover? Or perhaps you've got a hilarious story about that one time your cat brought you a "gift" you'd rather forget?
Drop your stories in the comments below! Let's keep this cat chat going and celebrate the weird, wonderful, and whisker-filled world of feline affection.
After all, in the grand tapestry of life, it's these furry moments that truly make everything purr-fect. 🐾❤️