Hey there, fellow cat enthusiasts! 🐾 Ever had one of those days where you look at your feline friend and think, "What's going on in that furry head of yours?"
I mean, one minute they're purring away, and the next, they're giving you the cold shoulder. Cats, am I right? They're mysterious, whimsical, and oh-so-enigmatic.
But what if I told you there are signs, little breadcrumbs, that our kitties drop to let us know how they're feeling? Yep, you heard me!
Dive in with me, and let's decode the world of feline feelings. Trust me; by the end, you'll be one step closer to becoming a cat whisperer. Curious? Let's unravel the mystery together! 🕵️‍♂️🐱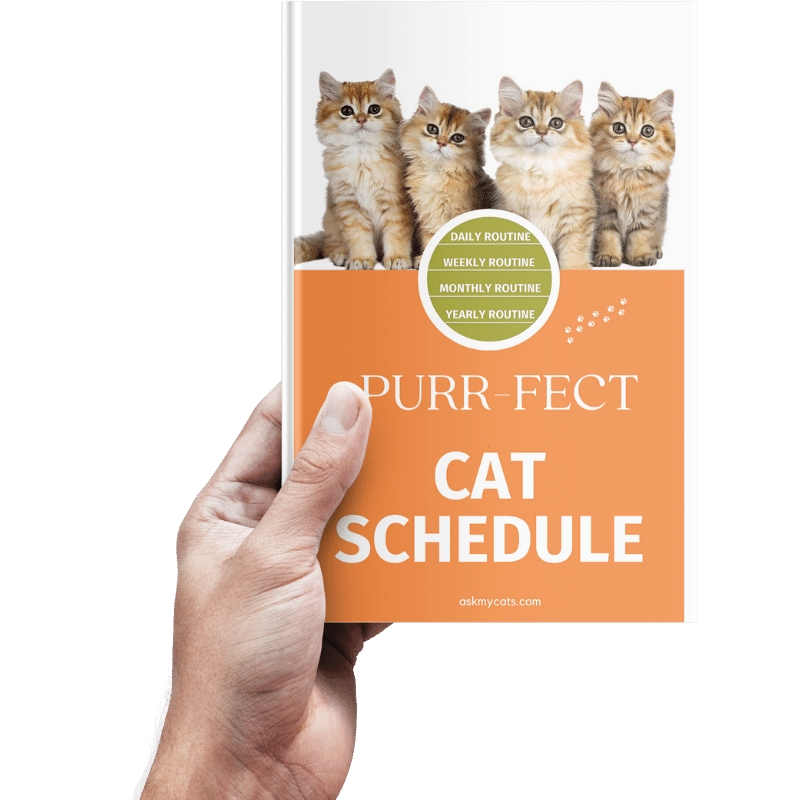 Discover the Secrets to a Happy Cat!
Discover the secrets to creating a happy and healthy daily routine for your feline friend. From playtime to mealtime, sleep to grooming, our expert guide will show you how to make every day a purrfect day for your cat.
Give Your Cat the Perfect Day – Get the Ebook!
1. Increased hiding or withdrawal
Oh, man! You know those days when you just want to curl up under your blanket and shut the world out? Well, guess what? Cats have those days too.
When Mr. Whiskers starts spending more time under the bed than on your lap, it might be a sign he's feeling a bit down. It's like when we binge-watch our favorite shows in our PJs, only for cats, it's more about finding that quiet, dark corner.
Remember, it's not about you; it's about them. Maybe it's time for a little cat-to-human heart-to-heart? 🛏️
2. Vocal clues or changes in vocalization
"Meow… Meee-owww… Mrow?" If you've ever had a cat, you know they're not shy about voicing their opinions.
But when those cute little meows start sounding more like sorrowful yowls, it's time to perk up those ears. It's like when your friend suddenly starts texting in ALL CAPS. Something's up, right?
Cats might purr to comfort themselves or let out low-pitched moans when they're not feeling top-notch.
So, next time Kitty sounds off, lend an ear. It's their way of saying, "Hey, I need a little extra TLC right now!" 🎤
3. Body language indicating unhappiness
Alright, pop quiz! What do a tucked tail, pinned-back ears, and raised fur have in common? Ding, ding, ding! They're all signs your feline friend might be feeling a tad blue.
It's like when we slouch, avoid eye contact, or cross our arms. Non-verbal cues, baby! Cats are masters of the silent treatment, using their bodies to shout what they don't say with meows.
So, if Kitty's swagger looks more like a sulk, it's time to play detective and figure out what's bugging them. 🕵️‍♂️
4. Aggression or unusual fear
Whoa there, tiger! If your usually cuddly furball suddenly starts channeling their inner wildcat, we've got a situation on our hands.
Imagine if your chill buddy suddenly snapped at you for borrowing their pen. Weird, right? Similarly, if your cat starts hissing, swatting, or generally acting like you've offended their royal highness, it's a sign something's off.
And hey, it's not always about aggression. Sometimes, it's about fear. If Kitty's jumping at shadows or acting skittish, it's like they've watched one too many horror movies. Time to bring back the feel-good vibes! 🎭
5. Clingy behavior or changes in personality
Ever had a friend who suddenly became super clingy? Like, "Hey, where are you? Why didn't you answer my text from 3 minutes ago?" level of clingy?
Well, cats can pull that move too. If your independent kitty suddenly turns into a velcro pet, sticking to you like white on rice, something's up. It's their way of saying, "Hey, I need you right now."
Maybe they're feeling insecure or just need some extra cuddles. Either way, it's time for some quality bonding moments. Let's embrace the cling! 🤗
6. Excessive sleep or inactivity
Okay, I get it. Cats sleep—a lot. But there's a difference between the usual catnap and "I-can't-even-move" kind of slumber.
If your furball is logging in more Zzz's than usual, it might be more than just a lazy day. Think about it. Don't we all have those days when we just want to stay in bed and shut out the world? Maybe your cat's having one of those… weeks.
It's like they've hit the snooze button on life. Time to gently wake them up and bring back the fun! 🛌
7. Poor grooming or changes in grooming habits
Picture this: You've had a rough week, and suddenly, you can't be bothered to brush your hair or change out of your PJs. Cats? They have their version.
If your usually pristine kitty starts looking like they've been through a tornado, or worse, stops grooming altogether, it's a cry for help. It's like they're saying, "I'm not feeling myself." A messy coat, tangled fur, or just a general "I've given up" look?
Time to step in, give them a brush, and maybe even a pep talk. "You got this, Kitty!" 💇‍♂️
8. Loss of appetite or change in eating habits
Food! Who doesn't love it? But what happens when your foodie feline turns their nose up at their favorite treat? Alarm bells!
It's like when you suddenly lose your appetite for pizza. (I mean, who does that?!) If Kitty's leaving their food untouched or showing less enthusiasm at mealtime, it's a sign. Maybe they're feeling blue, or perhaps it's something more.
Either way, it's like they're whispering, "Hey, I'm not okay." Time to play detective and figure out what's up in the food department. 🍕
9. Spraying or changes in bathroom habits
Oh boy, where do I start with this one? Imagine walking into your living room and getting a whiff of… well, not roses. Yep, Kitty's been marking their territory. And no, it's not their way of giving a home makeover.
When cats start spraying or have a change in their litter box habits, it's like they're sending out an SOS. Think about it like when we humans have those "off" stomach days after eating that questionable taco.
Maybe it's stress, maybe it's a health issue, or perhaps they're just not digging the new litter. Time to play bathroom detective! 🚽
10. Excessive scratching
Scratch, scratch, scratch! No, it's not the latest dance move. It's your cat, going to town on your favorite couch.
While a little scratching is normal (gotta keep those claws sharp!), excessive scratching is like your cat's way of saying, "I'm stressed!" It's like when we bite our nails or tap our feet.
A little bit of detective work might reveal the culprit. New furniture? A recent move? Or maybe it's just that pesky squirrel outside.
Whatever it is, finding a solution might save your furniture and your sanity. Time for a scratching post, perhaps? 🛋️
11. Weight loss
Whoa, has Kitty been on a diet you didn't know about? If your furball is shedding pounds faster than you can say "tuna," it's a cause for concern.
It's like when your jeans suddenly feel loose, and you haven't been hitting the gym. Something's up.
Weight loss in cats can be a sign of stress, illness, or maybe they're just not vibing with their current food.
It's essential to keep an eye on their weight and consult with a vet if things seem off. After all, we want our kitties to be healthy and happy, right? 🐱
12. Doesn't find joy in playing
Remember the days when Kitty would pounce on anything that moved? A piece of string, a laser pointer, your unsuspecting toes?
If those playful days seem like a distant memory, and your cat's idea of fun is now staring blankly at the wall, it's a red flag. It's like when we lose interest in our favorite hobbies.
Maybe they're bored, perhaps they're feeling blue, or it could be a health issue.
Whatever it is, it's time to rekindle that playful spirit. Bring out the toys, engage in some playtime, and let's get that feline mojo back! 🎉
---
Wrapping It Up: Let's Chat About Our Feline Friends!
Alright, fellow cat lovers, we've journeyed through the mysterious alleys of feline emotions, and boy, what a ride it's been! 🎢 From the subtle hints of a tucked tail to the more overt signs like spraying, our kitties sure have their ways of communicating. But here's the thing: just like us, every cat is unique. What might be a sign of distress in one could just be a quirky trait in another.
So, now it's over to you! Have you noticed any of these signs in your furball? Or maybe you've got some hilarious, heartwarming, or perplexing cat tales of your own? Drop them in the comments below. Let's create a community where we share, learn, and laugh at the adorable antics of our feline friends. After all, it takes a village… or in this case, a clowder of cat enthusiasts! 🐱❤️
And hey, if you found this article helpful, give it a share. Let's spread the kitty love far and wide! 🌍🐾
P.S. Give your cat an extra cuddle from me. They deserve it! 😻