Hey there, fellow cat enthusiast! 🐾 Ever wondered why your adorable feline friend suddenly turns into a mini scratch monster? Or why playtime sometimes feels like a scene from a wild jungle chase?
Well, you're not alone! Navigating the world of cat behaviors can be a bit… perplexing, to say the least.
But fear not! We're diving deep into the kitty psyche, uncovering tips and tricks to ensure a scratch-free bond with your furry buddy.
Curious to decode your cat's antics? Stick around; you're in for a treat!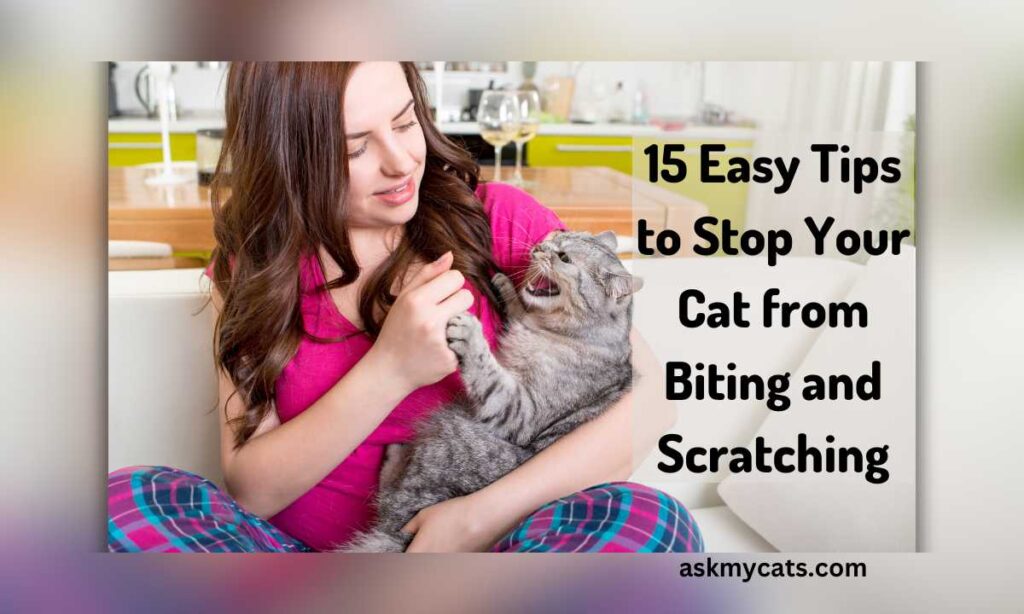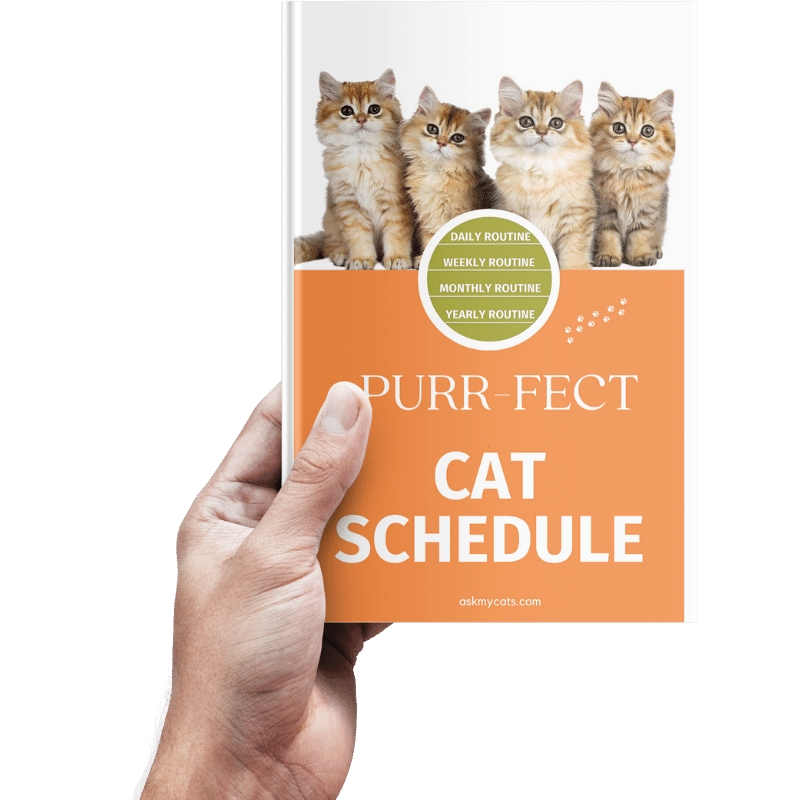 Discover the Secrets to a Happy Cat!
Discover the secrets to creating a happy and healthy daily routine for your feline friend. From playtime to mealtime, sleep to grooming, our expert guide will show you how to make every day a purrfect day for your cat.
Give Your Cat the Perfect Day – Get the Ebook!
1. Understand the Reasons
So, you've got a cat that's acting a bit… feisty, huh? Well, before you go blaming Mr. Whiskers, let's try to get into his furry little head.
Cats don't just scratch or bite for the fun of it. There's usually a reason behind it. Maybe it's playtime aggression.
You know, when they get super into their play and forget that your hand isn't a toy. Or perhaps it's petting aggression. Some cats just have a limit to how much they want to be petted, and once you cross that line, it's chomp time!
Then there's boredom. Yep, just like us, cats can get bored. And when they do, they might take it out on your favorite couch or, worse, your hand. Frustration and communication can also play a role.
Sometimes, a bite or scratch is just their way of saying, "Hey! Pay attention to me!" or "I don't like that!"
2. Positive Reinforcement
Alright, folks, let's chat about something super important: positive reinforcement. Think of it as giving your cat a high-five (without the actual high-five, of course).
When your kitty does something good, like playing without biting, give them a treat or some extra love.
It's like saying, "Hey, good job not turning my hand into a pin cushion!" Over time, they'll start to associate good behavior with rewards. And who doesn't love rewards, right?
3. Time-Outs
Remember when you were a kid and got time-outs for being naughty? Well, guess what? It works for cats too! If your feline friend gets a bit too aggressive during playtime, it's time for a little break.
Just stop playing and ignore them for a minute or two. It's like giving them a moment to cool down and rethink their life choices.
But remember, it's not about punishment; it's about teaching them that aggressive behavior won't get them what they want.
4. Change the Environment
Okay, so time-outs aren't working? No worries! Let's try a change of scenery. If your cat keeps getting aggressive in the same spot, like under the dining table, move them to a different room for a bit.
It's a gentle way of saying, "Hey, let's take a breather and try this again later." Sometimes, a little change can make a big difference.
5. Regular Play Sessions
Now, here's a fun one! Regular play sessions. Think of it as kitty gym time. Just like us, cats have energy to burn. And if they don't get to burn it off, they might take it out on, well, you. So, grab their favorite toy and play with them daily.
It's a win-win. They get to burn off energy, and you get a happy, less aggressive cat. Plus, it's a blast! Who knew watching a cat chase a laser pointer could be so entertaining?
6. Observe Warning Signs
Ever had that moment when you're petting your cat, and suddenly, outta nowhere, they turn into a mini tiger? Yikes!
But here's the thing: cats usually give us a heads-up before they go all ninja on us. You just gotta know what to look for. Dilated pupils? Tail wagging like it's possessed? These are your cat's way of saying, "Hey, I'm not feeling this right now."
So, next time you see these signs, maybe give them some space. It's kinda like when you're hangry – sometimes, you just need a moment (or a snack).
7. Avoid Violence
Okay, real talk. Never, and I mean never, hit or shout at your cat. It's not cool, and it won't help. In fact, it'll probably make things worse.
Imagine if someone much bigger than you shouted or hit you every time you did something they didn't like. Not fun, right?
So, if your cat's acting up, take a deep breath, count to ten, and remember: they're not doing it to annoy you. They're just being cats. And cats, like us, have their quirks.
8. Freezing Behavior
Alright, here's a neat trick. If your cat starts getting aggressive, just freeze. Yep, like you're playing a game of statues. It's a non-confrontational way to say, "Hey, that's not cool." After a few seconds, you can slowly move away.
It's all about showing them that aggressive behavior won't get them anywhere. Kinda like when you ignore a toddler's tantrum. Eventually, they get the message.
9. Walk Away Dismissively
Now, if freezing doesn't do the trick, try the "walk away dismissively" move. It's exactly what it sounds like. Stand up, turn your back, and walk away. No fuss, no drama.
It's a clear signal that you're not interested in playing rough. And hey, sometimes we all need a little break, right?
10. Importance of Socialization
Let's chat about socialization. It's like cat school, where they learn all the important life lessons. If kittens are separated from their moms too early, they miss out on these lessons.
It's like trying to bake a cake without reading the recipe first. It might work out, but chances are, it'll be a hot mess.
So, if you're thinking of getting a kitten, make sure they've spent enough time with their mom. And if you've already got a kitty who missed out on those lessons, don't stress. With a little patience and love, you can teach them the ropes.
11. Operant Conditioning
Ever heard of operant conditioning? No? Well, let me break it down for ya. It's basically a fancy term for teaching behavior through consequences. Think of it as the "cause and effect" of the cat world.
There are different types of reinforcements, like giving treats for good behavior (that's positive reinforcement) or taking away something they don't like when they behave (that's negative reinforcement).
But here's the kicker: it's not just about rewards. There's also positive punishment (adding something unpleasant) and negative punishment (taking away something they like). Confused? Don't be!
Just remember, it's all about finding what works for your kitty and sticking with it. Consistency is key!
12. Negative Punishment Technique
Alright, let's dive into the world of negative punishment. Sounds a bit harsh, right? But it's not as bad as it sounds. Imagine you're playing with your cat, and they suddenly bite you. Ouch!
Instead of getting mad, you simply mark that moment of pain with a firm "No!" and then step away from play for a few minutes. It's like giving them a mini time-out.
You're showing them that biting = no more fun playtime. Over time, they'll get the hint. The trick is to be clear about your discomfort without getting angry. Remember, it's not about punishment; it's about teaching.
13. Interactive Play and Energy Management
Okay, let's talk playtime! Cats are like little energy balls, and they need to let off steam. Think of interactive play as their gym session.
Grab a feather wand, a laser pointer, or any toy that gets them moving, and watch the magic happen. It's not just about tiring them out (though that's a bonus); it's also about bonding with them.
Plus, a tired cat is a happy cat. And a happy cat is less likely to turn your hand into a chew toy. Win-win!
14. Consultation and Medical Evaluation
Now, here's something super important. If your cat's aggression seems out of the blue, it might be time for a vet visit.
Just like us, cats can have underlying medical issues that cause discomfort or pain, leading to aggression. Maybe it's a dental issue, or perhaps it's something more serious like hyperthyroidism.
So, before you label your cat as "aggressive," make sure there's no medical reason behind it. A quick check-up can make all the difference!
15. Safety Precautions
Last but not least, let's talk safety. If your cat's aggression is getting out of hand, it might be time to consider some safety measures.
This could be as simple as giving them their own space or, in extreme cases, thinking about rehoming. It's a tough decision, but sometimes it's the best one for both you and your feline friend.
Remember, it's all about ensuring a safe and happy environment for everyone involved.
Let's Chat, Fellow Cat Lovers!
Whew! We've journeyed through the feline world, unraveling the mysteries of our furry companions.
From understanding their quirky behaviors to mastering the art of playtime, we've covered it all.
But hey, the learning never stops! Got a cat tale (or should I say tail?) of your own? Or maybe a tip that's worked wonders for you?
Drop it in the comments below. Let's keep this conversation going and create a purr-fect community of cat lovers. After all, it takes a village to raise a cat, right? 🐱❤️