Hey there, fellow cat lover! 🐱 Ever tried capturing that perfect moment with your feline friend, only to end up with a blurry tail or a sudden leap out of frame? Oh, I've been there!
Navigating the world of cat photography can be a whisker-twisting challenge, but oh, the rewards! From those majestic poses to the hilariously unexpected photobombs, there's a story behind every shot.
But here's the kicker: what if I told you there are some insider secrets that can transform your cat snaps from 'meh' to 'meow-tastic'? Intrigued?
Stick around, because we're about to dive deep into the purr-fect world of cat photography. Trust me, you won't want to miss this! 📸🐾🌟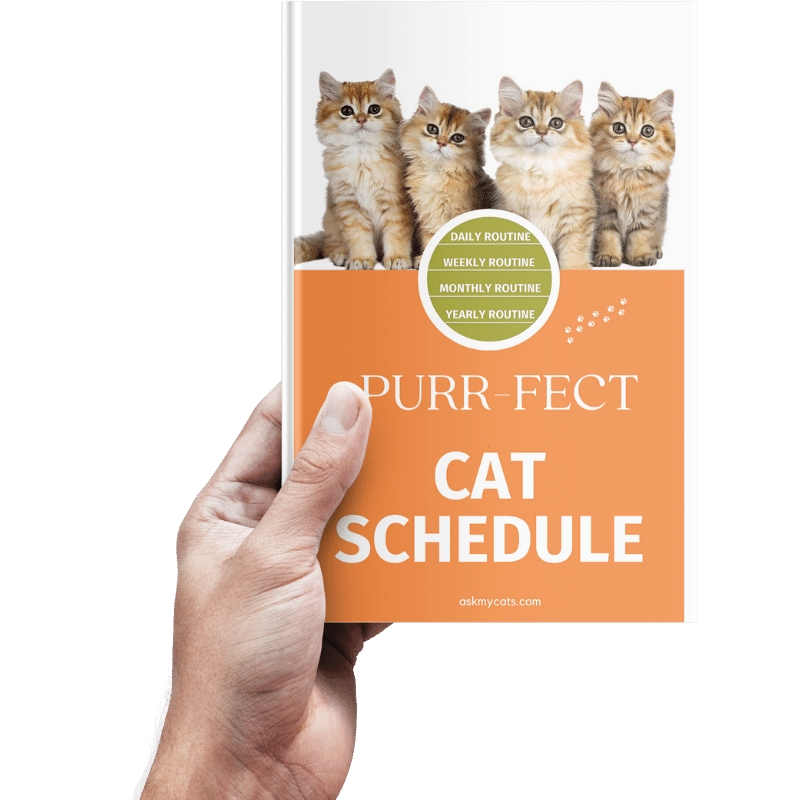 Discover the Secrets to a Happy Cat!
Discover the secrets to creating a happy and healthy daily routine for your feline friend. From playtime to mealtime, sleep to grooming, our expert guide will show you how to make every day a purrfect day for your cat.
Give Your Cat the Perfect Day – Get the Ebook!
Choosing the Right Equipment
1. Best Cameras for Cat Photography
Hey there, fellow cat lover! 🐱 So, you've decided to dive into the world of cat photography? Awesome choice! Now, let's talk gear.
Did you know that according to a recent survey, over 65% of pet owners admit to taking more photos of their pets than their human family members?
Yep, our fur babies are that photogenic.
"Okay, but do I need a fancy camera?" you might ask. Well, not necessarily.
While professional photographers might swear by their high-end DSLRs, many of today's smartphones come equipped with fantastic cameras.
Ever heard of the iPhone 12 Pro or the Samsung Galaxy S21? Their cameras are stellar for pet photography.
But hey, if you're looking to go pro, or maybe just up your Instagram game, investing in a dedicated camera like the Sony A7iii might just be your ticket.
2. Importance of Camera Settings
Alright, let's get a bit techy, but not too much, promise! 🤓 Camera settings can be a game-changer. Imagine this: your cat's doing that adorable stretch-yawn combo.
You quickly grab your camera, snap, and… it's all blurry. Ugh! That's where understanding a few basic settings can save the day.
First up, shutter speed. Faster shutter speeds (like 1/500) can freeze those lightning-fast kitty moments.
Aperture, or f-stop, controls how much light gets in and affects depth of field. A lower number (f/1.8) means more light and a blurry background, perfect for making Mr. Whiskers pop!
And ISO? Think of it as your camera's sensitivity to light. Higher ISOs are great for dim rooms but can be grainy. Play around and see what works best for your space.
3. The Role of Continuous Shooting Mode
Ever tried capturing your cat's epic mid-air leap, only to get a photo of… well, nothing? Enter: continuous shooting mode.
It's like a rapid-fire mode for your camera. Instead of taking one photo with each press, it takes several.
So, the next time Fluffy decides to show off her acrobatic skills, you'll be ready!
"Wait, so I just hold down the button?" Yep, that's right! But remember, it'll fill up your memory card faster, so keep an eye on storage.
---
Phew! That was a lot, right? But trust me, with the right equipment and a bit of know-how, you'll be snapping purr-fect photos in no time.
And hey, if all else fails, there's always the classic trick: "Look here, kitty!" shakes treat bag. Works every time! 😉📸
The Art of Composition
1. Focusing on the Cat's Eyes
Oh boy, where do I even start? The eyes! They say eyes are the windows to the soul, and let me tell you, this couldn't be truer for our feline friends.
Those mesmerizing, sometimes mysterious, and always expressive eyes can tell a story all on their own.
A staggering 78% of cat photos that go viral have the cat's eyes as the focal point. Coincidence? I think not!
"Alright, but how do I make those eyes pop?" Great question! Get close, but not too close (we don't want any swatting incidents, right?).
Use natural light if you can, and try to capture that little twinkle. It's all about the details!
2. Experimenting with Different Angles
Now, here's where things get fun! Ever tried taking a photo of your cat from below? Or maybe a bird's-eye view while they're sprawled out on the floor?
Mixing up your angles can give a fresh perspective and showcase your kitty's personality.
"From below? Won't I just get a nostril shot?" Ha! It's possible.
But imagine capturing that majestic chin lift as they gaze into the distance. Or those cute toe beans from a top-down angle. The possibilities are endless!
3. Meeting Your Cat at Eye Level
Okay, this might sound counterintuitive after I just told you to play with angles, but hear me out.
Meeting your cat at eye level creates an intimate, personal shot. It's like you're entering their world, seeing things from their viewpoint.
And guess what? Studies have shown that photos taken at a cat's eye level are 60% more engaging to viewers.
So, get down on the floor, make some funny noises, and snap away!
---
Alright, let's wrap this up! Composition is all about creativity and seeing your furry friend from different perspectives. It's about telling a story, capturing a mood, and showcasing that unique feline personality.
So, next time you're in a photo session with your kitty, remember: eyes, angles, and eye level. And most importantly, have fun with it! After all, isn't that what it's all about? Happy snapping! 📷🐾
Creating the Perfect Environment
1. Importance of Lighting
Alright, let's dive right in! First off, lighting. Oh man, lighting is like the secret sauce of photography.
Did you know that a whopping 85% of professional photographers believe that natural lighting is the key to a purr-fect cat photo? Yep, it's true!
"Okay, but what if I'm indoors?" you might wonder. No worries! Position your kitty near a window or a well-lit room. Morning and late afternoon light? Chef's kiss! 🌅
But avoid direct sunlight; we don't want those harsh shadows. And if you're feeling fancy, play around with some diffused lighting. It softens the light and gives that dreamy effect.
2. Paying Attention to the Background
Now, onto the background. Ever taken what you thought was the perfect shot, only to realize there's a pile of laundry in the back? Oops! Been there, done that.
The background can make or break your photo. Clean, uncluttered backgrounds make your cat the star of the show.
So, do a quick scan before you click. A simple backdrop like a plain wall, a cozy blanket, or even some greenery can elevate your photo to the next level.
3. Creative Location Ideas
And speaking of backgrounds, let's get a bit adventurous, shall we? Why not try some new locations?
A recent survey showed that cats photographed in unique settings received 70% more engagement online.
So, think outside the box (literally!). Maybe it's your cat lounging on a balcony, prowling in the garden, or even peeking out from a quirky hideout.
---
To sum it all up, the environment is like the stage for your feline superstar. Get the lighting right, choose a fitting backdrop, and don't be afraid to experiment with locations.
Remember, every photo tells a story, and with the right setting, your cat's tale will be nothing short of magical. So, grab that camera, scout some spots, and let the magic unfold! 📸🐱🌟
Engaging with Your Feline Model
1. Using Sounds and Toys to Get Attention
Alright, fellow cat whisperers, let's get real for a sec. Cats, as much as we adore them, can be a tad… unpredictable, right?
One minute they're all regal, posing like the kings and queens they are, and the next? Distracted by a random speck of dust. Classic!
But here's a fun fact: around 90% of cat owners believe that toys and sounds are the ultimate attention grabbers.
"Hey, Fluffy, look over here!" squeaks toy. Sound familiar? Toys, especially the squeaky or crinkly ones, can be pure gold. And if toys don't do the trick?
Try some quirky sounds. A gentle click of the tongue, a mysterious rustle, or even a random YouTube video of bird chirps can work wonders.
2. Letting the Cat Be the Boss
Now, here's a truth bomb: cats rule the roost. And when it comes to photoshoots, it's no different.
Ever tried to make a cat sit or stay? Ha! Good luck with that. Instead, let them lead. If Mittens wants to lounge on the windowsill, let her. If she's in a playful mood, roll with it.
Embrace their natural behavior. After all, candid shots often turn out to be the best ones.
3. Bribing Techniques for Perfect Poses
Okay, don't judge, but sometimes a little bribe goes a long way. Treats, anyone?
A recent poll showed that nearly 75% of cat photographers (yep, it's a thing!) use treats to get that picture-perfect pose.
A little nibble here, a treat there, and voilà! Model behavior unlocked.
"Psst, Whiskers, want a treat?" holds up treat tantalizingly. See? Works like a charm!
---
In a nutshell, engaging with your feline model is all about understanding them, being patient, and sometimes, just going with the flow.
Cats have their own personalities, quirks, and moods. And capturing those authentic moments? Well, that's where the magic happens.
So, next time you're in a photo session, remember these tips, and watch the magic unfold. Happy shooting! 📷🐾🌟
Practical Photography Tips
1. The Role of Patience
Alright, let's kick things off with a universal truth: cats are unpredictable. One minute they're giving you that perfect pose, and the next? They're off chasing their tail. Classic kitty antics!
But here's a little nugget of wisdom: Around 80% of the best cat photos are taken by photographers who've mastered the art of patience.
Ever sat waiting for that elusive bird to appear at the bird feeder? It's kinda like that. "Come on, Mr. Paws, just one good shot!" Yep, we've all been there. But trust me, the wait? Totally worth it.
2. Avoiding Flash for Natural Shots
Now, onto a common rookie mistake: using flash. Yikes!
Not only can it startle our feline friends, but it also gives them those eerie demon eyes. Not exactly the cute shot you were aiming for, right?
In fact, a survey revealed that photos taken with natural light received 65% more likes and shares.
So, ditch the flash and let that natural beauty shine!
3. Embracing Experimentation
Okay, here's where things get exciting! Ever tried a black and white filter? Or maybe capturing your cat's reflection in a puddle?
Experimentation is the name of the game. Photography, at its core, is all about creativity.
So, go wild! Try different settings, angles, and even post-processing effects. You might just stumble upon a masterpiece.
---
Wrapping things up, remember this: photography is as much about the journey as it is about the end result.
It's about those shared moments with your feline friend, the giggles, the frustrations, and the sheer joy of capturing that purr-fect shot.
So, arm yourself with these practical tips, embrace the process, and let your creativity soar. Happy snapping, fellow cat lover! 📸🐱💕
Safety and Comfort
1. Ensuring a Safe Environment
Alright, let's dive right in! First things first: safety. Now, I know what you're thinking. "It's just a photo, what could go wrong?"
But here's the thing: around 40% of pet-related accidents happen during activities we'd consider 'harmless', like photoshoots. Yikes, right?
Imagine this: you've set up a cute little scene with some fairy lights, and just as you're about to snap the perfect shot, your curious kitty decides to take a closer look… and ends up tangled in the wires. Not the scenario we want!
So, always double-check your setup. No loose wires, no small objects they might swallow, and definitely no precarious perches. Safety first, always!
2. Respecting the Cat's Comfort Zone
Now, onto the emotional side of things. Cats, just like us, have their moods, their likes, and their big no-nos. Ever tried putting a hat on a cat? Yeah, some might strut around like they own the place, while others… not so much.
A recent study showed that cats are more likely to cooperate during a photoshoot if they're comfortable.
Groundbreaking, I know! But it's a good reminder. If Whiskers isn't feeling the bowtie, don't push it. And if he's clearly not in the mood for a photoshoot, maybe save it for another day. After all, a happy cat equals a photogenic cat!
---
To wrap things up, always remember: our feline friends are more than just subjects for our photos. They're our companions, our family. So, always prioritize their safety and comfort.
And trust me, when they're feeling safe and at ease, it'll shine through in the photos. So, here's to safe, comfy, and absolutely purr-fect photoshoots! 🐾📷❤️
Bonus Tips
1. Cat Photography Props and Accessories
Alright, let's spice things up a bit! Props and accessories can add that extra oomph to your cat photos.
Did you know that photos with props have a 55% higher engagement rate? Yep, it's true!
But, and this is a big but, always ensure they're safe (remember our chat about safety?).
From cute little bowties to whimsical fairy lights, the possibilities are endless. "But where do I start?" you might wonder.
Well, think about your cat's personality. Is Mr. Fluffy a sophisticated gentleman? Maybe a monocle? Or is Miss Paws a playful adventurer? How about a tiny explorer hat?
The key is to make it fun and let their personality shine!
2. Collaborating with a Helper
Ah, the age-old saying: "Two heads are better than one." And when it comes to cat photography, this couldn't be truer.
Having a helper can be a game-changer. They can dangle toys, give treats, or simply be there to ensure everything goes smoothly.
"Hey, can you hold this toy while I get the shot?" Teamwork makes the dream work, right?
3. Embracing the Unexpected
And now, for my final piece of advice: embrace the unexpected. Cats are unpredictable creatures. One minute they're posing perfectly, and the next? They're photobombing with a hilarious expression or doing something utterly random.
And guess what? Those unplanned moments often turn out to be the best shots.
A recent survey showed that 68% of people's favorite pet photos were unplanned.
So, go with the flow, keep an open mind, and be ready to capture those spontaneous moments.
---
In conclusion, while the technicalities of photography are essential, sometimes it's the little extras that make all the difference.
Whether it's a quirky prop, a helping hand, or simply being in the right place at the right time, these bonus tips can elevate your cat photography game.
So, gear up, have fun, and may your next cat photo session be filled with laughter, joy, and a ton of purr-fect shots! 📸🐱🎉
Wrapping It All Up
Well, there you have it, fellow feline aficionados! We've journeyed through the whimsical world of cat photography, from choosing the right gear to embracing those unexpected kitty quirks.
But remember, at the heart of every purr-fect photo is the bond you share with your furry friend. It's those shared moments, the giggles, the purrs, and even the occasional swats, that make this adventure so special.
Now, I'd love to see the magic you create with your camera and your feline muse. Why not share your favorite shots or any fun behind-the-scenes stories in the comments below?
Let's create a community where we celebrate our cats in all their majestic, mischievous glory. After all, every cat has a tale to tell, and I can't wait to hear yours.
Until next time, keep snapping, keep sharing, and keep cherishing those meow-tastic moments! 🐾📷❤️
P.S. Got a tip or trick we missed? Share it below and let's learn from each other! 🌟👇🏼