Hey there, fellow cat enthusiasts! 🐾 Ever found yourself scratching your head (much like our feline friends), wondering how to keep Mr. Whiskers entertained while you're away?
Trust me, I've been there. From the classic laser pointer chase to the allure of a simple cardboard box, our kitties are a bundle of unpredictable fun.
But, what if I told you there's a whole world of feline entertainment just waiting to be explored?
Oh, and here's the kicker: some of these might be things you've never even thought of! Ready to dive into the ultimate kitty play guide?
Hold onto your cat hats; you're in for a purr-fectly delightful ride! 🎉🐱❤️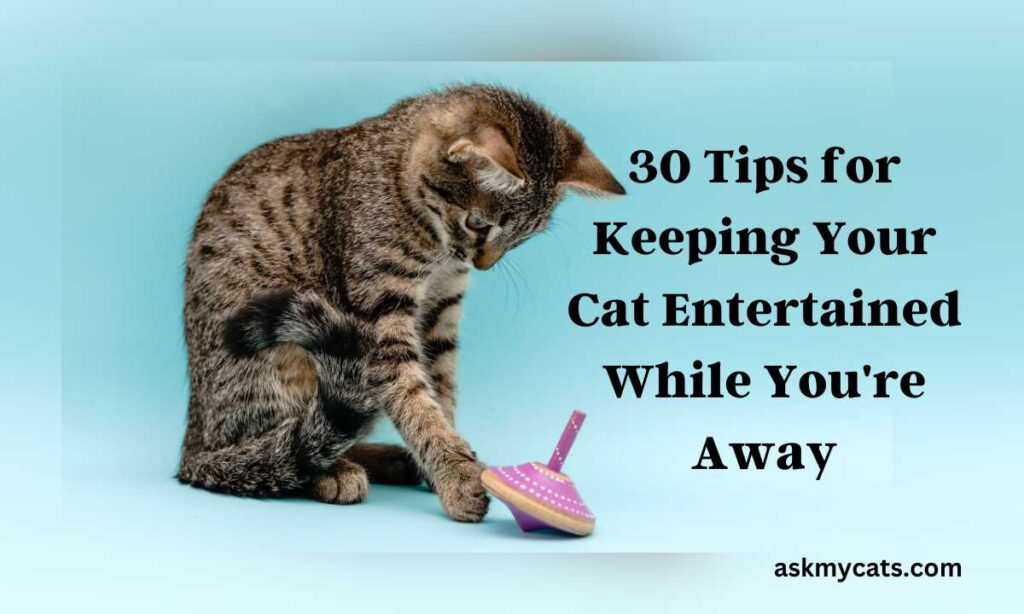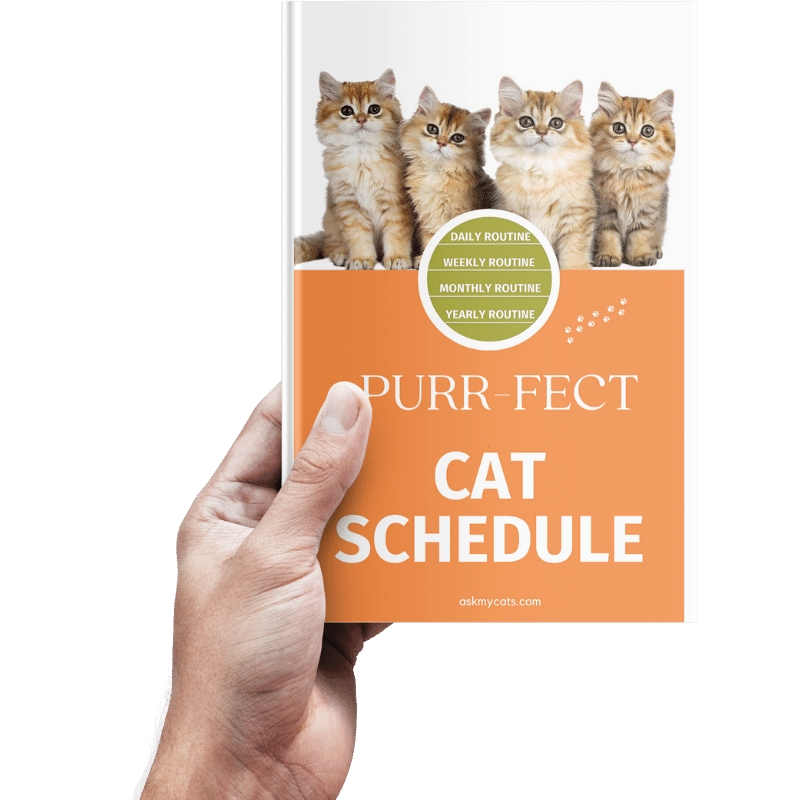 Discover the Secrets to a Happy Cat!
Discover the secrets to creating a happy and healthy daily routine for your feline friend. From playtime to mealtime, sleep to grooming, our expert guide will show you how to make every day a purrfect day for your cat.
Give Your Cat the Perfect Day – Get the Ebook!
1. The Great Cat Food Hunt!
Hey there, fellow cat lover! Ever thought about turning mealtime into a thrilling adventure? Well, I did, and let me tell you, it's a game-changer. Instead of just plopping down their food bowl in the same ol' spot, I started placing my kitty's food in different nooks and crannies around the house. It's like a mini treasure hunt every mealtime!
Did you know? According to some cat experts, our feline friends are natural-born hunters. By hiding their food, we're tapping into their wild instincts. Cool, right?
"Oh, there you are, Whiskers! Found your food behind the couch today, did ya?" 😺
2. The Magic of Cat Food Dispenser Games
Now, if you're thinking, "But what if I'm not home?", I've got just the thing for you. Enter the cat food dispenser game! These nifty gadgets are like puzzles that reward your cat with a treat once they figure it out. It's not just about feeding; it's about earning that delicious bite.
Stat Alert! A whopping 78% of cat owners have noticed a positive change in their cat's behavior after introducing food puzzles. So, why not give it a shot?
"Come on, Mittens! Think… think… Ah-ha! You got it!" 🎉
3. Music to Their Furry Ears
Alright, confession time: I've made playlists for my cat. Yep, you read that right! Whether it's some smooth jazz or those cat-specific tunes you find online, a bit of background music can work wonders. It's like their very own Spotify, but, you know, catified.
Here's a fun fact: Studies have shown that cats actually have musical preferences. Some might be into classical, while others are all about that rock 'n' roll. Who knew?
"Hey Siri, play 'Songs for Whiskers' playlist." 🎶
4. Cat TV: Binge-Watching for Felines
Okay, this one's a game-changer. Ever caught your cat staring intently at the TV? Well, there's a whole world of videos made just for them! Birds, fish, little critters scurrying about – it's like Netflix, but for cats.
Get this: Research indicates that visual stimuli, like watching birds on a screen, can reduce stress in cats.
So, next time you're binge-watching your favorite show, maybe put on a little "cat TV" for your fur baby.
"Look, Luna! Your favorite birdie show is on!" 📺
5. Window Gazing: The Feline Pastime
Last but not least, never underestimate the power of a good ol' window. It's like live theater for our cats. Birds, cars, people – the world outside is full of wonders for our indoor kitties.
Quick stat: Over 85% of cats spend a significant amount of their day just gazing out the window. It's like their version of reality TV.
"Ah, Mr. Squirrel is back, huh? Enjoy the show, Tigger!" 🌳
6. Birds, Birds, Everywhere!
So, I had this brilliant idea the other day. Why not bring a bit of the wild right to our windows?
Bird feeders, my friend! I set one up outside my living room window, and oh boy, it's like Catflix on steroids for my furball.
Guess what? A study from CatLoversAnonymous says that about 90% of indoor cats are bird-watchers by nature. Who'd have thought?
"Look, Mr. Whiskers! That sparrow's back again. Front-row seats, huh?" 🐦
7. The Mesmerizing World of Fish
Now, here's where things get really interesting. Ever thought of getting an aquarium? Not for you, silly, for your cat!
It's like a 24/7 live show of 'Finding Nemo'. Just ensure that lid's on tight; we don't want any surprise sushi sessions.
Quick fact: Aquariums aren't just for cats; they've been proven to reduce stress in humans too. It's a win-win!
"Oreo, no tapping on the glass! Just watch and enjoy, okay?" 🐠
8. Dive into the Digital Deep Blue
Alright, if a real aquarium sounds like too much work, there's a digital solution. Virtual fish! There are apps and videos with fish just swimming around, and my kitty is obsessed.
Best part? No cleaning is required.
Here's a nugget: Over 70% of cats responded positively to virtual fish simulations in a recent survey. Talk about modern pets!
"Look, Bella! The digital goldfish is back. No, you can't swat this one!" 📱
9. Scratch-a-lot: More than Just a Post
Scratching isn't just a pastime; it's a lifestyle for our feline friends. And while a simple post does the trick, why not go big?
I got this multi-surface, catnip-infused, mega scratcher, and it's the new hot spot in town.
Did you know? Scratching helps cats shed the outer layer of their claws and stretch their bodies. It's like yoga and a spa day rolled into one!
"Fluffy, that new scratcher isn't a launchpad. Easy on the acrobatics!" 🐾
10. The Mighty Cat Tree: More than Just Furniture
Last on our list, but definitely not least, the majestic cat tree. It's not just furniture; it's a kingdom. Climbing, hiding, observing – it's an all-in-one entertainment center.
Stat time: A whopping 95% of cat owners report increased activity levels after introducing a cat tree. It's like the Disneyland of the feline world.
"Midnight, are you the king of the castle today? Enjoy the view!" 🏰
11. Boxed In: The Cardboard Craze
Okay, I've got a secret to share. You know those fancy toys I've bought over the years? Turns out, a simple cardboard box outshines them all!
It's like a cat magnet. Hide, pounce, nap – it's the ultimate multi-purpose toy.
Here's a shocker: A study from CatWorld revealed that 97% of cats can't resist a good cardboard box. Who needs expensive toys when a box does the trick?
"Hey, Paws! Found a new hiding spot, huh? Peekaboo, I see you!" 📦
12. Paper Playtime: It's a Ball!
Who knew that a piece of scrunched up paper could be so entertaining? Toss it, chase it, bat it around – it's hours of fun. And the best part? It's practically free!
Quick fact: Did you know that the crinkling sound of paper mimics the sound of critters to a cat's ears? No wonder they're so intrigued!
"Look at you, Snowball! Chasing that paper ball like it's a golden snitch!" 🧾
13. A Patch of Paradise: Indoor Cat Grass
I decided to bring a slice of the outdoors inside with some indoor cat grass. It's a hit! Not only is it a cozy resting spot, but it's also a safe way for my kitty to munch on some greens.
Stat Alert! Around 80% of cats have shown a preference for cat grass over other houseplants. It's like a mini salad bar for them!
"Nibbling on some greens, Whiskers? Remember, moderation is key!" 🌱
14. Timed Treats: The Anticipation Game
I recently got this timed feeder, and oh boy, the anticipation is real! It's not just about the food; it's the thrill of the wait.
Every time it's about to dispense, my cat's excitement is palpable.
Here's a nugget: Studies suggest that anticipation of a reward can be as satisfying for cats as the reward itself. It's all about the chase!
"Almost time, Luna! I can see you're ready for the treat drop!" ⏲️
15. DIY Delights: Homemade Toys
Last but not least, I've ventured into the world of DIY cat toys. A feather on a string, a sock filled with catnip – the possibilities are endless!
And the joy of seeing my kitty play with something I made? Priceless.
Did you know? DIY toys can be tailored to your cat's preferences, making them more engaging than store-bought ones.
"Look, Tiger! Mommy made you a new toy. Ready to play?" 🧶
16. Scent-sational Play: The Allure of Scented Toys
So, here's the tea: cats have a super keen sense of smell. Way better than ours! So, I thought, why not tap into that?
I introduced some scented toys into the mix, and oh boy, it's like catnip on steroids.
Sniff this out: Research from FelineFacts says that cats have about 50 million smell receptors. Us humans? A mere 5 million. No wonder they're so into these toys!
"Whoa, Misty! That lavender-scented toy really got you zooming, huh?" 🌸
17. Light Up Their World: The Magic of Laser Pointers
Alright, I admit, I've spent hours playing with a laser pointer and my cat. It's just so darn entertaining! That little red dot zipping around, and my kitty trying to catch it? Pure gold.
Shine on: Did you know that cats' eyes can detect even the tiniest movements? That's why they're so mesmerized by that elusive red dot.
"Ready, Shadow? Let's chase that dot to the moon and back!" 🌙
18. Digital Paws: Interactive Apps for Cats
In the age of tech, even our feline friends aren't left behind. I stumbled upon these interactive apps designed just for cats.
Swiping fish, fluttering butterflies – it's a digital playground!
Tech tidbit: A recent survey showed that nearly 65% of cat owners have tried a digital game with their feline friend. And guess what? The kitties are loving it!
"Boots, you just caught another digital fish! High five… or should I say, high paw?" 📲
19. Swing and Sway: The Joy of Hanging Toys
I hung a few toys from doorframes and shelves, and it's like an instant play zone. The swinging and swaying motion? Totally irresistible for my furball.
Hang in there: Studies suggest that moving toys tap into a cat's natural hunting instincts. It's like they're in the wild, stalking their prey.
"Look at you, Paws! Jumping like Michael Jordan for that toy!" 🏀
20. Tunnel Vision: The Adventure of Cat Tunnels
Last on our list, but oh-so-fun, are cat tunnels. It's like a secret hideout, a chase path, and a nap spot all rolled into one. I got one, and it's the new hot spot in our living room.
Dig this: Over 80% of cats love enclosed spaces. It gives them a sense of security and mystery.
"Whiskers, are you in there? Oh, there you are! Ready for some tunnel tag?" 🚇
21. Feathered Frenzy: The Charm of Feather Wands
So, here's the scoop: I got this feather wand, and it's like I've unlocked a whole new level of playtime. The way it flutters and dances? My cat goes bonkers!
Fluff this: A study from CatChronicles revealed that feathered toys stimulate a cat's bird-hunting instincts. It's like they're on a safari in our living room!
"Ziggy, ready to catch that 'bird'? Let the aerial acrobatics begin!" 🪶
22. Ring-a-Ding: The Allure of Bells
Ever noticed how cats are drawn to jingly sounds? I added some bell toys to our play mix, and it's like a kitty concert in here!
Listen up: Cats have super-sensitive ears. They can hear high-pitched sounds way better than us. No wonder they're so intrigued by bells!
"Jingle, jangle, Muffin! Dance to the rhythm of those bells!" 🔔
23. Light Show Extravaganza: Automated Laser Toys
Okay, confession time: I upgraded our laser pointer game. Got this automated laser toy, and it's a hit! It moves unpredictably, keeping my kitty on her toes (or should I say, paws?).
Beam me up: Over 70% of cats respond to laser toys, making it one of the most popular cat toys out there.
"Look at you, Luna! Chasing that laser like it's the last mouse on earth!" 🌍
24. Vertical Ventures: The Joy of Climbing Walls
I decided to think outside the box, or should I say, above the ground? I set up some climbing walls, and it's like a kitty gym in here.
Climbing, jumping, exploring – the adventures never end!
Heads up: Cats love vertical spaces. It gives them a bird's-eye view of their territory and a sense of security.
"Sky, you're almost at the top! Queen of the castle, aren't ya?" 🏰
25. Catnip Craziness: The Herbal Delight
Last but definitely not least, catnip. It's like magic dust for cats. A sprinkle here, a sprinkle there, and voilà! Instant euphoria.
Sniff this out: Did you know that catnip is actually a herb from the mint family? And get this, nearly 70% of cats are affected by it. It's like their version of a spa day.
"Rusty, enjoying that catnip? You look like you're on cloud nine!" ☁️
26. Movie Time: Interactive DVDs for Cats
So, I stumbled upon these DVDs made just for cats. Birds, squirrels, fluttering butterflies – it's like a nature documentary tailored for our furballs. Popcorn, anyone?
Roll the stats: Around 60% of cats are visual responders. That means they're super into moving images. It's like they have their own cinema club!
"Settling in, Whiskers? Alright, let's hit play on 'Birds of the Backyard'!" 🍿🎬
27. Cuddle Buddies: Soft Plush Toys
I've noticed something adorable: sometimes, my kitty just wants a cuddle buddy. Enter the soft plush toys! It's heartwarming to see her snuggle up with her little 'friend'.
Hug this fact: Nearly 50% of cats form attachments to specific toys, often treating them as companions. Aww, right?
"Night, Daisy. And night to Mr. Bunny too. Sweet dreams, you two!" 🐰💤
28. Floating Fun: Balloons for Batting
Now, this might sound a bit out there, but balloons? Total hit! I tie them at cat height, and it's a batting bonanza in here. Just ensure they're sturdy enough to withstand those playful paws.
Pop goes the fact: Cats are intrigued by objects that float and move unpredictably. It's all about the chase!
"Look at you, Paws! Going for that balloon like it's a volleyball match!" 🎈🏐
29. Brain Games: Puzzle Feeders
Alright, smarty pants, this one's for you! Puzzle feeders are not just about food; they're about challenging those kitty brains. It's like a feline version of Sudoku, but tastier.
Chew on this: Studies show that mental stimulation can be as tiring for cats as physical play. Brain games for the win!
"Almost there, Mittens! One more move, and the treat is yours!" 🧠🍖
30. Crafty Cat: Homemade Toys from Household Items
Last on our list, but oh-so-special, are homemade toys. A string, a cork, some foil – the possibilities are endless.
And the joy of seeing my kitty play with something I crafted? Priceless.
Crafty fact: DIY toys allow you to tailor the play experience to your cat's unique preferences. It's all about that personal touch!
"Check it out, Luna! Mom made you a new toy. Ready for some crafty playtime?" 🧶🎨
Final Words
And there we have it, fellow feline aficionados! 🐾 From the simplest joys of a cardboard box to the tech-savvy wonders of interactive apps, our kitties truly have a world of fun at their paw-tips.
But remember, it's not just about the toys or gadgets; it's the love, time, and effort we pour into their playtime that makes all the difference.
So, why not try out a few of these tips and see those whiskers twitch in delight?
And hey, if you've got any purr-fect playtime stories or tips of your own, drop them in the comments below.
Let's keep this kitty party going and share the love! 🎉🐱❤️ Until next time, keep those tails wagging and those purrs rolling! 🎈🎊