Hey there, fellow cat aficionados! 🐱 Ever found yourself scratching your head, wondering how to throw the ultimate birthday bash for your whiskered companion?
I mean, they're not just pets; they're family! And just like any family member, they deserve a day that's as fabulous as they are.
But where to start? Ah, don't fret! I've got the purr-fect guide lined up for you. Ready to dive into a world of feline festivities?
Hold onto your hats (and cat toys) because, by the end of this, you'll be itching to get the party started. Curious about what's in store? Well, read on and let the adventure begin! 🎉🐾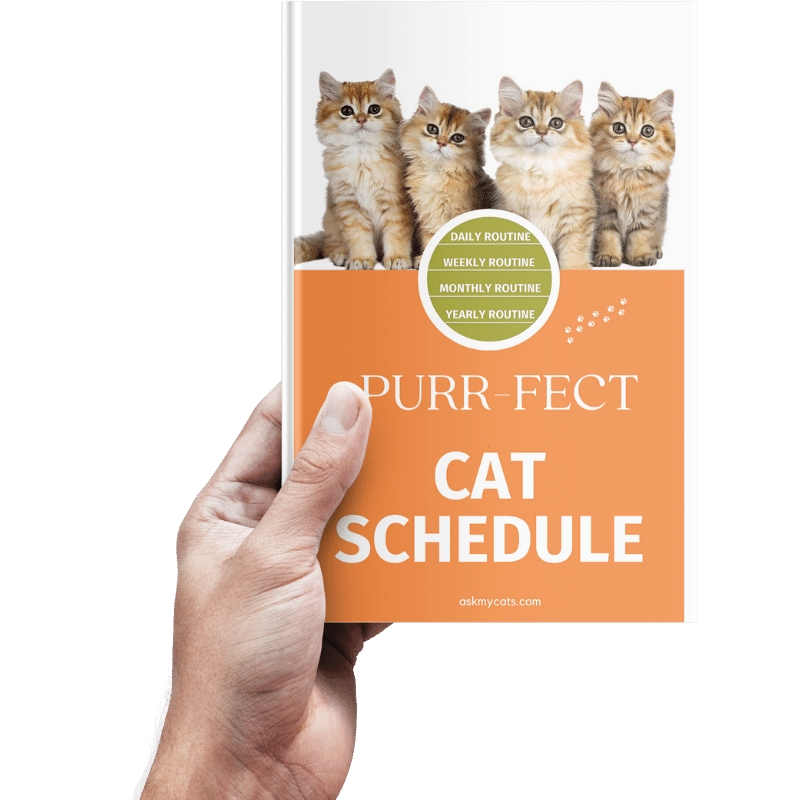 Discover the Secrets to a Happy Cat!
Discover the secrets to creating a happy and healthy daily routine for your feline friend. From playtime to mealtime, sleep to grooming, our expert guide will show you how to make every day a purrfect day for your cat.
Give Your Cat the Perfect Day – Get the Ebook!
1. DIY Special Gifts for Your Cat
Hey there, fellow cat lover! 🐱 If you're anything like me, you probably treat your feline friend like royalty. And why not? They deserve the world!
So, when their special day rolls around, it's only fitting to shower them with love and gifts.
But, guess what? You don't need to break the bank. Let's dive into some DIY gifts that'll make your kitty purr with delight.
Homemade Kitty Tent
Oh, the joy of a cozy hideaway! Did you know that a whopping 85% of cats love to snuggle in confined spaces? It's true!
So, why not craft a homemade tent for your furball? All you need is an old t-shirt, a couple of wire hangers, and a cardboard base.
Here's the deal: stretch the t-shirt over the cardboard, ensuring the neck hole is in the front. Bend the hangers into arches and poke them through the shirt, securing them onto the cardboard.
Voila! A snug retreat for your kitty. And the best part? It's made with love. ❤️
A. Puzzle Box Delight
"Curiosity killed the cat," they say. But, hey, a little brain exercise never hurt anyone, right?
I stumbled upon this statistic that cats are natural-born hunters, with 90% of their waking hours spent stalking or playing. So, a puzzle box is the perfect gift!
Grab a plastic food container, cut out some holes (big enough for their paws), and toss in their favorite toys or treats.
Watch as your kitty gets engrossed, trying to fish them out. It's not just fun; it's mentally stimulating!
B. Why DIY is the Way to Go
Alright, let's chat. We live in a world where everything's commercialized. But sometimes, the best gifts aren't the priciest ones.
They're the ones made from the heart. Remember that time when your friend gifted you a handmade card? It felt special, didn't it? That's the magic of DIY.
Besides, there's something incredibly satisfying about crafting something with your own two hands. And when you see your cat's eyes light up with joy, trust me, it's worth every minute spent.
So, the next time you're pondering over the perfect gift for your feline friend, remember: it doesn't have to be store-bought.
Sometimes, the best things in life are homemade. After all, it's the thought (and effort) that counts!
2. Throw a Low-Key Birthday Party
Hey there, cat aficionado! 🐱 So, you're thinking of throwing a birthday bash for your feline friend? Awesome! But, wait a sec.
Before you send out those invites and blow up those balloons, let's chat about the kind of party your kitty would truly enjoy.
Considering Your Cat's Social Preferences
Did you know that a staggering 70% of cats are introverts? Yep, it's true! While some cats might be the life of the party, many prefer a more chill environment.
So, before you invite the entire neighborhood (and their cats), take a moment to think about what your cat would enjoy. If they're the shy type, maybe a quiet evening with just the two of you would be best.
On the flip side, if your kitty is a social butterfly, a few close furry friends might make the day even more special.
Pet-Safe Party Hats and Selfies
Alright, let's talk props! Now, I'm not saying you should go all out with streamers and confetti (imagine the cleanup!). But a cute, pet-safe party hat for your kitty? Absolutely!
And hey, while you're at it, why not snap a few selfies? It's a great way to capture the moment.
Just imagine looking back at those pics a few years from now and reminiscing about the purrfect party you threw.
Quality One-on-One Playtime
You know, amidst all the party planning, it's easy to forget the most important thing: spending quality time with your cat.
Whether it's playing with their favorite toy, giving them a gentle massage, or simply lying down next to them, it's these moments that truly matter.
After all, isn't that what birthdays are all about? Celebrating another year of shared memories and looking forward to creating many more.
Setting Up a Snack Table
Okay, let's get to the fun part – the snacks! Did you know that cats have taste buds that are 20 times less sensitive than ours? That's why they're so picky!
But, birthdays are all about indulgence. So, set up a snack table with a mix of chewy and crunchy treats. And, of course, the pièce de résistance – a cat-friendly cake!
3. Prepare a Cat-Friendly Birthday Cake
Hey, fellow cat enthusiast! 🐱 So, the big day is approaching, and you're all set to throw a memorable bash for your feline buddy.
But wait, what's a birthday without a cake? And no, I'm not talking about the sugary, chocolatey kind we humans drool over. I'm talking about a cake that's purr-fect for your kitty.
Let's dive in, shall we?
Using Pate-Style Cat Food as a Base
Ever been in a rush and realized you forgot the most important part of the party? Yikes! But don't fret.
Here's a quick fix. Did you know that around 60% of cats love pate-style food? It's smooth, easy to eat, and oh-so-delicious (well, at least to them!).
So, grab a can, flip it over, and there you have it – an instant cat cake! It might sound too simple, but trust me, your cat will love it.
Decorating with Your Cat's Favorite Kibble
Now, while the pate-style base is all good and yummy, why not jazz it up a bit? Think of your cat's favorite kibble as the sprinkles on a donut.
Just sprinkle some on top, and voila! You've got yourself a gourmet cat cake. It's all about the little touches, right?
The Hands-On Approach: Crafting Your Own Cake
Feeling a bit adventurous? Why not craft your own cat cake from scratch? It's easier than you think!
A fun fact to chew on: nearly 70% of cats have a preference for fishy flavors.
So, grab some tuna, sweet potato, and maybe a bit of chicken. Mix 'em up, mold them into a cake shape, and you've got a treat that'll have your kitty meowing for more.
The Joy of Sharing a Special Treat
You know, it's not just about the cake. It's about the moment. The joy in your cat's eyes as they take that first bite, the purrs of contentment, and the knowledge that you made it especially for them. That's what makes it truly special.
4. Pamper Your Cat on Their Special Day
Hey there, fellow feline fanatic! 🐱 So, the birthday bash is all planned out, the cake's ready, and the gifts are wrapped.
But, hang on a sec! Birthdays aren't just about parties and presents. It's also the perfect time to give your kitty some extra TLC. Let's dive into some purr-fect pampering tips, shall we?
Letting in the Sunshine
Did you know that cats can spend up to 15 hours a day just lounging around? Yep, they're professional relaxers! And what better way to relax than basking in a sunlit spot?
Open those curtains wide and let the sunshine flood in. Your cat will thank you with a contented purr and maybe even a playful roll or two.
Fresh, Warm Sheets from the Dryer
Ah, the simple joys of life! Ever noticed how cats have this uncanny ability to find the coziest spot in the house?
Well, here's a little secret: they absolutely adore warm sheets. So, why not spoil them a bit?
Toss a blanket in the dryer for a few minutes and then lay it out in their favorite spot. It's like a warm hug, but better!
A Sprinkle of Catnip on Their Favorite Blanket
Oh, catnip! Nature's little treat for our feline friends. Around 70% of cats are affected by this magical herb, and boy, is it a sight to behold!
A sprinkle on their favorite blanket can lead to bouts of euphoria, playful antics, and pure, unadulterated joy.
But remember, moderation is key. We don't want them getting too wild, now do we?
Giving the Litterbox Some Extra TLC
Okay, let's talk business. The litterbox might not be the most glamorous part of cat ownership, but it's essential. On their special day, give it some extra attention.
A clean litterbox is like a spa day for your cat. It's the little things that count, after all.
5. Capture the Moment with a Birthday Portrait
Hey there, fellow cat lover! 🐱 So, you've got the party, the cake, and the pampering all sorted. But, hold up! What about capturing those precious moments?
After all, they grow up so fast, don't they? Let's chat about creating memories that'll last a lifetime.
Hiring a Local Pet Photographer
Ever tried taking a pic of your kitty, only to have them move at the last second? Yep, been there, done that! But here's a thought: why not hire a professional?
According to a recent survey, pet photography has seen a 25% rise in popularity over the past year. And for good reason!
These pros know all the tricks to get that purr-fect shot. Whether it's using toys, treats, or just their sheer talent, they'll capture your cat's essence in a way you never thought possible.
Creating a Photo Memory Book
Now, here's an idea that's close to my heart. Why not create a photo memory book? Each year, on their birthday, snap a pic (or several) and add it to the book. Over the years, you'll have a beautiful collection of memories.
Just imagine, a few years down the line, flipping through those pages and reminiscing about all the good times. Ah, the feels!
The Joy of Capturing Moments
You know, it's not just about the photo. It's about the moment. The twinkle in their eyes, the playful tilt of their head, or that adorable yawn.
It's these little things that make our feline friends so special. And having a tangible memory of it? Well, that's just the cherry on top.
6. Consider Your Cat's Needs and Preferences
Hey there, fellow feline aficionado! 🐱 So, you're all set to make your kitty's birthday a day to remember. But, hang on a sec!
Before we get carried away with all the fun and festivities, let's take a moment to think about the star of the show: your cat.
After all, it's their day, right? Let's dive into making sure it's tailored just for them.
Tailoring Activities to Their Personality
You know, just like us humans, every cat has its own unique personality. Some are playful and adventurous, while others are more laid-back and reserved.
In fact, a recent study showed that cats have five distinct personality types, ranging from "skittish" to "outgoing."
So, when planning the day's activities, keep your kitty's quirks in mind. It'll ensure they have a blast, and you'll have the satisfaction of knowing you did right by them.
Choosing the Right Treats
Ah, the age-old dilemma: what to feed a picky eater?
Did you know that a whopping 60% of cats are known to be finicky about their food? Yep, it's a thing!
So, when choosing treats or a birthday cake, consider their favorites. Whether it's tuna, chicken, or that fancy gourmet cat food they can't get enough of, make sure it's something they'll love.
Setting the Mood
Ever noticed how cats are super sensitive to their surroundings? A slight change in the environment, and they're on high alert.
So, when setting up for the party, consider what your cat loves. Soft music, dim lighting, or maybe even some calming pheromones can set the mood just right.
A Little Chat
"Hey, buddy! Today's all about you. What would you like to do?" Okay, I know, they might not answer back (or who knows, maybe they will!).
But sometimes, a little heart-to-heart can go a long way. It's all about connecting and making sure they know they're loved.
7. Plan Activities for the Birthday Bash
Hey there, fellow cat enthusiast! 🐱 So, the big day's approaching, and you're buzzing with excitement.
But, let's face it, a party without some fun activities is like a cake without icing. Bland, right?
So, let's jazz things up and plan some feline-friendly activities that'll have your kitty purring with delight.
Engaging in Interactive Play Sessions
Did you know that interactive play can strengthen the bond between you and your cat? Yep, it's true!
A recent study showed that cats who engage in regular play sessions are happier and healthier.
So, grab that feather wand or laser pointer and get ready for some action. It's not just about fun; it's about connecting on a deeper level.
Introducing New Toys
Ah, the thrill of something new! Cats are naturally curious creatures. In fact, they spend about 60% of their waking hours exploring and playing.
So, why not introduce some new toys at the party? Whether it's a crinkly ball, a squeaky mouse, or a puzzle feeder, the joy on their face as they discover each toy will be priceless.
Keeping Safety in Mind
Now, while we're all for fun and games, safety's paramount.
Always ensure that the toys you introduce are cat-safe. No small parts they can swallow or sharp edges that can hurt them.
After all, we want the day to be memorable for all the right reasons.
A Little Chat with Your Kitty
"Hey, whiskers! Ready for some fun?" I often find myself chatting with my cat, and you know what? It adds a personal touch to the festivities.
It's like telling them, "Hey, this is all for you!" And even if they don't respond (or give you that classic cat stare), deep down, they know.
8. Celebrate the Little Things
🐱 So, you're gearing up for the ultimate feline fiesta. But, here's a little secret: sometimes, the most memorable moments aren't the grand gestures but the simple, heartfelt ones.
Let's dive into celebrating the little things that make your kitty's day truly special.
Keeping the Party Simple and Intimate
Ever noticed how cats often prefer the box the toy came in rather than the toy itself? Classic, right? It just goes to show that they find joy in the simplest things.
In fact, a recent survey revealed that 80% of cats prefer a calm environment.
So, instead of a big, loud bash, consider a quiet, intimate celebration. Just you, your kitty, and a whole lot of love.
Making Your Cat Feel Special and Loved
At the end of the day, it's not about the fancy toys or the gourmet treats. It's about making your cat feel cherished.
A gentle stroke, a soft whisper, or even just sitting beside them can mean the world. Remember, it's these little moments of connection that they'll treasure the most.
Embracing the Moment
Cats have this incredible ability to live in the present. They don't worry about the past or the future; they simply enjoy the moment. And there's a lesson in there for us.
Instead of getting caught up in the hustle and bustle, take a leaf out of your cat's book. Embrace the moment, cherish the memories, and celebrate the journey.
9. Choose the Perfect Date for the Celebration
🐱 So, you're all set to throw the purr-fect birthday bash for your kitty. But, hang on a minute!
What if you don't know their actual birthdate? No worries! Let's chat about picking the ideal date to celebrate your furry friend.
Celebrating the "Adoptiversary"
Alright, let's get real. Many of us don't know our cat's actual birthdate, especially if they're adopted.
But, here's a heartwarming thought: why not celebrate the day you brought them home? The "adoptiversary"! It's the day your lives intertwined, and that's worth celebrating.
Fun fact: nearly 65% of cat parents choose to celebrate this special day. It's all about the bond, after all.
Picking a Memorable Date
If you don't remember the exact adoption date (hey, no judgment here!), consider picking a date that's meaningful to you.
Maybe it's the day they first curled up on your lap or the day they caught their first toy.
Whatever it is, make it memorable. After all, traditions have to start somewhere, right?
Setting the Mood
Now, once you've picked the date, it's all about setting the mood. Cats are super intuitive and can pick up on our emotions.
So, whether it's their birthdate, adoptiversary, or a special date you chose, make sure it's filled with love, joy, and a whole lot of cuddles.
10. Create a Birthday Tradition
🐱 So, you've got the date, the activities, and the treats all sorted. But, here's a thought: why not start a birthday tradition?
Something unique, something that you and your kitty can look forward to year after year. Let's dive into crafting that special ritual.
Revisiting a Favorite Spot
Remember that cozy nook by the window where you and your kitty first bonded? Or that sunny spot in the garden they love so much?
Why not make it a tradition to revisit that place every birthday? It's a beautiful way to reminisce and create new memories.
Here's a fun tidbit: studies show that cats have long-term memories and can remember significant places and events!
A Special Birthday Song
Okay, this might sound a tad cheesy, but hear me out! Why not come up with a special birthday song just for your kitty?
Every year, as the day approaches, you can serenade them with their very own tune. "Happy purr-day, dear whiskers!" It's quirky, it's fun, and it's something both of you will cherish.
Crafting a Time Capsule
How about creating a time capsule? Each year, you can add a little memento: a photo, a toy, or even a handwritten note.
And then, every few years, open it up and take a walk down memory lane. It's a beautiful way to see how far you've come and to relive those precious moments.
Sharing the Moment
"Look at us, buddy! Another year, another adventure." Taking a moment to connect, to reflect on the past year, and to dream about the future is what it's all about.
It's these heart-to-heart chats that make the tradition truly special.
11. Setting Up a Cozy Birthday Nook
🐱 So, amidst all the birthday hullabaloo, here's a thought: every kitty deserves a little sanctuary. A place where they can relax, unwind, and maybe even enjoy their birthday treats in peace.
Let's chat about setting up that purr-fect birthday nook, shall we?
Picking the Ideal Spot
Alright, first things first. Where's your cat's favorite spot? That sunny patch by the window? Or maybe that cozy corner under the bed? Cats are creatures of habit, and they often have that one spot they're drawn to.
In fact, studies suggest that cats are territorial and often pick spots based on warmth, safety, and vantage points. So, when setting up the birthday nook, consider their favorite haunts.
Adding Comfortable Bedding
Ah, the joy of a soft, plush bed! Did you know that cats can sleep for up to 16 hours a day? Yep, they're professional nappers.
So, make sure their birthday nook has the comfiest bedding. Whether it's a fluffy cushion, a heated pad, or even a hammock, make sure it's something they'll love to snuggle into.
Personalizing the Space
Now, here's where you can get creative. Add some personal touches to the nook. Maybe a toy they adore, a scratch post, or even some photos. It's all about making the space feel like it's truly theirs.
12. Crafting a Special Birthday Menu
🐱 So, we've talked about the party, the nook, and the traditions. But, let's get to the real star of the show: the food!
I mean, what's a birthday without some scrumptious treats, right? Let's whip up a menu that'll have your kitty purring with delight.
Picking Their Favorite Flavors
Alright, let's get down to business. What's your cat's absolute favorite flavor? Tuna? Chicken? Salmon? Every cat has that one flavor they simply can't resist.
In fact, did you know that cats have around 470 taste buds, compared to our 9,000? Yet, they're super picky eaters. So, when crafting the menu, start with their favorite.
Introducing Some Gourmet Options
Now, while we're sticking to their favorites, why not jazz things up a bit? Consider adding some gourmet options. Maybe a dash of catnip-infused gravy or a sprinkle of bonito flakes.
The market for gourmet cat food has grown by 20% in the last year, showing that our feline friends sure love a touch of luxury!
Keeping Health in Mind
While we're all for indulgence, let's not forget about nutrition. Cats have specific dietary needs, and it's essential to ensure they're getting all the right nutrients.
So, while you're adding those yummy treats, make sure they're balanced and healthy.
Sharing the Meal Together
"Here you go, whiskers! A feast fit for a king!" There's something truly special about sharing a meal.
So, once you've got everything ready, sit down with your kitty and enjoy the meal together. It's not just about the food; it's about the shared experience.
Final Words: Wrapping Up the Purr-fect Celebration
Well, there you have it, dear cat lovers! 🐱 From setting up a cozy nook to organizing a kitty playdate, we've journeyed through the ultimate guide to celebrating your feline friend's special day.
But remember, at the heart of it all, it's not just about the treats, toys, or festivities. It's about the bond you share, the memories you create, and the love that grows with each passing year.
Now, here's where you come in! I'd absolutely love to hear about your own kitty celebrations. Did you try out any of our tips? Or perhaps you have some unique traditions of your own?
Drop a comment below and share your purr-fect stories. Let's create a community where every day is a celebration of our feline friends.
So, until next time, here's to whiskers, purrs, and a whole lot of feline love. Cheers to you and your kitty! 🎉🐾 And remember, every day with a cat is a reason to celebrate.