Hey there, fellow cat enthusiasts! Ever find yourself staring at your feline friend, wondering what on Earth is going through their furry little head? Oh, I've been there—a lot.
From their midnight zoomies to that judgmental stare when you're five minutes late with dinner, cats are a delightful enigma. And boy, do they keep us on our toes!
But amidst all the quirks and purrs, there are some universal thoughts every cat owner has had. Curious?
Well, let's just say, if you've ever pondered the mysteries of the cat universe, you're in for a treat. Dive in, and let's unravel these feline conundrums together! 🐱💭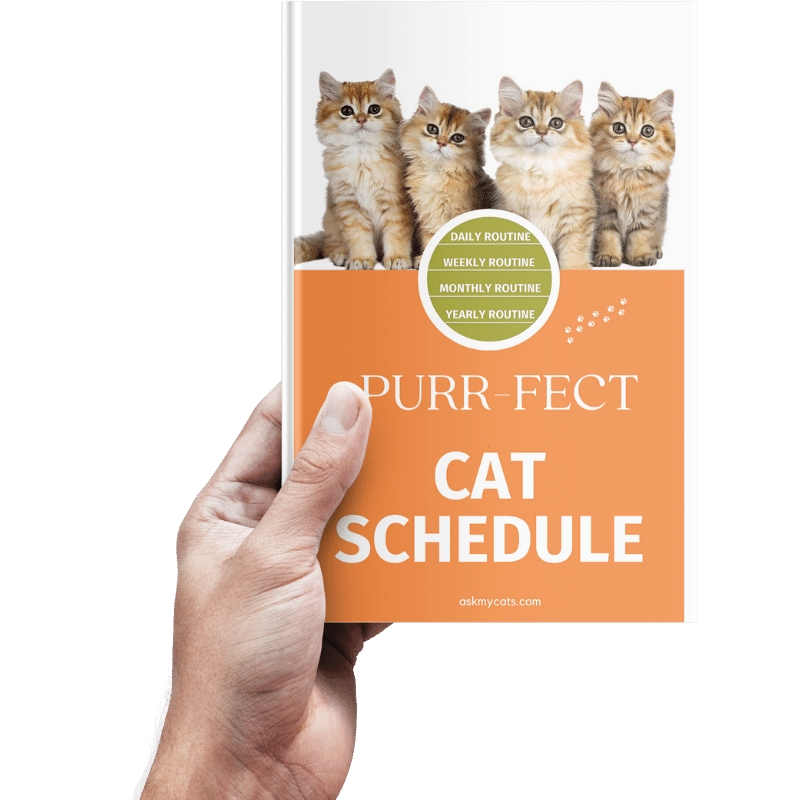 Discover the Secrets to a Happy Cat!
Discover the secrets to creating a happy and healthy daily routine for your feline friend. From playtime to mealtime, sleep to grooming, our expert guide will show you how to make every day a purrfect day for your cat.
Give Your Cat the Perfect Day – Get the Ebook!
1. Ever wonder what's going on inside your cat's head?
Oh, the number of times I've stared deep into those feline eyes, trying to decipher the enigma that is my cat's mind.
One moment they're purring, the next they're darting across the room like a bolt of lightning. What could possibly be so urgent?
Maybe they've just remembered an important cat meeting, or perhaps they're late for their 3 PM wall-stare. It's a mystery.
But, hey, that's part of the charm, right? Their unpredictable antics keep life interesting.
2. What sneaky move do they have up their sleeve now?
Ah, the classic cat sneak attack. You know, when they're crouched down, eyes dilated, tail twitching, ready to pounce. And then… BAM! They leap onto that unsuspecting toy (or sometimes, my foot).
It's like they're always plotting their next mischievous move. And let's not even talk about the middle-of-the-night "stealth" missions. Who knew a creature so small could make so much noise?
3. What did I do to deserve this quirky love?
Every cat owner has had that moment. You know, when your feline friend decides to grace you with their presence, curling up next to you and purring away.
It's in those moments, amidst the gentle rumble of contentment, that I wonder: "What did I do to deserve this?" It's a love that's unique, sometimes aloof, but always genuine.
4. It's their world; we're just living in it.
Honestly, I've come to accept it. My cat runs the show. From dictating feeding times (who needs an alarm when you have a cat?) to deciding the best spot on the bed (usually right in the middle), it's clear who's in charge. And, honestly? I wouldn't have it any other way.
5. What did my cat just do? And why?
Ah, the age-old questions. Like when they suddenly decide that the corner of the room is the most fascinating thing ever. Or when they bring you a "gift" (usually something they've hunted). It's a mix of gratitude and confusion.
But, as they say, it's the thought that counts, right?
6. Is my cat plotting to murder me in my sleep?
Okay, I say this in jest (mostly). But those moments when you wake up to find your cat staring intently at you, it's hard not to wonder. It's probably just love… right? Or maybe they're just plotting their next breakfast. Either way, it's a good thing they're so darn cute.
7. Why is my cat so dramatic?
From the exaggerated yawns to the overly theatrical stretches, cats are the divas of the animal kingdom. Not to mention the melodramatic reactions to the slightest change in their environment. Moved their litter box two inches to the left? Oh, the horror!
But, deep down, I think they just love being the center of attention.
8. Who's the real lord of the house?
Let's be real. Any pretense of control I thought I had went out the window the day my cat came into my life. They've got that regal air about them, strutting around like they own the place. And, well, they kind of do. All hail the feline overlords!
9. Cats are like little devils with their mischievous antics.
From knocking things off shelves to "accidentally" getting stuck in places they shouldn't be, cats are the masters of mischief. It's like they have a little devilish glint in their eyes, always looking for the next bit of trouble to get into.
But, despite the occasional chaos, life would be so dull without them.
10. Why is my cat giving me the silent treatment now?
You know those moments when your cat just… ignores you? Like you don't even exist? Maybe I didn't give them the right flavor of cat food, or perhaps I dared to move while they were napping on my lap. Whatever the reason, the silent treatment is real.
But, like all things with cats, it's just a phase. Before you know it, they'll be back to their loving, purring selves.
11. Why are you on my face?
Waking up with a cat on your face is, well, an experience. It's like they think the most comfortable spot in the entire house is right on your nose. Maybe it's their way of saying "Good morning!" or perhaps it's a gentle reminder that breakfast is due.
Either way, it's a furry, purry alarm clock that you can't hit snooze on.
12. I wonder if you actually think the TV is a threat.
Every time there's a bird or another animal on the screen, my cat goes into full-on hunter mode. Paws batting at the screen, tail twitching, the whole shebang. It's hilarious and puzzling.
Do they think they can actually catch that pixelated bird? Or is it just a fun game? The world may never know.
13. Why is your belly so much softer than the rest of you?
Ah, the irresistible allure of the cat belly. So soft, so fluffy, so… treacherous. It's like a trap. They roll over, exposing that glorious belly, and the moment you give in to temptation and try to pet it, it's game over.
But, oh, for those few seconds of softness, it's totally worth the playful swat that follows.
14. How can you be hungry, you just ate.
The food bowl is half full, and yet, the way they meow, you'd think they haven't been fed in days. And when you do feed them? They take two bites and walk away.
It's like they just want to keep us on our toes, always guessing, always serving. The life of a cat servant is never dull.
15. Aw, you're batting at my face… wait, where have those paws been?
It's a mix of "Aww, that's so cute!" and "Eww, I hope those paws are clean." Because, let's face it, those adorable little feet have been in some questionable places. But then they look up at you with those big, innocent eyes, and all is forgiven. Until the next time.
16. Why do you smell like popcorn?
It's one of the great mysteries of the universe. They haven't been anywhere near popcorn, and yet, sometimes they just… smell like it. Is it a secret cat perfume? A special gland? Or maybe they've been sneaking snacks when we're not looking.
Whatever it is, it's oddly comforting.
17. No, stop licking me.
Cat kisses are sweet, but oh boy, that tongue! It's like being licked by sandpaper. And they always choose the most random times to shower you with affection.
Middle of an important Zoom call? Perfect time for a cat bath. Trying to sleep? Even better. But, deep down, it's kind of endearing. Kind of.
18. Seriously there is no way you make that fridge-jump this time.
Cats seem to think they're part superhero. That fridge looks impossibly high, and yet, they're determined. You can see the calculations in their eyes, measuring distance, wind speed, tail trajectory.
And then, against all odds, they make the leap. And stick the landing. 10/10.
19. You look lonely, should I get you a friend?
It's a thought that crosses every cat owner's mind. Would they be happier with a buddy? But then, the logistics kick in. What if they don't get along? What if they team up and overthrow the human overlords? It's a gamble. But the thought of double the purrs is oh so tempting.
20. Why are your paws like little hammers?
Those tiny paws can pack a punch. Especially at 3 AM when they decide it's playtime, and your face is the playground. Or when they're "making biscuits" on your lap. It's a mix of pain and pleasure. But, looking down at those toe beans, it's hard to stay mad for long.
Absolutely! Let's continue our journey into the whimsical world of cat thoughts.
21. Food is the ultimate way to a cat's heart.
Ever tried getting your cat's attention without a treat in hand? Good luck with that! The moment I crack open a can or shake that treat bag, it's like I've summoned a furry little genie. Suddenly, I'm the most interesting person in the room.
Forget toys or fancy catnip—just dangle a piece of chicken, and you're the cat whisperer. It's their kryptonite. Honestly, if I got half the love from them daily as I do during feeding time, I'd be on cloud nine.
But hey, a cat's gotta have their priorities, right? Food first, human second. Classic cat logic!
22. Why are you wailing, nothing is happening?
The sudden, unexplained yowls. You know the ones. Everything's quiet, and then out of nowhere, your cat decides it's time for a solo performance.
Is it a call to their feline ancestors? A lament about an empty food bowl? Or maybe they're just practicing for Cat Idol. Whatever it is, it's both amusing and slightly eerie.
23. I am literally living in a house of fur, with fur drapes and fur carpet.
No matter how often I vacuum, it's everywhere. On the couch, on my clothes, in my coffee. I've come to accept that I'll never truly be fur-free again.
But then, as I'm pulling yet another cat hair out of my mouth, I catch my cat's judgmental stare, as if to say, "You're welcome." And, honestly, it's a small price to pay for all the love and joy they bring.
24. What's wrong with the water in your water bowl?
Freshly poured, right from the tap, and yet they turn their nose up at it. But let me leave a glass of water on the table?
Suddenly, it's the most delicious drink they've ever tasted. Or the toilet bowl. Why the toilet bowl? It's one of those feline quirks I've stopped trying to understand.
25. How do you tuck your paws so neatly underneath your body like that?
It's like they've taken a masterclass in "Elegant Sitting." Those neatly tucked paws, the straight tail, the regal posture. It's a pose that screams, "I'm the boss here." And they're not wrong. It's a level of poise and grace I can only aspire to.
26. Do something cute, I want you to be famous.
Every cat owner's secret wish. With every quirky tilt of their head or playful chase of their tail, I can't help but think, "This is it.
This is the moment they become an internet sensation." But then, as if sensing my ulterior motives, they stop and give me that look. You know the one. "Nice try, human."
27. You live under the bed. What's under there?
It's like a secret cat clubhouse. Every time I try to peek, they dart out, guarding the entrance to their secret lair. Toys, socks, that earring I lost months ago – I'm convinced it's all under there. One day, I'll discover the treasures hidden beneath. One day.
28. This movie is pretty lonely, I wish you would jump on my lap.
There's something comforting about a purring cat on your lap during movie night. But sometimes, they play hard to get.
Sitting just out of reach, casting occasional glances, making you wish they'd join you. And just when you've given up hope, they grace you with their presence. Perfect timing.
29. Seriously why do you claw me when you're happy?
It's a love-hate relationship. One moment they're purring away, nuzzling into your hand, and the next, out come the claws. It's like their way of saying, "I love you, but remember who's in charge." A gentle reminder of the wild creature that lies beneath that cute exterior.
30. How is it possible to sleep so much?
I've often envied my cat's ability to nap anywhere, anytime. The back of the couch, the windowsill, that one spot of sunlight on the carpet. It's like they have a built-in sleep radar.
And as I sip my third coffee of the day, trying to keep my eyes open, I can't help but wish I had their superpower.
Final Words: Let's Paws and Reflect
Well, there you have it, fellow feline aficionados—a whirlwind tour through the wonderfully wacky world of cat thoughts.
If you've nodded along, laughed out loud, or had a "been there, felt that" moment, then congrats! You're officially part of the "Cats Own My Heart (and Probably My Sofa)" club.
But hey, this isn't just about my musings. I bet your furball has given you some memorable moments too. So, why not share? Drop a comment below with the quirkiest, funniest, or most heartwarming thought you've had as a cat parent.
Let's keep the cat-tastic conversation going. After all, in the world of cats, there's always another adventure (or misadventure) just around the corner! 🐾