Hey there, fellow cat enthusiasts! Ever wondered what's going on in that mysterious mind of your feline friend?
I mean, one minute they're chasing their tail, and the next, they're giving you that deep, contemplative look.
Cats, with their enigmatic ways, have always been a source of fascination. And trust me, there's more to them than meets the eye.
Dive into this article, and let's unravel some surprising things your cat knows about you. Ready for some whiskered wisdom? Let's pounce right in!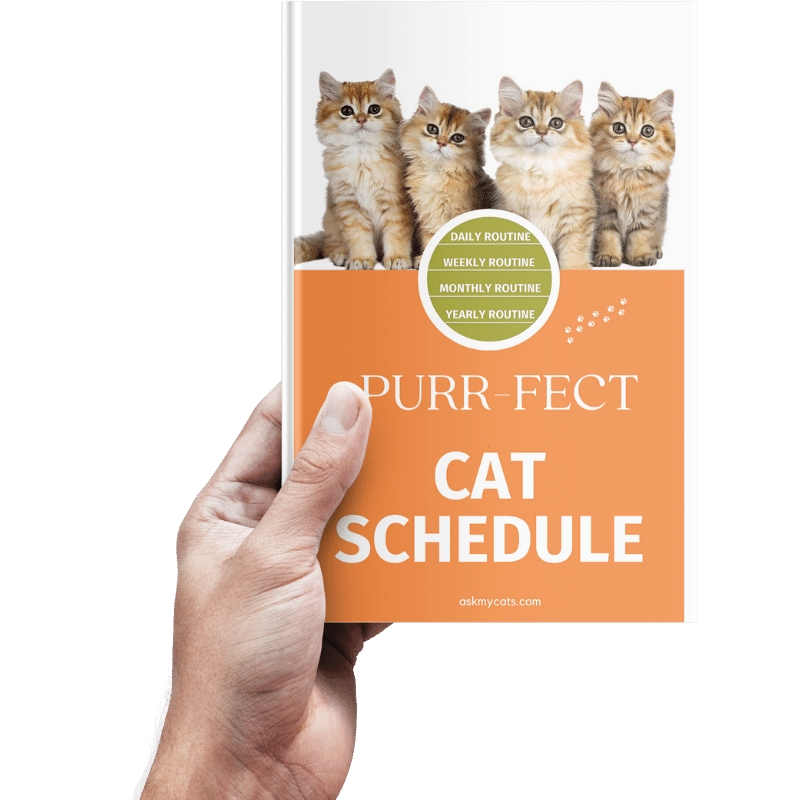 Discover the Secrets to a Happy Cat!
Discover the secrets to creating a happy and healthy daily routine for your feline friend. From playtime to mealtime, sleep to grooming, our expert guide will show you how to make every day a purrfect day for your cat.
Give Your Cat the Perfect Day – Get the Ebook!
1. Comforting You in Distress
Oh, man! Ever had one of those days where everything just seems to go wrong? You're down in the dumps, and who's the first one to notice? Yep, it's Mr. Whiskers.
Cats, believe it or not, have this uncanny ability to sense when we're feeling blue. It's like they have this built-in emotional radar.
And what do they do? They don't just sit there. No, sir! They come over, nuzzle up close, and start purring away.
It's as if they're saying, "Hey, it's okay. I'm here for you." That gentle purr? It's not just a sound; it's a feline hug, a soothing lullaby that melts away the blues.
2. Stress and Anxiety Reduction
"Ugh, what a day!" Ever uttered those words after a particularly taxing day at work? Well, guess what? Your cat's got your back!
There's actual science behind this. When you pet or cuddle your cat, your body releases this cool hormone called oxytocin.
Think of it as nature's chill pill. It helps you relax and pushes that stress right out the window. And the best part? It's a two-way street! Your cat feels the love too.
So, the next time you're feeling the weight of the world on your shoulders, just remember: a cat cuddle a day keeps the stress away!
3. Warm Welcome
"Hey there, human! Missed me?" That's probably what your cat's thinking when you walk through the door. That meow isn't just a random sound; it's their way of saying, "Welcome back! The castle wasn't the same without you."
Cats have this adorable habit of greeting us when we come home. It's their little ritual, their way of showing they care.
And let's be honest, after a long day, isn't it just heartwarming to know someone's been waiting for you?
4. Therapeutic Healing
Alright, this one's gonna blow your mind! Did you know that a cat's purr has some therapeutic magic? No kidding!
When your cat purrs, they produce vibrations at frequencies known to be medically therapeutic. We're talking benefits for bones, pain relief, and even healing wounds. It's like having a little furry doctor at home!
So, the next time you're feeling a bit under the weather or nursing that annoying sprain, just snuggle up with your kitty. Who knew healing could be so purr-fect?
5. Bonding Through Grooming
"Hey, you've got something on your face. Let me get that for you." Ever had your cat suddenly start licking you?
It's not just because they think you're dirty (well, maybe a little). When cats groom you, it's their way of bonding. They're sharing their scent, marking you as part of their tribe. It's like they're saying, "You're one of us now."
And let's face it, being part of the cool cats club? Totally awesome!
6. Empathy During Illness
Oh boy, remember that time you caught the flu and felt like a train wreck? Who was right there by your side, giving you those concerned kitty eyes? Yep, your furball! Cats have this wild ability to pick up on our physical ailments.
It's like they're tiny, furry nurses, minus the scrubs. "Feeling under the weather, huh? Don't worry, I've got you," they seem to whisper as they curl up next to you. Their warmth, their purring, it's all a part of their healing package.
So, the next time you're feeling a bit off, remember you've got a personal feline medic on call!
7. Nighttime Guardians
Ever woken up in the middle of the night to find your cat staring intently at the door or window? No, they're not plotting world domination (or maybe they are, who knows?). They're actually on guard duty!
Cats are naturally nocturnal, and their heightened senses make them excellent watch-cats. "Heard a noise? I'm on it!" they seem to say. It's comforting, isn't it?
Knowing that while you're lost in dreamland, there's a little sentinel ensuring you're safe and sound.
8. Natural Pest Controllers
Okay, let's face it. Nobody likes uninvited guests, especially if they're of the creepy-crawly variety. But guess who's got your back? Your cat!
These little furballs are born hunters. Mice, bugs, you name it, they're on the case. "Hey, human! Look what I caught for you," they might proudly proclaim, presenting their catch. Sure, it might be a bit… icky, but it's their way of contributing to the household.
So, before you consider calling pest control, remember you've got a natural exterminator right at home!
9. Health and Longevity
Here's a fun fact: Cat owners tend to live longer! Crazy, right? But it's true. Having a cat around does wonders for our health.
From lowering blood pressure to boosting our immune system, these creatures are like a health tonic without the bitter taste. "Another day, another health benefit," they might smirk, flicking their tail.
And honestly, with all the love and joy they bring, it's no wonder they add years to our lives.
10. Enhancing Sleep Quality
Ever had one of those nights where sleep seems elusive? Tossing, turning, counting sheep… and then, in comes your cat, hopping onto the bed and snuggling right next to you.
Before you know it, you're drifting off into a peaceful slumber. There's something incredibly soothing about having a cat by your side at night.
Their rhythmic purring, their warmth, it's like a natural sleep aid. "Sweet dreams, human," they might murmur as you both drift off. And just like that, bedtime becomes a whole lot better.
11. Companionship and Emotional Support
Ah, loneliness. It's a tough cookie, isn't it? But guess who's always there to break that cookie with you? Your feline friend!
Cats, with their quirky antics and endless cuddles, are like a balm for the soul. Ever had a rough day and just needed someone to vent to? Your cat's all ears! "Tell me all about it," they seem to say, giving you that knowing look.
They might not offer advice (or maybe they do, in their own mysterious ways), but their mere presence is enough to lift your spirits. It's like having a fluffy therapist on speed dial!
12. Unique Expressions of Affection
Okay, let's chat about those… erm, 'gifts' our cats sometimes bring us. A mouse, a bird, or maybe a bug. Yikes!
But here's the thing: in their eyes, it's a token of love. "Look what I got for you!" they might chirp, looking oh-so-proud. It's their way of taking care of us, just like we take care of them.
So, while it might be a tad gross, it's also incredibly sweet. Who knew love could come in such… unique packages?
13. Guardians of the Young
Ever noticed how cats seem extra curious around babies? It's not just feline curiosity; it's their protective instinct kicking in. "Who's this tiny human?" they wonder, sniffing around.
And before you know it, they're standing guard, watching over the newest member of the family. It's as if they've taken on the role of the baby's personal bodyguard.
"Don't worry, little one. I've got your back," they seem to whisper. And just like that, the bond between cat and child begins.
14. Allergy Protection
Alright, this one's a game-changer. Growing up with cats can actually reduce the risk of allergies. Mind-blowing, right? It's like nature's way of saying, "Hey, more reasons to love cats!"
Early exposure to our feline buddies can work wonders for a child's immune system. And it's not just about pet allergies; it can protect against other common allergens too.
So, the next time someone says they're allergic to cats, just hit them with this fun fact!
15. Teaching Responsibility
Now, here's a life lesson wrapped in fur. Owning a cat isn't just about cuddles and playtime; it's a lesson in responsibility.
"Feed me, clean my litter, play with me," they demand. And as we cater to their needs, we learn the value of care and commitment.
It's like a crash course in adulting, courtesy of our feline professors. "See? I'm helping you grow," they might purr, looking all smug. And honestly, they're not wrong!
Wrapping It Up: The Feline Phenomenon
So there you have it, folks! Our feline friends aren't just cute, cuddly furballs; they're complex creatures with a myriad of ways to enrich our lives.
From being our emotional anchors to teaching us life's valuable lessons, cats truly are the unsung heroes of our daily lives.
But what about you? Ever noticed any quirky habits or surprising behaviors in your kitty? Drop a comment and share your purr-fect tales with us. After all, every cat has its story, and we're all ears!