Hey there, fellow cat lovers! Ever found yourself chuckling at your feline's latest antics or scratching your head in utter bewilderment? Oh, the joys of cat parenthood!
From their aversion to water (seriously, why?) to their midnight zoomies, our whiskered companions never cease to amaze, amuse, and, well, sometimes even annoy.
But let's be honest, life would be a tad bit dull without their quirky ways, right? So, buckle up and get ready for a purr-fectly amusing journey.
Ever wondered what tops the list of things our kitties can't stand? Well, you're about to find out! 🐱💕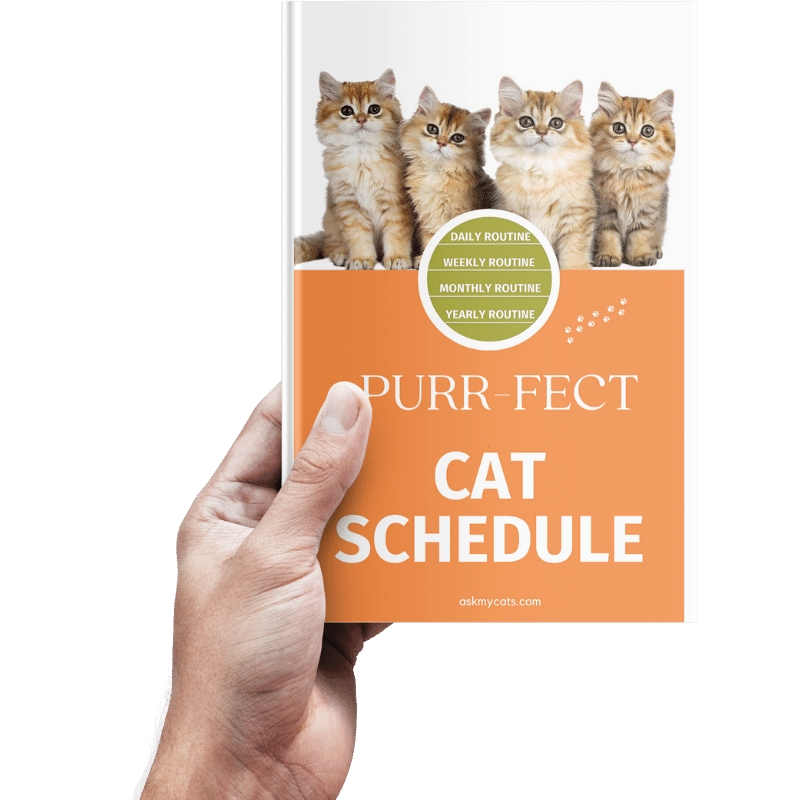 Discover the Secrets to a Happy Cat!
Discover the secrets to creating a happy and healthy daily routine for your feline friend. From playtime to mealtime, sleep to grooming, our expert guide will show you how to make every day a purrfect day for your cat.
Give Your Cat the Perfect Day – Get the Ebook!
1. Water
Oh boy, where do I even start with this one? My kitty, Whiskers, treats water like it's some kind of alien substance. I mean, I get it.
Cats are not naturally inclined to love water. Their fur doesn't dry as quickly as some other animals, making them feel heavy and uncomfortable.
Every time I've tried giving Whiskers a bath, it's like World War III in my bathroom. Water splashing everywhere, me trying to calm him down, and him looking at me with those big, betrayed eyes. It's a scene!
But hey, at least I've learned to keep the toilet lid down now. One accidental dip was enough to teach me that lesson!
2. Loud Noises
Fireworks, thunderstorms, or even just an unexpected doorbell can send Whiskers darting under the bed. It's like he has this sixth sense for loud noises.
I've noticed that cats, in general, have a heightened sense of hearing, which makes them super sensitive to loud sounds. It's not just about the noise being startling; it's about it being genuinely uncomfortable for their delicate ears.
I've tried creating safe spaces for him, like a cozy corner with his favorite blanket, so he has somewhere to retreat when the world gets too noisy.
3. Being Picked Up
I'll admit, I'm guilty of occasionally scooping up Whiskers for a cuddle, even when he's clearly not in the mood. But can you blame me? He's so fluffy!
However, I've come to realize that not all cats are fans of being picked up. It's not just about the act itself but the way it's done. Cats are all about feeling secure. If they feel like they're not being held firmly or safely, they can get anxious.
I've been trying to read his cues better and only pick him up when he's feeling relaxed and receptive.
4. Medication
Ah, the dreaded medicine time. I swear, Whiskers can sense when it's coming. Those tiny pills or that not-so-tasty liquid can be a challenge to administer.
I've tried all the tricks – hiding it in his food, using special pill pockets, even getting flavored medicine. But he's too smart for all that. It's like he has a built-in radar for anything medicinal. I've learned the hard way that forcing it can be traumatic for both of us.
So, I've been working with my vet to find more palatable options and techniques to make medicine time less of a battle.
5. Direct Eye Contact
This one was a surprise to me. I always thought making eye contact was a way of connecting, of showing Whiskers I love him.
But for cats, prolonged direct eye contact can be perceived as a threat. It's like you're challenging them. I noticed that every time I'd stare into his eyes, he'd get fidgety and look away.
It's not about avoiding eye contact altogether but about doing it in a non-threatening way. Slow blinking, for instance, is like a kitty kiss. It's their way of showing trust and affection.
So, I've been practicing my slow blinks, and I think Whiskers is warming up to them!
6. Riding in Cars
So, here's the thing: road trips with Whiskers? Not the dreamy, windows-down, wind-in-your-hair kind of experience I imagined.
The first time I took him for a ride, I thought he'd enjoy the scenery. Boy, was I wrong! The poor guy was meowing non-stop, pacing around in his carrier. I later learned that the motion and unfamiliar environment can be super unsettling for many cats.
Now, I make sure to keep his carrier cozy with his favorite blanket and a toy. And for longer rides? A quick chat with the vet ensures he's as comfortable as can be.
7. Cat Carriers
Speaking of carriers, oh my goodness, the drama! Just the sight of it and Whiskers is off, hiding under the bed or behind the couch.
I think he associates it with those dreaded vet visits or the aforementioned car rides. I've tried to make it a more positive experience for him.
Leaving it out in the living room with a comfy cushion inside, occasionally sneaking in a treat or two. The idea is to make him see it's not all bad. It's a work in progress, but we're getting there!
8. Strong Smells
I remember this one time I tried a new air freshener. A lovely lavender scent, very calming, or so I thought.
Whiskers, however, was not a fan. He was sneezing and seemed a bit agitated. That's when I realized that cats have a much stronger sense of smell than we do. What's pleasant for us can be overpowering for them.
Since then, I've been cautious about using strong scents, especially around his favorite spots.
9. Tummy Rubs
Okay, confession time: I can't resist that fluffy belly! But Whiskers? He's not always on board with my impromptu belly rub sessions.
I've learned that the tummy is a vulnerable spot for cats. While some might enjoy a gentle rub, others can feel threatened. It's all about reading his mood.
If he's sprawled out, purring, and looking relaxed, I might risk a quick pat. But if he's alert and twitchy? Best to admire from a distance.
10. Interrupted Sleep
We all hate being woken up from a deep sleep, right? Turns out, cats are no different. I used to think it was cute to wake Whiskers up with a little nose boop. But I noticed he'd be groggy and a bit grumpy afterward.
Cats sleep a lot, but their sleep cycles are different from ours. Disturbing them can throw off their rhythm.
Now, I let him enjoy his catnaps in peace. And honestly, watching him sleep, all curled up and peaceful, is one of my favorite pastimes.
11. Having Their Tails Held
So, I had this quirky habit of gently holding Whiskers' tail when he'd walk by. I thought it was our little game.
But one day, I noticed him flinch. That's when it hit me: maybe he's not as into this "game" as I thought.
The tail is an extension of a cat's spine, and holding it can be uncomfortable, even if done gently. It's also a vital tool for their balance and communication.
Now, I stick to just admiring its graceful movement from a distance. No more tail-holding for me!
12. Interacting with Strangers
I love having friends over, and I always imagined Whiskers would be the life of the party, charming all my guests.
Reality check: not quite. The first few times, he'd hide or watch warily from a distance.
Cats are territorial creatures, and new people can be a source of stress. I've since set up a cozy retreat for him, complete with his favorite toys and treats. If he chooses to mingle, great! If not, he has his safe space.
13. Change in their environment
Remember that time I decided to rearrange my entire living room? Yeah, Whiskers was not a fan. I found him pacing, looking a bit lost.
Cats are creatures of habit. They take comfort in familiarity. A sudden change, like moving furniture or introducing new items, can be unsettling for them.
I've learned to make changes gradually, giving him time to adjust and explore at his own pace.
14. Babies and Big Life Changes
When my niece was born, I was over the moon! I couldn't wait for Whiskers to meet her. But their first meeting? Let's just say it was… interesting.
Whiskers was curious but also a bit wary of this tiny, noisy human. Babies bring about big changes – new sounds, smells, and routines. It can be overwhelming for our feline pals.
I made sure to give Whiskers extra attention, reassuring him that he's still my number one. Over time, he's warmed up to her, and now they're the best of buds!
15. Certain Textures
Ever tried that trick of putting aluminum foil on the counter to keep your cat off? I did. And it worked! Whiskers absolutely detested the feel of it under his paws.
Cats have sensitive paws, and certain textures can be off-putting for them. Whether it's sticky tape, rough surfaces, or even certain fabrics, it's fascinating to see their reactions.
It's a reminder that their world is so much more tactile than ours.
16. Unfamiliar Animals
So, I had this brilliant idea once: "Whiskers needs a buddy!" I brought home a chirpy little parrot, thinking they'd be fast friends. Spoiler alert: they weren't.
Whiskers was on high alert, eyes wide, ears back. It dawned on me that introducing unfamiliar animals, especially without a proper introduction, can be super stressful for cats. They're territorial by nature, and a new animal can be seen as an intruder.
Now, if I ever think of expanding our little family, I'll be sure to do it slowly, ensuring Whiskers feels safe and secure.
17. Being Left Alone
I remember the first time I had to leave Whiskers alone overnight. I came back to find a toppled plant, a few scattered toys, and a very sulky cat.
It hit me then: cats might be independent, but they don't like being left alone for too long. They can get lonely, bored, or anxious.
Now, whenever I'm away, I ensure he has plenty of toys, maybe a treat-dispensing puzzle, and a comfy spot by the window to watch the world go by. And of course, a hearty cuddle session when I return!
18. Wearing Clothes
So, I stumbled upon this adorable little sweater online and thought, "Whiskers would look so cute in this!" Fast forward to trying to get him into it, and let's just say it was an experience.
Whiskers looked at me like I'd betrayed him. I realized that while some cats might tolerate or even enjoy a little fashion moment, many others, like my Whiskers, find it restrictive and uncomfortable.
It's essential to ensure that any clothing doesn't hinder their movement or overheat them. For now, I think I'll stick to snapping up those cute outfits for stuffed animals instead!
19. Boredom
I always thought cats were low-maintenance pets. You know, they sleep all day, do their own thing. But one day, I came home to find my toilet paper shredded, and Whiskers had this mischievous glint in his eyes.
That's when it hit me: cats get bored too! They need mental and physical stimulation. Interactive toys, puzzle feeders, and even just a simple cardboard box can make a world of difference. It's all about keeping their curious minds engaged and active.
20. Insufficient Litter Boxes
I learned this the hard way. I thought one litter box was enough. But then I noticed Whiskers occasionally doing his business outside of it.
After a bit of research and a chat with the vet, I realized that cats prefer having options. Especially if there's more than one cat in the house, having multiple litter boxes can prevent territorial disputes and ensure they always have a clean spot to go.
It's a bit more work on the cleaning front, but seeing Whiskers content makes it all worth it.
Final Words: Share Your Whiskered Tales!
And there you have it, folks! A rollercoaster ride through the quirks, whims, and undeniable charm of our feline friends. From the great water aversion to the mysterious allure of cardboard boxes, every cat owner has their treasure trove of tales.
But here's the thing: our journey with our cats is as unique as they are. So, why keep those stories to ourselves?
Drop a comment below, share your hilarious, heartwarming, or even hair-raising stories of life with your kitty. Did your cat ever give you that "really, human?" look? Or maybe they surprised you with their unexpected antics?
Let's create a community where every meow, purr, and playful pounce is celebrated. After all, in the world of cats, there's never a dull moment! 🐾