Hey there, fellow cat enthusiasts! 🐱 Ever wondered what's going on in that mysterious, furry little head of your feline friend?
Why they're obsessed with that cardboard box or why they can't resist the allure of running water? Well, you're in for a treat!
Dive into this purr-fect guide, and let's unravel the enigma that is… the domestic cat. Ready to embark on this whiskered adventure? Trust me; you won't want to miss what's coming next!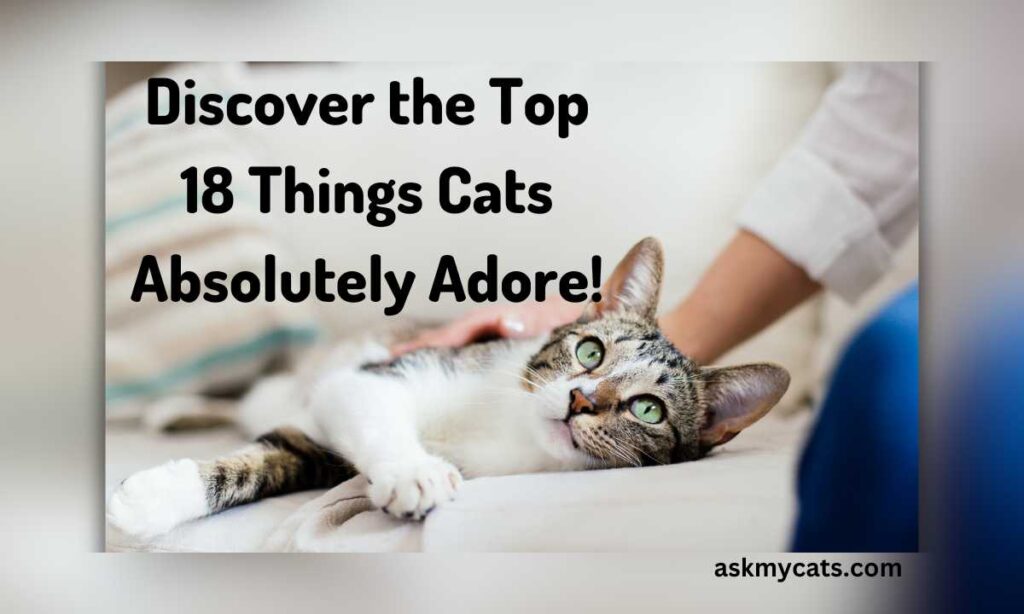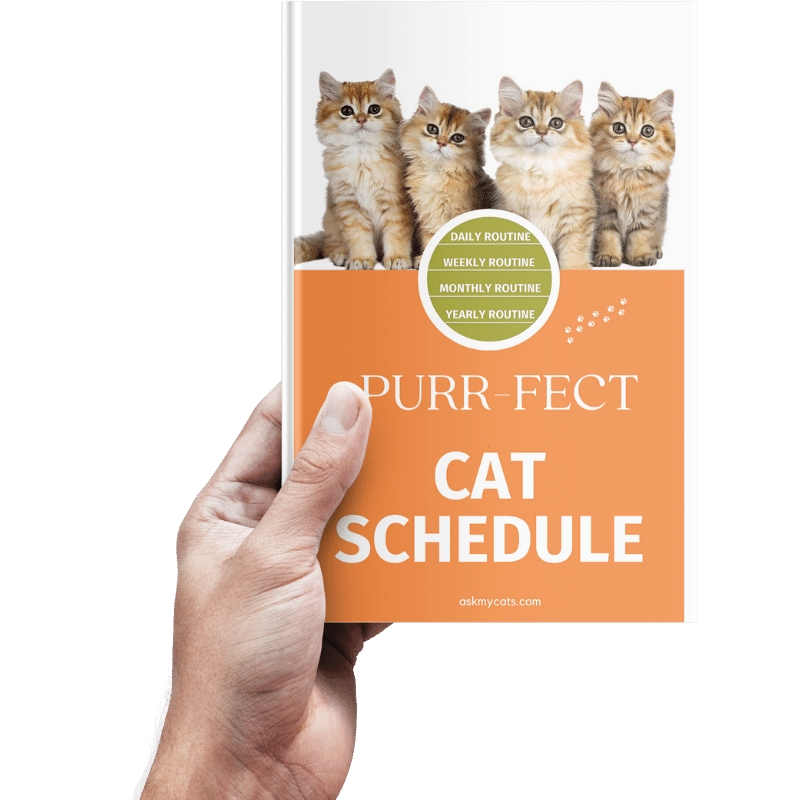 Discover the Secrets to a Happy Cat!
Discover the secrets to creating a happy and healthy daily routine for your feline friend. From playtime to mealtime, sleep to grooming, our expert guide will show you how to make every day a purrfect day for your cat.
Give Your Cat the Perfect Day – Get the Ebook!
1. Hunting and Play
Oh, boy! If there's one thing I've noticed about my whiskered buddy, it's that the thrill of the chase is everything. You see, deep down, every house cat is a wild lion at heart.
Toss a feathered toy or a laser pointer their way, and bam! They're off, pouncing, leaping, and darting around like they're on the African savannah.
It's not just about fun, though. This play mimics their natural hunting instincts.
So, next time you see your kitty stalking that toy mouse, remember – it's not just play; it's practice.
2. Environmental Enrichment and Sensory Stimulation
"Variety is the spice of life," they say, and trust me, our feline friends couldn't agree more.
Ever noticed how your cat's ears perk up when a new scent wafts their way? Or how they're utterly captivated by a rustling sound? That's because cats crave sensory stimulation.
From the soft touch of a breeze to the tickling sensation of grass under their paws, every new experience is an adventure.
And don't even get me started on cat trees and shelves. It's like Disneyland for them! So, if you want a happy kitty, keep things fresh and exciting.
3. Sleeping and Sunbathing
Ah, the life of a cat. Snoozing for hours, stretching out in that perfect sunbeam… sounds dreamy, right? Well, for our feline pals, it's a reality.
Cats are masters of relaxation. I mean, who else can find the one sunny spot in the house and claim it as their own personal sunbathing zone?
And let's be real, there's nothing quite like curling up for a nap after a long play session. It's the cat's way of recharging and getting ready for the next adventure. So, if you ever envy your cat's nap schedule, just remember – they've earned it!
4. Scratching
"Hey! Not the couch!" How many times have we yelled that, huh? But here's the thing: scratching isn't just a fun pastime for cats; it's a necessity. Those sharp little claws? They need maintenance.
And that's where scratching comes in. It helps them shed old claw layers, mark their territory (those paws have scent glands!), and get a good stretch in.
So, instead of getting frustrated, maybe it's time to invest in a scratching post or two. Trust me, your furniture (and your cat) will thank you.
5. Companionship with Humans and Feline Friends
Oh, the joys of companionship! You know, there's this myth that cats are these solitary, aloof creatures. But let me spill the beans: it's not entirely true.
Sure, they have their moments of "me-time," but deep down? They're total softies. Whether it's cuddling up with us on a cold night or playfully batting at their feline roommate's tail, cats cherish companionship.
I once heard someone say, "Dogs have owners; cats have staff." Haha, there's some truth to that! But in all seriousness, that bond, that connection? It's pure magic.
6. Routine
Ah, routine! It's the unsung hero of a cat's world. Ever noticed how your kitty expects (read: demands) breakfast at the exact same time every day? Or how they always curl up in that same spot for their afternoon nap? That's because cats are creatures of habit.
They find comfort in predictability. It's like, "Hey, I've had my fun exploring and causing chaos, but now I need my routine fix."
And honestly, who can blame them? In this ever-changing world, a little consistency goes a long way.
7. Observing the World (Including Cat TV)
Okay, confession time: I've spent way too much time watching my cat watch the world.
It's like they have their own version of Netflix, but it's all about birds, squirrels, and the occasional pesky fly. I call it "Cat TV."
And let me tell you, it's a hit! There's something mesmerizing about seeing them so engrossed, their tails twitching in anticipation. It's as if they're piecing together the mysteries of the universe, one bird chirp at a time.
So, next time you catch your furball gazing out the window, grab some popcorn and join the fun!
8. Affection, Petting, and Butt Scratches
"Who's a good kitty? You are!" Ah, the sweet world of petting and affection. Now, I won't lie, some cats play hard to get.
But once you've cracked the code? It's a love fest! From gentle headbutts to purring sessions, cats have their own love language.
And let's not forget the infamous butt scratches. For some mysterious reason, many cats go bananas for them!
But a word of caution: always be attentive to their mood. One minute they're enjoying the attention, and the next? "Okay, human, that's enough." But hey, that's just part of their charm, right?
9. Safe Hideaways and Boxes
Ah, the allure of a cardboard box! Who'd have thought? To us, it's just packaging, but to our feline friends? It's a fortress, a hideaway, a slice of paradise.
I've often found my kitty, whiskers twitching, diving headfirst into the latest delivery box. And I'm like, "Really, Mittens? Over all the fancy toys?"
But here's the scoop: boxes offer security. It's their little nook in this vast world. And it's not just boxes. Closets, under the bed, that random bag you left on the floor – it's all fair game.
So, next time you're about to toss that box, think twice. It might just be your cat's next favorite thing!
10. Interactive Feeding
Food time! But wait, it's not just about gobbling down those tasty morsels. It's a game, a challenge, a puzzle waiting to be solved.
Enter: interactive feeders. These nifty gadgets take mealtime to a whole new level. Instead of just serving food on a platter, why not make 'em work for it? It's mentally stimulating and oh-so-rewarding.
I've seen my cat bat, paw, and nuzzle her way to get those treats. And the triumphant look on her face? Priceless! It's like she's saying, "I've cracked the code, human!"
11. Softness and Warmth
Mmm, the simple pleasures of life! A soft blanket, a cozy corner, and maybe a sunbeam or two.
Cats are connoisseurs of comfort. They have this uncanny ability to find the softest, warmest spot in the house. And once they're settled? Pure bliss. I've often envied my cat, especially on those chilly mornings.
While I'm scrambling to get ready, she's curled up, purring away, lost in a world of warmth. It's a reminder to all of us – sometimes, you've got to pause and enjoy the cozy moments.
12. Freedom and Independence
"Let me out! No, wait, let me in!" If you've ever lived with a cat, you know the drill. Cats value their freedom. They're curious, independent souls, always eager to explore.
Whether it's a new room, the backyard, or just the other side of a closed door, the unknown beckons. But here's the catch: they also love their safety net. That's us!
So, while they venture out, they always know they have a warm lap and a loving home to return to. It's the perfect balance of adventure and security.
13. Cleanliness
Oh, the art of grooming! If there's one thing I've learned from my cat, it's that cleanliness isn't just next to godliness; it's the thing.
I mean, have you ever watched a cat groom? It's like a meticulously choreographed dance. Lick, paw, rub, repeat. And the litter box? Don't even get me started. It's got to be just right – not too full, not too empty, and always, always clean.
"A clean cat is a happy cat," my grandma used to say. And boy, was she right! So, hats off to our feline friends for teaching us a thing or two about personal hygiene.
14. Vertical Territory and High Spots
"Where's Whiskers?" "Oh, just chilling on top of the bookshelf!" Sound familiar? Cats and heights – it's a love story for the ages.
Whether it's a towering cat tree or the top of the refrigerator, our furry friends are all about that vertical life. And can you blame them? Up there, they're kings and queens, surveying their kingdom below.
It's not just about the view, though. It's about safety, security, and, let's face it, a bit of showing off.
So, next time you're searching for your kitty, just remember to look up!
15. Running Water
Splash! There goes Mittens, playing with the faucet again. What is it with cats and running water? It's like a siren song they can't resist.
I've often caught my kitty, paws wet, trying to catch those elusive water droplets. And drinking? Forget the water bowl; it's all about that fresh, flowing goodness. I've even heard of cats who love to join their humans in the shower! Crazy, right?
But hey, to each their own. So, if you're looking to spoil your feline friend, maybe consider a pet water fountain. It's the gift that keeps on giving!
16. Fresh Food
Dinnertime! And not just any dinner, but the freshest, tastiest morsels fit for feline royalty.
Cats have discerning palates, you know. They can tell the difference between today's catch and yesterday's leftovers. And while they might not turn up their noses at a can of tuna, there's something about fresh food that gets their tails twitching.
"Quality over quantity," my cat seems to say as she savors every bite. And I can't help but agree. After all, they deserve the best, don't they?
17. Engaging Environment
Ever watched a cat in a room full of toys, tunnels, and teaser wands? It's like a kid in a candy store! Cats, with their boundless curiosity, thrive in environments that tickle their senses and challenge their minds.
I remember setting up a mini obstacle course for Mr. Fluffles, and oh boy, the acrobatics that ensued! From darting through tunnels to leaping over makeshift hurdles, it was a sight to behold.
"Keep 'em engaged, keep 'em happy," my vet always says. And it's true. A stimulating environment is like a playground for their brains.
So, whether it's puzzle toys, interactive feeders, or just a crinkly ball of paper, let's keep things exciting for our whiskered pals!
18. Cat Music
Okay, this one might sound a tad unconventional, but hear me out. Ever stumbled upon those "Music for Cats" videos on the internet?
I did, and out of sheer curiosity, I played one for Whiskers. And the reaction? Utterly mesmerizing! She was all ears, head tilting, eyes half-closed, lost in the melody. It's like she was at her own private concert.
Research suggests that certain frequencies and rhythms resonate with our feline friends. It's not your typical Beethoven or Taylor Swift, but a symphony tailored just for them.
So, next time you're looking to pamper your kitty, maybe cue up some tunes and have a little jam session. Who knows? You might just discover their inner music aficionado!
Final Words: Let's Chat, Fellow Cat Lovers!
Well, there you have it, folks! The ins and outs, the ups and downs, the purrs and meows of what our feline friends truly adore.
From the thrill of the hunt to the soothing melodies of cat tunes, it's a wild, whiskered world out there. But hey, that's what makes life with cats so darn enchanting, right?
Now, I'd love to hear from you. Got a quirky cat story? A fun feline fact? Drop it in the comments below. Let's keep this kitty conversation going!