Hey there, fellow cat whisperers! 🐱 Ever found yourself staring in disbelief at your once pristine couch, now adorned with the latest in feline claw art? Oh, the joys of cat parenting!
We adore our furry overlords, but let's be real: their love for turning our furniture into scratching masterpieces? Not so much.
But what if I told you there's a way to keep both your furniture and your feline happy? Yep, you read that right!
Dive in, and let's unravel this purr-fect mystery together. Curious about how? Well, let's just say your furniture's future is looking a whole lot brighter… and scratch-free! 🛋️🚫🐾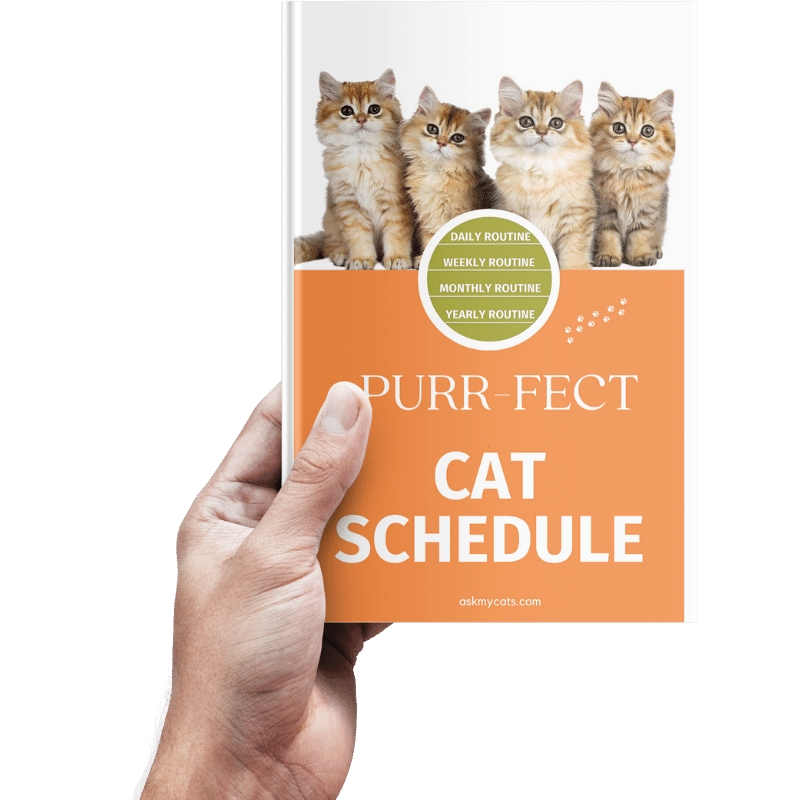 Discover the Secrets to a Happy Cat!
Discover the secrets to creating a happy and healthy daily routine for your feline friend. From playtime to mealtime, sleep to grooming, our expert guide will show you how to make every day a purrfect day for your cat.
Give Your Cat the Perfect Day – Get the Ebook!
1. Understand the Reasons for Scratching
Hey there, fellow cat lover! Ever wondered why our feline friends seem to have this insatiable urge to turn our beloved furniture into their personal scratching posts?
Well, it's not because they're plotting against us (or maybe they are, who knows with cats?).
Scratching is like a cat's version of a morning stretch after a long nap. It helps them flex their paws, stretch their back, and just feel all-around good. Plus, it's a way for them to mark their territory. You see, cats have these nifty little scent glands in their paws.
So, every time they scratch, they're basically saying, "This is mine!" in the most cat-like way possible.
2. Provide Scratching Alternatives
Alright, so we've established that cats are gonna scratch. It's in their DNA. But that doesn't mean your new sofa has to be the victim! The trick is to give them something even better to scratch on.
Think about it: if you had the choice between a rickety old gym machine and a state-of-the-art treadmill, which one would you pick? Same logic applies to cats. Offer them a variety of scratching posts or mats.
Whether it's sisal rope, carpet, or wood, find out what tickles their fancy. And hey, it's a win-win! They get their own fancy scratching spot, and you get to keep your furniture intact.
3. Strategic Placement of Scratching Posts
Now, here's where a bit of feline psychology comes into play. You can't just toss a scratching post into the corner and hope for the best. Nope!
Cats are creatures of habit. They've got their favorite spots, and they're sticklers for routine.
So, if you've noticed your kitty has taken a particular liking to the corner of your couch, place the scratching post right there. Over time, with a bit of encouragement (and maybe some catnip), they'll start using the post instead.
Remember, it's all about making the new scratching spot the place to be!
4. Use Deterrents
Alright, let's get sneaky! If your cat's being a bit stubborn (because, well, they're cats), it's time to roll out the big guns. And by that, I mean deterrents.
Imagine you're about to sip on a lovely cup of coffee, only to find out it's decaf. Bummer, right? That's how your cat feels when they encounter a deterrent.
Whether it's a special spray, double-sided tape, or even tin foil, these deterrents are like the decaf coffee of the cat world. They'll make your furniture way less appealing to scratch.
Just remember to pair this with the awesome scratching post you've set up, and soon enough, your furniture will be scratch-free!
5. Immediate Correction
Whoa there, kitty! Caught your feline friend in the act of scratching? Well, here's the deal: cats, much like us after a Netflix binge, can get super engrossed in what they're doing.
So, when you catch them scratching where they shouldn't, a quick, sharp noise can snap them out of it. Think of it like someone interrupting your karaoke session just as you're hitting that high note. A clap, a snap, or even a playful "Hey!" can do the trick.
But remember, it's all about the timing. Correct them in the act, and they'll start connecting the dots. "Oh, scratching the couch equals loud noise. Maybe I shouldn't do that." Bingo!
6. Positive Reinforcement
Alright, let's flip the script. Instead of just focusing on what they're doing wrong, let's celebrate what they're doing right!
Cats, believe it or not, love a bit of praise. So, when they use that fancy new scratching post you got them, shower them with love. A simple "Good job, Whiskers!" or a treat can go a long way. It's like getting a gold star in school.
Before you know it, they'll be scratching in the right places just to get that sweet, sweet validation. Who knew cats were such suckers for compliments?
7. Protect Furniture
Okay, real talk: sometimes, despite our best efforts, cats will be cats. And that means they might still take a swipe at your furniture now and then. But don't fret! There's a backup plan.
Furniture protectors, vinyl guards, or even some DIY solutions can act like a shield, keeping your furniture safe from those pesky claws. It's like putting a phone case on your brand-new smartphone.
Sure, it might still get a scratch or two, but the real treasure underneath remains unscathed. And hey, it's a small price to pay for peace of mind, right?
8. Trim Cat's Nails
Now, here's a game-changer. Ever tried walking in shoes that are too big? It's awkward, right? That's how cats feel with long nails. Plus, longer nails can cause more damage.
So, give your kitty a mini spa day and trim those nails. If you're unsure about doing it yourself, there's no harm in seeking professional help.
A vet or a groomer can show you the ropes. And who knows, your cat might just enjoy the pampering! After all, who doesn't love a good manicure?
9. Use Cat Socks or Nail Caps
Ever thought of giving your cat a fashion makeover? Well, now's your chance! Cat socks or nail caps are like the latest trend in the feline world.
Not only do they look absolutely adorable (I mean, come on, tiny socks on tiny paws? Cuteness overload!), but they also serve a practical purpose.
These little accessories act as a barrier between those sharp claws and your precious furniture. It's like when we wear gloves to protect our hands.
But, a word of caution: make sure they're comfortable and don't restrict your cat's movement. And if your cat looks at you like, "What on earth did you put on my paws?", just tell them it's all the rage this season!
10. Avoid Declawing
Okay, serious moment here. Declawing might seem like the easy way out, but it's a big no-no. Imagine someone telling you, "Hey, you won't stub your toe if you don't have one!" Yikes, right?
Declawing is not just removing the nail; it's like amputating the last bone of each toe. Ouch! It can lead to a host of problems, from behavioral issues to long-term pain.
So, let's skip this one and focus on the many other ways we can keep our furniture safe, okay?
11. Introduce Deterrent Smells
Ah, the power of smell! Cats have a super sensitive sniffer, and there are certain scents they just can't stand.
Citrus, menthol, or even some essential oils can act as natural deterrents. It's like when you walk into a room and someone's wearing way too much perfume. You just wanna get outta there!
Same with cats. Spritz a bit of these scents on your furniture, and watch your cat turn up their nose and walk away.
But, always remember to test a small area first and ensure it's safe for your feline friend. We want to deter, not harm.
12. Provide Play and Enrichment
Boredom. It's the root of many a mischief, and cats are no exception. Sometimes, they scratch just because they've got nothing better to do. So, why not give them something to do?
Toys, interactive games, puzzle feeders – the options are endless. It's like when you're bored, and you suddenly find yourself in the kitchen looking for a snack.
But if you had a fun game or a book to read, that kitchen trip might not happen. Keep your cat entertained, and they'll be too busy having fun to even think about scratching!
Final Words: Let's Paws and Reflect 🐾
Well, fellow cat aficionados, we've journeyed through the land of feline furniture fiascos and emerged wiser (and hopefully with fewer scratches on our sofas!).
From understanding the why behind the scratch to the how of preventing it, we've got the tools to create a harmonious living space for both humans and our furry overlords.
But hey, this isn't a one-way street! We'd love to hear your tales from the cat-trenches. Got a hilarious story of Mr. Whiskers vs. the Ottoman Empire? Or perhaps a genius hack that saved your favorite armchair? Share it in the comments below!
Let's make this a purr-fect community of cat lovers, sharing and caring. After all, it takes a village to raise a cat… or something like that, right? 😹
So, go forth, implement these tips, and may your furniture live a long, scratch-free life. And remember, every time you save a sofa, an angel gets its wings… or maybe a cat gets its treat. Either way, it's a win-win! 🎉🐱🛋️
Till next time, keep those tails wagging and those purrs rolling!