Ever thought you were the boss of your home? Ha! Think again. If you've got a feline friend prancing around, chances are, they're the real head honcho.
I mean, between Mr. Whiskers deciding my sleep schedule and having very "particular" treat preferences, I've come to a hilarious realization. My cat? He's got me wrapped around his tiny, furry paw. And you know what? I bet I'm not the only one.
So, if you've ever found yourself rearranging furniture for your cat's latest nap spot or deciphering those mysterious meows, you're in for a treat.
Ready for a feline revelation? Dive in and discover the signs that your cat might just be ruling the roost! 🐾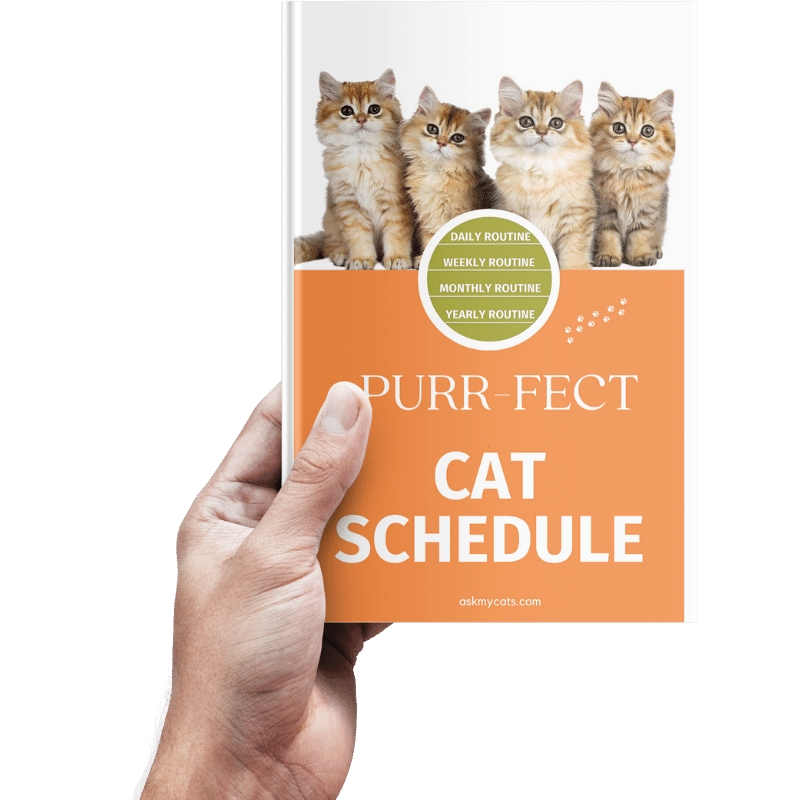 Discover the Secrets to a Happy Cat!
Discover the secrets to creating a happy and healthy daily routine for your feline friend. From playtime to mealtime, sleep to grooming, our expert guide will show you how to make every day a purrfect day for your cat.
Give Your Cat the Perfect Day – Get the Ebook!
1. Your cat has multiple favorite spots around the house.
Oh boy, where do I even start? Ever since Mr. Whiskers came into my life, my home decor has taken a backseat.
I mean, I used to have this lovely vase on the windowsill, but now? That's his royal sunbathing spot. And the cozy corner by the fireplace where I used to read? Yep, that's his nap zone now.
It's like living with a tiny, furry interior designer who's decided that every nook and cranny of the house is potentially a cat lounge. And honestly? I'm not even mad. There's something oddly endearing about finding him curled up in a new spot every day.
2. They dictate where their litter tray should be placed.
Alright, confession time. I thought I was being super clever when I first got Mr. Whiskers. I had this whole plan about where his litter tray would go, tucked away, out of sight.
But guess what? Mr. Whiskers had other plans. The first spot? Too noisy. The second? Not private enough.
And don't even get me started on the time I tried placing it near the washing machine. It took a few tries (and a couple of, ahem, "accidents"), but we finally settled on a quiet corner in the laundry room.
It's like living with a tiny, furry real estate agent who's very particular about bathroom locations.
3. They frequently interrupt your work or meetings.
Working from home sounded like a dream, right? Well, enter Mr. Whiskers, the self-appointed CEO of my workspace.
Every Zoom call? He's there, tail in the frame. Typing an important email? There he is, walking across the keyboard adding his own "input".
And if he's not getting enough attention, he's perfected the art of sitting right in front of the screen. It's like he knows when I'm on a deadline and chooses that exact moment to demand pets or playtime.
But, between you and me? It's hard to stay mad when your furry coworker is this cute.
5. They have a set routine you can't deviate from.
You know how some people have alarm clocks? I have Mr. Whiskers.
Every morning, like clockwork, he's there, nudging me awake. And it's not just about feeding time. Oh no, he's got a whole schedule mapped out. There's the early morning bird-watching session, followed by the mid-morning nap, and then the post-lunch playtime.
I once tried to switch things up a bit, maybe feed him a little later or move playtime to the evening. Big mistake. The look he gave me? Let's just say I won't be trying that again. It's his world; I'm just living in it.
5. They resist changes in the home setup.
Remember when I mentioned Mr. Whiskers being a tiny, furry interior designer? Well, he's also resistant to any redecorating ideas I might have. I once got this lovely new rug for the living room.
Within a day, it was clear that Mr. Whiskers was not a fan. He'd avoid it like the plague, giving it wide berths and shooting it suspicious glances.
And when I moved his favorite chair slightly to the left to make room for a new plant? Oh, the drama! He'd sit in the old spot, looking utterly betrayed, until I moved it back. Message received, buddy.
6. They often ignore your commands.
Now, I've heard of dogs being man's best friend, always eager to please. Cats? Not so much. I've tried, believe me.
"Off the counter, Mr. Whiskers!" or "No scratching the couch!" But he has this way of looking at me, with those big, innocent eyes, as if he has no idea what I'm talking about. And then, when I turn my back, he's right back at it. It's a game to him, I'm sure of it.
But, as they say, you don't own a cat; a cat owns you. And Mr. Whiskers? He's got me wrapped around his little paw.
7. Interactions happen on their terms.
Ever tried calling a cat? It's a lesson in humility. I'll be sitting on the couch, calling Mr. Whiskers over for some quality cuddle time.
Sometimes, he'll grace me with his presence, but other times? He'll just give me a glance, a slow blink, and then go back to whatever incredibly important cat business he was attending to.
It's clear: interactions are on his terms. If he's in the mood for pets, he'll come over, purring like a motor. If not, well, better luck next time!
8. They have specific treat preferences.
I once made the mistake of buying a new brand of cat treats on sale. "They're all the same," I thought. Oh, how wrong I was.
Mr. Whiskers took one sniff, gave me a look of pure disdain, and walked away. It was like I'd offered him fast food when he's used to gourmet meals. Now, I know better.
Only the finest, most premium treats for His Majesty. And if I ever forget? He's got ways of reminding me, usually by knocking the offending treats off the counter.
9. Your sleep schedule revolves around their whims.
Who needs an alarm clock when you have a cat?
Mr. Whiskers has this uncanny ability to know when it's 5 minutes before my alarm is set to go off. That's his cue. He'll jump on the bed, nuzzle my face, and if that doesn't work, he'll start knocking things off my nightstand.
And late-night cuddle demands? Oh, they're a regular occurrence. I've lost count of the number of times I've been woken up by a furry face demanding attention.
But, as much as I grumble, there's something sweet about those moonlit moments.
10. They consistently demand your attention.
Working from home has its perks, but it also means I'm constantly available for Mr. Whiskers' attention demands. Whether it's a gentle nudge while I'm on a call or a loud meow during a meeting, he knows how to make his presence felt.
And if I dare ignore him? He ups the ante, usually by sitting right on my keyboard or nudging my hand until I give in.
It's a daily dance, a push and pull of wills. But, let's be honest, he usually wins.
11. You've become adept at understanding their body language.
Oh, the joys of cat communication! When Mr. Whiskers first sauntered into my life, I was clueless. A flick of the tail, a twitch of the ear – it was all Greek to me. But fast forward to now, and I feel like I've earned a Ph.D. in 'Cat Body Language 101'.
When his tail puffs up and his back arches? Yep, something's spooked him. Those slow, deliberate blinks? That's his way of saying, "We're cool, human." And the purring! Oh, the purring. It's not just when he's happy. Sometimes it's his way of self-soothing when he's anxious or unwell.
But my favorite? When he rolls over and exposes his belly. It's not an invitation for a belly rub (I learned that the hard way!), but rather his way of saying, "I trust you."
It's these little nuances, these subtle cues, that have deepened our bond. I've become his interpreter, his advocate, and in return, he's given me a window into the enigmatic world of felines.
Living with Mr. Whiskers has been a masterclass in non-verbal communication. And while there are days when I wish he came with a manual, I wouldn't trade our silent conversations for anything.
12. They use their charm to manipulate you for treats or playtime.
I swear, Mr. Whiskers must've taken a masterclass in manipulation. Whenever he wants something, be it a treat or a play session, he turns on the charm. Those big, round eyes staring up at me, that soft purring, and the gentle head nudges. It's impossible to resist!
And if the charm offensive doesn't work? He resorts to more… direct methods. Like sitting in front of the treat cupboard and meowing non-stop. Or bringing his favorite toy over and dropping it at my feet.
It's a clear message: "Play with me, human!" And, of course, I always give in. Who could resist that face?
13. They determine when and how you give them attention.
Gone are the days when I could decide when to pet or play with Mr. Whiskers. Now, he's the one calling the shots.
If he's in the mood for cuddles, he'll come over, purring loudly and rubbing against my legs. But if he's not in the mood? Any attempts to pet him are met with a swift swat of the paw or a sassy tail flick.
And playtime? That's on his schedule too. He'll often bring over his favorite toy, dropping it at my feet with a clear message: "Playtime, now!" And, of course, I always oblige.
After all, when Mr. Whiskers wants attention, he gets attention.
Final Words: Share Your Feline Tales!
Well, there you have it, my rollercoaster journey with Mr. Whiskers, the undeniable ruler of my abode.
From deciphering his mysterious body language to dancing to the rhythm of his daily routines, life with a cat is nothing short of an adventure.
But here's the thing: every cat is a unique, furry bundle of quirks and personality. And every cat owner has their own set of hilarious, heartwarming, and sometimes downright baffling tales to tell.
So, dear reader, it's over to you! Do you have a feline overlord ruling your home? Have they trained you well? Share your stories, your laughs, and even your cat-commanded routines in the comments below.
Let's celebrate the joy, the challenges, and the sheer unpredictability of sharing our lives with these magnificent creatures. After all, in the world of cats, we're all just humble subjects, aren't we?