Hey there, fellow cat enthusiasts! Ever found yourself scratching your head (or maybe even your chin) wondering what's up with your feline friend?
I mean, one minute they're purring away, and the next, they're giving you the cold shoulder. Cats, with their whiskers twitching and tails swishing, are bundles of mystery, aren't they?
But what if I told you there's a method to their madness? Oh, yes! Dive in with me as we decode the signs that might just reveal… is your kitty feeling a tad lonely?
Trust me, by the end, you'll be looking at Mr. Whiskers with a whole new perspective. Ready to unravel the feline enigma? 🐱🔍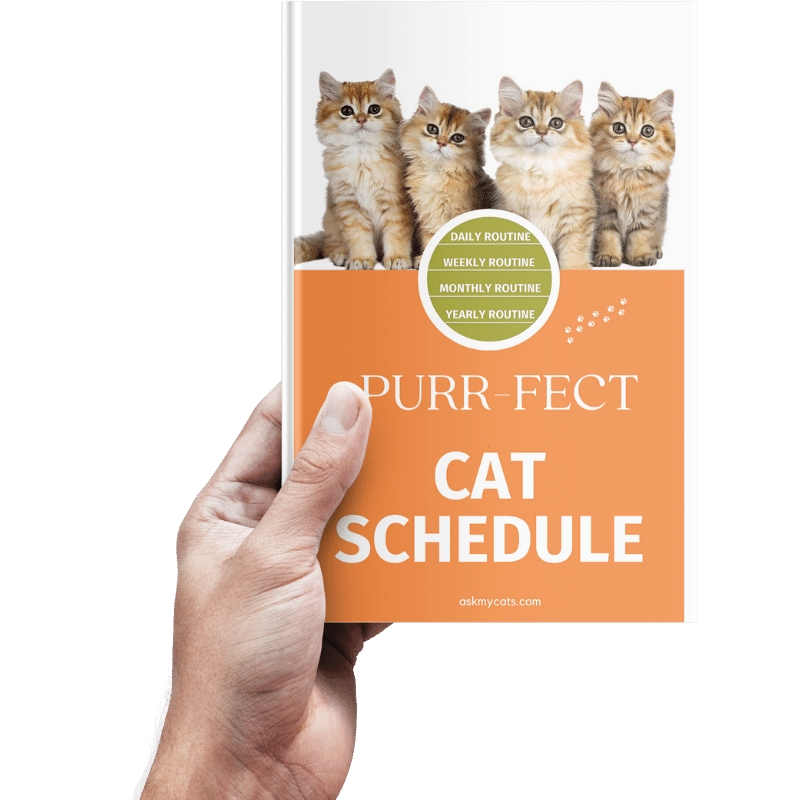 Discover the Secrets to a Happy Cat!
Discover the secrets to creating a happy and healthy daily routine for your feline friend. From playtime to mealtime, sleep to grooming, our expert guide will show you how to make every day a purrfect day for your cat.
Give Your Cat the Perfect Day – Get the Ebook!
1. Excessive Sleeping
Oh, boy! Have you ever caught your kitty snoozing more than usual? I mean, I get it, we all love a good nap, especially on a lazy Sunday afternoon. But if Mr. Whiskers is hitting the snooze button more often than not, it might be a sign he's feeling a tad lonely.
Cats, by nature, are known to be quite the sleepyheads. But there's a difference between enjoying a catnap and sleeping the day away because there's nothing better to do.
If your feline friend is spending more hours curled up in a ball rather than chasing that laser pointer or batting at your shoelaces, it might be time to give them a bit more attention.
Remember, it's not just about the quantity of sleep but the quality. If they're sleeping out of boredom rather than rest, it's a whole different ball game!
2. Increased Eating
"Another treat, please!" Ever heard that before? Okay, maybe not in those exact words, but if your cat's been munching more than usual, it could be their way of saying, "Hey, I'm kinda lonely here!"
When we humans are bored or feeling down, we might reach for that extra cookie (or three). Cats? They're no different. Overeating can be their way of coping with the blues.
It's like, "Hmm, no one to play with? Guess I'll just eat again." But, be cautious! While it's tempting to give in to those pleading eyes, overfeeding can lead to other health issues.
So, instead of an extra treat, maybe a play session or cuddle time could fill the void.
3. Litter Box Problems
Ugh, not again! Discovering a "surprise" outside the litter box is every cat owner's nightmare. But before you jump to conclusions, consider this: could it be a cry for help?
Cats are usually pretty darn good about using their litter box. It's like their personal little kingdom.
So, when they start leaving "gifts" outside of it, it's often their way of signaling that something's up. It's like they're saying, "Hello! Something's not right here!"
Whether it's a medical issue or a sign of loneliness, it's essential to get to the root of the problem. After all, communication is key, even if it's through some rather stinky methods!
4. Destructive Behavior
Whoa, Nelly! Ever walked into a room to find your favorite cushion shredded to bits? Or maybe that roll of toilet paper unraveled across the floor? Yep, our kitties can sometimes turn into little agents of chaos.
But, hold up! Before you go thinking they've just joined the dark side, there might be more to the story.
You see, when cats get bored or lonely, they often find… let's call them "creative" ways to keep themselves entertained. And, unfortunately for us, that might mean turning our living room into their personal playground.
It's like they're saying, "Hey, if you won't play with me, I'll find my own fun!"
So, next time you find a mess, instead of getting mad, maybe toss them a toy or two. Trust me; it's a win-win!
5. Excessive Vocalization
"Meow, meow, meow!" Sound familiar? If your furball is suddenly channeling their inner opera singer, especially when you're around or during the wee hours, it might be their way of saying, "Hey, I'm here and I need some company!"
Cats are usually pretty chill creatures, but when they're feeling lonely or anxious, they might crank up the volume. It's their way of reaching out. Think of it as their version of a text message, just a bit louder.
So, instead of hitting the "mute" button, maybe it's time for a chat. Yep, you heard me right! Sit down, give them a pat, and have a good ol' heart-to-heart. Who knows, you might just learn something new!
6. Aggression
Yikes! If your usually sweet kitty suddenly starts hissing, swatting, or even biting, it's enough to make anyone jump out of their skin. But, hang on a sec. Before you label them as the neighborhood bully, let's dig a little deeper.
Sometimes, when cats feel isolated or neglected, they might act out. It's not that they've turned mean; they're just frustrated. Imagine being cooped up all day with no one to talk to. You'd get a bit cranky too, right?
So, if your feline friend is showing some aggressive tendencies, it might be time to shower them with some extra love and maybe even introduce some new toys or activities. After all, a busy cat is a happy cat!
7. Clingy Behavior
Oh, my whiskers! Ever felt like you've got a furry shadow? Like, everywhere you go, there's this little ball of fur trailing behind? Yep, that's your kitty turning into a stage-five clinger.
But, hold your horses! Before you start feeling like you're in a feline version of a rom-com, let's break it down.
Cats, believe it or not, can get super attached. And when they're feeling a bit lonely or out of sorts, they might just glue themselves to your side. It's their way of saying, "Hey, remember me? I'm here and I need some TLC!"
So, instead of trying to shake them off, embrace it. A little extra cuddle time or play session might be all they need to feel secure again.
8. Over-grooming or Neglecting Grooming
Well, butter my biscuit! If your kitty's suddenly looking like they've had a day at the spa (or maybe the opposite, like they've just rolled out of bed), it's time to take notice.
Cats are usually pretty darn meticulous about their grooming. So, any change in that routine? It's a red flag.
Over-grooming can be their way of self-soothing, kinda like how we might binge on ice cream after a rough day. On the flip side, neglecting grooming might mean they're too down in the dumps to even bother. Either way, it's a sign they're craving some attention.
So, maybe it's time for a little pamper session together? Brush their fur, give them a massage, and just bond. It'll do wonders, trust me!
9. Trembling or Shaking
Geez Louise! If you've noticed your cat shaking or trembling, it's enough to send anyone into a tizzy. But, deep breaths!
While it's essential to rule out any medical issues, sometimes it's just their way of showing they're feeling a bit vulnerable.
Loneliness can make our feline pals feel anxious or stressed, leading to physical symptoms like shaking. It's like their body's way of saying, "I'm not okay."
So, if you spot this behavior, it's time to step in. A warm blanket, some gentle strokes, or even just sitting beside them can help calm their nerves.
10. Change in Energy Levels
Whoa there, turbo! Or, erm, not. If your usually energetic kitty is suddenly bouncing off the walls or, conversely, acting like they've got weights tied to their paws, it's a sign something's up.
Cats, just like us, can have their mood swings. And loneliness? It can either send them into overdrive or make them slump into a funk.
It's essential to keep an eye on these energy shifts and adjust accordingly. Maybe introduce new toys for the hyper ones or create a cozy nook for those wanting to retreat. Remember, it's all about balance.
Final Words: Let's Chat, Cat Lovers!
Well, there you have it, fellow feline aficionados! We've journeyed through the mysterious maze of cat behaviors, and boy, what a ride it's been!
From the opera-worthy meows to the unexpected "gifts" outside the litter box, our kitties sure have their unique ways of communicating.
But here's the thing: every swish of the tail, every purr, and every playful pounce is a little message from them.
It's their way of saying, "Hey, I'm here, and I've got feelings too!" So, let's not leave them on read. Let's tune in, engage, and ensure our furry friends always feel loved and understood.
And hey, if you've got a quirky cat tale (or tail!) to share, or maybe a tip or two on how you bond with your whiskered buddy, drop it in the comments below.
Let's get the conversation meowing, shall we? After all, in this vast cat-loving community, there's always room for one more yarn. 🐾