Ever had one of those moments where you look at your cat and think, "Wait a minute… are you actually a tiny human trapped in a fur coat?" Oh, come on, I can't be the only one!
From their impeccable timing (seriously, how do they always know when it's 5 minutes before the alarm?) to their discerning taste in, well, everything, our feline friends often leave us scratching our heads in wonder.
And, oh boy, the things I've noticed with my own kitty, Whiskers!
But hey, before I spill the beans, let's dive into some signs that might just prove our cats are the tiniest of undercover humans. Ready for a chuckle and a "Wait, mine does that too!" moment? Let's pounce right in! 🐱🤔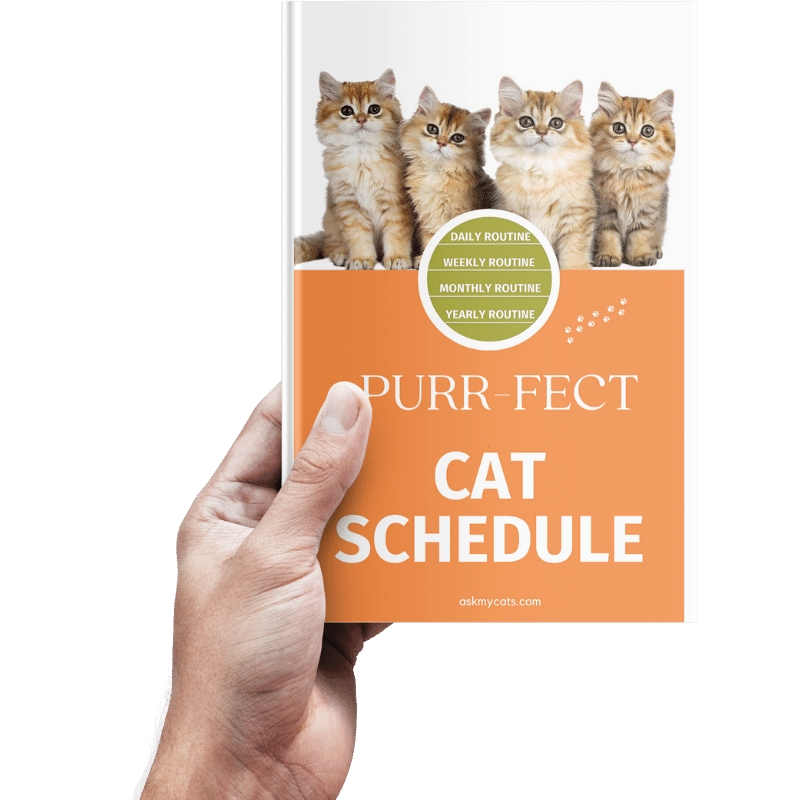 Discover the Secrets to a Happy Cat!
Discover the secrets to creating a happy and healthy daily routine for your feline friend. From playtime to mealtime, sleep to grooming, our expert guide will show you how to make every day a purrfect day for your cat.
Give Your Cat the Perfect Day – Get the Ebook!
1. The Morning Alarm
Oh boy, where do I even start with this one? Every morning, like clockwork, my little furball, Whiskers, is right there, nudging me awake. It's uncanny, really.
I mean, I've tried setting my alarm earlier, later, even tried to sneak in a midday nap, but nope! Whiskers is always one step ahead. It's like he's got this internal alarm clock that's synced to mine.
And the way he stares at me? It's as if he's saying, "Come on, lazy bones, up and at 'em!" I swear, if he had thumbs, he'd probably be the one setting my alarm.
2. Coffee Cravings
Alright, confession time. I'm a coffee addict. But here's the kicker: I think my cat is too! Every morning, as I'm brewing my cup of liquid gold, there's Whiskers, perched on the counter, giving me that look.
You know, the "Where's mine?" look. I've even caught him sniffing my cup a few times. And, oh boy, the one time I spilled some on the floor? He was right there, lapping it up.
I'm starting to think he's just waiting for his own tiny mug. Maybe a cattuccino?
3. The TV Binge-Watcher
Okay, so we all have our guilty pleasures, right? Mine's binge-watching TV shows. But here's the thing: I think Whiskers is even more into it than I am!
I mean, he doesn't just lounge around while I'm watching; he genuinely seems engrossed. And it's not just any show. He has preferences! Drama series, especially.
I've even caught him reacting to plot twists. I'll be sitting there, jaw dropped, and I'll hear this little "meow" from beside me. It's like he's saying, "I did NOT see that coming!"
4. The Fashionista
So, I fancy myself a bit of a fashionista. But lately, I've been getting this feeling that my fashion choices are, well, being judged. And not by my friends or coworkers, but by Whiskers!
Every time I lay out an outfit, there he is, sitting on it, giving me this discerning look. And if I dare to mix patterns?
Oh, the shade he throws! It's like having a tiny, furry fashion police right in my home. I'm half expecting him to start suggesting outfits soon.
5. The Food Critic
Dinner time in my house is an event. And not just because I love to cook, but because I have the world's tiniest (and furriest) food critic living with me.
Whiskers doesn't just eat; oh no, he savors. He sniffs, he tastes, he even seems to contemplate the flavors. And if something's not up to his standards? Well, let's just say he's not shy about voicing his opinions.
I've started joking that I should start a restaurant and have him as my head critic. "Paws & Plates" has a nice ring to it, don't you think?
6. The Bathroom Buddy
So, here's a quirky one for you. You know how cats have this thing about following you everywhere? Well, mine has taken a particular interest in the bathroom.
I mean, every time I head in there, Whiskers is right on my heels. At first, I thought he was just being his usual curious self, but then I noticed him eyeing the tiles, the fixtures, even the bath mat. It's like he's evaluating the decor or something!
Maybe he's got a secret life as an interior designer? Or perhaps he's just making sure I'm using the right brand of shampoo. Either way, bathroom trips have never been the same.
7. The Social Media Star
Now, I'm no influencer, but I do love snapping pics for the 'gram. And guess who's always ready for a photo op? Yep, Whiskers.
But here's the twist: he doesn't just pose. He's got this whole model vibe going on. He knows his angles, he's got that smize down pat, and I swear he even has favorite filters.
Sometimes, I'll be scrolling through my feed, and I'll catch him peeking over, probably checking how many likes his latest pic got. Move over, top models; there's a new star in town!
8. The Bookworm
I've always been a bit of a bookworm, but recently, I've noticed I'm not the only one in the house with a penchant for literature. Whiskers has taken to curling up next to my latest reads.
At first, I thought he was just enjoying the comfy spot, but then I'd catch him seemingly "reading" the pages. I mean, he'd sit there, eyes moving left to right, flipping pages with his paw.
It's uncanny! Maybe he's brushing up on his feline literature or perhaps diving into a mystery novel. Who knows? All I know is, our book club of two is the highlight of my week.
9. The Fitness Enthusiast
Alright, so we've all seen cats do that random sprint thing, right? One minute they're lounging, the next they're zooming around like they're on a mission.
Well, I've come to realize that Whiskers isn't just running aimlessly. Oh no, he's got a fitness routine!
Those sprints? High-Intensity Interval Training. Those stretches? Yoga. And those moments when he's batting a toy around? That's his version of weightlifting.
I'm half tempted to join him for a workout session. Who knew I had a personal trainer living with me?
10. The Music Lover
Last but not least, let's talk tunes. I've always been a music lover, but recently, I've discovered that Whiskers has quite the ear for melodies.
He doesn't just react to any song; he has preferences. Jazz seems to be his jam. Whenever I put on some smooth jazz, he's right there, swaying his tail, closing his eyes, and just vibing.
And if I dare to change the track? Oh, the look he gives me! It's like he's saying, "Hey, I was listening to that!" I'm starting to think we should start a band. Whiskers on the sax, anyone?
Final Words: "So, Is Your Feline Friend Human Too?"
Well, there you have it, folks! A rollercoaster ride through the uncanny world of cats who might just be tiny humans in disguise. From sipping cattuccinos to critiquing our fashion choices, these furballs never cease to amaze.
But now, I've got a burning question for you: Do you see any of these signs in your own feline friend? Or maybe they've got some other quirky human-like habits I haven't listed?
Drop a comment below and share your own hilarious cat tales. Let's create a community where we can swap stories, share laughs, and celebrate the weird and wonderful world of our feline companions.
And hey, next time Whiskers gives you that "judging" look or tries to join your Zoom call, just remember: they might be plotting their next human move. Stay curious, cat lovers! 🐾🤣