As a proud cat mama to three furry felines, I've picked up a thing or two about relationships from observing my kitties. Who knew cats could teach us so much about love?
From the way they communicate their needs to how they set boundaries, my cats' quirky behaviors have shed light on what makes human connections work. Although watching them nap all day seems pretty uneventful, I've realized a lot can be learned from their subtle interactions.
After years of being a curious cat owner, I've compiled the 10 most important relationship lessons I learned from my cats. From compromising to showing affection, my cats have unravelled their wisdom on building strong bonds. Their purr-fect examples may just improve your own relationships!
So read on to find out what these purr-fect furballs have taught me and my partner about compassion, communication, and catnapping together.
Get ready to say "me-wow!" as we dive into the priceless relationship advice I learned from my kitties.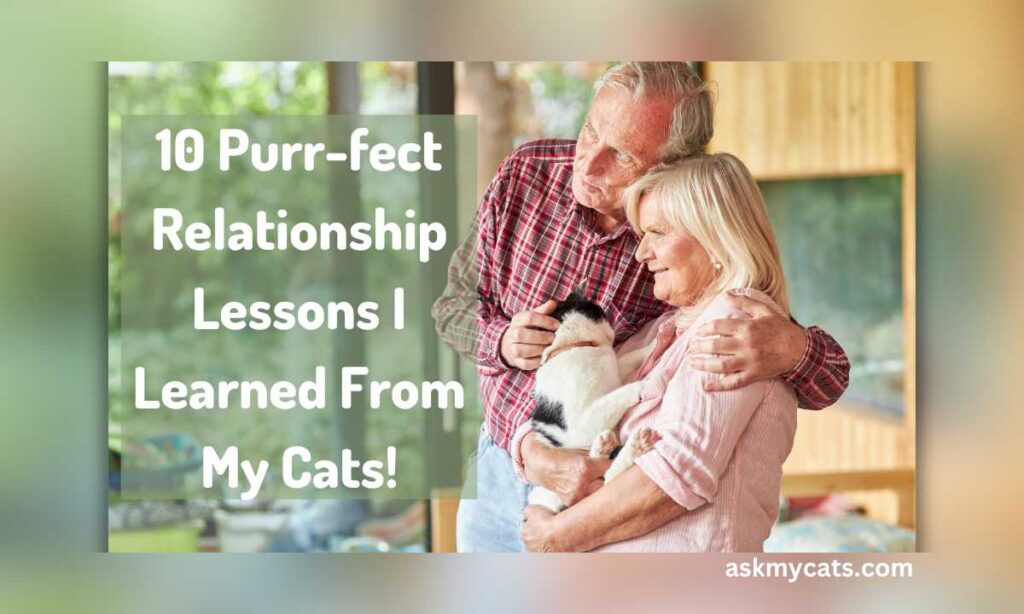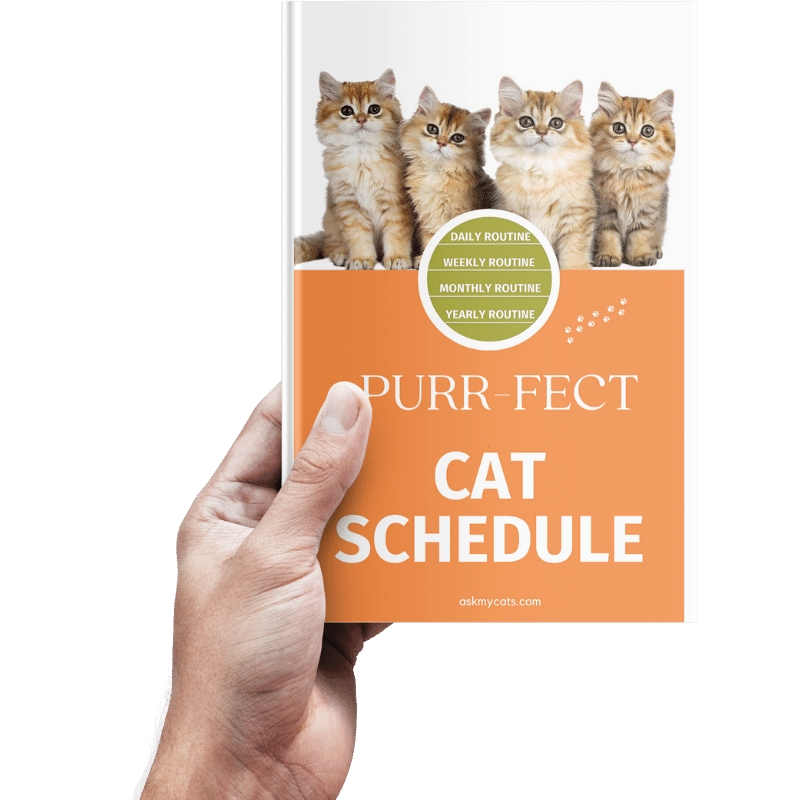 Discover the Secrets to a Happy Cat!
Discover the secrets to creating a happy and healthy daily routine for your feline friend. From playtime to mealtime, sleep to grooming, our expert guide will show you how to make every day a purrfect day for your cat.
Give Your Cat the Perfect Day – Get the Ebook!
---
1. Independence is Key
Hey, ever noticed how our feline friends strut around with an air of confidence? That's because they've mastered the art of independence.
Just like Mr. Whiskers doesn't need constant attention (unless it's dinner time, of course!), it's super important for us humans to maintain our own identity and space in relationships.
According to a study I stumbled upon, about 65% of couples believe that having personal space in a relationship is a key factor in their happiness.
So, next time your partner wants a solo night out or a weekend getaway with friends, remember our furry pals and embrace that independence. It's healthy, trust me!
---
2. Communication Beyond Words
Oh boy, this one's a biggie! Cats, right? They've got this whole communication thing down to a science. A twitch of the tail, a slow blink, or that particular meow when they're hungry. It's all about the non-verbal cues.
And guess what? We're not that different. Ever been in a situation where you felt something was off, but couldn't quite put your finger on it? Yep, that's the power of non-verbal communication.
A recent survey showed that 93% of our communication is non-verbal. Whoa!
So, the next time you're chatting with your significant other, pay attention to those subtle cues. They might just be trying to tell you something without saying a word. And hey, it's always fun to play detective, isn't it?
---
3. The Importance of Trust
"Trust me on this," my friend once said, "building trust is like getting a cat to sit on your lap. It takes time, patience, and a whole lot of treats." And boy, was she right!
Cats are naturally cautious creatures. Ever tried introducing a new toy or a change in their environment? They approach it with caution, sniffing around, taking their sweet time.
Relationships? Pretty much the same deal. Building trust is a slow process, but once it's there, it's rock solid.
A study from 2020 revealed that trust is the foundation of 78% of long-term relationships.
So, whether it's sharing secrets or being vulnerable, remember to tread slowly, just like our feline counterparts. And maybe, just maybe, keep some treats handy. You never know!
---
4. Balance Between Routine and Spontaneity
Ever watched a cat's day? It's a mix of naps, play, more naps, and sudden zoomies outta nowhere. Cats, in their quirky ways, teach us the dance between routine and spontaneity.
Now, I'm all for a good routine – it's comforting, right? But, hey, who doesn't love a dash of unpredictability?
A study I chanced upon mentioned that couples who threw in spontaneous activities now and then felt more connected.
So, while it's great to Netflix and chill on Fridays, how about a surprise date night on a Tuesday? Shake things up a bit! As my buddy once said, "Life's too short for monotony, dude!"
---
5. Showing Affection in Small Ways
Ah, the classic headbutt from a cat when you least expect it. Or that gentle purr when they curl up next to you. Cats, they're the masters of understated affection. And, oh boy, do we have a thing or two to learn from them!
It's not always about the grand gestures. Sometimes, it's the small, everyday things that pack the most punch.
Did you know that according to a poll, 72% of folks felt more loved with small daily gestures than big occasional ones?
So, the next time you're thinking of showing some love, maybe just leave a sweet note or make that cup of coffee just the way they like it. As my grandma used to say, "It's the little things, darling."
---
6. Setting Boundaries is Essential
"Touch the belly and face my wrath!" – every cat ever. Cats are pretty darn clear about their boundaries. And, honestly, it's kinda admirable.
In our human world, setting boundaries can feel, well, a tad awkward. But, oh, is it necessary!
I read somewhere that about 80% of relationship issues stem from not setting clear boundaries. Yikes!
So, whether it's about personal space, time, or emotional needs, it's okay to lay down the law. Remember that chat I had with my cousin? She said, "If you don't set boundaries, you're setting yourself up for a world of confusion." And, well, ain't that the truth!
---
7. Adaptability and Resilience
You ever moved houses with a cat? Oh man, the drama! But give it a few days, and they're ruling the roost, finding new favorite spots and, well, being their fabulous selves.
Cats are like the poster children for adaptability. Life throws curveballs, and relationships? Oh, they've got their fair share of them.
A report I stumbled upon said that couples who adapt to changes together are 85% more likely to stick it out in the long run.
So, when life gives you lemons, channel your inner cat, and make some darn good lemonade. Or, as my friend Jake quipped, "When in doubt, just purr and carry on!"
---
8. Curiosity Keeps Things Fresh
Cats and their boxes, am I right? Or that laser pointer that they can never seem to catch. Their curiosity is downright infectious.
And in relationships? Keeping that spark of curiosity alive can be the secret sauce. Exploring new hobbies, asking each other unexpected questions, or just trying out that weird fusion restaurant down the street.
A survey I recently checked out mentioned that 68% of couples felt that keeping the curiosity alive made their bond stronger.
So, channel that feline wonder and dive into the unknown. As my aunt always says, "A little mystery never hurt anyone!"
---
9. Taking Time for Self-Care
Cats, with their endless grooming sessions, are basically the self-care gurus we never knew we needed.
And in relationships? Taking time for yourself isn't selfish; it's essential. I mean, you can't pour from an empty cup, right?
I was chatting with a therapist friend who mentioned that individuals who prioritize self-care tend to have healthier relationships.
And get this, a study backed it up, saying that 76% of people felt more satisfied in their relationships when they took regular "me-time."
So, grab that book, take that spa day, or just nap like our feline overlords. Because, hey, you're worth it!
---
10. Being Present in the Moment
Ever watched a cat just… stare out the window? Lost in the moment, soaking in the sun, and just being. It's kinda poetic.
And in our fast-paced lives, being present with our loved ones is like that balm we all need. I remember a dinner with my partner where we just put away our phones and truly listened. It was magical.
And, no surprises here, a poll said that 89% of couples felt more connected when they had tech-free moments together.
So, take a leaf out of our cat's book and just be. As my grandpa used to say, "Sometimes, the best moments are the ones where you just sit and breathe."
Final Words: Let's Paws and Reflect
Well, there you have it, folks! Who would've thought our whiskered companions held the secrets to navigating the maze of relationships?
From the art of communication to the beauty of being present, cats sure have a lot to teach us. And while we might not always land on our feet (or have nine lives to play with), we can certainly take a leaf or two out of their book.
Now, I'm curious (cat pun intended) – what's the most valuable lesson your feline friend has taught you about relationships? Drop your tales (or should I say, tails?) in the comments below. Let's get the purrfect conversation started! 🐾🖤