Hey there, fellow cat enthusiast! 🐱 Ever considered adopting a black cat? Now, I know what you're thinking. "Black cats? Aren't they, you know, unlucky?"
Well, let me stop you right there. It's time to debunk some myths and dive into the real reasons these feline wonders are the ultimate pets. From their sleek, panther-like appearance to their heart of gold, there's so much to adore.
And trust me, by the end of this, you might just find yourself heading to the nearest shelter. Curious to know why? Let's unravel the mystery together!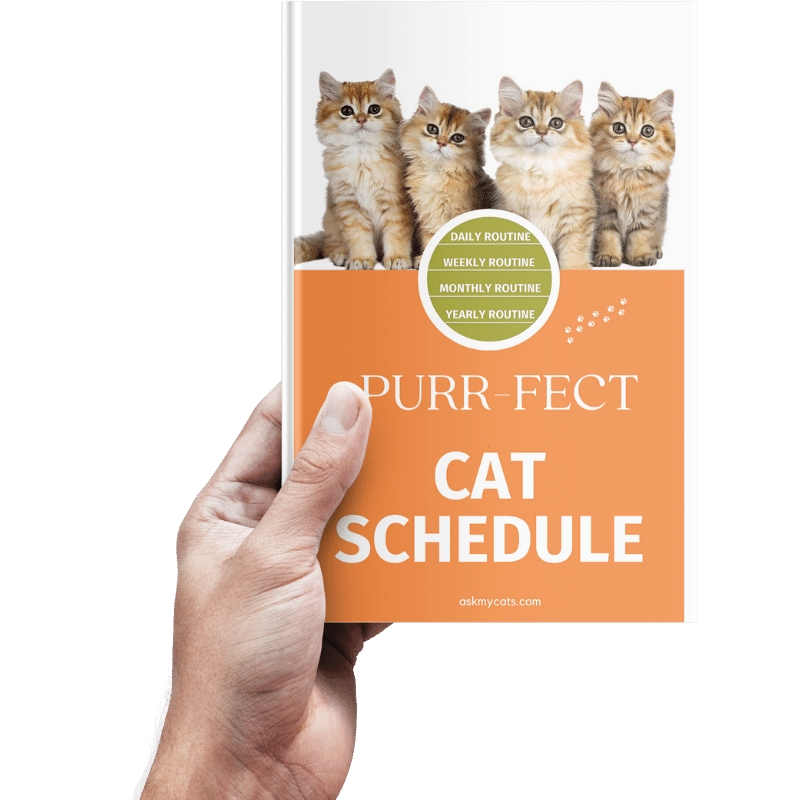 Discover the Secrets to a Happy Cat!
Discover the secrets to creating a happy and healthy daily routine for your feline friend. From playtime to mealtime, sleep to grooming, our expert guide will show you how to make every day a purrfect day for your cat.
Give Your Cat the Perfect Day – Get the Ebook!
1. Loving Companions
Hey, did you know? Black cats are incredibly affectionate. I mean, just like any other feline friend, they're packed with love and loyalty.
Ever had one of those days where you just want to curl up on the couch with a warm, purring buddy? Well, a black cat's got your back! They're always there, ready to snuggle up and offer some comfort.
And trust me, their purrs? Absolutely therapeutic! It's like having a little piece of sunshine, even on the cloudiest days.
2. Breaking Superstitions
Alright, let's chat about those pesky superstitions. You've heard them, right? Black cats bringing bad luck and all that jazz? Pssh, total nonsense!
By adopting a black cat, you're not just getting a pet; you're making a statement. A big, bold, "I-don't-believe-in-silly-myths" kind of statement.
So, why not be a trendsetter and show the world that these superstitions are outdated?
Plus, it's kinda fun to see people's reactions when you tell them you've adopted a black cat. "Oh, aren't you brave!" they'll say. And you can just wink and reply, "It's not bravery; it's just common sense!"
3. Unique Aesthetics
Okay, let's talk looks. Black cats? They're the epitome of elegance.
That sleek, glossy fur? It's like they're wearing a designer outfit 24/7. And those eyes? Whether they're gold, green, or blue, they always stand out beautifully against their dark coats. It's like having a mini panther roaming around your home.
So, if you're into aesthetics (and who isn't?), a black cat is the perfect addition to your family. They're like the little black dress of the cat world – timeless and always in style.
| Feature | Description |
| --- | --- |
| Fur | Sleek, glossy, and oh-so-touchable |
| Eyes | Striking colors that pop against their dark fur |
| Overall Look | Elegant and timeless |
4. Good Luck and Prosperity
Hold up! Did someone say black cats are bad luck? Well, they've got it all wrong.
In many cultures, these dark-furred beauties are considered symbols of good luck and prosperity. Yep, you heard that right! For instance, in Japan, they're believed to bring good fortune.
So, next time someone tries to tell you about the "bad luck" myth, just laugh it off and say, "Well, in my house, it's raining good vibes and positivity, thanks to my black cat!"
5. Personality Over Color
"Hey, what's your cat like?" Ever been asked that? Well, with a black cat, you'll have stories for days.
These kitties have personalities that are larger than life. Some are playful and mischievous, always up for a game of chase. Others? They're the laid-back, "let's chill and watch Netflix" type.
But here's the thing – it's not about their color. It's about who they are. And every black cat is unique, with its own quirks and idiosyncrasies.
So, when you adopt one, you're not just getting a pet; you're getting a new best friend with a ton of character!
6. Reduced Sunburn Risk
Whoa, did you know this? Black cats have this super cool thing going on with their skin. Thanks to the higher melanin content, they're less likely to get sunburned compared to their lighter-colored pals.
Imagine, while we're slathering on sunscreen, these cool cats are just lounging around, soaking up the sun without a care in the world. It's like they've got built-in SPF!
So, if you're someone who enjoys hanging out in the yard or balcony with your kitty, a black cat is a pretty smart choice. They're like the sunbathing pros of the cat world!
7. Easy to Spot at Night
Ever had that mini heart attack when you can't find your pet in the dark? Well, with black cats, that's rarely a problem.
Their dark coats contrast beautifully against the night, making them easy to spot. It's like they come with their own little spotlight. No more tripping over them or accidentally nudging them with your foot.
And hey, there's a bonus: their eyes! They glow in the dark, giving them this otherworldly, magical appearance. It's both functional and enchanting!
| Feature | Benefit |
| --- | --- |
| Dark Coat | Easy to spot in low-light |
| Glowing Eyes | Magical nighttime appearance |
8. Mysterious Charm
Okay, let's get real for a sec. There's something undeniably enchanting about black cats. Their dark coats, those piercing eyes – they exude a sense of mystery and charm. It's like living with a tiny, furry enigma.
Every day, you'll find yourself captivated by their antics and mesmerized by their beauty. And trust me, they know they've got the charm, and they're not afraid to flaunt it!
So, if you're looking for a pet with a touch of mystique, a black cat fits the bill perfectly.
9. Low Adoption Rates
Alright, this one's a bit of a heartbreaker. Did you know that black cats often get overlooked in shelters? It's a sad truth.
Because of silly superstitions and myths, these gorgeous creatures often wait longer for their forever homes. But here's where you come in.
By adopting a black cat, you're not just getting a pet; you're giving a loving creature a chance at a better life. And the gratitude and love you'll receive in return? Priceless.
So, let's change the narrative and give these kitties the homes they deserve!
10. High Euthanasia Rates
Now, I hate to be the bearer of bad news, but this is important. Due to the low adoption rates, black cats face a higher risk of euthanasia.
It's a harsh reality, but we have the power to change it. By choosing to adopt a black cat, you're literally saving a life.
And believe me, the bond you'll share with a pet you've rescued is unlike any other. It's deep, it's meaningful, and it's filled with mutual respect and love.
So, if you're thinking of adopting, why not be a hero and save a black cat?
11. Resemble Mini Panthers
Hold the phone! Have you ever dreamt of living with a wild, majestic creature? Well, with a black cat, you're pretty darn close. These feline beauties bear a striking resemblance to their wild cousins, the black panthers.
It's like having a mini version of the jungle's royalty right in your living room. Their sleek, dark fur, the way they move with grace and poise – it's all so panther-esque!
And let's be real, who wouldn't want to brag about having a mini panther as a pet?
12. Genetic Advantages
Science time! 🧪 Did you know that black cats might just have a little genetic edge?
Some studies suggest that the genes responsible for their dark coats might also give them a boost against certain diseases. It's like they come with their own little health shield.
Now, while this doesn't mean they're invincible (regular vet check-ups are a must!), it's still a neat little perk, right?
| Trait | Benefit |
| --- | --- |
| Dark Coat Gene | Possible increased immunity against certain diseases |
13. National Black Cat Day
Guess what? Black cats are so awesome that they even have their own special day!
National Black Cat Day is all about celebrating these feline wonders and breaking the stigma surrounding them. By adopting a black cat, you get to join in on the festivities.
Imagine all the fun themed parties, the cute photoshoots, and, of course, the bragging rights. "Oh, it's National Black Cat Day? Well, let me introduce you to my little superstar!" 🌟
14. Cool Name Possibilities
Alright, let's talk names. With a black cat, the naming possibilities are endless!
From "Midnight" to "Shadow," "Mystique" to "Onyx," there's a plethora of cool, unique names that fit their dark and elegant appearance. And let's face it, naming a pet is half the fun of getting one.
So, if you're someone who loves getting creative with names, a black cat offers the perfect canvas.
15. Unconditional Love
Last but certainly not least, let's touch on something truly special. Love. Black cats, like all pets, offer unconditional love. Their color doesn't define their heart.
They'll be there for you, through thick and thin, offering purrs, headbutts, and cuddles. Whether you've had a rough day or you're just chilling on a lazy Sunday, they'll be by your side, offering warmth and companionship.
And honestly, isn't that the best reason of all to adopt?
Conclusion: Your Feline Friend Awaits!
So, there you have it, folks! A plethora of purr-fect reasons to adopt a black cat. From their stunning aesthetics to their heartwarming personalities, these feline wonders are truly one-of-a-kind.
But don't just take my word for it. Why not experience the magic firsthand?
Head to your local shelter, meet these black beauties, and perhaps, just perhaps, you'll find your new best friend waiting for you.
After all, every cat deserves a loving home, and every home deserves the joy a cat brings. Ready to make some feline memories? 🐾❤️