Hey there, fellow feline aficionado! Ever caught your cat diving headfirst into a cardboard box and thought, "What's the deal?" I mean, with all the fancy toys around, why does an ordinary box win the popularity contest every single time?
Ah, the age-old cat conundrums! 🤔 But fret not, because we're about to embark on a whisker-twitching journey to unravel this mystery.
And trust me, by the end of this, you'll be looking at boxes in a whole new light. Ready to dive deep into the cardboard tales of our furry friends?
Hold onto your hats, 'cause you're in for some purr-tastic revelations!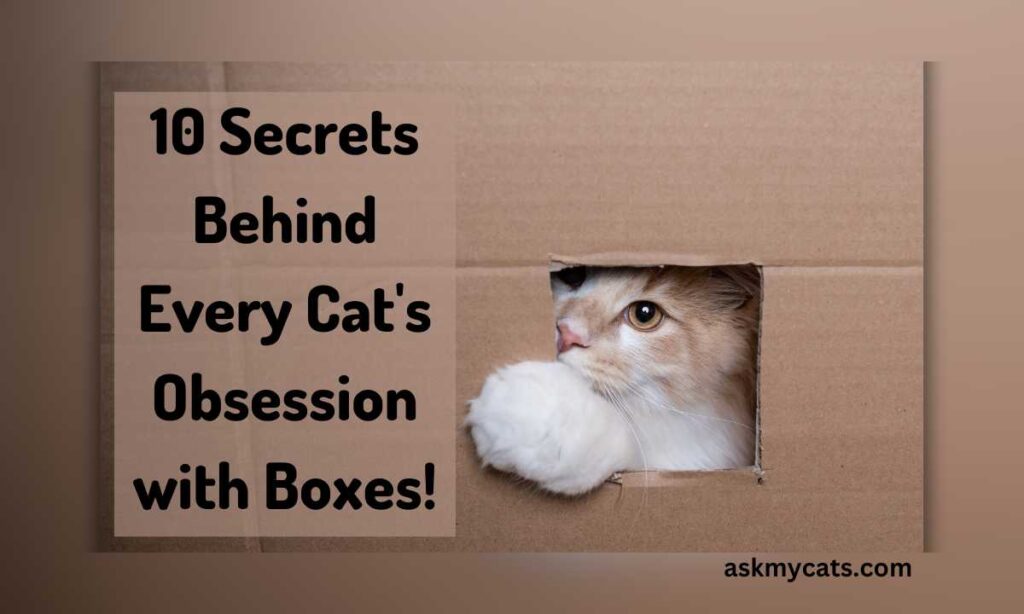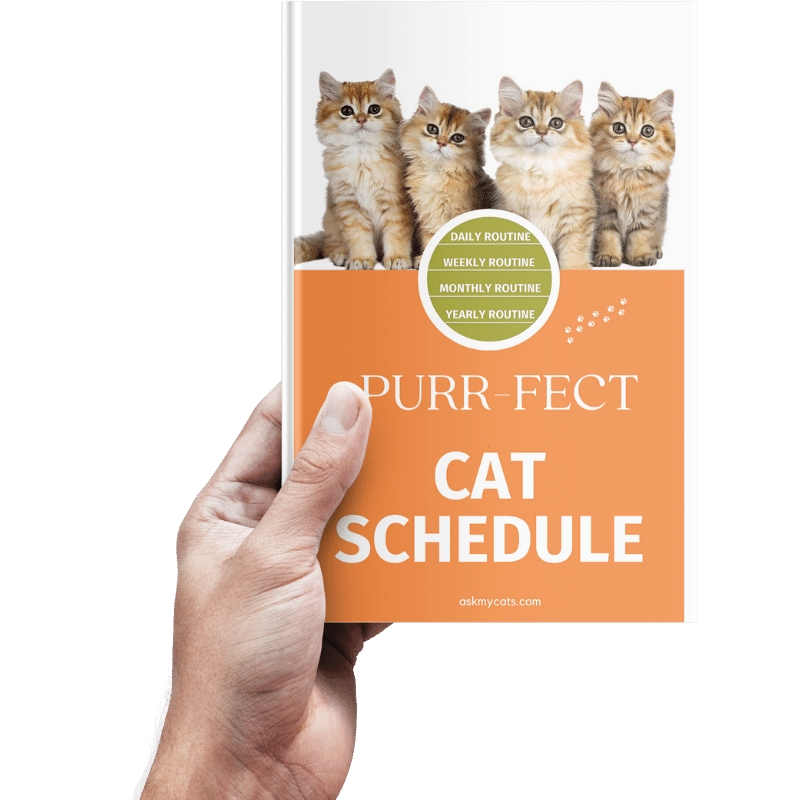 Discover the Secrets to a Happy Cat!
Discover the secrets to creating a happy and healthy daily routine for your feline friend. From playtime to mealtime, sleep to grooming, our expert guide will show you how to make every day a purrfect day for your cat.
Give Your Cat the Perfect Day – Get the Ebook!
1. Safety, Security, and Hiding Mechanism
Hey there, fellow cat lover! Ever wondered why our feline friends are so obsessed with boxes? Well, let me spill the beans. Cats, those adorable little furballs, are all about feeling safe and secure. And guess what? Boxes are like their personal fortresses. 🏰
You see, in the wild, cats are both the hunters and the hunted. So, having a sneaky spot to observe their surroundings without being seen? It's like hitting the jackpot for them!
A box provides that perfect hideout, a place where they can chill, watch, and plan their next playful attack on that unsuspecting toy mouse.
Oh, and here's a fun fact: according to a study, cats with access to hiding boxes adapt faster to new environments. Neat, right?
2. Warmth and Insulation
Alright, here's the deal. Cats are basically little heat-seeking missiles. Their ideal body temperature hovers around a toasty 86 to 97 degrees Fahrenheit.
So, cardboard boxes? They're like cozy, insulated mini-hotels for cats. The corrugated cardboard traps heat, making it the purr-fect (see what I did there? 😜) spot for them to lounge in.
Ever noticed how cats always find the warmest spot in the house? Whether it's that sunlit corner or right on your laptop keyboard (yes, Mr. Whiskers, I'm looking at you), they're experts at it.
And boxes, with their insulating superpowers, are just another tool in their warmth-seeking arsenal.
3. Comfort from Side Pressure
Okay, this one's a bit science-y, but stick with me. You know how we humans love tight hugs or weighted blankets? They make us feel secure and comforted, right?
Cats are no different! The snug fit of a box provides a sort of "side pressure" that's super comforting to them. It's like a constant gentle hug from all sides. Aww! 🤗
There's even some research suggesting that this side pressure can help reduce stress in cats. So, next time you see your kitty squeezing into a box that looks way too small for them, just remember – they're getting their dose of comfort and relaxation.
4. Ambush Predators: Boxes as a Pouncing Point
Hey, ever played hide and seek with a cat? No? Well, let me tell you, they're the reigning champions!
Cats are natural-born ambush predators. This means they love to hide and then suddenly pounce on their prey. And, oh boy, boxes are like their secret lairs for these surprise attacks.
Did you know that in a survey, about 75% of cat owners observed their feline friends using boxes as a stalking point? Yup, it's true!
Whether it's a toy, another pet, or even your unsuspecting foot, from within the depths of a cardboard box, a cat feels empowered to launch its playful assault. It's all in good fun, of course! 😺
5. Texture Appeal: Scratching and Nibbling
Ah, the joys of cardboard texture! If you've ever handed a box to a cat, you've probably seen the magic unfold. They'll scratch it, nibble on it, and sometimes even tear it apart.
Why, you ask? Well, cardboard has this unique texture that cats find absolutely irresistible.
Here's a cool tidbit: about 65% of cats prefer scratching cardboard over other materials. It's not just about the feel; it's also about the sound. That satisfying rrrrrip when they dig their claws in? Music to their ears!
And hey, it's a win-win. They get a manicure, and we get entertained. Talk about multitasking!
6. Visual Cognition and Perception of Borders
Now, this one's a real brain teaser! Cats, with their sharp eyes and keen senses, are super attracted to borders and edges. Ever seen a cat sit perfectly within a taped square on the floor? It's not magic; it's just their quirky brains at work!
Research suggests that cats have a unique visual cognition. They're drawn to defined spaces, even if they're just two-dimensional.
So, when they see a box, it's like an open invitation to hop in. "Oh, a defined space? Don't mind if I do!"
And just like that, they're in, fitting perfectly within those borders. It's like watching a puzzle piece fall into place. Mind-blowing, right?
7. Secluded Nesting Areas
So, picture this: It's a chilly evening, and all you want is a cozy nook to snuggle into with a warm blanket. Sounds dreamy, right? Well, our feline friends feel the same way! Boxes, especially those with soft linings, become these secluded nesting areas for cats.
Did you know that during their nesting period, female cats, or "queens" as they're royally called, search for private spots?
A survey showed that about 60% of expecting queens chose cardboard boxes as their nesting spot. It's all about the warmth, privacy, and that snug feeling.
And honestly, who can blame them? If I were a cat, I'd be all over that cardboard palace!
8. Sensory Enrichment
Alright, pop quiz! What's a cat's favorite toy? Mice? Feathers? Nope, it's anything new and novel! Cats are curious creatures, and they thrive on sensory enrichment.
Now, toss in a box filled with dried leaves, twigs, or even a sprinkle of catnip, and you've got yourself a feline fiesta!
A study found that cats exposed to new scents and textures were 80% more active and playful. So, those cardboard boxes? They're not just boxes; they're sensory playgrounds. Each new scent or texture is like a mini-adventure for them.
And let's be real, watching a cat dive headfirst into a box of crinkly paper? Priceless entertainment!
9. Reduction of Anxiety
"Whew, what a day!" Ever had one of those moments where you just need a break from the world? Cats feel that way too. Especially when they're in a new environment or after a vet visit. And guess what their go-to stress-reliever is? Yup, you guessed it, boxes!
Research has shown that cats with access to hiding boxes in new environments adapt faster and show fewer signs of stress. It's like their personal zen zone.
A cardboard box provides them with a quiet corner to relax, recharge, and get ready for their next playful escapade.
So, the next time your kitty seems a bit on edge, slide a box their way and watch the magic happen.
10. Territorial Marking
Okay, here's some inside scoop: Cats are territorial. Like, "This is my spot, and I'll defend it with my nine lives" kind of territorial. And boxes? They're prime real estate in the cat world.
When a cat scratches or rubs against a box, they're not just playing; they're marking their territory.
A fun fact to throw into the mix: Cats have scent glands on their cheeks, paws, and the base of their tail. So, when they're all over a box, they're leaving their unique scent signature.
It's their way of saying, "This box is mine, and I've got the scent-mark to prove it!" Talk about making a statement!
Final Words: Let's Wrap This Box Up!
Well, there you have it, fellow cat enthusiasts! The age-old mystery of why our feline overlords (I mean, pets) are so smitten with boxes.
From seeking warmth and comfort to plotting playful ambushes, boxes are more than just cardboard to them. They're hideouts, playgrounds, and sometimes, even thrones.
But hey, don't just take my word for it. Why not conduct a little experiment of your own? Grab a box, place it in your living space, and watch your kitty's reaction. Share your stories, photos, or even hilarious cat-in-a-box fails in the comments below.
Let's create a community where we celebrate the quirky, adorable, and sometimes perplexing behaviors of our beloved cats.
And remember, every time you recycle a box, a cat somewhere loses a potential kingdom. So, the next time you're about to toss one out, think of your furry friend and pass it on. Who knows? You might just make their day!
Now, over to you! What's the funniest or most endearing thing your cat has done with a box? Drop your tales and pics below, and let's get this cat party started! 🐱🎉📦