Hey there, fellow movie buffs and cat lovers! 🎬🐱 Ever noticed how our feline friends have a knack for stealing the spotlight, even in films?
I mean, sure, action heroes and romantic leads are great and all, but there's just something about a cat's charisma that's simply irresistible.
From sassy sidekicks to mysterious moggies, these whiskered wonders have graced the silver screen with their purr-fect performances. And trust me, by the end of this, you'll be wondering: "Who's the real star here?"
Ready to dive into the world of cinematic kitties? Hold onto your popcorn, 'cause you're in for a treat that's more thrilling than a catnip frenzy! 🍿🐾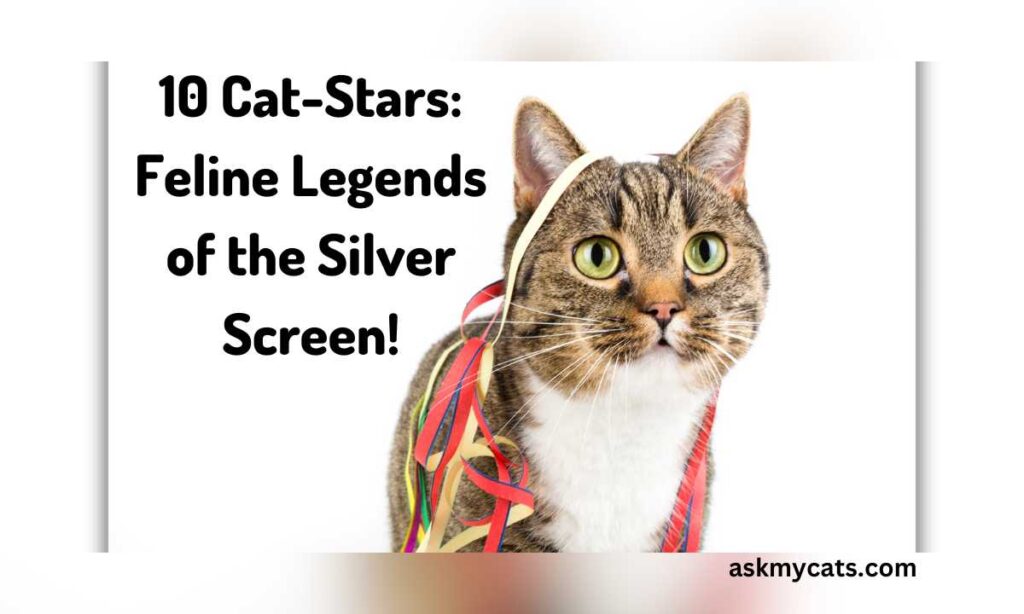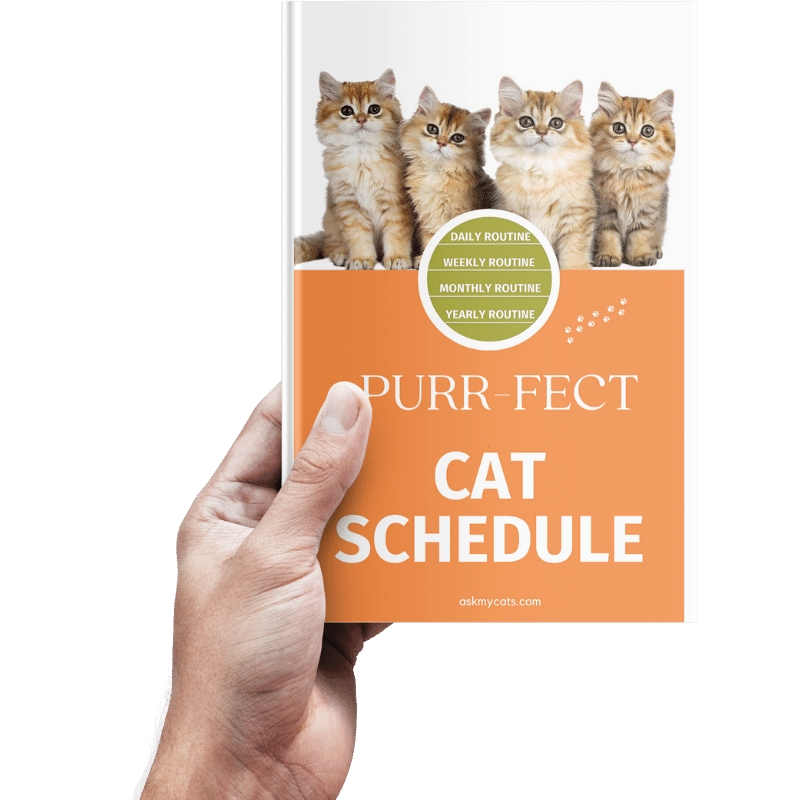 Discover the Secrets to a Happy Cat!
Discover the secrets to creating a happy and healthy daily routine for your feline friend. From playtime to mealtime, sleep to grooming, our expert guide will show you how to make every day a purrfect day for your cat.
Give Your Cat the Perfect Day – Get the Ebook!
1. Mr. Bigglesworth from "Austin Powers: International Man Of Mystery"
Ah, Mr. Bigglesworth! Who could forget that iconic, hairless feline sidekick of Dr. Evil in the Austin Powers series?
Played by an Egyptian Sphynx cat named Ted Nude-Gent (I mean, come on, that name alone is pure gold!), Mr. Bigglesworth was the epitome of cool cats.
Did you know that this cat was once a fluffy Persian? Yup! But after a 30-year stint in a cryogenic capsule, both he and Dr. Evil went all bald. Talk about a bad hair day, right?
And get this: Mr. Bigglesworth was named Cat of the Year by Cats magazine in 1999. No surprises there!
Dr. Evil once quipped, "When Dr. Evil gets angry, Mr. Bigglesworth gets upset. And when Mr. Bigglesworth gets upset, people die!" Classic!
2. Tonto from "Harry & Tonto"
Oh, Tonto! This orange tabby is not just any cat. He snagged the 1975 Performing Animal Top Star of the Year Award for his role in "Harry & Tonto." Impressive, huh?
But here's the kicker: Tonto, in true feline fashion, was drawn to the one person on set who didn't fuss over him. That person? The actor who played Harry, Art Carney.
And guess what? Art wasn't even a cat person! He once admitted he didn't particularly like cats. Irony at its finest!
Harry's iconic line about Tonto? "My cat has to relieve himself." Simple, yet so relatable for every cat owner out there.
| Year | Award | Movie |
| --- | --- | --- |
| 1975 | Performing Animal Top Star of the Year | Harry & Tonto |
3. Garfield from "Garfield: The Movie"
Garfield! The lasagna-loving, Monday-hating, fat cat we all adore. Starting off as an American comic strip, this feline sensation leaped (or should I say, lazily strolled?) into television, video games, and movies.
Here's a fun tidbit: in 2002, Garfield strutted his way into the Guinness Book Of World Records for being the most widely syndicated comic strip. Talk about a global superstar!
And who could forget the 2004 live-action movie where a computer-generated Garfield was voiced by none other than Bill Murray? His classic line? "So much time and so little I need to do." Oh, Garfield, you're a mood!
| Year | Achievement | Category |
| --- | --- | --- |
| 2002 | Guinness Book Of World Records | Most Widely Syndicated Comic Strip |
4. Mittens from "Bolt"
Mittens, where do I start? This savvy stray cat from "Bolt" is the definition of street-smart. Abandoned by her humans after being declawed (ugh, the nerve!), she's had to hustle her way through life.
But here's the twist: she doesn't hunt. Nope! Instead, she's got the local pigeons doing her bidding. Talk about being resourceful! When she bumps into Bolt, she's all sass and sarcasm, but deep down, she's got a heart of gold.
Susie Essman, who voiced Mittens, described her as "a tough New York City chick," while Bolt was "this clueless Hollywood guy." Can you imagine their banter? Classic!
| Fact | Description |
| --- | --- |
| Origin | New York City |
| Strategy | Intimidating pigeons |
| Personality | Sassy but golden-hearted |
5. Oliver from "Oliver & Company"
Ah, Oliver! This little guy's story tugs at the heartstrings. An orphaned kitten trying to make it in the big city, he ends up rolling with a gang of street dogs. Sounds like a plot twist, right?
The 1988 Disney classic "Oliver & Company" gave us a feline twist on the "Oliver Twist" tale. And boy, did they nail it!
The original script was way grittier, but thankfully, they jazzed it up into the musical adventure we all know and love. Oliver's innocent charm amidst the hustle and bustle of New York? Priceless!
6. Jonesy from "Alien"
Jonesy! Oh man, if there's one cat that's seen some stuff, it's him. This ginger tomcat was aboard the Nostromo in the sci-fi horror masterpiece "Alien."
While the crew was dealing with, well, you know, a terrifying alien, Jonesy was just doing cat things. You know, lounging, stretching, and occasionally hissing at extraterrestrial beings. Casual. The fact that he's one of the few survivors of the alien's rampage? Legendary!
I mean, think about it: in a ship full of trained spacefarers, it's the cat that comes out on top. Go figure!
| Fact | Description |
| --- | --- |
| Ship | Nostromo |
| Survival Skills | 10/10 |
| Chill Level | Expert |
7. Buttercup from "The Hunger Games"
Oh, Buttercup! Now, here's a cat with some serious attitude. This grumpy-looking feline belongs to Prim, Katniss Everdeen's little sister in "The Hunger Games" series.
But don't let that scowl fool you. Deep down, Buttercup's got a soft spot, especially for Prim. And honestly, who could forget that heart-wrenching scene between Katniss and Buttercup after… well, you know (no spoilers here!).
It's said that Suzanne Collins, the author of the series, was inspired by her own calico cat when creating Buttercup. Talk about a real-life muse!
| Fact | Description |
| --- | --- |
| Owner | Prim Everdeen |
| Attitude | Grumpy but loving |
| Inspiration | Suzanne Collins' own cat |
8. Puss in Boots from "The Shrek Series And Puss In Boots"
Ahoy, matey! Enter Puss in Boots, the swashbuckling feline with a heart of gold. Voiced by the charismatic Antonio Banderas, Puss first strutted into our lives in "Shrek 2" and quickly stole the show.
With his signature musketeer hat, rapier, and those irresistible big eyes, he's a force to be reckoned with.
Did you know that Puss was inspired by the classic fairy tale character who used wit and trickery to gain power, wealth, and the hand of a princess in marriage? And, of course, who could forget his own spin-off movie? It's purr-fect!
9. Crookshanks from "The Harry Potter series"
Crookshanks! The squashed-faced, ginger furball that's part cat, part Kneazle. This feline has a knack for sniffing out untrustworthy folks (ahem, Scabbers).
Owned by Hermione Granger, Crookshanks might not be the prettiest cat in the wizarding world, but he sure is one of the smartest.
Fun fact: In the movies, he's played by two red Persians named Crackerjack and Pumpkin. And to make them look as scruffy as possible, their trainers actually stuck bits of already-shed fur back onto their bodies. Talk about movie magic!
| Fact | Description |
| --- | --- |
| Breed | Half-Kneazle |
| Owner | Hermione Granger |
| Movie Magic | Played by two red Persians |
10. Sassy from "Homeward Bound"
Last but not least, meet Sassy, the Himalayan cat with a sassy attitude to match her name. Alongside her canine pals, she embarks on a perilous journey across the Rockies in "Homeward Bound."
Voiced by the legendary Sally Field, Sassy is the perfect blend of elegance and wit. And here's a heartwarming tidbit: Tiki, the cat who played Sassy, was rescued from a kitten mill before making her big-screen debut.
From rags to riches, right? Her journey, both on and off-screen, is a testament to the resilience of animals everywhere.
| Fact | Description |
| --- | --- |
| Journey | Across the Rockies |
| Voice | Sally Field |
| Off-Screen Story | Rescued from a kitten mill |
Final Words: Let's Paws and Reflect!
Well, there you have it, fellow feline aficionados! From the swashbuckling adventures of Puss in Boots to the heartwarming journey of Sassy, these cinematic cats have truly left their paw prints on our hearts.
Each one, with their unique tales and quirks, has shown us that cats aren't just pets; they're stars in their own right.
But hey, I've been doing a lot of the talking (or, well, writing). Now, it's your turn! Which of these iconic cats is your favorite? Or is there another movie star cat that you think deserves a spot on this list?
Drop your thoughts, memories, or even your own cat's Hollywood-worthy moments in the comments below. Let's keep this cat-tastic conversation going!
And remember, whether they're on the big screen or curled up on our laps, cats have a special way of making every moment magical. So, here's to all the purr-fect feline stars out there, both on and off the screen. Cheers! 🐾🎥🍿