Your septic system is meant to treat only human waste and biodegradable tissue, and it relies on a precise balance of bacteria to function.
It's not a good idea to flush your cat's litter or excrement down the toilet because it can clog pipes and harm your septic system. Flushing your cat's litter increases the amount of solid waste in the septic tank's biological mix.
This increased weight may not only upset the microbiological equilibrium of the tank but may also affect the ecosystem.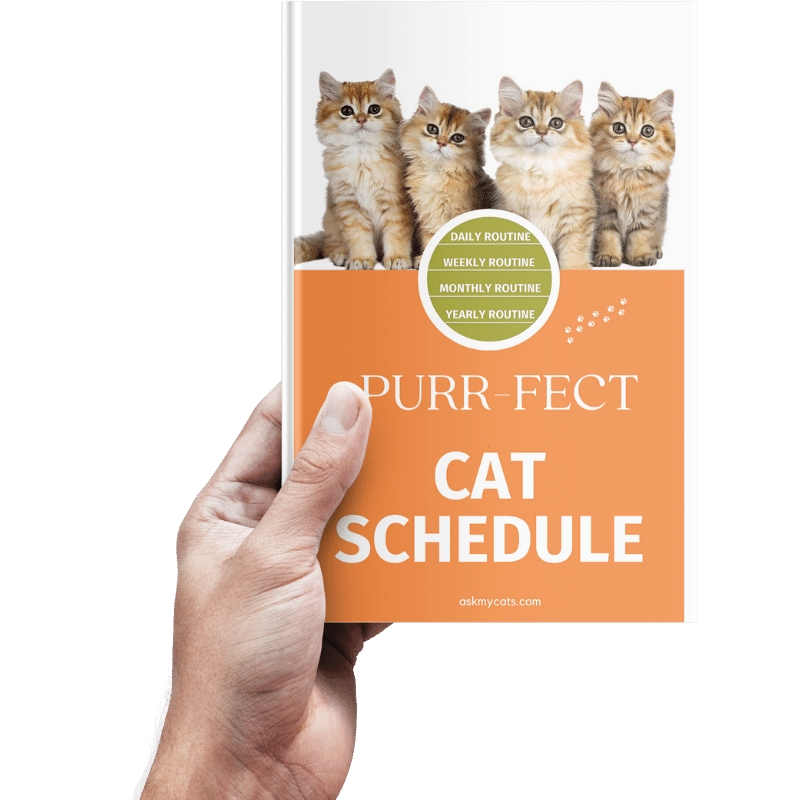 Discover the Secrets to a Happy Cat!
Discover the secrets to creating a happy and healthy daily routine for your feline friend. From playtime to mealtime, sleep to grooming, our expert guide will show you how to make every day a purrfect day for your cat.
Give Your Cat the Perfect Day – Get the Ebook!
Can You Dispose Of Cat Poop In the Toilet?
You should not dispose of cat poop in the toilet.
Toxoplasma, a parasite found in cat excrement, is a dangerous parasite that can cause significant health issues in people. Pregnant women and those with compromised immune systems are especially vulnerable.
Wastewater treatment systems are primarily intended to manage human waste and are not equipped to handle Toxoplasma infections. Unfortunately, wastewater treatment facilities do not eradicate this parasite before the water is released back into the environment and into the waterways.
Toxoplasma infection can spread to streams, causing brain damage and perhaps death in fish, shellfish, otters, and other marine species.
Even if the cat excrement and litter are separated, we strictly advise against flushing any of it down the toilet.
Over time, adding cat litter to the septic system, even organic or all-natural kitty litter like corn, pine, or wood chips, places unnecessary stress on the septic system. This might result in a catastrophic septic system breakdown. It's never a good idea to flush kitty litter.
Most cat litters are constructed of bentonite clay, which hardens when wet. With a bit of water, you'll achieve a cement-like consistency. If you've ever left it too long to clean out the litter box, you know how fast the litter can clump and become a formidable force to manage.
Consider what would happen if the litter solidified in your pipes; the cure may be expensive. Water jetting may be required depending on how clogged the pipes are, or if they are entirely blocked, the only option may be to remove and replace the pipes.
Can You Flush Cat Poop Without Litter?
You should never flush cat poop without litter.
Most of the issues with flushing cat litter down the toilet are caused by parasites found in cat excrement. Toxoplasma gondii is the name of the parasite.
The parasites may be exceedingly hazardous to humans, especially pregnant women, whose newborns can have convulsions, jaundice, enlarged livers, enlarged spleens, and severe eye infections if they are exposed to the parasite.
Unfortunately, if the parasite infection occurs early in the pregnancy, it might result in the child's death or a miscarriage.
Pregnant ladies aren't the only ones who are susceptible. Infection with this parasite may have unfavourable health effects in persons with weakened immune systems (such as the elderly or those with serious diseases).
However, because most people do not suffer symptoms right away after contracting the parasite, it is difficult to detect and, as a result, difficult to eradicate from the environment.
According to some estimates, thirty to fifty percent of humans have been infected with the parasite.
This parasite is why you should avoid handling cat excrement, let alone dumping it down the toilet and contaminating the entire water system. It's possible that certain water systems aren't prepared to destroy Toxoplasma.
The parasite's abundance in the water system might affect more than just people. It has been discovered in river otters and might infect any warm-blooded mammal.
Finally, everything we can do to decrease this parasite will benefit the environment as a whole.
There's another reason not to flush your cat's faeces down the toilet. Even though you try to keep it free from litter, some litter will stick to it when you flush it. Even flushable litter isn't wholly flushable.
Manufacturers may argue that tiny amounts of litter are safe to flush, but according to plumbers, we've seen our fair share of jams caused by natural litters mixed with the fats and oils found in sewers.
Clogs in the toilet and sewer can be fixed quickly, but they can also be costly and time-consuming repairs that aren't worth the ease of flushing your cat's waste.
Septic tanks can also not handle cat litter, even if it is organic or natural. Litter tends to gather and freeze in critical tank areas, such as the inflow baffle, causing severe issues.
Is It Illegal To Flush Cat Poop?
Yes, flushing cat faeces in the toilet is illegal since it can cause problems with your plumbing system, including septic system damage and pipe clogs.
Furthermore, your cat's faeces may contain Toxoplasma, a parasite that is harmful to people as well as aquatic animals.
Toxoplasmosis is a severe infection caused by the single-celled parasite "Toxoplasma Gondii," according to the Centres for Disease Control and Prevention (CDC). This parasite is present worldwide, but more than forty million individuals in the United States alone are infected with it.
Only cats can carry the parasite and transmit it to other animals via their faeces. To put it another way, flushing the cats' excrement down the toilet will assist them in spreading the parasite to the environment.
What Happens If You Flush Cat Litter?
1. Plumbing Blockages
When wet, cat litter may absorb up to fifteen times its original size. Even if your cat's excrement has absorbed some moisture from its litter box, it will expand and find its way into the waterways.
When your cat's excrement becomes wet, it will harden if using clay litter. And you know how difficult it is when your cat's excrement hardens to the consistency of cement.
When this hard cement-like excrement becomes stuck between your toilet pipes, your plumbing will get clogged, and unclogging won't be easy unless you hire a professional plumber, which will be expensive.
Avoiding this by avoiding flushing your kitten's excrement down the toilet is the easiest way to avoid it.
2. Health Hazards
Cat faeces can transmit the dangerous parasite Toxoplasma, which can cause serious health problems in humans. While some people have robust immune systems and can avoid the parasite causing severe health problems, others are more vulnerable.
When this parasite is released into the environment, it poses a significant threat to pregnant women. The parasite can cause birth difficulties, including miscarriages and birth disorders like brain damage in newborns.
Furthermore, the parasite has recently been linked to mental illness.
If your cat eats parasite-infected food, it won't display symptoms immediately, but it will excrete parasite eggs into the environment in one to three weeks. It takes around five days for the parasite's eggs to become infectious.
3. Harm Aquatic Life
In addition to creating severe health problems in humans, Toxoplasma can also affect aquatic life.
According to Science Daily, Toxoplasma infections kill seals, sea otters, dolphins, whales, and other marine creatures.
The threat originates from cat faeces released into waterways and ends up in bodies of water, including seas, oceans, lakes, and rivers. When cat faeces are dumped into these bodies of water, the tiny aquatic creatures eat it and pass it on to larger species.
Toxoplasma cannot kill aquatic animals outright; however, it has been discovered that sea otters infected with the parasite are more likely to attack sharks. The simplest way to avoid all of this is to refuse to flush your kitten's excrement down the toilet.
Is Cat Poop Toxic To Flush?
Cat poop is very toxic to flush.
It is not a good idea or encouraged to flush your cat's excrement down the toilet. To begin with, doing so may cause problems with your plumbing—damaging your septic system, clogging your pipes, and so on.
Furthermore, cat excrement may contain a Toxoplasma parasite, which can cause serious health problems in humans.
Because sewage systems aren't meant to eliminate parasites like Toxoplasma, flushing your cat's excrement might cause your kitty's poop to end up in the waterways, posing severe health dangers to people.
Because you don't know if your cat has the parasite, the best thing you can do is avoid flushing their excrement down the toilet.
What To Do If You Flush Cat Litter?
You need to clean the cat litter as soon as possible to ensure your drainage system is working fine.
The first thing you must do is to remain calm.
You should be alright if the sum were not excessive. Nonetheless, getting a plunger and using it to see if it takes any litter out could be a good idea.
If the litter has gotten stuck deeper down the pipes, you may need drain rods to pull it out. And for most of the time, though, you'll have to hire a plumber and pay a significant fee.
Can You Flush Cat Poop In Septic?
In a septic toilet system, you can't flush cat faeces or litter.
According to the same principles, cat litter will clog the pipes in the septic tank.
Several septic systems, including gravity, pressure, and proprietary systems, but no matter which one you have, you should never flush kitty litter down it.
It might be a costly remedy if these become blocked.
Is Flushable Cat Litter Really Flushable?
Yes and No. You can flush a flushable cat litter in small amounts but you should avoid flushing it as much as possible.
Some cat litter producers claim that their products are flushable.
There are pricey self-flushing litter toilets that employ washable granules. Instead of being flushed, these grains sit at the bottom of the cat toilet and are cleansed.
Is Flushable Cat Litter Safe For Septic Tanks?
Flushable cat litter is not safe for septic tanks.
To summarise, flushable kitty litter is created from biodegradable materials such as maize, wheat, wood, and paper rather than clay or silica-based goods.
On the other hand, flush trash is not safe for your pipes and septic tank since the litter may not be washed away with enough water.
Does Poop Dissolve in A Septic Tank?
Yes, poop will dissolve in the septic tank.
A septic tank is a tank that breaks down waste. Homes that are not connected to the city's plumbing system must rely on their septic systems to dispose of garbage.
Taking care of your septic tank will guarantee that it breaks down excrement as quickly and as cleanly as possible.
After germinating for 2-4 hours, the bacteria break down solid waste. The bacteria will increase to the tremendous amount that the environment will allow in around 2-4 days if the temperature and circumstances are suitable.
The wastewater from your toilet, shower, sinks, and washing machine is mixed as it leaves your home. However, when it reaches the septic tank, it begins to separate. Sludge, or the heaviest particle stuff in the waste, settles to the bottom.
Frequently Asked Questions
How do you dispose of cat poop?
Scooping cat excrement out of the box, firmly sealing it in a bag, and tossing it in the trash is the most straightforward and typical form of disposal. A biodegradable kitty litter bag may appear to be an excellent choice.
How do I dispose of cat poop from the litter box?
Scoop the faeces and dump it through the hole whenever you need to empty your cat's litter tray. The leftover rubbish can then be bagged and thrown away, or it can be composted.
How long does cat poop take to biodegrade?
Biodegradable cat litter, unlike clay and silica cat litter, decomposes. If no heat is used, the entire process usually takes at least a year. It might take months if there is a lot of heat.
Final Words
Finally, cat litter should never be dumped down the toilet since it might clog the drain.
Furthermore, flushing your cat's faeces might be harmful to their health if they have Toxoplasmosis since parasites will be sent to a waste treatment facility that they may not be able to handle.
Ask your questions in the comments section below.
References