Hey there, fellow cat enthusiasts! Ever wondered how our feline friends clawed their way into the annals of history? Oh, trust me, it's not just Mr. Whiskers next door who's been making waves.
From ancient tombs to modern memes, cats have been stealing the spotlight for centuries. And, oh boy, do I have some tales (or should I say tails?) to share!
So, grab a cozy blanket, maybe even your own purring companion, and get ready for a whiskered ride through time.
Curious about which cats made the cut? Well, you'll just have to keep reading to find out! 🐱📜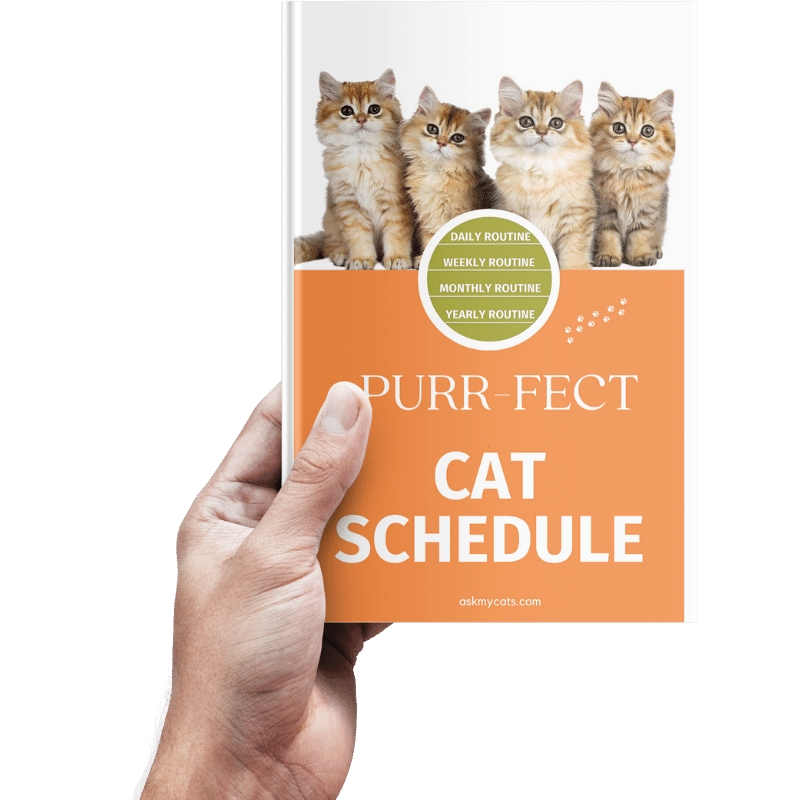 Discover the Secrets to a Happy Cat!
Discover the secrets to creating a happy and healthy daily routine for your feline friend. From playtime to mealtime, sleep to grooming, our expert guide will show you how to make every day a purrfect day for your cat.
Give Your Cat the Perfect Day – Get the Ebook!
1. Grumpy Cat
Oh, where do I even begin with Grumpy Cat? If you've ever been on the internet, you've probably seen her.
Grumpy Cat, or Tardar Sauce as she was originally named, became an overnight sensation in 2012.
Her signature frown wasn't because she was perpetually in a bad mood, but rather due to a combination of feline dwarfism and an underbite. But that didn't stop her from becoming one of the most recognizable faces on the internet.
Memes, merchandise, and even a movie followed. Despite her grumpy appearance, she brought joy and laughter to millions.
It's a reminder that sometimes, it's our quirks that make us stand out and be truly memorable.
2. Hello Kitty
Ah, Hello Kitty! She's not technically a real cat, but she's had such a massive impact on pop culture that she deserves a spot on this list.
Created by the Japanese company Sanrio in the 1970s, Hello Kitty is a little girl cat with a red bow and no mouth. She's been on everything – from school supplies to fashion runways.
And guess what? She even has her own theme park in Japan! While she started as a character for children, she's grown into a global brand loved by people of all ages.
It's fascinating how a simple drawing of a cat can turn into a worldwide phenomenon.
3. Larry
Let's hop across the pond to the UK for this one. Larry is no ordinary cat; he's the Chief Mouser of No. 10 Downing Street. Yep, that's right! He's got an official title and everything.
Larry has been living at the British Prime Minister's residence since 2011, and he's seen quite a few PMs come and go.
But through all the political changes, Larry remains a constant, often seen lounging around or chasing after mice. He's even got a bit of a rivalry with Palmerston, the Foreign Office cat.
Politics aside, Larry's antics and charm have made him a beloved figure in the UK and beyond.
4. Socks Clinton
Heading back to the States, let's talk about Socks Clinton. Socks was the First Cat during Bill Clinton's presidency.
This black and white feline had quite the life, moving from being a stray in Little Rock, Arkansas, to the corridors of power in Washington, D.C. Socks was often seen exploring the White House grounds, attending official events, and even had a book written about him.
He was a symbol of the simpler times of the '90s and remains one of the most famous presidential pets.
5. Unsinkable Sam
Last but certainly not least, let's dive into the incredible tale of Unsinkable Sam. This cat is the stuff of legends.
Originally named Oscar, he was aboard the Bismarck, a German battleship during WWII. After the ship sank, he was found floating on a plank by the British and was renamed Unsinkable Sam.
But his adventures didn't stop there. He survived two more ship sinkings! Talk about having nine lives.
Sam eventually retired and spent his remaining days at a home in Belfast. His story is a testament to resilience and the will to survive against all odds.
6. Choupette Lagerfeld
Oh, darling Choupette! If there was ever a cat that lived the high life, it's her. Belonging to the legendary fashion designer Karl Lagerfeld, Choupette is arguably the most pampered cat in the world.
With her own personal maids, a dedicated iPad, and a modeling career (yes, you read that right), she's truly the queen of the catwalk. Lagerfeld once mentioned that if he could, he'd marry Choupette.
And honestly, who could blame him? With her pristine white fur and deep blue eyes, she's the epitome of feline grace.
After Lagerfeld's passing, Choupette inherited a portion of his vast fortune. Talk about a cat with class!
7. Felicette
Buckle up, because we're heading to space! Felicette, affectionately known as the "astrocat," holds the unique distinction of being the first cat in space.
In 1963, this French feline was launched aboard a suborbital flight from Hammaguir, Algeria. The mission lasted just 15 minutes, but Felicette made history. Thankfully, she returned safely to Earth and went on to live a quiet life.
In 2019, a crowdfunding campaign successfully funded a bronze statue in her honor at the International Space University in Strasbourg, France. Felicette's journey reminds us that the sky's not the limit; it's just the beginning.
8. Tombili
From the streets of Istanbul comes the tale of Tombili, a chubby cat known for his laid-back demeanor.
Tombili became an internet sensation when a photo of him lounging on a sidewalk, leaning against a step, went viral. He embodied the spirit of Istanbul's street cats: resilient, independent, yet full of character.
Sadly, Tombili passed away in 2016, but his memory lives on. The residents of Istanbul erected a statue in his favorite lounging spot, capturing his iconic pose for eternity. It's a heartwarming tribute to a cat that brought smiles to many.
9. Muezza
Diving deep into history, we come across Muezza, the beloved cat of the Islamic prophet Muhammad. While there are many tales associated with Muezza, one stands out.
It's said that once, while Muhammad was performing ablutions, Muezza was sleeping on the sleeve of his robe. Not wishing to disturb her when he had to leave, Muhammad (peace be upon him) cut off the sleeve.
It's a touching story that highlights the deep bond between the prophet and his feline friend. Muezza's tale is a testament to the timeless connection between humans and cats.
10. Jinx the Cat
Lights, camera, action! Jinx, the scene-stealing cat from the movie "Meet the Parents," is next on our list.
Played by two Himalayan cats named Bailey and Misha, Jinx stole the show with his toilet-flushing antics. Trained to do a variety of tricks for the film, Jinx became an instant cinematic icon.
It's said that the cats underwent extensive training to perfect the toilet scene, and boy, did it pay off!
Every time I think of that movie, Jinx's mischievous face comes to mind. He's a purrfect example of how cats can steal the limelight, even from Hollywood's biggest stars.
Got it! Let's continue our feline journey.
11. Mr. Bigglesworth
Ah, Mr. Bigglesworth! Remember the bald, sphynx cat from the "Austin Powers" movies? That's him.
Originally, he was a fluffy, white Persian before Dr. Evil's cryogenic freezing process caused him to lose all his fur. The real name of the cat actor? SGC Belfry Ted Nude-Gent. Quite a mouthful, huh?
Mr. Bigglesworth's hairless appearance became a comedic highlight of the films.
His stoic face, combined with Dr. Evil's eccentric personality, was pure cinematic gold. Every time I see a sphynx cat, I can't help but think of Mr. Bigglesworth and chuckle.
12. Garfi–Angry Cat
Meet Garfi, often dubbed the world's angriest cat. But don't let his fierce looks fool you. Behind those fiery eyes is a sweet and loving feline. Garfi's intense expressions became an internet sensation, leading to countless memes and fan pages.
His owner, Hulya Ozkok, often shares pictures of him on social media, showcasing his daily life and "angry" adventures. It's a reminder that sometimes, looks can be deceiving. And in Garfi's case, hilariously so!
13. Monty the Cat
Oh, sweet Monty! Born with a chromosomal abnormality, Monty doesn't have a nasal bridge. This gives him a unique and endearing appearance. Rescued by a couple from Copenhagen, Monty's story is one of love and acceptance.
His owners created a Facebook page to share his life and spread a message of embracing differences. Monty's tale teaches us that beauty comes in all forms. And sometimes, it's our imperfections that make us truly special.
14. Oscar (Therapy Cat)
Oscar's story is both heartwarming and a tad eerie. Living in a nursing home in Providence, Rhode Island, Oscar had a unique gift.
He could predict when a resident was about to pass away. Oscar would curl up next to them, providing comfort in their final hours.
Doctors and staff were often amazed by his uncanny ability. While it might sound morbid, Oscar's presence brought solace to many families, knowing their loved ones weren't alone. It's a testament to the deep intuition and empathy cats can possess.
15. Orangey
Last but not least for this batch, let's talk about Orangey. A marmalade-colored tabby, Orangey was a star of the silver screen in the '50s and '60s.
He's best known for his role in "Breakfast at Tiffany's," alongside Audrey Hepburn. But that wasn't his only gig.
Orangey appeared in several films and TV shows, earning him the title of a professional film cat. In an industry where fame is fleeting, Orangey's legacy as a feline actor remains iconic.
16. Bob
Bob's story is one that tugs at the heartstrings. He was a stray ginger cat in London who happened to cross paths with James Bowen, a street musician and recovering addict.
The two formed an inseparable bond, with Bob often seen perched on James's shoulders as he played music on the streets. Their heartwarming relationship caught the attention of passersby and soon the media.
James went on to write a book titled "A Street Cat Named Bob," detailing their journey together. The book became a bestseller and was even adapted into a movie. Bob's tale is a testament to the transformative power of love and companionship.
17. Hamish McHamish
St Andrews, a quaint town in Fife, Scotland, had a feline celebrity named Hamish McHamish.
This long-haired ginger cat was known to roam the streets, visiting shops, university buildings, and even making appearances at local events. He wasn't a stray; he had an owner.
But Hamish was a free spirit, and the town collectively adopted him. His popularity grew so much that he even had a bronze statue erected in his honor.
Hamish's story is a beautiful example of a community coming together to celebrate one of its most charming residents.
18. Casper
Public transport can be a drag, but not if you're traveling with Casper, the commuting cat.
This feline resident of Plymouth, UK, became famous for regularly riding the bus all by himself. He'd patiently queue up, board the bus, and then disembark at his favorite spots.
Bus drivers and regular commuters knew him well, and he even had a specific bus stop he preferred. Casper's adventures brought smiles to many and made the daily commute a little brighter.
19. Mayor Stubbs
Politics can be a tough game, but not in Talkeetna, Alaska. This town had a feline mayor named Stubbs.
No joke! Stubbs, a ginger cat, was elected mayor in 1997 as a part of a mock election, and the town loved the idea so much that they kept him on. Mayor Stubbs "served" for 20 years, becoming a tourist attraction and putting Talkeetna on the map.
His "administration" was scandal-free, and he often "addressed" his constituents from his office at the local general store.
20. Tuxedo Stan
Tuxedo Stan's tale is one of activism and change. This dapper black and white cat ran for mayor of Halifax, Nova Scotia, in 2012.
While he didn't win the election, he won the hearts of many. Stan's campaign was a part of an initiative to raise awareness about the importance of spaying and neutering cats. His political run brought attention to the issue of stray and feral cats in the city.
Tuxedo Stan's legacy lives on through the Tuxedo Party, a political movement dedicated to improving the welfare of felines in Halifax.
21. Paddles
Down in New Zealand, politics got a little fluffier with Paddles, the "First Cat" of the country. This polydactyl (meaning she had extra toes!) ginger and white feline belonged to Prime Minister Jacinda Ardern.
Paddles was known for her playful antics, often "interrupting" official calls by jumping on the Prime Minister's lap. With her own Twitter account managed by an anonymous user, Paddles tweeted about her "official duties" and life at the Prime Minister's residence.
Tragically, Paddles passed away in a car accident, but her legacy as New Zealand's beloved First Cat lives on.
22. Nedjem or Nojem
Traveling back in time to ancient Egypt, we meet Nedjem, whose name means "Sweet One" or "Sweetie." Living in the 15th century BC, Nedjem was the cherished cat of Puimre, the second priest of Amun during Queen Hatshepsut's reign.
What makes Nedjem so special? He's the earliest known cat to bear an individual name. A damaged relief from Puimre's tomb depicts Nedjem, showcasing the deep bond between ancient Egyptians and their feline companions.
23. Ta-Miu
Staying in ancient Egypt, Ta-Miu was another feline of significance. Living in the 14th century BC, she was the beloved cat of Crown Prince Thutmose.
Ta-Miu's story is both touching and tragic. After her passing, she was mummified and placed in a beautifully decorated sarcophagus within Prince Thutmose's tomb, following his own untimely death.
This act highlights the reverence and love ancient Egyptians had for their cats.
24. Pangur Bán
Shifting to the 8th-9th century AD, Pangur Bán's tale is poetic, quite literally. This white cat belonged to an unknown Irish monk who penned a poem drawing parallels between his scholarly pursuits and Pangur Bán's hunting skills.
The poem, which has been translated multiple times, captures the quiet companionship between the monk and his cat as they both seek knowledge in their own ways.
25. Willow
Fast-forwarding to 2023, Willow holds the title of the "First Cat" of the United States. While details about her specific adventures and antics in the White House are still unfolding, being a presidential pet is no small feat.
From official photos to possible appearances at events, Willow is set to leave her paw prints in U.S. history.
"Paws" for Thought: Your Feline Favorites
As we wrap up this whiskered journey through time, it's clear that cats aren't just our personal companions; they're global icons.
From ancient tombs to the bustling streets of modern cities, from the silver screen to the hallowed halls of politics, these felines have purred, prowled, and pranced their way into our collective hearts.
But now, dear reader, it's your turn. Which of these iconic cats resonated with you the most? Do you have a feline friend with a story that could rival any on this list? Or perhaps there's a legendary cat we've missed?
Drop your thoughts, tales, and purr-sonal favorites in the comments below. Let's keep this cat-tastic conversation going! After all, every cat is iconic in its own right, and every story is worth sharing. 🐾