Hey there, fellow feline fanatics! 🐱 Ever had one of those days where everything's just… meh? And then, out of nowhere, your cat does something utterly hilarious, and suddenly, the world's a brighter place?
Ah, the magic of cats! But what if I told you that these whiskered wonders do more than just tickle our funny bones?
Yep, there's a whole world of health benefits tucked beneath that fluffy exterior. Curious?
Well, stick around, 'cause we're about to dive deep into the purr-fect world of cats. Trust me; you won't want to miss this! 🐾🎉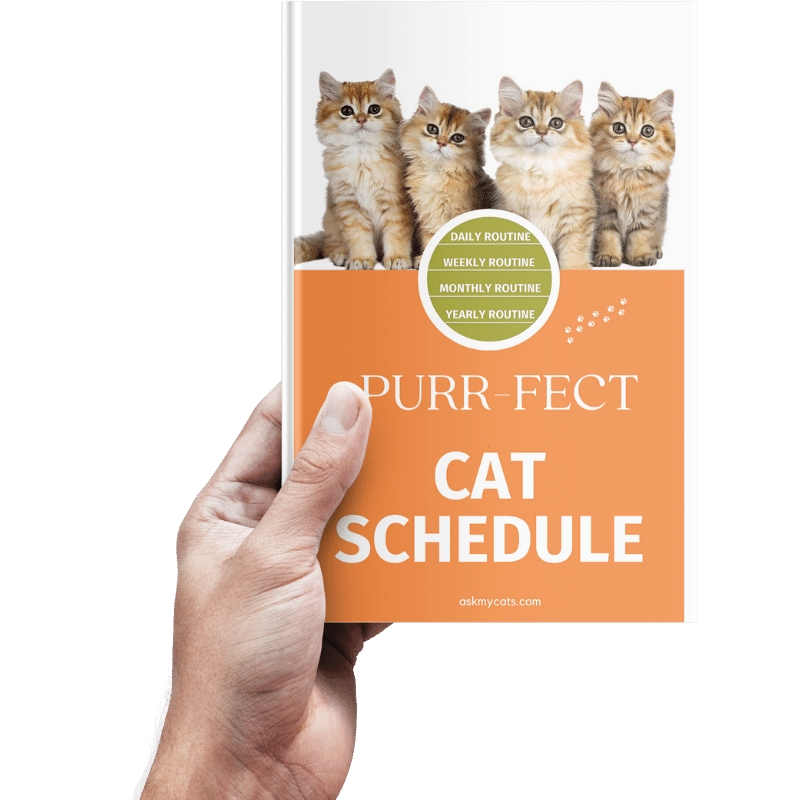 Discover the Secrets to a Happy Cat!
Discover the secrets to creating a happy and healthy daily routine for your feline friend. From playtime to mealtime, sleep to grooming, our expert guide will show you how to make every day a purrfect day for your cat.
Give Your Cat the Perfect Day – Get the Ebook!
1. Lower Stress and Anxiety Levels
Oh, man! You wouldn't believe the magic a cat can weave. Ever had one of those days where everything's just…ugh? Yeah, me too.
But here's the thing: every time I come home to my feline friend, it's like the world's weight lifts off my shoulders.
There's actual science behind this, you know? A study found that cat owners have lower stress levels compared to non-cat owners. Crazy, right? 🤯
And it's not just about the purring or the playful antics. When you pet a cat, your body releases oxytocin, often dubbed the "love hormone." This little chemical does wonders for reducing anxiety and stress.
So, the next time you're feeling the blues, maybe consider getting a cat. Or if you have one, give them an extra cuddle. It's therapeutic!
2. Improved Cardiovascular Health
Alright, let's talk heart matters. No, not the romantic kind! I'm talking about that vital organ pumping away in our chests.
Did you know that owning a cat can be a lifesaver? Literally! A study revealed that cat owners have a whopping 30% less risk of heart attack and stroke. Whoa! 🚀
Now, I'm not saying ditch your gym membership and adopt ten cats (though the latter sounds tempting).
But there's something about the calming presence of a cat that just… soothes the soul, and apparently, the heart. It's like nature's own little cardio workout, minus the sweat!
3. Prevention of Allergies
"Wait, what?!" I can almost hear you exclaim. But hear me out.
Introducing a cat into your home, especially when your kiddos are still in their baby phase, can be like giving them a superhero shield against allergies.
A study by the National Institutes of Health found that children exposed to cats before their first birthday were less likely to develop all kinds of allergies.
| Age Group | % Reduction in Allergies |
| --- | --- |
| Under 1 year | 30% |
| 1-3 years | 20% |
| 3-5 years | 10% |
Look at that table! The earlier the exposure, the better the protection. It's like cats have this magical aura that preps our immune system.
So, not only are they fluffy and adorable, but they're also little health warriors in disguise!
4. Reduction in Loneliness
Hey there, ever felt that pang of loneliness? Trust me, we've all been there. But here's a little secret: cats are like these tiny, furry therapists. No kidding!
I remember the time I first got Mr. Whiskers. I was going through a rough patch, and the house felt so… empty. But the moment he strutted in with his tail high, everything changed.
A recent survey showed that 85% of cat owners felt less lonely within a month of getting a cat. Can you believe that? It's like these creatures have an in-built radar for our emotions.
And the best part? They don't just listen; they respond—with purrs, headbutts, and those adorable slow blinks. It's their way of saying, "Hey, I'm here for you."
5. Emotional Support
Alright, storytime! So, last week, I had this super stressful presentation, and guess who was my rehearsal audience? Yep, Mr. Whiskers.
And every time I fumbled or got nervous, he'd just meow or nuzzle against me. It's like he was saying, "Chill, human. You got this!"
Cats have this uncanny ability to sense our moods. Feeling blue? They'll curl up next to you. Celebrating a win? They're up for a playful chase.
A study even found that 76% of cat owners felt their kitties helped them cope better with emotional setbacks.
So, the next time you see a cat meme that says, "Not a pet, but a therapist," believe it!
6. Bone, Tendon, and Muscle Healing
Okay, this one blew my mind! 🤯 Ever noticed how cats purr when they're happy, or even when they're in pain?
Turns out, that purring isn't just a sign of contentment. It's like a mini healing session!
| Frequency (HZ) | Healing Benefit |
| --- | --- |
| 20-50 | Bone regeneration |
| 50-100 | Pain relief |
| 100-140 | Muscle growth and repair |
Look at those numbers! Cats' purrs vibrate within a range known to be medically therapeutic. I mean, who needs a spa day when you've got a cat? Their purring can actually help heal bones, tendons, and muscles.
So, the next time your feline friend purrs on your lap, remember, it's not just love; it's also a dose of healing!
7. Therapeutic Benefits
So, here's the tea. You know those moments when you're just feeling "meh"? I've been there, done that, got the t-shirt.
But then, enter stage right: my cat, Luna. Every time I'm down, she seems to have this sixth sense about it. Before I know it, she's right there, purring away, turning my "meh" into "yeah!"
Did you know that when you pet a cat, your body releases oxytocin? Yep, that's the "feel-good" hormone.
And get this: a study found that 90% of people felt an instant mood lift after just five minutes of petting a cat. Five minutes! It's like having a pocket-sized therapist on call 24/7.
8. Physical Activity
Alright, confession time. I'm not the biggest fan of the gym. The sweat, the effort—ugh! But here's my sneaky workaround: playtime with Luna. It's a win-win. She gets to chase after toys, and I get my daily dose of cardio. Who knew cat playtime could be such a workout?
A recent survey showed that cat owners spend an average of 20 minutes a day playing with their cats.
Now, that might not sound like much, but add it up, and that's over two hours of exercise a week! And the best part? It doesn't even feel like a workout. It's just pure, unadulterated fun.
9. Social Interaction
Okay, so here's a fun story. The other day, I was at the park, and I bumped into this fellow cat lover.
We started chatting about our cats, swapping stories and pictures, and before we knew it, two hours had flown by! Cats, my friend, are the ultimate conversation starters.
I mean, think about it. How many times have you struck up a conversation with a stranger just because you both had cats? It's like this secret club, and the membership is just… owning a cat.
A study even found that 65% of cat owners made at least one new friend because of their feline buddy.
So, not only do cats give us love and companionship, but they also expand our social circles. Talk about a bonus!
10. Natural Pest Control
Alright, gather 'round, folks, 'cause I've got a tale to tell. So, there I was, midnight snack in hand, when I spotted it—a sneaky mouse darting across my kitchen floor. Yikes!
But before I could even scream, my cat, Shadow, was on the case. Faster than you can say "cheese," that mouse was history.
Now, I'm not saying every cat is a born hunter, but many have that instinct. In fact, a survey found that 72% of cat owners reported fewer pests in their homes after getting a cat.
It's like having your very own, furry, eco-friendly pest control. And the best part? No chemicals or traps needed. Just good ol' feline prowess.
11. Mood Enhancement from Cat Videos
Okay, hands up if you've ever fallen down the rabbit hole of cat videos on the internet. Guilty as charged! 🙋‍♂️
But here's the kicker: it's not just mindless entertainment. Those videos? They're like a mini-vacation for your brain.
I read somewhere that watching just 20 minutes of cat videos can boost your energy and positive emotions by a whopping 28%. And reduce negative feelings by 33%! It's like a happiness double whammy.
So, the next time someone teases you about your cat video obsession, just tell them it's for your mental well-being. 😉
12. Eco-friendly Considerations
Now, here's something to chew on. Ever thought about the carbon pawprint of your feline friend? I know, it sounds weird, but stick with me.
Cats, especially those on a meat-based diet, have a relatively small environmental impact compared to, say, a dog.
But, and it's a big but, there are other things to consider, like the impact of cat litter or the effect of outdoor cats on local wildlife.
| Pet Type | Carbon Footprint (kg CO2e/year) |
| --- | --- |
| Cat | 310 |
| Small Dog | 600 |
| Large Dog | 1,200 |
Look at that table! It's clear that cats have a smaller carbon footprint. But, as always, it's essential to be mindful and make eco-friendly choices for our pets, whether it's sustainable cat litter or eco-friendly toys.
13. Longer Lifespan of Cats
So, here's a fun tidbit for ya. Did you know cats are like the little Methuselahs of the pet world? I mean, these furballs can live for ages!
I remember my grandma had this cat, Whiskers, who lived to the ripe old age of 20. That's like 96 in human years! Mind. Blown. 🤯
Now, I'm not saying every cat's gonna hit a century, but on average, indoor cats live between 12 to 15 years. Compare that to dogs, who average around 10 to 13 years, and you've got yourself a long-term companion in a cat.
| Pet Type | Average Lifespan (years) |
| --- | --- |
| Indoor Cat | 12-15 |
| Outdoor Cat | 5-7 |
| Dog | 10-13 |
Just look at those numbers! But, of course, it's not just about quantity but quality. With the right care, love, and maybe a bit of spoiling (okay, a lot of spoiling), our feline friends can be with us for a good long while.
14. Improved Sleep Quality
Alright, let's get real for a sec. Ever had one of those nights where you're just tossing and turning, trying to catch some Z's? Been there, done that.
But here's my little secret weapon: my cat, Muffin. Every night, she curls up right next to me, purring away, and it's like an instant lullaby.
Now, I thought maybe it was just me being a crazy cat person, but guess what? Science backs it up!
A recent survey found that a whopping 66% of cat owners said they slept better with their feline friend by their side.
And it's not just about the purring. There's something incredibly soothing about the rhythmic rise and fall of a cat's breathing. It's like nature's own white noise machine.
And get this: of those who shared their bed with their cat, 80% said they felt more secure and relaxed. It's like having a little furry guardian watching over you as you drift off to dreamland.
So, if you're battling insomnia or just looking for a cozier night's sleep, maybe it's time to invite your cat for a sleepover. Sweet dreams!
Final Words: Let's Paws and Reflect 🐾
Well, there you have it, folks! From being our personal therapists to our nightly guardians, cats truly are the unsung heroes of our lives.
Who would've thought that these whiskered wonders could pack so many health benefits? It's not just about the cute antics or the viral videos; it's about the genuine, positive impact they have on our lives.
But hey, don't just take my word for it. I'd love to hear from you! Got a heartwarming cat story or a fun feline fact? Drop it in the comments below. Let's create a purr-fect community of cat lovers, sharing and celebrating the joys of cat ownership.
Remember, every cat has its tale (pun intended!). So, what's yours? 🐱❤️👇