Hey there, whisker aficionados! Ever found yourself gazing at your feline friend and wondering, "What's the deal with those whiskers?"
I mean, sure, they add a touch of elegance to our kitties, but there's gotta be more to the story, right? Oh, and trust me, there is!
From mood rings to built-in GPS systems, these little hairs pack a punch. And guess what? We're about to unravel the whisker-tastic mysteries that lie beneath those twitching tendrils.
Ready for a deep dive into the world of whiskers? Hold onto your hats, 'cause you're in for a whisker whirlwind that'll leave you meowing for more!
---
P.S. Ever heard of "whisker fatigue"? No? Well, keep reading, and prepare to have your mind blown! 🐱🎉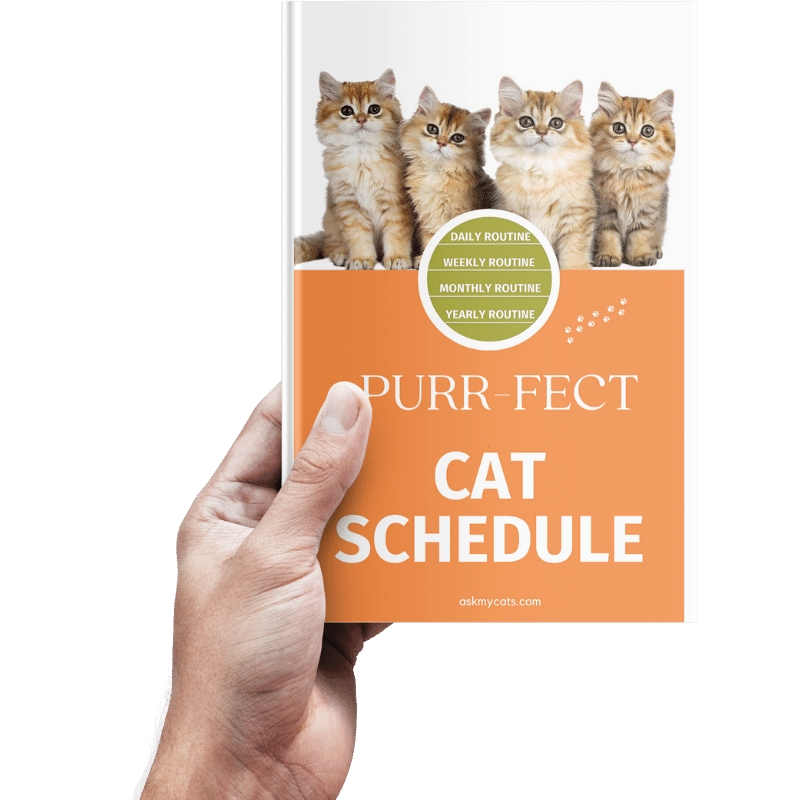 Discover the Secrets to a Happy Cat!
Discover the secrets to creating a happy and healthy daily routine for your feline friend. From playtime to mealtime, sleep to grooming, our expert guide will show you how to make every day a purrfect day for your cat.
Give Your Cat the Perfect Day – Get the Ebook!
1. You can judge a cat's mood by looking closely at their whiskers.
Oh, boy! Did you know that those fancy little whiskers on your feline friend are like mood rings? Yep, it's true!
When Fluffy's whiskers are pointing forward, she's curious or excited. But if they're flat against her cheeks? Uh-oh, better watch out—she's not in the best of moods.
It's like having a built-in mood detector. Handy, right?
2. Cat whiskers are made of keratin.
Hold up! The same stuff that makes up our hair and nails? You betcha! Keratin is a protein that forms the core structure of whiskers.
So, in a way, every time you're admiring your cat's majestic whiskers, you're kinda looking at a version of hair. Mind blown, right?
3. You won't hurt your cat's whiskers if you touch them, but pulling can cause pain.
Hey, hands off those whiskers! Well, not entirely. It's okay to gently touch and feel them. But yanking or pulling? Big no-no.
Imagine someone tugging at your hair. Ouch, right? It's the same for our feline buddies. Those whiskers are super sensitive, so always handle with care.
4. Cat whiskers act like antennas to observe the world around them.
Ever seen your cat navigate in the dark and thought, "How on earth…?" Well, here's the secret: those whiskers!
Acting like radar systems, they pick up on even the tiniest changes in their surroundings. It's like they have their very own built-in GPS.
So, next time your cat avoids that chair in the pitch dark, you'll know why. Magic? Nah, just whiskers!
5. Cat whiskers send messages to your cat's brain.
"Hey brain, there's something close to my face!" That's probably what a cat's whiskers would say if they could talk.
These little feelers are not just for show. They're connected to a bunch of nerve endings, sending signals straight to the brain. It's like they're constantly texting updates.
"Close to a wall. Watch out for that vase. There's a mouse nearby!" Super cool, huh?
6. The bigger the whiskers, the bigger the cat.
Whoa, hold on a sec! Are you telling me those long, elegant whiskers can actually hint at the size of the cat? Yep, that's right! It's like measuring the size of a fish by its fin.
The longer and more pronounced those whiskers are, the more likely you're dealing with a big kitty.
So, if you ever spot a cat with whiskers that seem to stretch on forever, you might just be looking at a feline giant. Neat, huh?
7. Mother cats will sometimes chew their kittens' whiskers.
Say what now? Yep, you heard that right. Mama cats have a quirky habit of nibbling on their kittens' whiskers. But, hey, it's not some weird snack time ritual.
Some experts believe it's to keep the kittens close and safe, preventing them from wandering off.
It's like a mom saying, "Stay close, kiddo!" in her own unique, whisker-chomping way. Motherly love sure has its quirks!
8. Whiskers are thicker than hair.
No kidding! If you ever get up close and personal with a cat's whiskers (with their permission, of course), you'll notice they're way thicker than the usual fur.
It's like comparing a tree trunk to a twig. This added thickness makes them super sturdy and sensitive.
So, while our hair might sway with a gentle breeze, a cat's whiskers are like mini weather stations, picking up even the slightest puff of wind. Science and nature, always blowing my mind!
9. There's always an even number of mystacial whiskers.
Alright, math nerds, this one's for you! Ever noticed how perfectly symmetrical a cat's whiskers are? Well, there's a reason for that.
Cats typically sport an even number of these bad boys, usually 24 in total. It's all about balance and symmetry, ensuring they get an accurate read of their surroundings.
So, next time you're counting sheep (or whiskers) to fall asleep, remember: with cats, it's always even-steven!
10. Whiskers are used for balance.
Balance, you say? Yep! Those whiskers aren't just for show or feeling things. They play a crucial role in helping cats maintain their legendary balance.
Think of them as built-in tightrope walking tools. Whether it's leaping from great heights or navigating narrow ledges, those whiskers are hard at work, ensuring every move is graceful and precise.
It's like having a built-in gyroscope. Cats, always keeping us on our toes with their awesomeness!
11. Whiskers are used to judge spaces.
Ever seen a cat eyeing a tiny gap and thought, "No way they're fitting through that!" And then… they do? It's all thanks to those trusty whiskers.
Before making the leap (or squeeze), a cat's whiskers gauge the width of the space. It's their very own measuring tape! If the whiskers fit without bending too much, the cat knows they can slip right through.
It's like they've got built-in spatial awareness superpowers. Who needs a ruler when you've got whiskers?
12. Cats use whiskers to show expressions.
"Hey, what's with the long face… or whiskers?" Cats wear their hearts on their… whiskers? Yep! Just like we raise our eyebrows or scrunch our noses, cats use their whiskers to show how they're feeling.
Forward-pointing whiskers? Kitty's intrigued or excited. Whiskers pulled back? Maybe give them some space; they're not in the mood.
It's like a silent language, all told through the twitch and tilt of those delicate hairs. So, next time you're trying to decode your cat's mood, let those whiskers be your guide!
13. "Whisker" is an old word dating back to around 1600.
History lesson alert! The term "whisker" isn't some modern slang. Oh no, it's been around since the 1600s!
Originally used to describe a human mustache or beard, it soon became the go-to word for those antenna-like hairs on animals.
So, the next time you're chatting about cat whiskers, remember you're also taking a little trip down history lane. Old words for the win!
14. Whiskers on the back of a cat's forelegs help position their prey.
Now, here's a wild fact! Those whiskers aren't just on a cat's face. They've got some on the back of their forelegs too. And guess what? They use them when hunting!
When a cat catches their prey, these leg whiskers help determine the perfect position for that fatal bite. It's like having a built-in targeting system. Nature, you never cease to amaze!
15. Whiskers should never be cut as it can disorient the cat.
Big PSA for all cat lovers out there: never, and I mean never, snip those whiskers! Doing so can seriously disorient our feline friends. Imagine trying to navigate your house with a blindfold on. Not fun, right?
For cats, their whiskers are essential tools for understanding the world around them. So, let's keep those whiskers long, proud, and intact!
16. Cats have whiskers not only on their nose but also above their eyes, on their chin, and on the backs of their lower front legs.
Hold the phone! Whiskers aren't just those fancy strands sprouting from a cat's snout. Oh no, these fabulous feline features are sprinkled in other spots too.
Above their eyes, like dainty little eyebrows? Check! On their chin, giving them that wise sage look? Absolutely! And even on the backs of their lower front legs, like nature's little accessories.
It's like discovering your favorite book has a sequel. More whiskers, more wonders!
17. Whiskers should never be cut as it can disorient the cat.
I can't stress this enough, folks! Those whiskers? They're not just for show. They're a cat's lifeline to the world around them.
Snipping them off would be like taking away their sixth sense. Imagine trying to text with gloves on or walk with shoes ten sizes too big. Clumsy, right? That's how a cat feels without their trusty whiskers.
So, hands off the scissors and let those whiskers flow wild and free!
18. Cat whiskers can change color as they age.
Wait, what? Yep, it's true! Just as we might find a stray gray hair (or ten) as we age, cats too can sport a silver whisker or two over time.
It's a sign of wisdom, experience, and all those cat naps and playful afternoons catching laser dots.
So, if you spot a white whisker on your jet-black kitty, don't fret. It's just them wearing their age with pride. After all, gray is the new black!
19. Whisker Fatigue: More than just tired whiskers.
Ever felt overwhelmed by too much information? Cats can relate! Whisker fatigue happens when their ultra-sensitive whiskers get bombarded with too much stimulation.
Imagine trying to listen to a podcast, watch TV, and have a conversation all at once. Overwhelming, right? That's how a cat feels when its whiskers touch the sides of a narrow food dish. It's one reason many cats prefer wide, shallow dishes.
So, if your kitty seems finicky about their food bowl, maybe it's time for a whisker-friendly upgrade!
20. Whisker Shedding: Nature's renewal process.
Finding a lone whisker on your couch or bed? No need for alarm! Just like we shed hair, cats shed their whiskers. It's all part of nature's cycle.
And just like our hair, a new whisker will sprout in its place. Think of it as a sign that your cat is healthy and growing.
So, next time you spot a stray whisker, celebrate it as a little piece of feline magic!
21. Whisker Reflex: Nature's protective goggles.
Touch a cat's whisker, and you might notice them blink or shut their eyes. It's not a magic trick—it's the whisker reflex! This nifty reflex protects their eyes from potential harm.
It's like an automatic response system, ensuring those beautiful feline eyes stay safe from any surprises. Nature's always got our furry friends' backs!
22. Whisker Growth: Slow and steady wins the race.
Ever noticed how long a cat's whiskers can get? But if one breaks or gets cut, don't expect rapid regrowth.
Unlike their fur, whiskers take their sweet time to grow back. It's a slow and steady process, reminding us that some things can't be rushed.
So, if you're ever tempted to trim those whiskers, remember: patience is key!
23. Whiskers and Hunting: The night-time targeting system.
When the lights go out, and it's hunting time, those whiskers spring into action. Moving forward, they surround and pinpoint their prey, helping the cat determine its exact location—even in pitch darkness.
It's like having built-in night vision goggles, ensuring every pounce is precise. Cats, always ready for the midnight prowl!
24. Temperature Detection: The feline thermometer.
Who needs a weather app when you've got whiskers? Cats can detect subtle changes in temperature, thanks to these sensitive hairs.
Especially handy for outdoor adventurers, it's like having a built-in thermometer. Whether it's sensing a cold draft or a warm sunny spot, those whiskers keep them in the know. Nature's weather forecast, always on point!
25. Whisker Spots: More than just a pretty face.
Those adorable spots on a cat's face where whiskers sprout? They're called whisker spots or whisker pads.
And they're not just cute—they're packed with nerves, making them super sensitive. It's like the epicenter of all things whisker-related.
So, next time you're admiring those whisker spots, remember: there's a lot going on beneath the surface!
26. Whisker Communication: Speaking without words.
Whiskers aren't just tools; they're communicators! Cats use them to "talk" to other cats. Feeling threatened? Those whiskers might flare out and forward, sending a clear message.
It's like a silent language, all conveyed through the subtle movements of those delicate hairs. So, watch closely, and you might just catch a whisker conversation in action!
Final Words
Well, whisker enthusiasts, we've journeyed through the wondrous world of cat whiskers, uncovering secrets and marveling at nature's genius.
From mood detectors to silent communicators, these delicate hairs do more than just make our feline friends look dashing. They're a testament to the intricate beauty and intelligence of cats.
Now, here's where you come in! Have you noticed any quirky whisker behaviors in your own kitty? Ever found a shed whisker and made a wish? Or perhaps you've got a whisker-related story that's just too good to keep to yourself.
Share it with us! Drop a comment, send a photo, or even a whisker-inspired poem. Let's keep this whisker party going and celebrate the magic that is our feline friends.
Remember, every whisker tells a story. What's yours? 🐱🎉
---
P.S. If you've enjoyed this whisker-tastic journey as much as we have, give it a share and spread the love. Who knows? You might just make someone's day a whisker bit brighter!